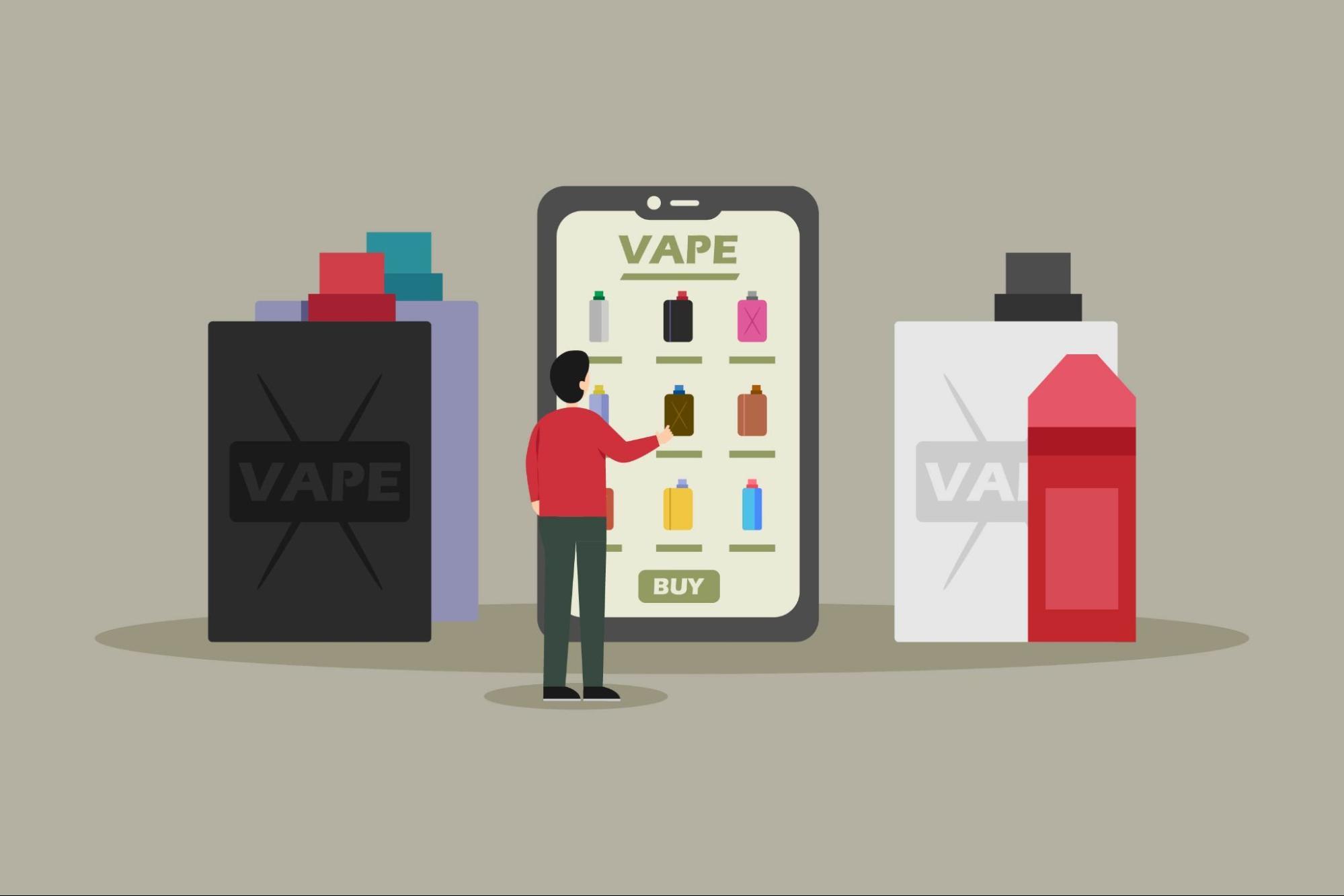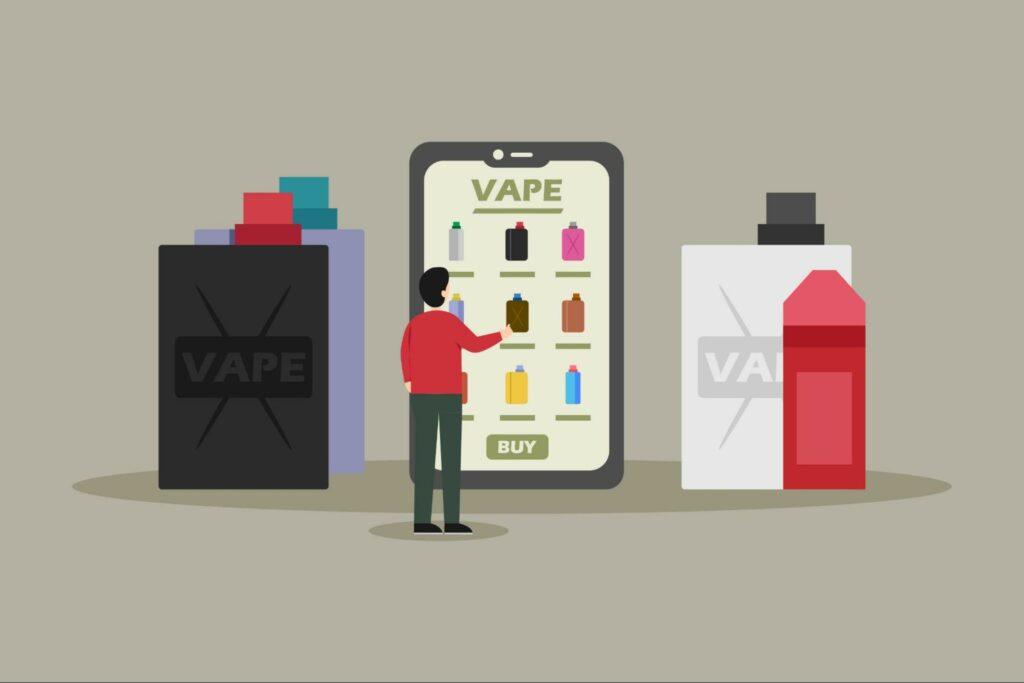 Key points:
Google and Bing ban the advertising of vape products. Despite this, SEO vape strategies remain the best way to promote vape businesses and attract traffic to your site.
SEO sets your page up for long-term growth by increasing credibility, brand awareness and search rankings. An SEO professional knows how to write SEO for vape juice websites, optimise pages with relevant keywords and implement white hat techniques to grow and maintain traffic over time.
Unfortunately, SEO is time-consuming, requiring expert knowledge and resources to get it right. Investing in an SEO company for vape shop websites is a cost-effective way to attract millions of website visitors through organic searches. SEO can generate the equivalent of spending thousands on PPC advertising in free, organic traffic.
Growth agency NUOPTIMA has extensive experience in the healthcare industry. Our experts know how to optimise your site to comply with Google's strict algorithm and produce significant results with our vape SEO service. Book a free discovery call today and discuss vape SEO strategy with one of our experts.
Vaping popularity continues to rise as more vaping companies are trying to establish themselves within this competitive market. While vape stores have been a hit on highstreets across the world, it's their online presence that drives their growth.
Today, most successful companies rely on their online presence to boost brand awareness, generate leads and increase revenue. A functional website is essential to growing your vaping business, but how do you establish a vape marketing plan that gets your site seen by potential customers?
Pay-Per-Click (PPC) advertising is a fast way to attract traffic, but vaping companies cannot utilise this feature on Google and Bing. These search engine giants banned tobacco advertising, including vape products. That said, paid advertising isn't always the best method for growing an eCommerce store. Even for those who can utilise this tool, it proves unsustainable and expensive long-term. In comparison, vape SEO offers a cost-effective, long-term strategy for maintaining consistent growth.
Why is SEO for Vape Shops Important?
Search Engine Optimisation (SEO) is a marketing tool that helps you optimise your website for search engines. Regardless of PPC not being an option, investing in a vape SEO service provides a much more efficient way to grow your vaping business. When done right, SEO can boost your web pages to the first page of SERPs (search engine results page). Most searchers don't click past the first page of Google, making it crucial to increase search positions if you are to continue generating revenue. SEO works to boost your search rankings; the higher positions you achieve, the easier it is to generate traffic, simplify lead generation, improve conversion rate and ultimately, increase revenue.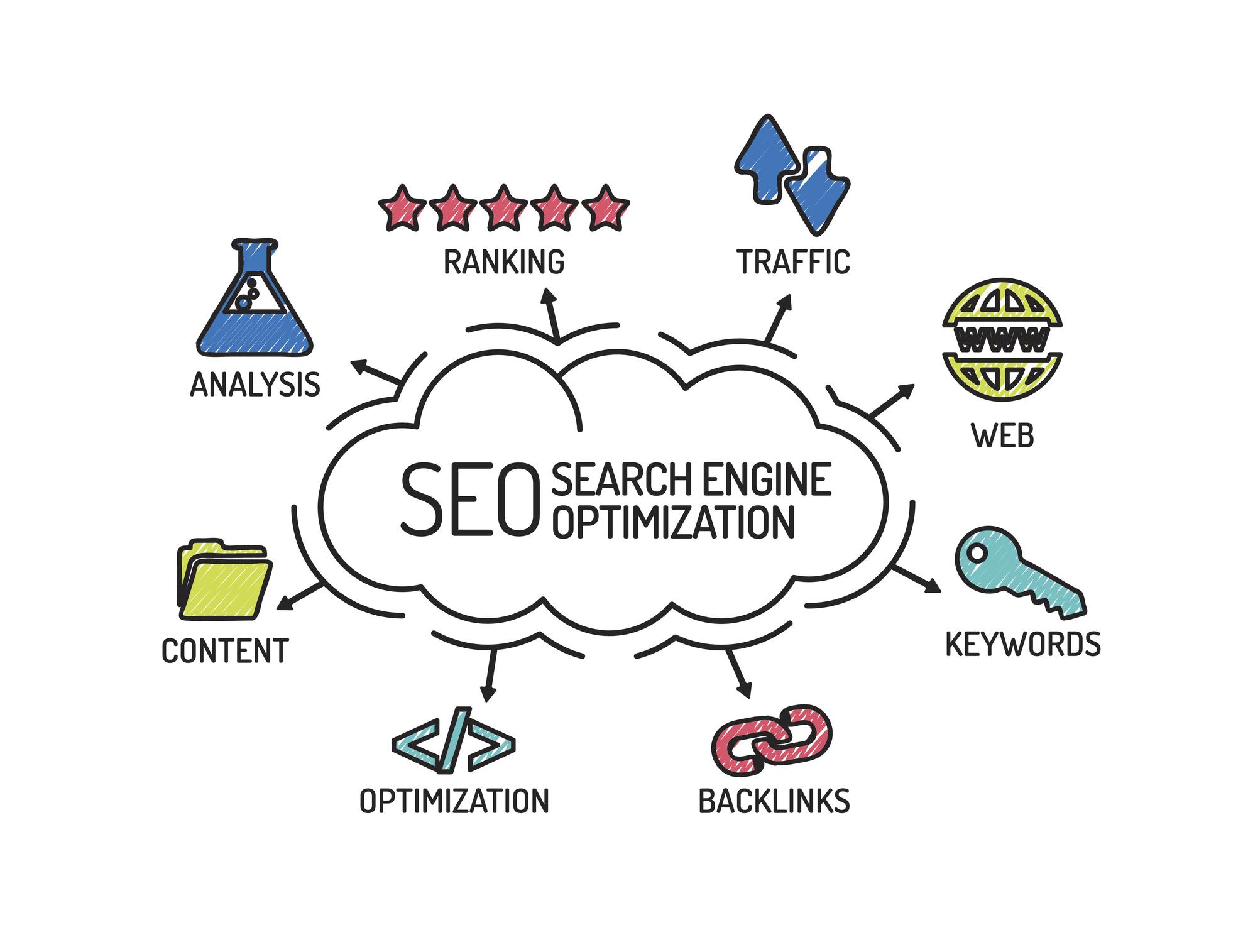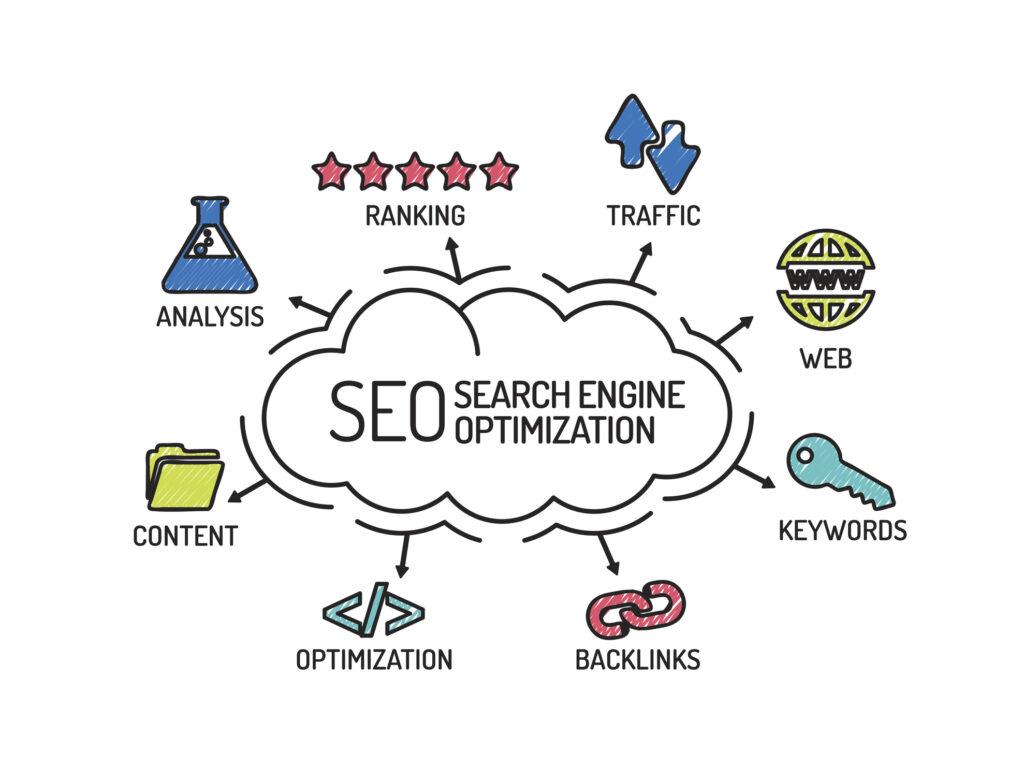 While advertising, like PPC and social media ads, provides a fast method for getting people to your site, it only benefits your business while paying for these services. When the ads stop, so does the traffic. Comparatively, SEO increases search positions organically through strategic website updates, content optimisation and keyword targeting. This generates free, organic traffic and sustains your search rankings over time – even if you stop paying for a vape SEO service.
Optimising your website for a search engine like Google requires time, hard work, specific resources and expertise. An SEO agency would research the best keywords for your niche, optimise current pages, create new ones and implement technical SEO and content optimisations to boost your site's credibility. If you lack the in-house expertise to complete this work, it can cost your vape shop money and time, which will only hinder your growth prospects. That's why investing in an SEO company for vape shop marketing provides a cost-effective way to attract new customers, maximise client leads and set your website up, so it continues to rank even if you stop these SEO efforts.
Search Demand for Vape SEO Keywords on Google


Using a keyword research tool, we could pull the above data, highlighting the popularity of the vaping industry online. This image shows us that the keyword 'vape' has a global search volume of 1.7 million, indicating the average number of people searching for 'vape' each month. This data also shows us the average monthly searches for each country; the United States has 348 thousand, Brazil close behind with 325 thousand and Indonesia with 137 thousand monthly searches.
Understanding the search volume for niche keywords highlights that hundreds of thousands of people are searching for vapes in your country. Investing in SEO services for vape shop websites dramatically increases your potential to access this traffic and yield notable growth.


The above data comes from Google Trends, displaying how the search demand for 'vape' has changed over time. Here we can see a clear upward trend as vaping became more popular. However, as demand increases, it's essential to use the right marketing techniques to access this traffic.
SEO for vape shops is the best way to grow your e-cigarette business, especially considering Google's advertising ban on tobacco and vape products. That said, even for companies that can utilise PPC, a strong SEO strategy is far more cost-effective for targeting high-demand search terms. For instance, as search demand increases, the more competitive and expensive it costs to advertise. Consequently, SEO is the best option to build an online presence in a growing market. An SEO specialist will ensure you're using the right keywords and content to rank high in SERPs and attract this ever-increasing audience.
People Use Many Vape SEO Keywords to Find Vape Companies
Keyword research forms an integral part of any SEO vape strategy. Without it, you may target irrelevant, low volume or incorrect search terms that do not correlate with your ideal customers. With the right SEO software, you can discover exactly what your ideal customer searches for when they want to buy vapes or e-liquid.
Vaping has many synonyms, but some phrases will be better to target as they have more search volume than others. For instance, 'e-cigarette' is technically correct, but it's a long and awkward word, whereas 'vape' and 'e-juice' are more popular. There are numerous ways to search for vaping companies, including:
'Vape shop near me'
'Vape store in…' + location (for example, 'vape store in South London')
Specific vape products (for example, 'CBD vape' or 'no nicotine vape')
Questions about vaping, e-juice and how to find vape stores.
Some of these are long-tail keywords, which are easier to target and broaden your traffic scope. An SEO expert knows how to write SEO for vape juice companies to ensure your pages rank for the right search terms. After identifying the best keywords for your website, an SEO professional uses these to optimise current web pages and creates new ones to maximise traffic potential. Together keyword research and content optimisation help your target market find your site easily amongst the competition.


An SEO expert will understand how to interpret data for vape SEO keywords to choose the most appropriate. The above image shows keywords associated with the term 'vape juice' indicating your customers' interests. For instance, we can see that 'CBD vape juice' has an average of 48 thousand monthly searches. If it's relevant to your store, a professional will create pages about this topic, answer questions (like in the image below) and optimise new pages. If your vaping company ranks for thousands of keywords within your niche, you have the potential to reach millions of people.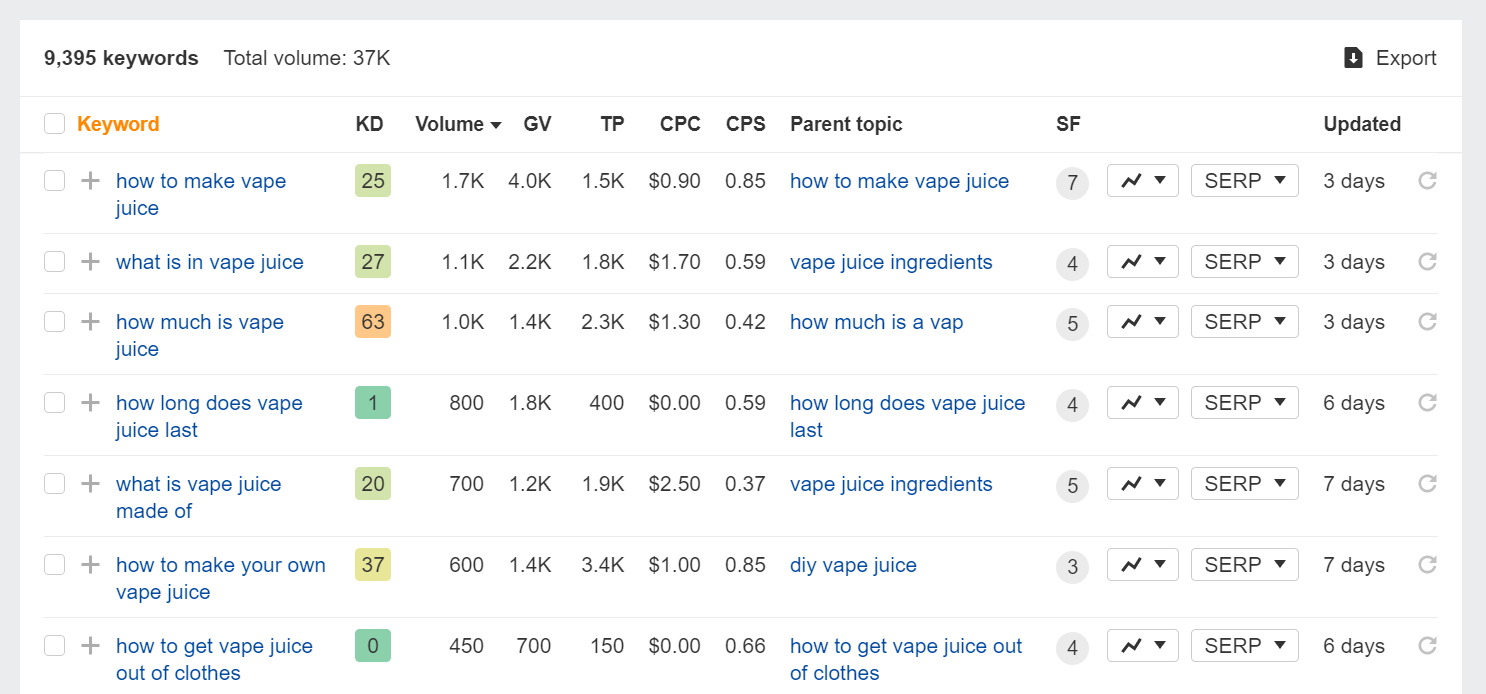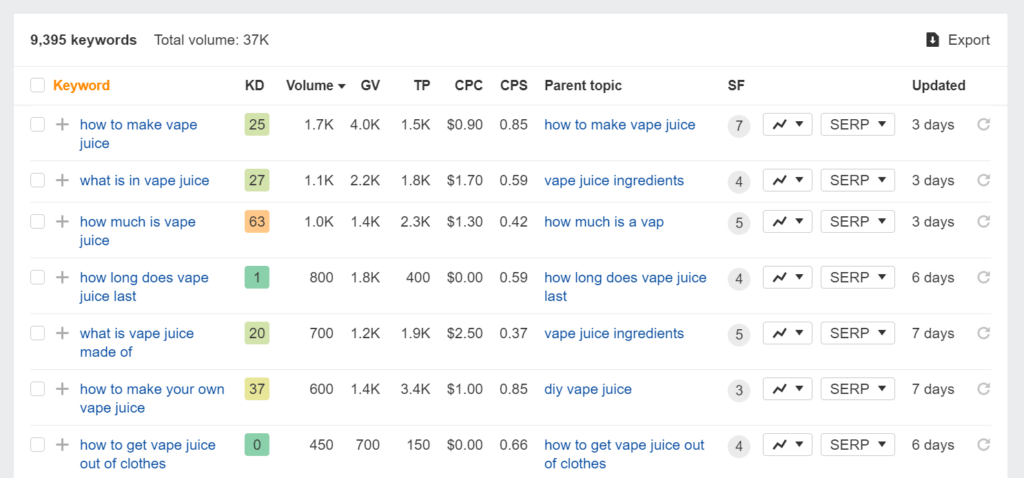 Other Vape Companies Are Already Getting Results from Vape SEO
A vape SEO service sets your website up for long-term success by boosting search rankings, the site's credibility, and increasing organic traffic. For businesses that use PPC, it can even save the website owner thousands in advertising spend every month. Below we have reviewed two companies using vape SEO to improve their online presence.


Our SEO software allows us to compare competitors in the vape industry and review their SEO efforts. For instance, the above screenshot shows an overview of www.vapestore.co.uk. Thanks to their SEO efforts, their pages rank for over 38 thousand organic keywords and generate 236 thousand visitors from organic searches. We also review the traffic value to understand how this compares to other marketing techniques.
Traffic value refers to how much the website owner would have to pay for PPC ads to get the same volume of paid traffic in organic traffic. If they could use PPC, they would save $119,000 on average every month that would otherwise be spent on ads. Although vape businesses can't advertise, it shows the potential for vape SEO to generate a substantial amount of free, organic traffic.
Google search data also shows which pages attract the most traffic. The image below reveals first position rankings for keywords 'vape store' and 'vape liquid', with one of these pages attracting over 100,000 website visitors on average every month.


The above example depicts a larger site, so it's natural to see positive results. However, we want to show you that SEO can also benefit smaller vape businesses, even if you're still establishing yourself in the market.


The following examines www.88vape.com. The SEO overview shows the site attracts 23.2 thousand visitors monthly through organic searches. By optimising their site and working on organic growth, they have generated free, organic traffic equivalent to spending $12,600 on paid advertising. Although this site is smaller than the previous example, their SEO efforts still get significant results that would otherwise be expensive if advertising with PPC.
Looking at the top-performing pages, they have good brand awareness and use this to their advantage. The search term '88 vape' has an average volume of 10,000 searches a month, for which they hold the first search position. They also rank in position four on the first page of Google for the search term 'deluxe vape'.


An SEO agency would analyse this data to determine where this company thrives and how they could improve SEO efforts. They may utilise other keywords to maximise traffic potential and attract customers who don't know the brand by name.
Reviewing examples of SEO for vape shops highlights the vast array of keywords you can target. An SEO company for vape shop marketing will evaluate your and your competitors' websites. They use the above data to assess where the organic traffic comes from to optimise existing pages and create new ones to target more keywords in your industry. Targeting thousands of search terms increases your website's opportunities to generate traffic organically.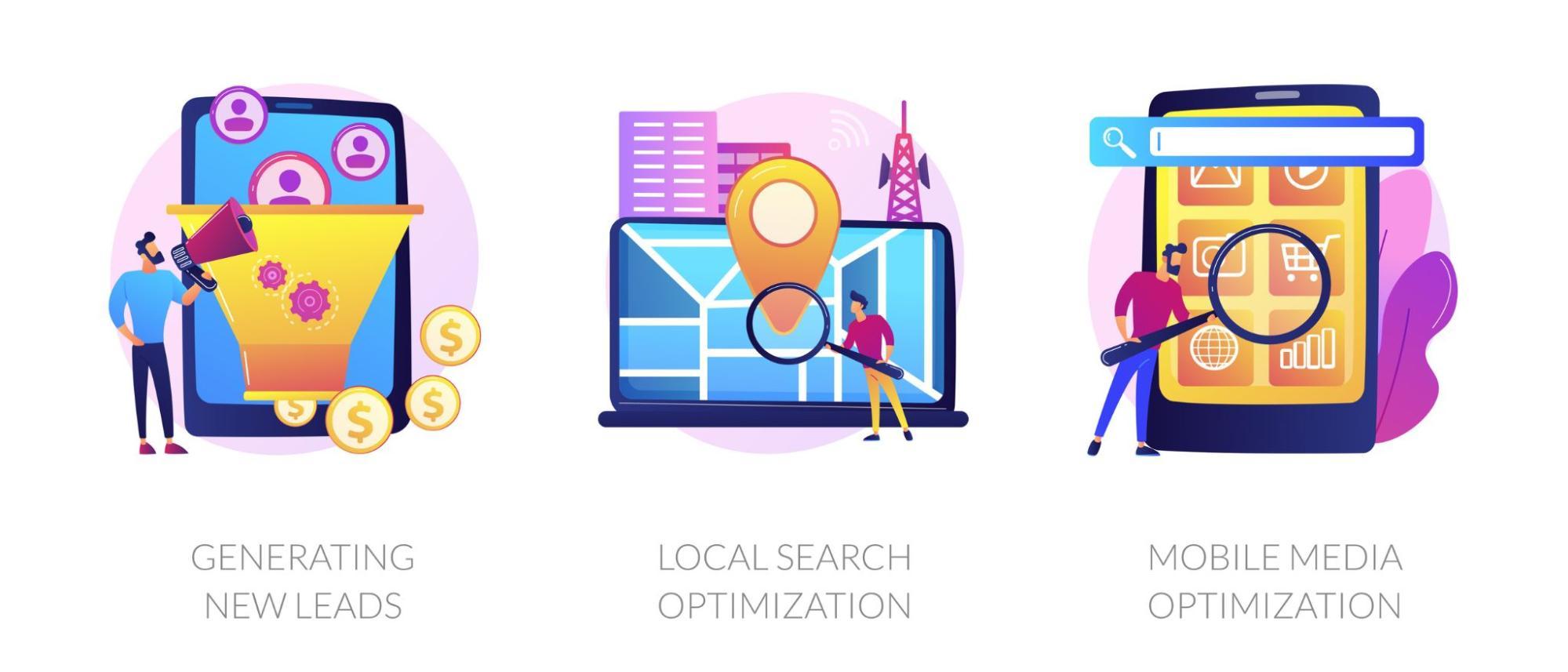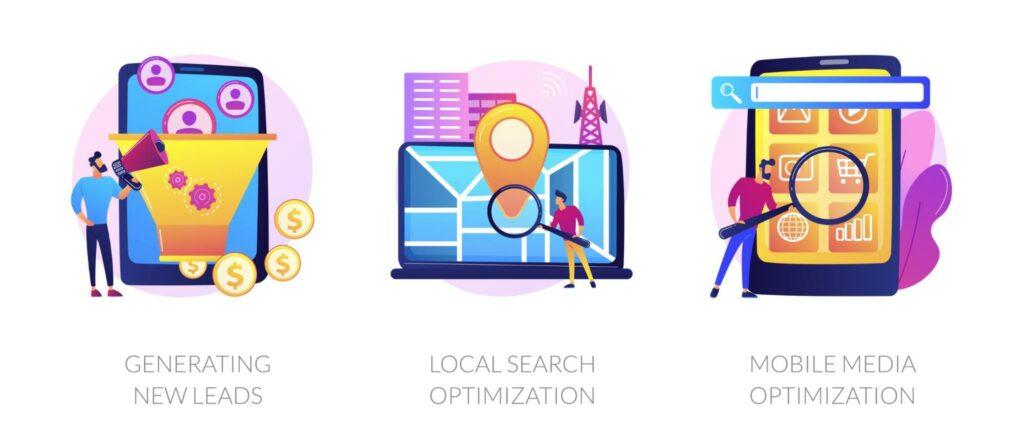 Local SEO for Vape Companies
SEO is one of the best methods to grow your vape business online; however, SEO for vape shops continues to boost results offline too. Here at NUOPTIMA, we advise local SEO to any company that provides in-person service. Although the world relies on digital, vape stores continue popping up in most cities, and some people still prefer to shop in-store. For this reason, local SEO supports your growth offline too, helping your site appear in local searches for vapes or e-juice.
Adding your business to Google My Business is a good start, but it's not enough to make a real impact. A proficient SEO company will target terms like 'vape shop near me' or 'vape store in…' + your location. They understand how to create and optimise pages that attract customers who want to visit you in person.
Should You Invest in an SEO Company for Vape Shop Marketing?
Any budding business person will know that SEO is critical to growing a successful business in this digital age. However, getting it right requires time, expertise and resources to ensure your optimisations are implemented correctly and comply with Google's strict algorithm. Unfortunately, without the proper experience, doing SEO yourself can be time-consuming and costly, putting your business growth at risk.
Investing in a vape SEO service can level up your online presence by accessing experts with years of experience in your industry. As the vape market is subject to Google's extreme standards for health-related websites, you must optimise your content carefully. Thankfully, here at NUOPTIMA, we are well-versed in this industry, having helped numerous brands appear on the first page of Google. We know how to optimise web pages, so Google views them as high-quality, relevant and trustworthy. This falls under Google's quality ranking system, which assesses expertise, authority and trustworthiness (E-A-T).
Our teams come from various professional backgrounds working together to implement a unique strategy that works for your site. We have experts in SEO, marketing, content creation, analysis, technical optimisation and more. Here are a few methods we use to implement our vape SEO service for your site:
Create new optimised pages relevant to your business to increase and sustain organic rankings.
Develop SEO-optimised content across your website to boost the number of keywords your site targets.
Arrange for links to be placed on high-quality websites that link back to your site.
Optimise pages to comply with Google's E-A-T algorithm and best practices.
The team at NUOPTIMA pride itself on providing a cost-effective, long-term way to promote sustainable growth. That's why we only use white hat SEO techniques to ensure every business we work with reaps the rewards of our vape SEO service even if SEO efforts are stopped.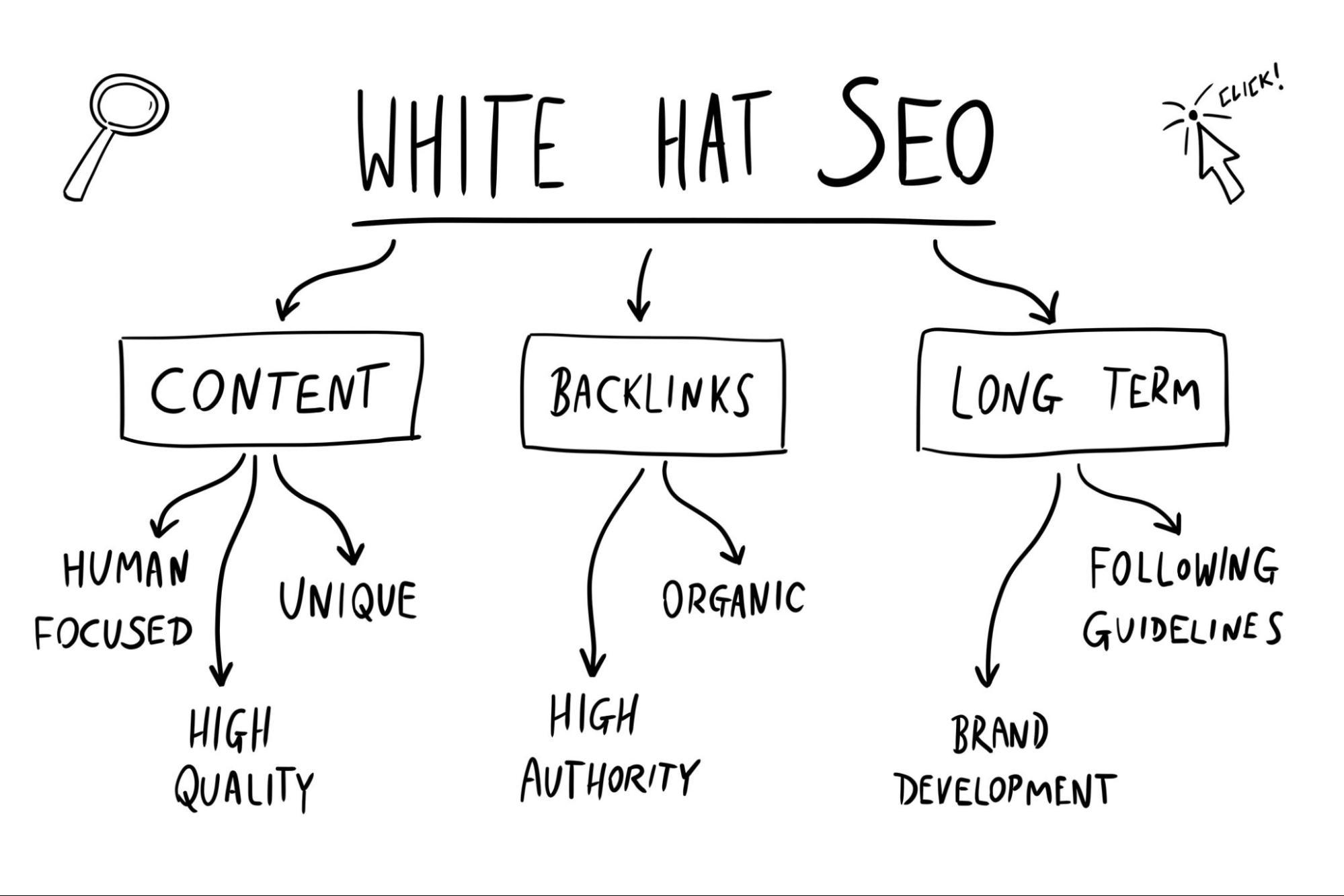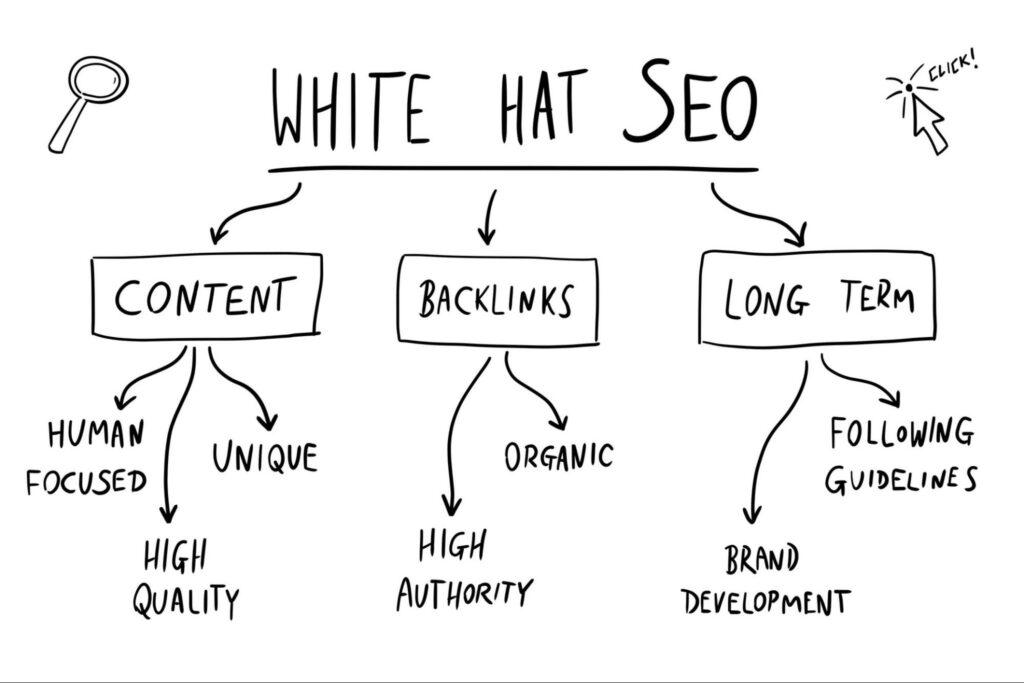 When an SEO professional optimises your site for search engines, they set your website up as a trusted source in the eyes of Google – fundamental for long-term growth. NUOPTIMA are growth experts and know how to tailor our SEO expertise to your business goals. Book a free call with our team today to discuss how a good SEO strategy can benefit your vape company.
---
FAQ
How do I promote my vape?
To increase brand awareness and product visibility, investing in a vape SEO service can set your site up as a credible source, improve search positions, organic traffic and, ultimately, revenue.
Is it legal to advertise vapes?
Google and Bing ban the advertising of tobacco products, including vapes. Consequently, SEO for vape shops is crucial to promoting your vaping company.
How can I sell my vape online?
A vape SEO service not only increases brand awareness and simplifies lead generation but also helps improve conversion rate and increase search rankings. The more website visitors discover your site in search engines, the easier it is to generate revenue through your online site.