Just a year or two ago, most people didn't take TikTok seriously. And even today, many business owners still treat it as an app where teens post funny videos and clips of themselves dancing and nothing more. But in reality, TikTok has evolved into an incredibly powerful marketing tool with a huge demographic. In today's business environment, if your target customers are using TikTok, you need to be there advertising your products as well. However, this is easier said than done. TikTok is different from other popular social media platforms like Instagram and Facebook. Thus, you need to have a completely different marketing strategy to be successful there. In fact, many large brands that don't realise this and simply continue posting their Instagram or Facebook content on TikTok end up failing miserably and becoming the laughing stock of the TikTok demographic. But we can help you avoid this! NUOPTIMA's team has used its extensive TikTok marketing experience to create a comprehensive guide for business owners. Keep reading to discover our top tips below!
What is TikTok?
TikTok is one of the largest social media platforms in the world. With over 1 billion users, this app is more popular than Pinterest, LinkedIn, Snapchat, and Twitter. Even though most TikTok videos last less than a minute, the app is extremely addictive and engaging. This is evidenced by the fact that an average user spends just under an hour per day on the app, opening it eight times per day on average and viewing content from dozens of creators. Roughly 32% of all TikTok users are aged between 10 and 19, around 29% are between 20 and 29, 16% of users are aged between 30 to 39, 14% of users are between 40 to 49, and 7% of users are 50+ years old. As you can see, while the platform still has a considerable number of teenage users, nearly 70% of its users are older than 19 years of age. Thus, the notion that TikTok is only used by children who don't have much of a purchasing ability and thus marketing there is pointless is completely erroneous. In reality, countless politicians, news outlets, Fortune 500 companies and even airlines have gained massive followings by using effective TikTok marketing campaigns.
Using TikTok to Promote Your Business
There is a wide range of goals you can accomplish by running a business TikTok account, collaborating with TikTok influencers or advertising on the platform. This includes:
Building a large and highly engaged audience
Improving brand awareness
Creating a new channel of communication with customers
Advertising products
Selling products
Best TikTok Marketing Strategies
There are many ways to use TikTok for business. You can create and post videos yourself, post videos sent by your customers, run ads, collaborate with other creators, etc. You can find all the best TikTok marketing tactics below.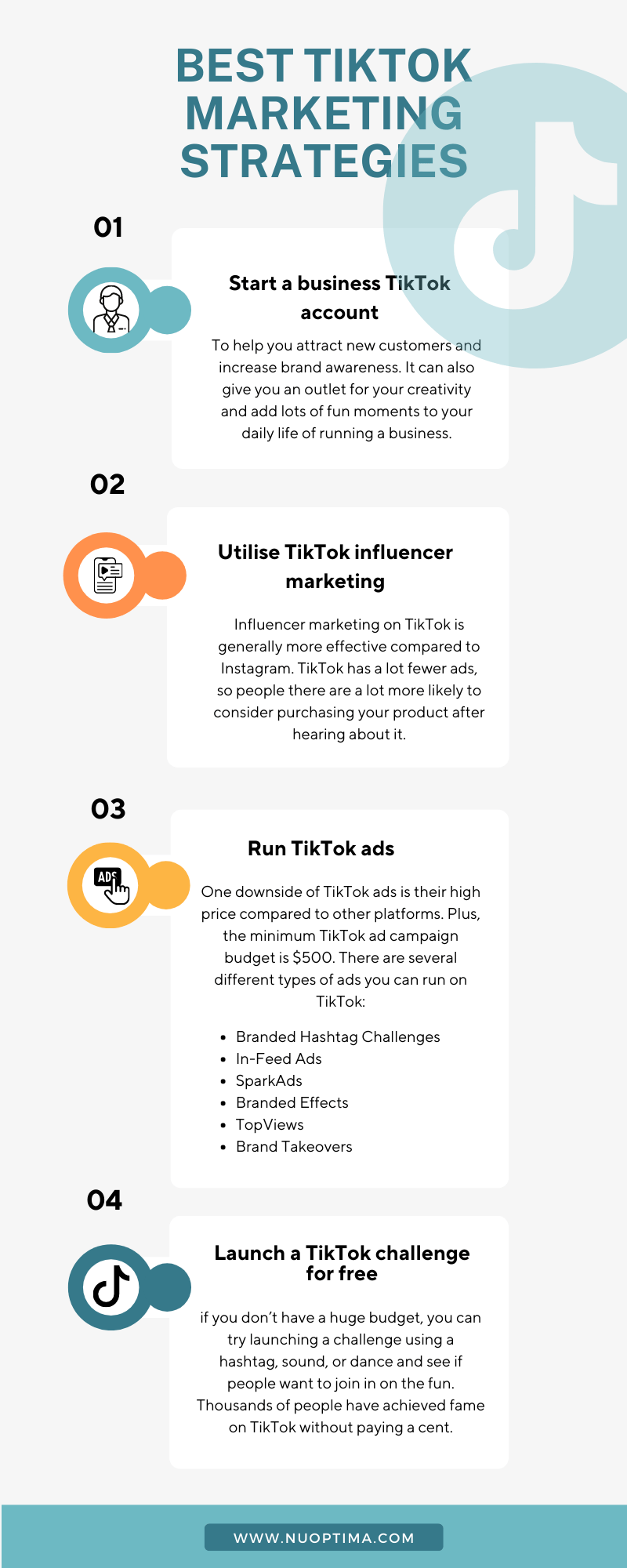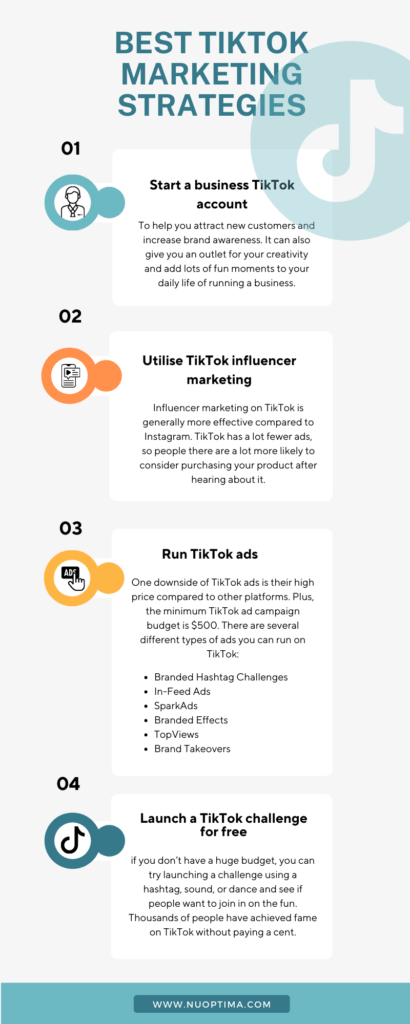 Start a business TikTok account
Running a TikTok account can help you attract new customers and increase brand awareness. But it can also give you an outlet for your creativity and add lots of fun moments to your daily life of running a business. Creating TikTok videos is very simple, and you don't need to spend a lot of time on them or purchase expensive equipment. TikTok users value authenticity above all else, so leave heavy editing and picture-perfect setups for Instagram.
If you have trouble coming up with video ideas, you can always check out the For You section for inspiration. TikTok users often participate in challenges and follow the latest video trends, so getting in on the hype of the latest TikTok dance or challenge is a safe bet.
Utilise TikTok influencer marketing
If you've tried marketing your products on Facebook or Instagram, you're probably no stranger to influencer advertising. But influencer marketing on TikTok is generally more effective. This is due to the fact that Instagram has been overrun with ads. Most Instagram users simply ignore brand integrations, ads, and influencer recommendations in general. However, TikTok has a lot fewer ads, so people there are a lot more likely to consider purchasing your product after hearing about it from their favourite TikTok influencer.
Run TikTok ads
Even though TikTok has been around for a few years now, the platform only recently introduced ads. One downside of TikTok ads is their high price compared to other platforms. Plus, the minimum TikTok ad campaign budget is $500, which means many small businesses can't afford to advertise there.
There are several different types of ads you can run on TikTok:
Branded Hashtag Challenges
In-Feed Ads
SparkAds
Branded Effects
TopViews
Brand Takeovers
Branded hashtag challenges
Branded hashtag challenges allow you to take advantage of user-generated content to increase brand awareness among the TikTok community. Once you launch a challenge, it will be shown to other users on the Discover page. When people click on the hashtags associated with the challenge, they will be forwarded to a landing page. This page will have all the info about the challenge, including a list of users who participated in it and a link to the sponsor's website.
The good news is that branded hashtag challenges are incredibly effective because they are fun for the users and allow them to connect with your brand on a completely different level. However, the downside of these ads is that they are very expensive – a six-day challenge will send you back $150,000.
In-feed ads
If you're looking for something more affordable, in-feed TikTok ads may be a good option. The minimum budget for these ads is $500, which is the cheapest add type offered by TikTok. In-feed ads on TikTok are marketing videos that occasionally appear in users' feeds as they scroll through content.
You can make these ads look very organic and almost indistinguishable from non-sponsored content. However, you can also add CTAs and use other marketing features offered by TikTok if you want your ads to stand out.
SparkAds
SparkAds is the newest and one of the most effective ad types available on TikTok. These ads are similar to in-feed ads with one major difference – advertisers can use their own TikTok posts or clips posted by other users as advertisements. This gives businesses a great chance to utilise user-generated content in marketing campaigns. However, keep in mind that you will only be able to use content posted by other users if they consent to it.
One of the biggest advantages of SparkAds is their authenticity, which is key to TikTok success. When users interact with other ad types, they are forwarded to a landing page. However, SparkAds behave like regular TikTok posts, so users can browse comments on the video, like and share it, visit the creator's profile, etc. In addition to adding to the ad's authenticity, this also allows it to have a more lasting marketing impact on the advertiser's profile.
Branded effects
Branded effects are similar to Snapchat or Instagram filters. Users generally find these effects very fun and engaging, which is why they often go viral on the app, working like wildfire to tell people about the brand that launched them. However, at $100,000 per effect, these ads are very pricey.
TopViews
TopViews are in-feed ads that are shown to users when they first open the TikTok app. The videos used in these ads can last for up to 1 minute. This is the most popular ad type with advertisers.
Brand Takeovers
Like TopViews, brand takeovers show up at the top of the feed when users first open the app. These ads take over the user's screen for 3 (static images) or 5 seconds (videos). TikTok shows each user only one brand takeover ad per day, so there's less ad fatigue with this ad type. However, these ads are also quite expensive.
Launch a TikTok challenge for free
TikTok is the perfect platform if you're trying to go viral without spending money on ads. So if you don't have a huge budget, you can try launching a challenge using a hashtag, sound, or dance and see if people want to join in on the fun. Thousands of people have achieved fame on TikTok without paying a cent, and you can do it too.
Top TikTok Tips for Businesses
If you decide to try your hand at running a business TikTok account, you should keep in mind a few tips that will help you succeed:
Don't be too serious
While Instagram is all about having that perfect profile, TikTok is all about fun, creativity, and engagement. Thus, what works on Instagram and other social media platforms definitely won't work on TikTok. Creators who try too hard, act too seriously or spend too much of their videos trying to sell their products or services usually antagonise their audience. If you're an avid TikTok user, you've probably come across videos where the creator spent ⅔ of the clip asking people to subscribe. Don't be like that.
Experiment with your content
We can't emphasise enough how important it is to be creative and entertaining on TikTok! The worst thing you can do is post dull, repetitive content – aka Instagram selfies and stories. Your viewers need to be entertained or educated by your videos every time. This is why the most popular videos on TikTok feature comedy, music, or dance.
Participate in TikTok trends
A sure-fire way to raise your TikTok popularity is to participate in one of the dozens of trends that sweep the app week after week. Try to have fun and enjoy yourself even if you don't feel like you belong. Oftentimes, TikToks filmed by creators who don't seem like they are the type to perform a silly dance routine become the most popular clips of all!
Keep an eye on the competition
No matter what field you're in, there are likely at least a few other TikTok users creating content on a similar topic as you. Thus, it's crucial to find these competitors and audit their accounts. For example, you can use the SWOT method to determine what their strengths and weaknesses are and what opportunities and threats their accounts present.
Take advantage of TikTok analytics for businesses
Just like all other social media platforms, TikTok provides its business users with analytical information, and you should always take advantage of that. You can find it by going to your profile page, tapping the three-line icon in the upper right corner of the screen, pressing Creator Tools and selecting Analytics.
Use hashtags for TikTok SEO
Including relevant hashtags in video captions is one of the best ways to promote your video organically on TikTok. The caption field has a limit of 100 characters, but you can include as many hashtags as you can fit.
Include captions in your videos
If your TikTok videos include you or other people speaking, you should always include captions, as this dramatically increases accessibility for other users. You don't need to do this by hand, as there are plenty of apps that add closed captions to videos automatically.
Use user-generated content for marketing your products
TikTok users value authenticity, so they are likely to respond much better to videos of other people enjoying your products rather than clips of you advertising them. But the best TikTok business accounts are the ones that don't even try to sell products at all! You can check out @eclairlips.com for a great example of this.
---
FAQ
Is marketing allowed on TikTok?
Yes, users are allowed to market products and services on TikTok organically or by using paid TikTok ads and influencer marketing techniques.
How to use TikTok for marketing?
The best ways to use TikTok for marketing is to create videos and post them to your own TikTok business account, utilise user-generated content, buy paid ads on TikTok, collaborate with influencers and try to start a branded challenge.
How do you get viral on TikTok in one day?
The easiest way to go viral on TikTok is to take part in one of the many trends that appear on the app every week. For example, you can create a video using a popular TikTok sound, film yourself doing a dance routine or make a stitch with another TikTok video that has gone viral.
How much does it cost to advertise on TikTok per month?
TikTok advertising is not cheap. In-feed and TopViews ads cost at least $500 per campaign, while branded hashtag challenges and branded effects will send you back $150,000 and $100,000, respectively.