TikTok is an increasingly popular social media platform with billions of downloads to date. More people are downloading the app every day, and it has already become a household name in just a few short years. But what are some revealing statistics about the site? For instance:
What is the most popular content category?
Is TikTok more popular with males or females?
How long does the average person spend on TikTok per day?
Read on to explore fascinating facts about the social media giant.
6 Enlightening TikTok Statistics
What is TikTok's Brand Value?
The brand value of TikTok in 2023 totalled $66 billion. This is an increase from the year before, which had a valuation of $59 billion. As a result, TikTok is one of the most valuable media brands in existence.
How Many Downloads Did TikTok Have in 2022?
TikTok was officially the most downloaded mobile app globally in 2022, with 672 million downloads! Meanwhile, Instagram was the second most downloaded, with 548 million downloads, Snapchat had 330 million, and Facebook had 298 million. This is illustrated in the chart below:
What is TikTok's Total Number of Downloads?
As of 2023, TikTok has been downloaded more than three billion times! TikTok is the first non-Facebook mobile app to reach this impressive number.
What Are the Most Followed TikTok Accounts?
Khaby Lame has the most TikTok followers, with 155 million (as of March 2023). He is best known for mocking life-hack videos. He took the title from Charli D'Amelio in June 2022, who is currently the second most-followed user with 150.1 million. Bella Poarch is third with 92.9 million followers, Addison Rae is fourth with 88.8 million, and Mr Beast is fifth with 77.8 million.
What Are the Most Popular Content Categories on TikTok?
According to hashtag views, Entertainment is the most popular category to date on the TikTok app, with 535 billion views. The second-most popular is Dance, with 181 billion. Other well-performing categories include Pranks (79 billion), Fitness/Sports (57 billion), and Home/DIY (39 billion), as shown in the below graph: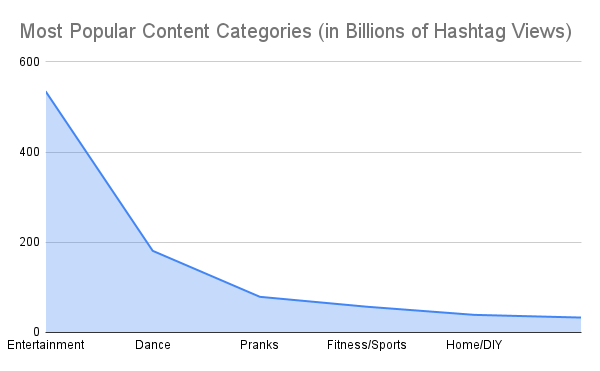 How Many Video Views Does TikTok Have?
TikTok videos are viewed more than one billion times a day. While this is a huge amount, certain other platforms receive more, with eight billion on Facebook and 14 billion on Snapchat viewing videos daily.
Fun TikTok Statistics Summarised
Brand Value
$66 Billion
2022 Downloads
672 Million
Total Number of Downloads
Over 3 Billion
Most Followed Account
Khaby Lame (155 Million Followers)
Most Popular Content Category
Entertainment
Daily Video Views
Over 1 Billion
3 Facts About TikTok User Demographics
Which Gender Uses TikTok the Most?
As of January 2023, roughly 54% of all TikTok users were female. Male users, therefore, comprised 46% of the platform's total users. Interestingly, on Facebook, male users comprised the majority, with 56.3% of the total, and females, 43.7%. The following pie charts represent these figures:


What is the Most Popular Age Group?
TikTok has proved more popular with younger generations. Data released in January 2023 revealed that 21.5% of TikTok's audience worldwide was females between 18 and 24 years old. Male users in the same age range comprised 17% of the total audience. Additionally, females aged between 25 and 34 made up 17%, and male users of the same age constituted 15%.
Which Country Has the Most TikTok Users?
China's version of TikTok — Douyin — has more than 700 million Daily Active Users (DAUs), making it the country with the most platform users. The US has the largest TikTok audience, with 113 million users, then Indonesia, with roughly 110 million, followed by Brazil, with nearly 82 million users.
TikTok User Demographics Summarised
Gender
54% Female
Most Popular Age Group
18-24 Year-Olds
Country With the Most Users
China (700 million DAUs)
5 TikTok Usage Statistics
How Popular is TikTok as a Social Media Platform?
As of 2023, TikTok is the sixth most popular social media platform based on its Monthly Active Users (MAUs). Facebook is the most popular, followed by YouTube, Whatsapp, Instagram, and WeChat.
How Often Do Users Open TikTok Per Day?
The average user opens the TikTok app around 19 times a day! This compares to an average of eight times a day for Facebook users.
How Much Time Do Users Spend on TikTok Per Day?
Recent data revealed that TikTok users spend an average of 95 minutes daily on the app. This shows users spend much time enjoying the app, especially compared to some of its competitor platforms. For instance, YouTube witnessed the second-highest average time spent on its app with 74 minutes a day, Instagram with 51 minutes, Twitter with 29 minutes, and Snapchat with 21 minutes daily. This information is encapsulated in the following graph: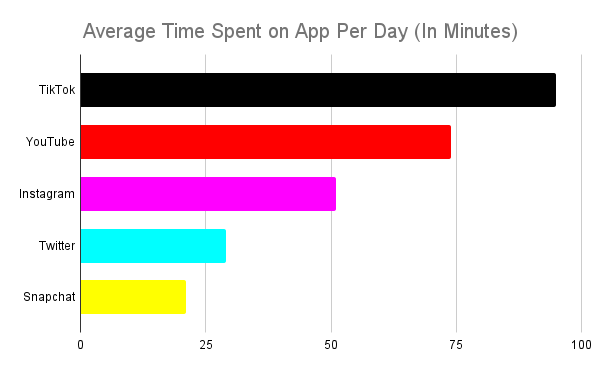 How Long Do Children Spend on TikTok?
Statistics gathered in 2021 revealed that children spent a lot of time using TikTok. As can be seen:
Globally, children spent approximately 91 minutes daily on TikTok that year, a decided increase from 75 minutes noted in 2020.
Additionally, recorded in 2021, children in the UK spent the most time on the app, with an average of 102 minutes per day.
US children, on the other hand, averaged 99 minutes daily in the same year.
However, more recent data announced that, in 2022, TikTok was used by 4-18-year-olds for an average of 107 minutes a day, showing a steady increase over time. YouTube was previously the app children would spend the most time on, but TikTok has held this title since June 2020.
What are TikTok's Monthly and Daily Active Users?
TikTok is reported to have more than 600 million DAUs worldwide and one billion MAUs. This illustrates how far-reaching and popular the TikTok app is globally. 
TikTok Usage Statistics Summarised
TikTok Popularity
6th Most Popular Social Media Platform
Average Number Of Times the App is Opened Daily
19
Average Time Spent on TikTok Daily
95 Minutes
Average Time Children Spend on TikTok Daily
107 Minutes (2022)
DAUs
Over 600 Million
MAUs
Over 1 Billion
3 TikTok Business Statistics
What Percentage of E-Commerce Brands Plan to Increase Their Ad Spending on TikTok?
85% of e-commerce brands intend to increase advertising spending on TikTok in 2023. On Meta, 39% of brands plan to increase spending, but interestingly, 31% intend to spend less on Meta. This suggests that businesses view TikTok as a worthwhile platform to advertise on in the current year, more so than Facebook.
What is TikTok's Ad Revenue?
TikTok's advertising revenues are due to reach over $18 billion this year (2023). This represents a 55% increase from 2022, which indicates that TikTok is a fantastic platform for businesses to advertise effectively and efficiently.
How are TikTok Influencer Engagement Rates?
TikTok has impressive influencer engagement rates compared to both Instagram and Youtube. For instance:
Micro-influencers witnessed engagement rates of 17.96% on TikTok, whereas engagement rates were just 3.86% on Instagram, and 1.63% on YouTube.
When considering mega-influencers, TikTok saw a 4.96% engagement rate compared to 1.21% on Instagram and just 0.37% on YouTube.
Moreover, recent studies reveal that TikTok is currently the most engaging social media platform, with an average engagement rate of 5.96%.
TikTok's outstanding influencer engagement rates compared to other platforms can be observed in the bar chart below: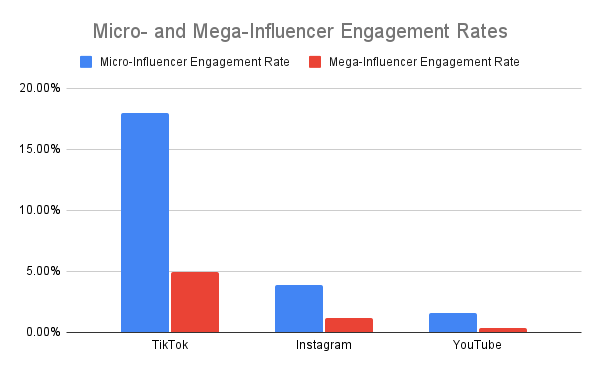 TikTok Business Statistics Summarised
Percentage of E-Commerce Brands Intending to Increase Ad Spend on TikTok in 2023
85%
Ad Revenue
Forecast to Reach Over $18 Billion in 2023
Influencer Engagement Rates
Micro-Influencers: 17.96%Mega-Influencers: 4.96%
3 TikTok Statistics for Marketers
Do Users Prefer TopView Adverts on TikTok?
In a recent survey, participants were asked whether they prefer TikTok's TopView ad format or advertising formats on other platforms, so 72% stated that TopView was their preference. Major reasons include its sound-on, full-screen options, and organic placement within the TikTok app.
What is TikTok's Ad Reach?
TikTok ads reach nearly 18% of all internet users 18 years and over. Furthermore, they reach 25% of Female Gen Z users and 17.9% of male Gen Z users.
How to Create a Successful TikTok Ad?
Research has shown that over 60% of successful TikTok adverts deliver their message instantly. This demonstrates the importance of grabbing the viewer's attention immediately before they scroll past.
References
https://www.statista.com/statistics/1324424/tiktok-brand-value/#:~:text=In%202023%2C%20the%20brand%20value,most%20valuable%20media%20brand%20worldwide
https://www.statista.com/statistics/1285960/top-downloaded-mobile-apps-worldwide/
https://www.cnet.com/tech/services-and-software/tiktok-hits-3-billion-downloads/#:~:text=And%20becomes%20the%20first%20non,app%20to%20break%20the%20record
https://www.dexerto.com/entertainment/top-20-most-followed-tiktok-accounts-loren-gray-charli-damelio-more-1326252/
https://www.thehealthyjournal.com/frequently-asked-questions/how-many-tiktok-videos-are-watched-everyday
https://www.statista.com/statistics/1299785/distribution-tiktok-users-gender/#:~:text=As%20of%20January%202023%2C%20approximately,46%20percent%20of%20the%20total
https://www.statista.com/statistics/699241/distribution-of-users-on-facebook-worldwide-gender/
https://www.statista.com/statistics/1299771/tiktok-global-user-age-distribution/
https://www.statista.com/statistics/1299807/number-of-monthly-unique-tiktok-users/
https://www.statista.com/statistics/272014/global-social-networks-ranked-by-number-of-users/
https://sensortower.com/blog/tiktok-power-user-curve
https://www.businessdit.com/tiktok-user-statistics/
https://techcrunch.com/2022/07/13/kids-and-teens-watch-more-tiktok-than-youtube-tiktok-91-minutes-in-2021-youtube-56/?guccounter=1&guce_referrer=aHR0cHM6Ly93d3cuZ29vZ2xlLmNvbS8&guce_referrer_sig=AQAAAMFVFxCOeLPH-TBaM_ef6cJ_Kll6y3pZIITQIYVE-8_lBIwZBU9e5ZLl0WMfPpTv4CgdQUhENgs-OeFWv4JyhJcdAX7Zjo91kKXR4zrTCagPZDLkdT8vzbYVDIP1idRIzMZ-Jf5_hBvR2JbWShYcFR4Y2ZP-uaLYvXO-WWpjsLPj
https://www.performancemarketingworld.com/article/1802158/increased-spend-tiktok-2023-planned-85-brands-just-39-plan-hike-meta-budgets#:~:text=TikTok%20is%20being%20prioritised%20for,less%20on%20Meta%20next%20year
https://www.oberlo.co.uk/statistics/tiktok-ad-revenue#:~:text=How%20much%20does%20TikTok%20make,fastest%2Dgrowing%20social%20media%20platform.
https://www.socialpilot.co/tiktok-marketing/tiktok-statistics#:~:text=TikTok%20ads%20reach%2017.9%25%20of,of%20male%20Gen%20Z%20users
https://www.omnicoreagency.com/facebook-statistics/#:~:text=With%20over%202.96%20billion%20monthly,a%20day%20on%20the%20app
Resources
https://thesocialshepherd.com/blog/tiktok-statistics
https://wallaroomedia.com/blog/social-media/tiktok-statistics/#:~:text=TikTok%20is%20available%20in%20over,be%20on%20TikTok%20right%20now.
https://www.statista.com/topics/6077/tiktok/
https://www.businessofapps.com/data/tik-tok-statistics/
https://blog.hubspot.com/marketing/tiktok-stats
https://influencermarketinghub.com/tiktok-stats/
https://sproutsocial.com/insights/tiktok-stats/
https://datareportal.com/essential-tiktok-stats
https://www.omnicoreagency.com/tiktok-statistics/
https://blog.hootsuite.com/tiktok-stats/
https://www.demandsage.com/tiktok-user-statistics/