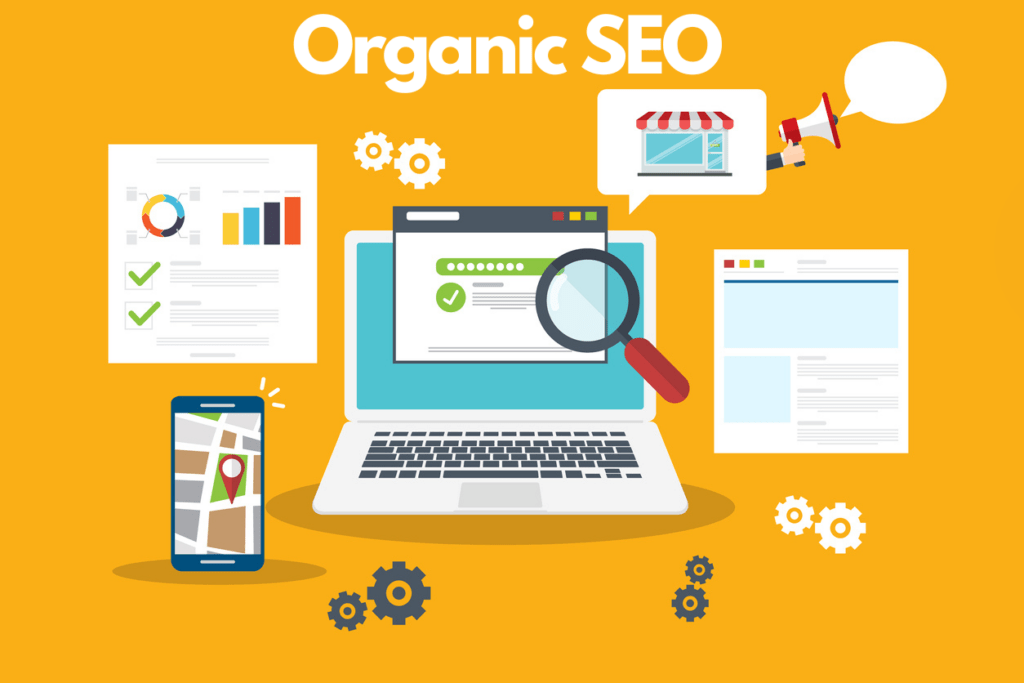 Key Takeaways
Organic Search Engine Optimisation (SEO) is the process of optimising your web pages and content to rank higher in search engine results.
Organic SEO algorithms connect search inquiries with the most relevant and helpful information to provide an optimal user experience.
Optimise your website with organic SEO for organic search engine results so you can outrank and outperform the competition.
Organic SEO is wise because it boosts brand awareness and has a high Return On Investment (ROI).
NUOPTIMA can help improve your organic SEO by implementing strategies like keyword research, content creation, and more! Book a discovery call now with one of our specialists to uncover your business's most suitable SEO tactics.
Are you looking for a proven way to increase your website's visibility and draw more organic traffic?
Organic SEO is the answer!
Organic search optimisation, or organic SEO, is a cost-effective marketing strategy that helps businesses gain visibility in organic search engine results. SEO uses organic search strategies such as content optimisation, keyword research and backlinking to increase organic website visibility. As a result, SEO helps businesses drive organic traffic.
In this blog post, we'll explore organic SEO and why it's essential in boosting your online brand awareness, engagement, and more. Let's dive in!
What Is Organic SEO?
Organic SEO is the process of optimising your web pages and content to rank higher in search engine results. SEO focuses on improving organic or unpaid search engine rankings, meaning you are not paying for a featured spot in the search engine's results. By increasing visibility in search, businesses can attract more potential customers to their websites by using high-value keywords that are most relevant to their products or services.
Importantly, organic SEO requires more time and attention than fast-paced solutions such as PPC or social media marketing that utilise quick but expensive fixes or even black-hat SEO techniques that will damage your website's performance in the long run. Hence, organic SEO is the only method that provides reliable, long-lasting results. Utilising a team that knows how organic SEO works can make a massive difference by making your business visible online.
How Does Organic SEO Work?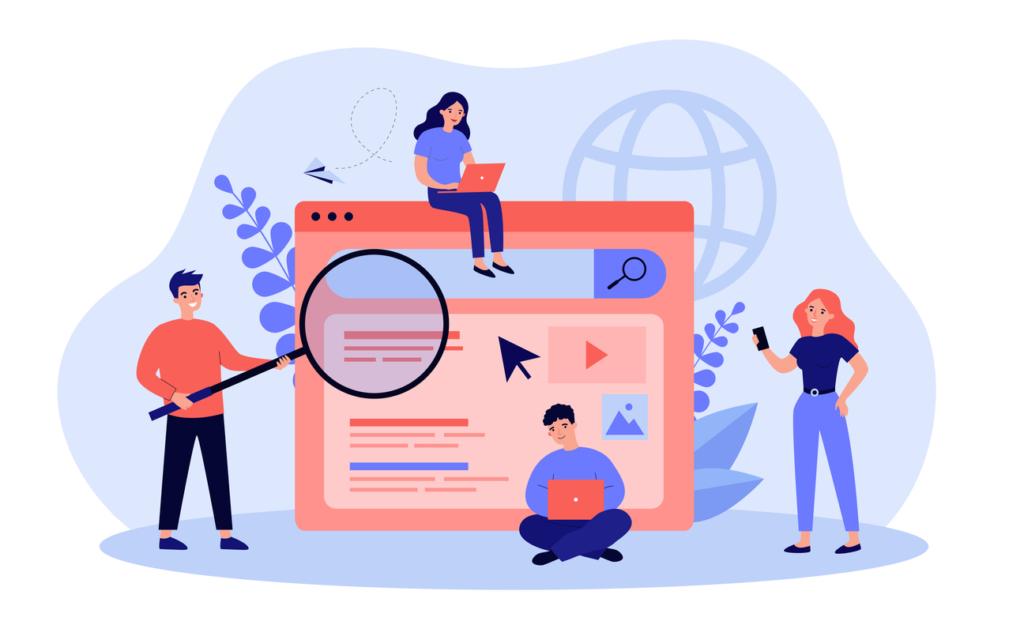 Understanding how organic SEO and Google are interrelated is essential, as this will help you understand how SEO works. Google uses SEO algorithms to connect search inquiries with the most relevant and helpful information. On top of that, Google focuses on providing an optimal user experience, including page speed, dwell time, and other aspects. Organic SEO considers these algorithms to ensure a website meets users' needs and desires.
Let's look at the example of someone researching "organic dog food". By using organic SEO methods like targeting related keywords such as "all-natural pet food" or "healthy treats for dogs", you significantly boost your website's chances of appearing in related search results.
Why Is Organic SEO Important?
Organic SEO is the foundation of organic digital marketing. SEO attracts potential customers by strategically placing your website at the top of search engines. Through SEO, businesses benefit from increased website visibility, traffic, and sales. SEO should be part of any successful digital marketing strategy as it allows businesses to optimise their websites for both Google and Internet users.
Our NUOPTIMA experts are here to help you outline your organic SEO goals, craft a powerful organic SEO strategy, and carry out that plan for your business. By harnessing the power of organic SEO, you can help ensure that your website is successful and enjoys increased traffic from potential customers. In addition, when visitors come to your website organically, it indicates that they are finding what they were searching for – now that's great news!
The Benefits Of Organic SEO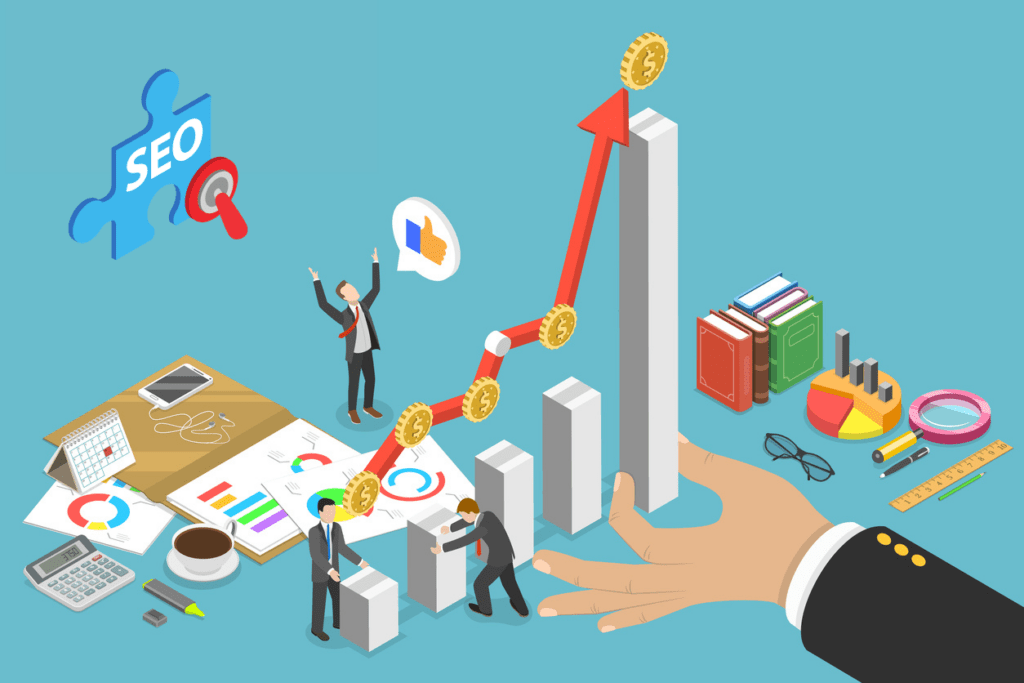 Investing in organic SEO is a wise decision for businesses of all sizes. Not only does it expand brand recognition and lead to an uptick in sales, but it also delivers an impressive ROI. Let's dive into the benefits of this powerful marketing strategy!
Brand awareness
Highly Targeted. With organic search, you'll have more website visitors, especially those actively searching for what you offer. Being highly targeted leads to higher Google organic search rankings and improved visibility in the natural results, allowing you to reach the number one position faster.
Competitive Advantage. A business can increase its organic visibility with target keywords and outrank rivals without spending money on temporary digital ad paid space. Take, for example, the company that raised its organic traffic rankings – it ranked higher in searches, which further shifted other competitive companies down.
24/7 Promotion – Investing in organic SEO ensures that your brand is constantly visible on the web – even when you sleep! Promoting your business 24/7 will significantly boost your reputation and visibility. Don't miss this opportunity to gain more reach and get ahead of the competition!
Long-Term Results. Organic search strategies optimise a company's presence on search engines both sustainably and over an extended period, as they aren't dependent on pay-per-click (PPC) or monthly expenditures. PPC can bring in a lot of traffic, but this will only provide short-term results as it requires constant attention, modifications to the strategy, and a large budget.
Sales and Return On Investment
Cost-Effective and Scalable – Compared to pay-per-click ads, companies can benefit from the cost-efficiency of organic search. Sure, paid advertisement allows immediate access to possible visitors; however, it often becomes expensive and burdensome with time. On the other hand, organic traffic is affordable if companies invest in an effective organic SEO marketing strategy. An organic strategy saves on future costs since no upfront investment or high maintenance budget is necessary. This way, success continually increases without expanding marketing expenses!
Growth in Sales – SEO offers a variety of advantages for your business, from increased sales and enquiries to an expanded prospect list. The more effective you are in applying SEO strategies, the greater amount of organic traffic you'll have – plus search engine rankings that keep their position in SERPs. And not only will this boost your visibility, but it also leads to higher quality prospects as these users already demonstrate interest.
High ROI – SEO offers the highest ROI than any other form of marketing due to the low cost of organic search and traffic. Organic SEO results are also long-term, meaning you will enjoy the best value for your investment over time. Other digital marketing strategies put your budget at the whim of large companies setting their advertising space price. Unlike PPC, which requires continuous investment, organic search engine optimisation allows companies to attain their goals with the right audience without worrying about unpredictable budgeting.
How To Improve Your Organic SEO?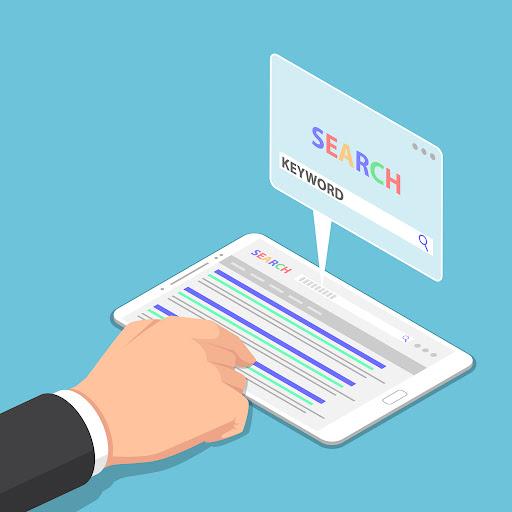 Improving your Google organic search ranking can be daunting – that's why we have shortlisted these techniques that can help boost your website's rankings in search engine result pages, from implementing keywords, content, and copywriting strategy to increasing page speed.
Keyword Research
Keywords are essential to any successful organic SEO strategy. Keyword research helps businesses to identify what potential customers are searching for, what kind of language they use in their searches, and what words and phrases lead them to websites. In addition, businesses need to understand what keywords are relevant to the product or service they offer.
Hence, by strategically placing relevant keywords throughout your website, Google can identify and prioritise your content in organic searches. The proper use of Keywords will help customers find your site, as Google algorithms prioritise content that is most relevant to the search words presented.
Backlinks
Backlinks are a vital component of organic SEO and one of the most powerful methods for improving page rankings. When contextual links from popular websites point to your website, search engines perceive your content as more valuable and trustworthy. You can create a seamless path for customers searching for your services or products through carefully placed backlinks. For example, well-implemented backlinks help customers on their journey from discovery to the conversion stage.
Businesses should take special care when creating backlinks to maximise their effect on organic SEO. Ensuring all backlinks follow industry standards is of utmost importance, such as correctly using high-quality content and outbound links.
Multimedia Content
Incorporating visuals such as videos and images adds context to your written content. As a result, it significantly boosts your SEO ranking within the SERP. This improved visibility ultimately translates into better engagement rates with readers who stay longer on a webpage and show an increased potential for conversions.
Plus, adding visual media engages viewers while making information easier to comprehend. For example, an informational video outlining SEO methods can quickly give your audience a better understanding of organic search engine optimisation.
Web Design
Web design is essential for SEO because a well-designed website will keep users engaged longer and provide an enhanced user experience. In addition, a clean user interface and experience can positively impact organic search engine results, as Google considers site design and usability when ranking pages in SERPs.
Good web design allows you to easily find and navigate content, making visitors more likely to explore the website and discover topics related to their search. Ultimately, a well-thought-out web design increases organic traffic and improves organic keyword visibility.
Optimising Page Load Time
Page speed optimisation helps SEO performance as search engines prioritise websites with faster loading times. According to Kissmetrics, nearly half of the customers expect a site to load in two seconds or less. More importantly, 40% of web users will leave your page if it does not appear within three seconds.
Thus, website loading speeds must be quick to engage and retain visitors' attention. Enhancing loading times is a win-win for everyone involved – from search engine rankings to user experience and conversion rates! It's an extraordinary example of how SEO practices can benefit all parties.
Adding Image Alt Tags
Alt tags provide a textual description of an image which search engine algorithms can read. Search engines like Google use the text to understand what an image is about, therefore increasing organic rankings for related keywords.
Here's Why You Need NUOPTIMA For The Best Organic SEO Results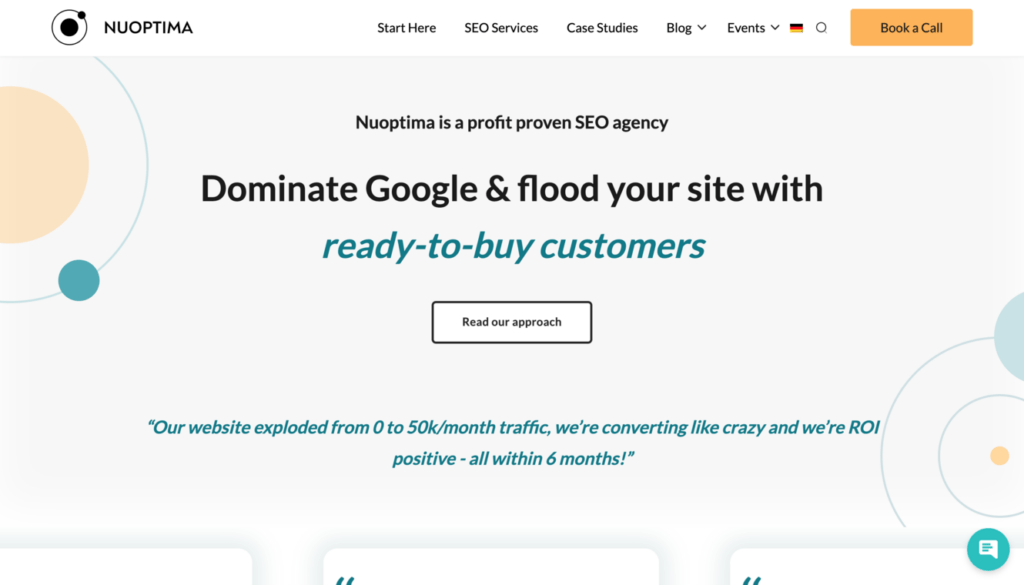 Achieving a successful SEO strategy is challenging in today's competitive landscape. It's best to remember that organic SEO requires an experienced team to reap the rewards as soon as possible. That's where NUOPTIMA comes in. The team can help build your business's best organic SEO marketing strategy. So outshine your competition and unlock your website's true potential with UK's leading SEO agency, NUOPTIMA.
NUOPTIMA is an award-winning full-stack growth agency that provides outstanding SEO services. Our specialists have years of expertise in the field and will apply the latest techniques to maximise your website's visibility and increase traffic. Take a few minutes to explore our clients success stories and be inspired by the SEO greatness that we have helped them achieve! For an SEO plan tailored specifically for you, book a call now with one of our specialists and get started today!
What is organic SEO vs paid SEO?
Organic SEO is about achieving unpaid rankings on search engines, whereas paid SEO seeks to buy the top spot. Furthermore, these two strategies can be differentiated by their time frames of impact – organic SEO has a slower process, but its effects last much longer than its counterpart, which offers quick visibility for shorter durations.
What are the benefits of organic SEO?
Organic SEO allows businesses to get their content and website listed in search engine results without paying for ads. This can increase visibility, drive more users to your website, and improve brand awareness, all with a great ROI.
What is the golden rule of SEO?
The golden rule of SEO is to create high-quality and relevant content for your target audience. Crafting compelling content captivates audiences, piques search engine interest, and leads other websites to link their content to yours. Higher rankings and more website traffic are surefire results of creating comprehensive textual pieces that readers enjoy!
What is an organic strategy?
An organic strategy is a comprehensive plan to boost organic search engine rankings and drive organic traffic to your website. This strategy should include keyword research, backlinks, page speed optimisation, and more.
How long does it take for organic SEO to work?
Organic SEO can take some time to see results, as organic rankings are not instantaneous. Typically, it takes 3-6 months to start seeing organic traffic growth and an improvement in organic rankings.
Sources:
https://www.kissmetrics.io/blog/what-is-time-on-site/
https://www.techtarget.com/whatis/definition/organic-search-results
https://cariadmarketing.com/insights/benefits-organic-seo/
https://www.webfx.com/seo/glossary/what-is-organic-seo/