Key points
Amazon Refund Policy allows you to return almost anything you bought on the marketplace and get a partial or full refund through a payment method of your choosing.
Customers are entitled to get a full refund if they receive an unsatisfactory or damaged parcel or if the package is lost during the shipping process. Damaged or unsatisfactory items need to be sent back up to 30 days after they are received. Depending on the payment method, customers may even get an instant refund option.
Amazon provides an A-to-Z Guarantee for products purchased from third-party sellers.
Amazon does not issue refunds for opened software and video game boxes. The Amazon guarantee doesn't cover digital items, stored value instruments, or services, as well as items sold directly by Amazon.
Amazon is the most popular and the largest e-commerce company in the world. The company keeps up with its reputation and provides excellent service to satisfy the enormous amount of clients they have to work with every day. The question is, does this service include refunds, and how to get a refund on Amazon?
When it comes to selling products online or offline, refunds are unavoidable. Since online shopping can be tricky, some customers are left unsatisfied and have to return the products and ask for refunds. Sometimes, products can also get lost during the shipping process, the contents of packages can get damaged, or the seller may ship the wrong product. Even the best sellers can't foresee these issues, and even though Amazon does its best to prevent them, these incidents still happen. That's why Amazon has a refund policy to ensure that the sellers and customers can be left satisfied.
If you're new to Amazon or have never requested a refund on the platform, keep reading to find out how to get a refund from Amazon if you're a customer or a seller.
Amazon Refund Policy: a Short Overview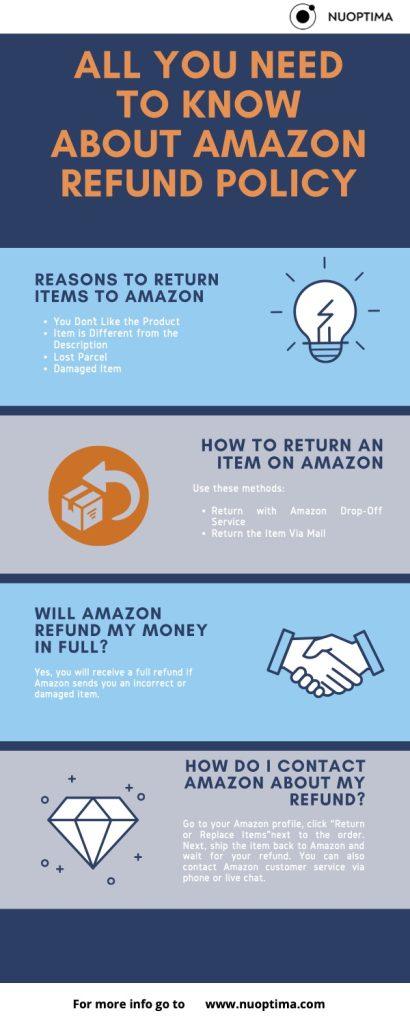 Amazon Refund Policy is a set of rules that help customers get refunds for their purchases. It specifies the number of days a customer has to request a refund and refund ratios. Keep in mind that if you want to request a refund, you have to either ship back the product or create a lost parcel report.
Customers can return items within 30 days from the receipt of their order. But if you make a purchase during the winter holiday season, you will usually have more than 30 days to return it. In most cases, if you place an order between November 1 and December 31, you will have until January 31 of next year to return the item.
If you want to return the item and receive a refund, you need to mark the item as unsatisfactory in your Amazon account within two weeks after receiving it. After that, you need to ship the package back to Amazon and wait for the refund to arrive in your account. Amazon usually takes up to 35 days to refund its customers.
You can choose the most convenient refund method. Some available options include credit/debit cards, Amazon gift cards, checking accounts, and SNAP EBT cards. It usually takes 3 to 5 business days for Amazon to process your refund before it's transferred to your account.
If you shop online, you must receive your package before requesting a refund. Remember, most Amazon returns are completed in three simple steps: shipping, return processing, and payment processing.
Reasons to Return Items to Amazon
When you start a return on Amazon, you will be asked to select the reason for the return. However, you should keep in mind that you have the right to return your order to Amazon regardless, even if you don't have any specific reason for it, as long as the return is in line with the company's rules. But here are the most common reasons why people return orders to Amazon:
You Don't Like the Product
You may not like the product you receive, even if there's nothing wrong with it. Regardless of your reasons for the refund, Amazon can give you back the money. The only drawback is that there's no guarantee that Amazon will pay for shipping if you return a product you simply don't like. Amazon will generally refund your money within two business days.
Item is Different from the Description
Sometimes, the product you receive is different from what you imagined, and that is a downside of online shopping. If the item is entirely different from the description, Amazon will deem it "materially different" and require the seller to accept the return and refund you.
Lost Parcel
There are cases when the package simply gets lost during the shipping process, whether it's shipped to the wrong address, received by a different person, or gets lost among other parcels carried by the courier. In this case, Amazon will investigate the details, and once it's confirmed that the package is lost, the customer will get a full refund.
Damaged Item
This is a relatively rare occurrence, but your order can arrive damaged, or it may be missing some items or parts. This may happen if the product you've ordered is easy to break, and you have the right to request a full refund for it.
How to Return an Item on Amazon
If you want to return the parcel and get a refund, here's a step-by-step guide on what to do. First, go to your Amazon account and click the "Return & Orders" button. Then, choose the item you want to return and click "Return or Replace Items". Next, select a reason why you're returning the item and decide how you wish to receive your refund. After that, pick the return method and send back the item using the method you chose.
Amazon Return Methods
Amazon gives its customers multiple return methods to choose from. For example, you can use a pick-up location, choose the heavy-bulky return option, or go to a drop-off spot, Amazon Hub Counter location, or one of Amazon's designated return offices.
Return with Amazon Drop-Off Service
After completing the steps above, Amazon will generate a return label. Before shipping your item back, you must carefully pack it and attach the label. Then you can either drop it off at an Amazon location or one of Amazon's partner stores, such as a UPS Store, Kohl's, or Amazon locker.
Return the Item Via Mail
If you want to return your item using regular mail, you need to print the return label and pack the product you're returning in a box. Don't forget to use padding materials to ensure that the item can arrive undamaged. Then attach the label to the box. Don't worry, Amazon will give you a list of all the steps you need to go through to help you ship the parcel back.
Amazon will display how much you need to pay in return fees when you choose a shipping method. You likely won't be charged if you live in the United States. However, there are a few caveats. Amazon will subtract the restocking and return shipping fees from the total refund amount if you choose a paid return method. But if Amazon sent you the wrong order or there was another error caused by the seller or Amazon, you will receive a refund of the shipping cost. If you see a "free return" mark next to the item in your account, it means that Amazon will cover the return shipping fee.
Will Amazon Refund My Money In Full?
Now that you know the basics of Amazon's return policy, let's discuss how Amazon returns work in real life. As soon as Amazon receives your item back, they'll inspect it to determine whether you should get a partial or full refund. Here are some common situations:
Item Is Undamaged and Returned on Time
If you return the item to Amazon within 30 days as received in its original condition, Amazon will give you a 100% refund. However, you might need to pay a shipping fee for returning the item, restocking fees, and taxes.
Item Is Undamaged but Returned Late
If for some reason, you didn't ship the item back within 30 days, Amazon can still reimburse you 80% of the total purchase price.
Damaged or Used Item Returned on Time
Amazon's return policy states that if Amazon is at fault for product damage or sending you the wrong item, they'll give you a 100% refund. However, if proven that it's your fault, Amazon will reimburse you 50% of the whole amount. These rules also apply for used items or items returned with missing parts.
Lost Item
If you haven't received your parcel a month after placing the order, you can ask Amazon to check your order. If it's proven that the package has been shipped to someone else or got lost during the shipping process, you'll get a full refund.
Opened Items
Amazon does not provide refunds for opened software and video game boxes. However, you can get a 50% refund for physical copies of music albums and movies. The rules for other items vary. Check Amazon's policy on opened items before requesting a refund.
Amazon Fresh doesn't accept returns in most cases, but you'll need to contact Amazon directly.
Refund from a Third-Party Seller
If you didn't purchase the item directly from Amazon, you can contact the third-party seller who sold the product and request a refund. In some cases, the seller may give you a full refund without you returning the item.
The Amazon A-to-Z Guarantee ensures that buyers who purchased products from third-party sellers receive a refund, and it covers both the delivery fee and the cost of the item.
You are eligible for a refund if you:
received a materially different order
didn't get the parcel three days after the estimated delivery date
returned the item, but the seller didn't give you a refund.
You can request a refund for up to 90 days after the latest estimated delivery date. However, keep in mind that Amazon guarantee doesn't apply to digital items, stored value instruments, services, or items sold by Amazon.
If you want to exchange the item for a different size, Amazon will charge you if the new product costs more, and it will reimburse you the difference if it costs less.
Talk to an Amazon expert
We work with 100+ businesses. Book a slot now to talk to one of our experts.
---
FAQ
Does Amazon refund all your money?
Yes, you will receive a full refund if Amazon sends you an incorrect or damaged item.
How long will it take for Amazon to refund my money?
It depends on the payment method you choose, but it usually takes between 3 and 30 days to get a refund.
Will Amazon refund you if your package was stolen?
If the parcel was lost or stolen, Amazon will give you a refund if you have strong evidence that the package was stolen.
How do I get a refund for an item not received?
If you don't receive your package within the allotted time, contact your seller, cancel your order, and ask for a refund.
How do I contact Amazon about my refund?
Go to your Amazon profile, choose the order you want to refund, click "Return or Replace Items", pick the reason for requesting a refund, and decide if you wish to replace or refund the item. Next, ship the item back to Amazon and wait for your refund. If you have any questions or concerns about your refund, you can also contact Amazon customer service via phone or live chat.