Key points
Driving outside traffic to your Amazon listings is an effective method to increase sales, improve your products' ratings on Amazon, and grow your profits.
It's crucial to optimize your product listings and make them as attractive as possible before starting to run ads or otherwise promoting your Amazon products.
The best outside traffic sources include social media platforms such as Facebook, Instagram, and TikTok, deal websites, Google, and influencer blogs.
Attracting external traffic to the products you sell on Amazon will not only increase your profits in the short-term but also help you build up your brand and create lasting relationships with customers.
Have you tried out all of Amazon's advertisement tools? Do you think you can still attract more customers to your product listings? Then it is time to think about driving external traffic to your Amazon products.
Some sellers feel reluctant about broadening their horizons and bringing in external traffic to their listings since Amazon has a huge customer base. After all, Amazon is the largest online marketplace with a massive customer base that continues to grow. Consider the statistics: nearly 74% of people in the USA begin their shopping journey on Amazon. But where are the remaining 26%? It's time to look for them, and the best way to do so is to concentrate on external traffic sources. It is not as difficult as it may appear at first! In this article, we will discuss new methods for reaching out to potential customers in order to drive traffic to your Amazon store.
Why should you drive external traffic to your Amazon listings?
Amazon has numerous powerful internal advertising tools for sellers, but there is always room for improvement. Since seller competition is increasing and Amazon ad costs are rising, you need to use additional methods to drive traffic. Here are some other ways your Amazon business can benefit from external traffic:
Boost your best seller rank
Sales velocity is one of the most important factors in the Amazon search algorithm, so if your products have a consistent conversion rate from Amazon's direct traffic, sending additional qualified outside traffic to your listings can significantly increase your sales velocity. And the more traffic your listings get, the higher your Best Seller Rank will be. And higher Best Seller Rank can help boost your sales. Remember that simply waiting for customers is a passive form of business management, so you should go find new customers yourself!
Be on top
There's a huge amount of competition among Amazon sellers. They are fighting for advertisement spots, hoping to take the converted place in the top section of organic results and win Buy Boxes. Plus, there are numerous programs such as Sponsored Brand or Product Brand Registry, and if you are not eligible to participate in them, you won't be able to beat the competition. Even if a customer clicks on your product listing, they may still see Sponsored Products advertisements.
Luckily, you can beat this competition by advertising on other channels. If you buy ads on other platforms, your product will be placed in front of the target customer in an area where there are no other competing products. This creates a fantastic opportunity for you to engage new customers on a platform where they won't see any intrusive offers to purchase another similar product at the same time.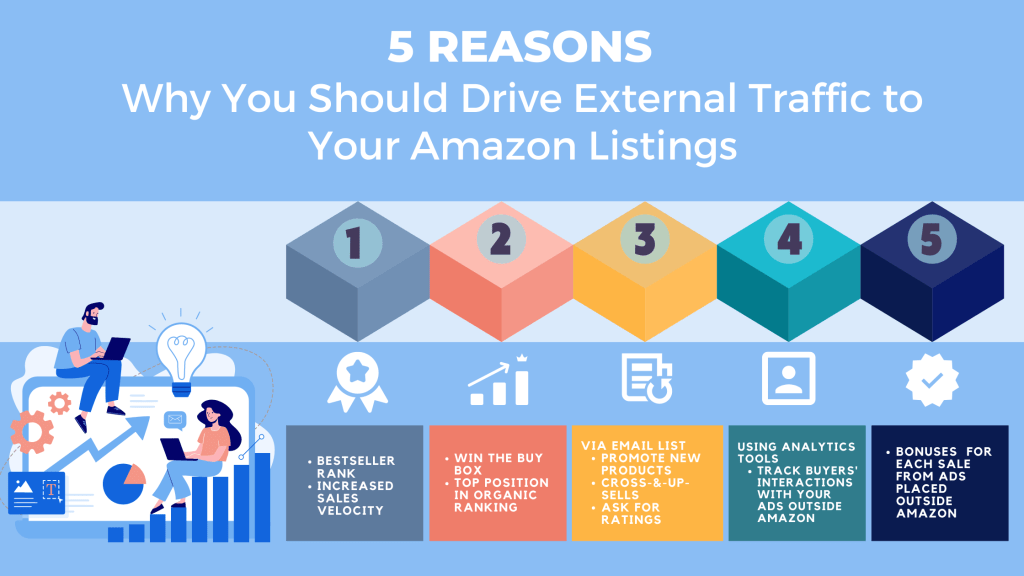 Create an email list
An email list is one of the most valuable tools for any marketer or retailer. Unfortunately, Amazon's policies prohibit sellers from collecting their customers' emails on its marketplace, and any attempt to do so will likely result in severe repercussions for your brand.
However, you can get around these rules if you reach out to your target customers before they visit Amazon. This is a legitimate way to build an email list.
But why are email lists so valuable? You can use them to:
Promote your new products
Build long-term relationships and get regular customers
Push cross-sells and up-sells
Ask for reviews
Furthermore, an email database is your backup plan for staying in touch with customers if you are unable to continue selling on Amazon or simply want to take control of your business and create your own website or start selling on another online marketplace. You can also run your outreach campaigns on Facebook Messenger, as it is becoming increasingly popular.
See analytics
If you are a lucky member of the Amazon Brand Registry Program, you can utilize the analytics tool called Amazon Attribution. This feature tracks all users' interactions with your ads outside of Amazon, allowing you to determine which outside channels work best for your brand.
Earn bonuses
In summer 2021, Amazon launched a new program called the Brand Referral Bonus program (accessible only for brand registered sellers). With this program, you can now earn bonuses for each sale you get from ads placed outside Amazon. The bonus will be applied to your referral fees, allowing you to save money in the future. The bonuses vary depending on the category in which you sell, and you can learn more about this program by visiting the official Amazon help page.
Things to do before driving external traffic to Amazon
It is crucial to prepare your listings before launching an external advertising campaign. By optimizing your listings, you can help get a good conversion rate on your ads. Otherwise, you will be wasting both time and money. Here are some tips you can use to improve your Amazon listings for potential customers:
Upload only high-quality images. You can arrange a product photoshoot or use Photoshop to make your photos more appealing to customers.
Work on your SEO. This will help you reach a targeted audience that is more likely to be interested in your product.
Create thorough product descriptions. Think about the unique features of your product that help it stand out from the competition and list these features and advantages in product listings. This will help you attract more attention to your listings and, as a result, increase your sales.
Improve your product rating and get more reviews. Try to get at least 20-30 reviews and a 4+-star rating on all your products. However, keep in mind that Amazon has a strict review policy, so it is best to avoid using black-hat methods for obtaining reviews.
Select the best channel for promoting your brand. It would be a bad idea to run ads on Pinterest if your product has nothing to do with aesthetics or if it's not visually appealing. That is why it is critical to identify a product niche that will bring the most profit.
Best ways to drive external traffic to Amazon
Facebook
Did you know that more than 20% of customers begin their product search on social media? Facebook is one of the most popular social media platforms, so you should consider promoting your Amazon products on Facebook first. Facebook Advertising is a powerful marketing tool that allows you to find and promote your product exclusively to your target customers. In addition, since Facebook owns Instagram, you can also create Instagram ads through Facebook.
Send traffic to a landing page first
If you choose to advertise on Facebook, we recommend that you direct ad traffic to a landing page first, rather than sending it directly to your Amazon listing. This is important because sending customers directly to product listings reduces your chances of getting sales. When you send ad traffic to your landing page, you have a much greater chance of convincing your customers to buy something.
Most people use Facebook to read the news and catch up with friends, and they usually have no intention of purchasing anything. So, by directing visitors to your landing page, you can pique their interest in your product. And if they are interested in what they see, they can visit your listing page and make a purchase. Furthermore, by sending users to your landing page, you can collect their email addresses. You can then send emails with special offers to these people in an attempt to convince them to make a purchase.
How to promote an Amazon product on Facebook?
Create a Facebook page (you can use your existing account). Go to the Settings page to set up an ad account and link your credit card to pay for fees and services.
Analyze statistics and select the best marketing strategy for your brand.
Create compelling ads with creative media and copy.
Set up your ad campaign and monitor its results.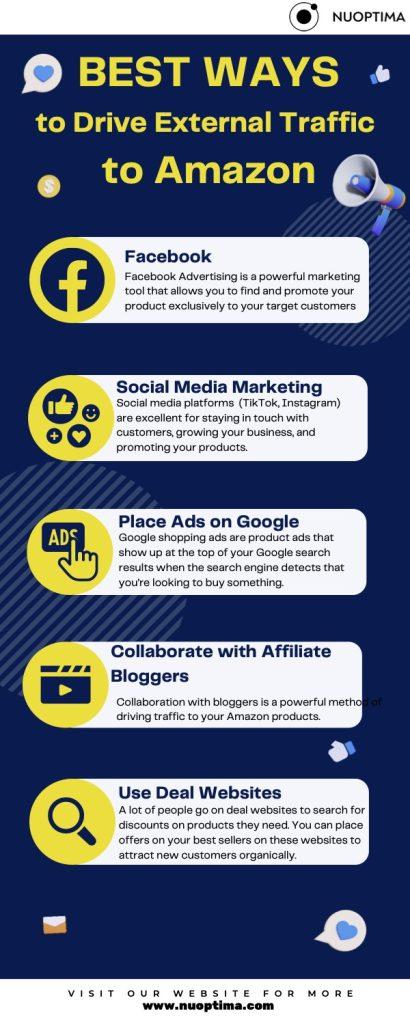 Social media marketing
For better or worse, most people in developed countries spend a considerable portion of their free time on social media. That is why it is critical for every business to have a social media marketing strategy. Social media platforms are excellent for staying in touch with customers, growing your business, and promoting your products. If you build a savvy social media strategy, you will be able to grow your social media audiences organically and draw a lot of attention to your brand.
TikTok
TikTok is a relatively new player in the world of social media, but it's quickly taking the world by storm. So now is the right time to put your creativity to work on Facebook. If you create high-quality content, you have a great chance of going viral and bringing more followers to your Amazon storefront. Follow these steps to create a TikTok presence:
Study the most popular trends that have gone viral in the last few days.
Consider how you can creatively present your brand or product in a similar video.
Film a high-quality video, and don't forget to include hashtags to ensure that people can see it.
Make sure you have fun! TikTok is all about authenticity, and you won't have any luck on the platform if you come off as fake.
YouTube
YouTube is another platform you can use to increase sales by attracting new customers. Everyone knows that YouTube is an incredibly popular video-streaming platform with a vast user base, and you can utilize this popularity to grow your Amazon business by creating useful videos for YouTube users. Here are some tips that will help you create a successful blog on YouTube:
Create a separate video channel for your brand and configure all of the tools for monetization and channel usage.
Don't forget to create a logo and come up with an appealing name for your channel.
Use the most suitable keywords in your video title and description to reach the right audience.
Include your website address, email, and other contact information along with a link to your Amazon listing page in the video description.
Consider different ideas for your videos. For example, you can film tutorials on using your product or create videos explaining its benefits or highlighting unique features.
Think about how you can pique an ordinary user's interest in your product so that they go straight to Amazon to buy it.
Instagram
Instagram is one of the best platforms for e-commerce. While millions of people browse this social media site on a daily basis, lots of businesses also use it to attract new customers. You can create an account for your brand and use it for organic exposure and growth or run targeted ads to attract people to your Instagram profile or Amazon store. We recommend following these tips to grow your brand on Instagram:
Post Instagram stories every day to show users the process of running an online business.
Make unpacking videos explaining why your product is helpful to people and answering any questions they may have.
If you are not an expert in social media management, you can consider hiring someone to manage your brand's Instagram account on your behalf.
Collaborate with affiliate bloggers
Collaboration with bloggers is a powerful method of driving traffic to your Amazon products. No matter how much you praise your products on your own social media accounts, you likely won't be able to attract as much attention to your product as bloggers can. Influencers evoke trust and have a lot of authority in the eyes of their followers, and, as a result, social media users have a lot more motivation to make a purchase.
You can utilize this phenomenon, for example, by working with content creators who are members of the Amazon Associates Program. These bloggers specialize in writing positive product reviews and with links to Amazon product listings. Keep in mind that you will have to pay a fee each time someone clicks on your product link in the influencer's blog, but you will likely make up for this with the increased profits you get from attracting new customers.
There are some drawbacks to this program, as it can be challenging to contact bloggers and get a response from them, so we recommend being patient.
How to pick the right influencer to promote your product?
Don't just go with the most popular option. The number of followers does not always play a defining role. The influencer's content should be consistent with your brand, or else their followers may be disinterested in your product.
Write to a few bloggers and ask if they want to collaborate with you. Try to find their work emails because they are unlikely to respond if you just send a direct message on social media.
Negotiate how bloggers will promote your product. Will the influencer simply mention it in their Instagram stories, write a post, or create an entire review video? It is up to you to select the method that you believe will work best.
Place ads on Google
Google shopping ads are product ads that show up at the top of your Google search results when the search engine detects that you're looking to buy something. For example, if you Google "buy iPhone 13 Pro", you will see several product ads before you ever see sponsored or organic search results. You can utilize this feature by purchasing Google shopping ads for the products you sell on Amazon.
Use deal websites
Everyone likes a good deal, and a lot of people go on deal websites to search for discounts on products they need. You can place offers on your best sellers on these websites to attract new customers organically.
Final thoughts
Amazon sellers often don't see a point in expanding their operations outside the platform, creating social media accounts, running external ads, etc. However, there is a whole online world to discover and thousands of new customers to interact with. Our recommendations will not only help you to increase your sales but also teach you how to find potential customers and build stronger relationships with them. After all, the best way to help your business thrive for many years to come is to build a robust and recognizable brand.
Being an Amazon seller is hard, and you have to wear many hats at once. This is why hiring an Amazon growth agency is an excellent idea! Nuoptima's Amazon experts can help take your Amazon business to the next level. Leave your email on this page, and we will be in touch to schedule a free discovery call.
Talk to an Amazon expert
We work with 100+ businesses. Book a slot now to talk to one of our experts.
---
FAQ
What is a popular platform for driving traffic to your Amazon listing from outside sources?
The most widely used methods of generating external traffic are Facebook ads, Google ads, and mass email campaigns. However, we also recommend sellers to try using TikTok, Instagram, and YouTube, as these are the most effective social media platforms. You might also discover other channels that work well for your brand.
How many followers do you require to be an Amazon affiliate?
You must have at least 500 organic followers and a public account on Instagram, YouTube, Facebook, and other social media platforms.
How do I check the traffic on my Amazon Seller Central account?
Navigate to the Reports tab and select "Business Reports." There you will find your Sales Dashboard, which will provide you with information about your total Amazon sales.