Key points
Facebook ads are an excellent tool Amazon sellers can use to drive external traffic to their listings and increase sales.
Facebook ads allow you to expose your brand to new people who may not have seen it before, improve your listings' rating in the eyes of Amazon's algorithms, and collect more valuable information about people who purchase your products.
Before you start running Amazon ads, you should optimize your listings to ensure high conversion rates.
To make your Facebook ads as effective as possible, you should conduct split testing and analyze all available information to choose which audience to target with your ads.
Sellers can promote their Amazon products using a wide variety of marketing tools and platforms. One of the most powerful options is Facebook, which is an excellent platform you can use to drive external traffic to your Amazon listings. So why should you use Facebook in the first place? This social media platform has one major advantage – it has over 2 billion monthly active users, and many other marketers and brand owners use it to successfully promote their businesses. These numbers, however, will not help you unless you have a good marketing strategy. So, if you don't want to waste time and money, read this article to find out how to run ads correctly and, as a result, increase traffic and conversions.
Reasons to run Amazon ads on Facebook
Amazon provides its sellers with plenty of incredibly effective marketing tools on its platform. For instance, you can use Amazon Sponsored Ads and Sponsored Brands to attract marketplace users to your listings. However, there is a lot more room for developing and expanding your brand, and Amazon isn't the only place where you can find new customers. Social media platforms, especially Facebook, are the latest market titans, and advertising there is crucial for businesses that want to thrive! Here are some of the reasons why you should direct Facebook traffic to your listings:
You can introduce your product to a larger audience that may not have seen it on Amazon.
You can target a specific group of people based on their interests, age, location, and income level. All of these elements will help you increase the number of conversions.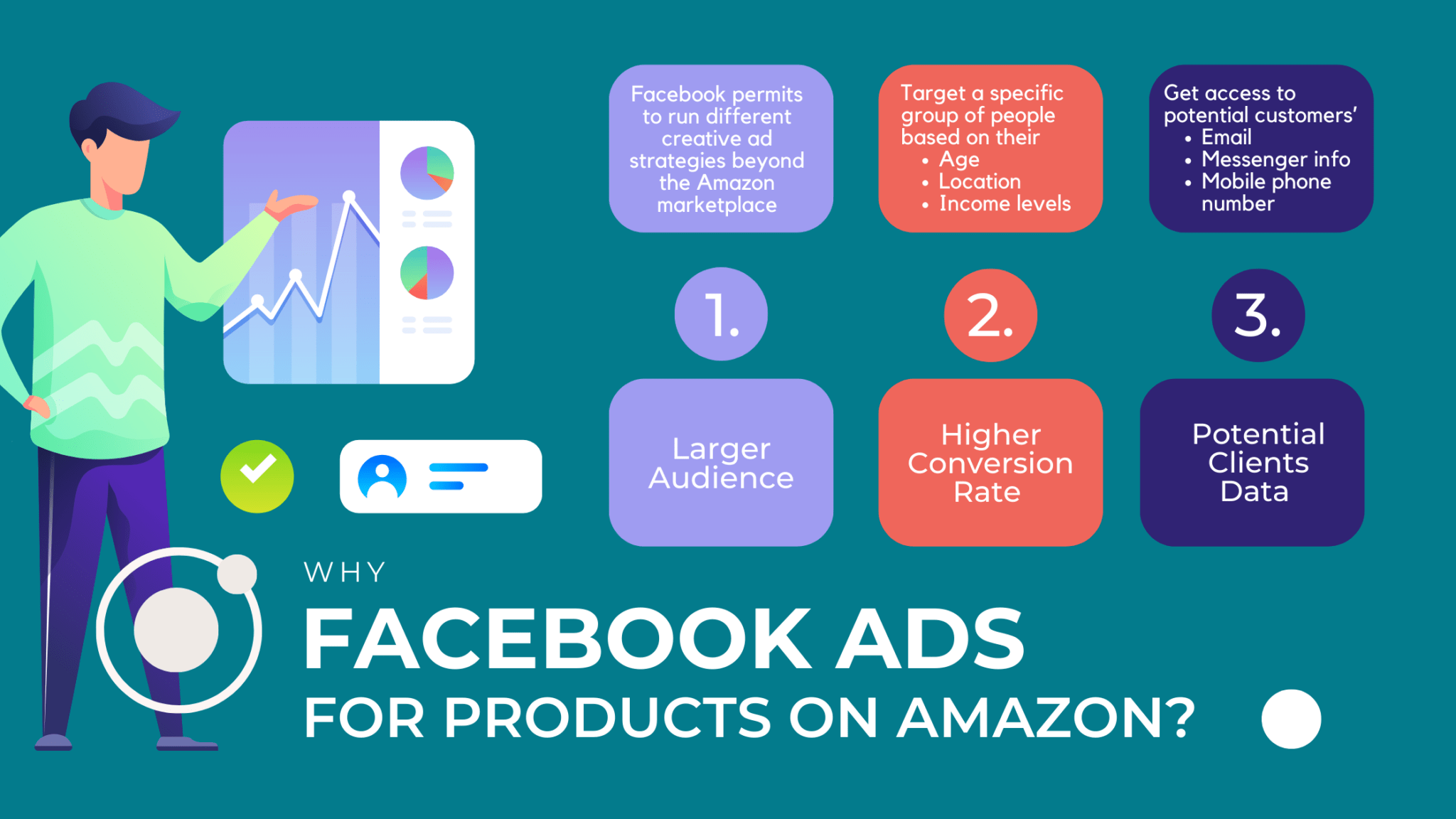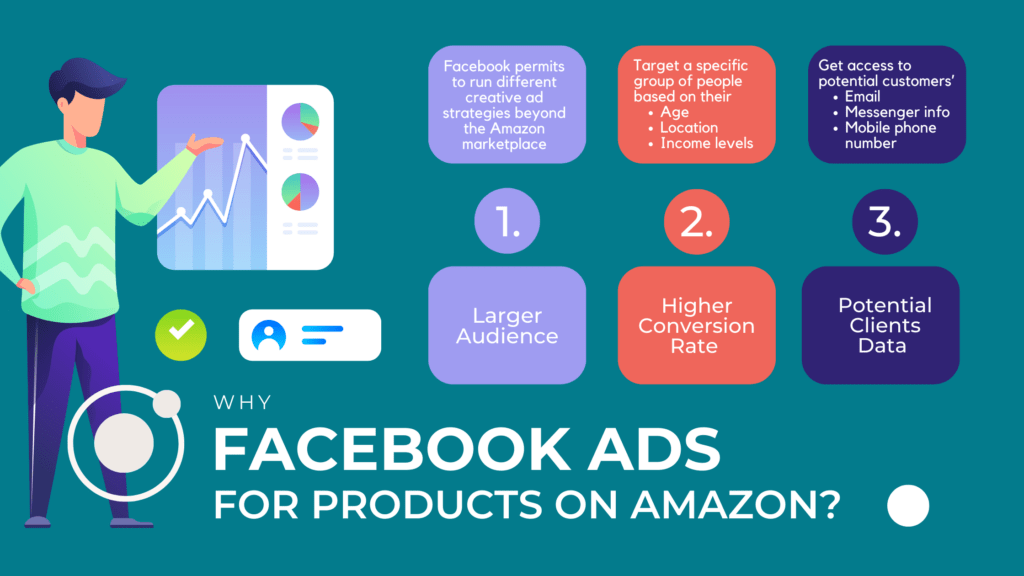 You can get access to potential customers' emails, messenger information, or mobile phone numbers before they reach Amazon. It is valuable information that you can use to improve your customer relationships, promote new products via email, or even invite buyers to your own online store or another marketplace in the future.
You can use Facebook ads to determine which advertising strategies are the most effective for your company. Turn on your creativity, include some interactive media such as photos or videos, experiment with different ad types, and learn what type of content generates the most conversions.
You may find yourself gaining a competitive advantage over other sellers. Many retailers do not consider driving outside traffic to their Amazon listings, allowing you to achieve better results and expand your customer base faster.
Amazon values outside traffic because it indicates that the product is popular. Thereby, your products may receive higher positions in the Buy Boxes on Amazon listings and in search results, as Amazon takes product popularity into account when assigning rankings to their products. Higher rankings will result in more organic traffic, which will lead to more organic sales.
Setting up Facebook ads for Amazon
In this section, we will go over the process of creating a Facebook ads account (if you've never run Facebook ads before) and explain how to create your first Facebook ad campaign.
1st step: create a facebook business page
To run ads on Facebook, you must first create a Business Page. You will be able to use this page to communicate with your potential customers and advertise your products. Having a Facebook business page is one of the best ways to demonstrate your credibility, as detailed information about your products with high-quality photos or videos and reviews and comments from real people will help potential customers see that your brand is legitimate.
2nd step: create your ad
After you've filled out all of the information and created your business account, you can begin creating your ad campaigns. Fortunately, this is not complicated. First, find a menu on the left-hand side of the screen and select "Ad Center." Then select "Create Ad." If this is your first time, you will first need to create an ad account and link your credit card to pay ad fees.
To create a Facebook ad, start by selecting a campaign objective. Then type in the name of the campaign and click "Next". After that, you'll need to decide on your daily ad budget, ad schedule, and set up targeting for your campaign.
Tips for running effective Facebook ads
Creating an ad account and setting up a campaign is simple. But how can you take full advantage of Facebook ads and make sure you get the most out of your money? In this section, we'll go over some things you should pay close attention to when running Facebook Ads.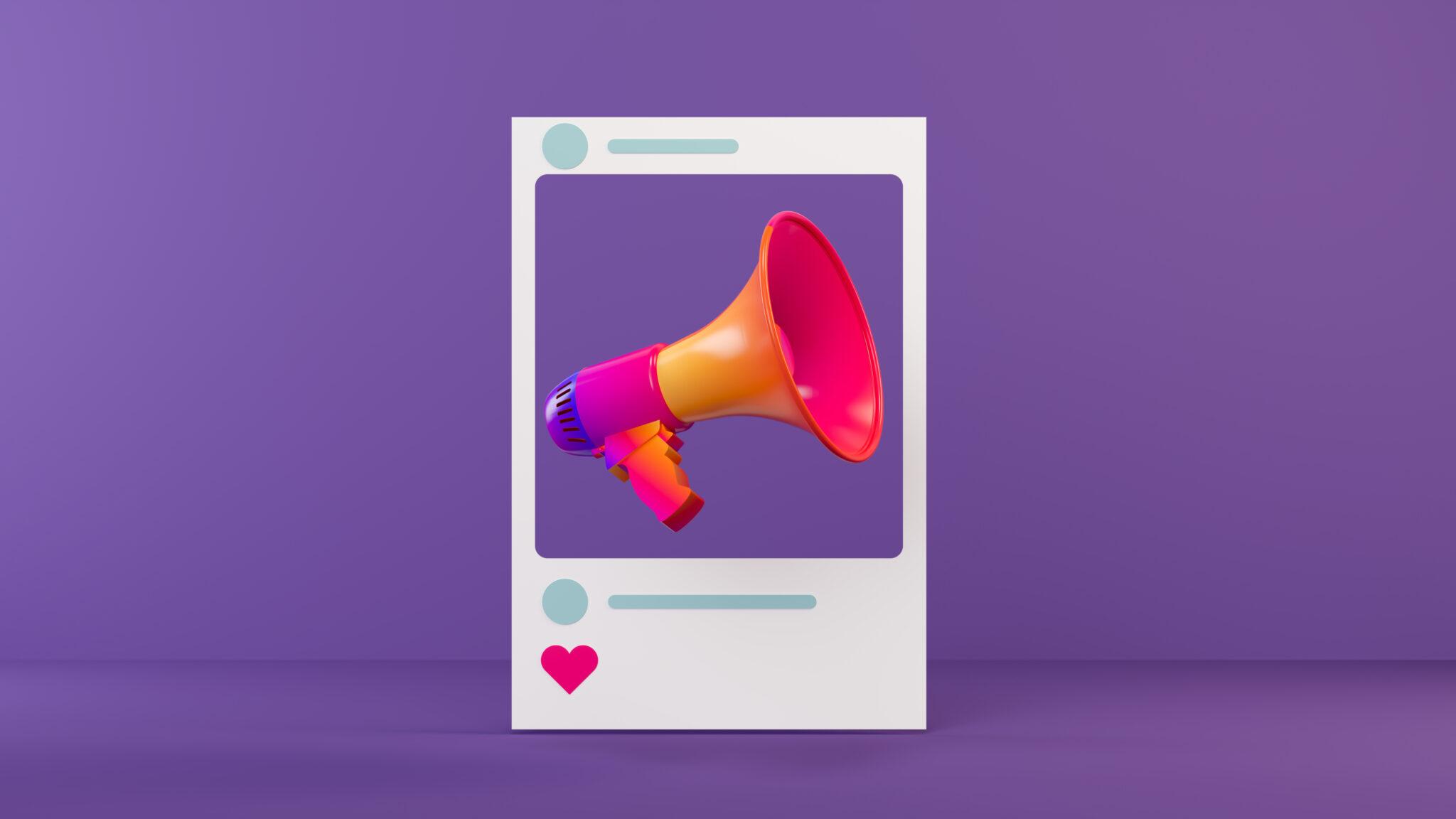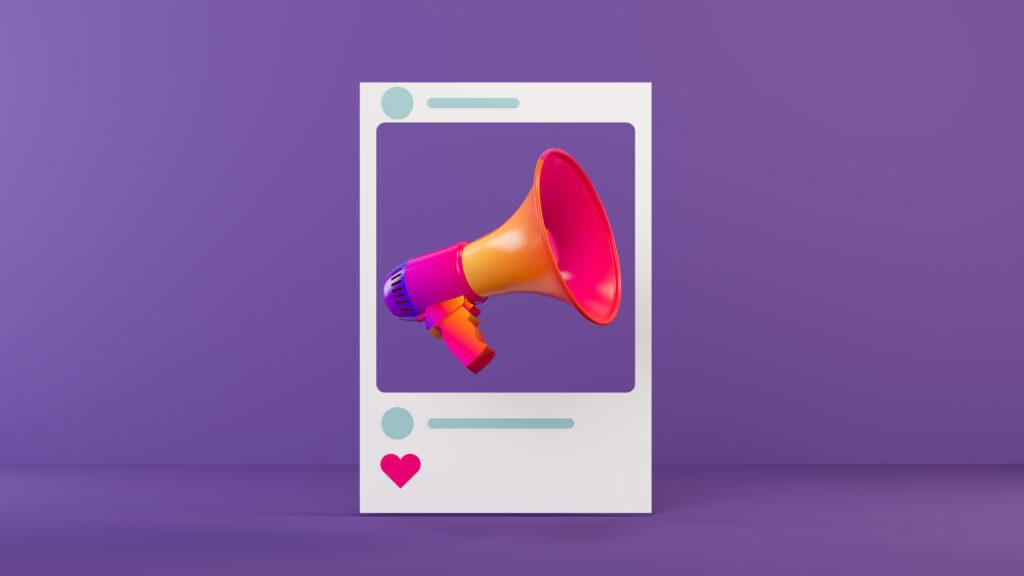 Optimize your listings first
Running ads without properly setting up and optimizing your product listings will be a waste of time and money. So take the following steps before you start running ads:
Optimize your listing copy for Amazon SEO and conversions.
Use only high-quality photos and videos.
Make sure there are at least 20-30 reviews with a 4-star or higher rating.
Create detailed product descriptions.
If you want to run effective Facebook ad campaigns, you must have a flawless Amazon page, as even minor imperfections may discourage users from becoming your customers.
Determine where to send traffic
People mostly use Facebook to keep in touch with family and friends, view photos their acquaintances post, and read the latest news. They have no intention of purchasing anything, so your task is to persuade them to do so.
If you use a link to one of your Amazon listings in the ad, you will receive "cold traffic," which will not result in many conversions. This is because Facebook users who see the ad may simply be uninterested in your product at the moment, so they either won't click on the ad at all, or they will click and leave the page without purchasing the product, instantly forgetting about your brand.
Another issue is that you won't be able to collect data to track your conversions. When you direct customers to your listing page, you lose the opportunity to obtain their personal information, such as email addresses or phone numbers. So it's a much better idea to direct potential buyers to a landing page instead.
A landing page is the first place the user will be taken to after clicking on your ad. Usually, this is a standalone web page that contains the most crucial information about your brand to warm up potential customers. There are a few reasons why you should direct people to your landing page first:
You will have the opportunity to collect your customers' personal and contact information. As you may know, Amazon does not provide most information about customers to sellers because even if people buy something from you on Amazon, they are Amazon's clients, not yours. The marketplace simply doesn't want to give away valuable information for free. By gathering data, you can determine which users are interested in your products and nudge them towards making an order. Even if they haven't purchased anything yet, you can send them interesting content, create special discounts to encourage purchases and ask for reviews in the future.
You can use Facebook Pixel to monitor user activity on your website. Facebook Pixel is a piece of JavaScript code you can embed on your website. It allows Facebook to collect information on how customers interact with your landing page. You can determine how much time they spend there, what actions they take on the page, and whether they saved any information about your brand. Sellers can then evaluate which visitors converted and use this information to determine how to improve the ad strategy for those who did not. You can find everything you need to put Facebook Pixel on your website on the "Facebook for Business" page.
A landing page is a good tool to entice customers to buy your product. You can make your product more appealing by uploading customized, high-quality images and videos. Plus, offering visitors a one-time discount coupon will usually incentivize sales.
As you can see, there are a plethora of reasons to direct Facebook ad traffic to a landing page first. If you don't know how to create a landing page, there are numerous websites that offer easy-to-use landing page templates, allowing you to easily make a page that matches your brand concept and persuades visitors to make a purchase.
Target the right audience
Showing your ads to the right audience is the most critical aspect of a marketing campaign because it determines whether or not your ads will be profitable. Naturally, all advertisers want to show their ads to people who are most likely to become their customers. This is why you should only target specific groups of users, as broad targeting will almost certainly be a waste of money.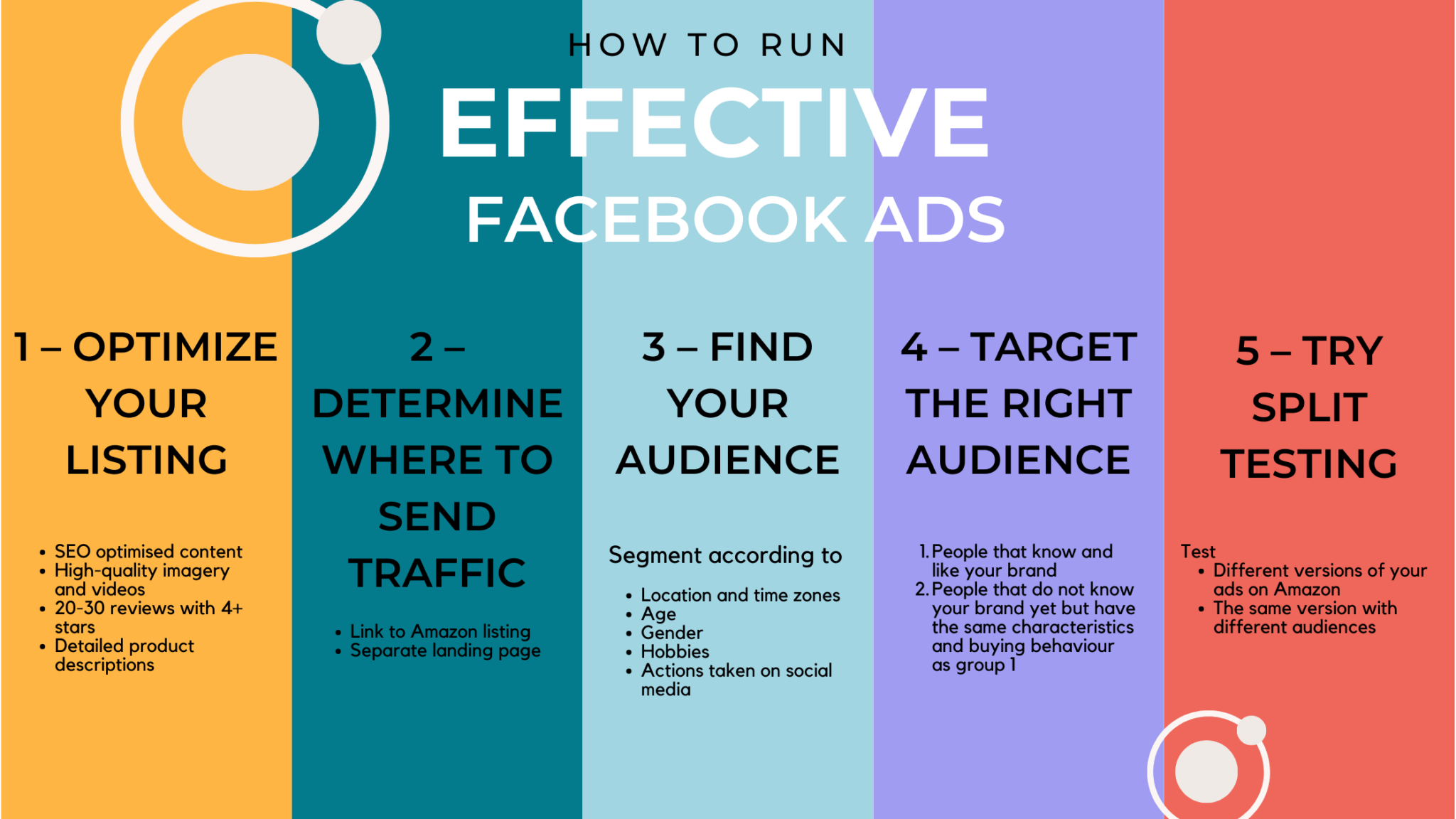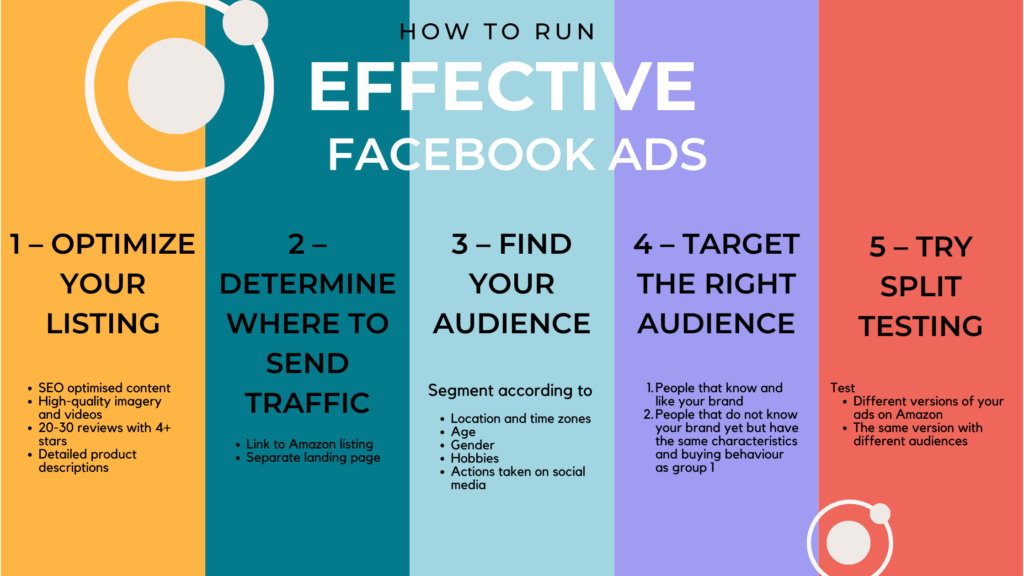 There are two types of Facebook audiences:
The first group consists of people who are already familiar with your brand: they liked your page, visited your Amazon listing, or even purchased something from you. This is sometimes referred to as a "custom list" because you can understand who your customers are and develop a strategy for finding more similar people who may also be interested in your brand by analyzing these people's Facebook profiles.
The second group is a new audience collected using the information from your "custom list."
This strategy will keep you from targeting the wrong audience with your ads. You should also try to make your target audience as specific as possible, as this will help lower the cost of your ads.
How to get the right audience from Facebook?
There are several factors to consider when setting up ad targeting on Facebook:
Location and time zones
Age
Gender
Hobbies
Actions taken on social media
There are some more nuanced audience characteristics you can experiment with, but these are the most important ones to pay attention to. When setting up targeting, click "detailed targeting" to select specific interests from the provided list. This could include hobbies, favorite movies or YouTube channels, jobs, shopping, or other aspects of life. Remember to include Amazon as an interest if you want to attract people who already use this online marketplace. Another tip is to conduct extensive research on interests that are relevant interests to your products. Think about what would entice you to buy your product if you were a typical customer?
Try split testing
If you're unsure how to create an effective ad and what types of media and copy to use in your advertising materials, this next tool will come in handy.
When you run ads on Facebook, the platform monitors their effectiveness. As your ads get more effective, you will start paying less per click. Split testing (also known as A/B testing) is a popular marketing technique that allows you to determine which of the two images, calls to action, audiences, etc., make your ad more effective. You can test a variety of Amazon ads to see which ones perform best. For example, you can show a single version of your ad to multiple audiences, or you can test a few different customized ads on one audience. After gathering all data, you can determine which ad performed better and continue optimizing other ad parameters to improve your campaigns further.
You can also try using Chatbots in Facebook Messenger. The process is similar to that of an email campaign but more efficient. Try this trend, and you may be able to attract more new customers!
Final thoughts
Many sellers think that running Facebook ads is an expensive and risky task. However, once everything is in place, you will be surprised by all the benefits of driving outside traffic to your Amazon products. Just remember to check in on your ad campaigns daily to ensure that all errors are corrected promptly and that your campaigns are optimized as much as possible. Only combining a variety of techniques and always staying on top of changes in the market will allow you to create a successful brand that will continue to grow for years to come.
We understand that being an Amazon seller is hard work, which is why we recommend hiring a professional agency to assist you in developing your Amazon business. Sign up for a free discovery call with the best Amazon experts, or leave your email address so we can contact you and tell you more about what we can do for your business.
Talk to an Amazon expert
We work with 100+ businesses. Book a slot now to talk to one of our experts.
---
FAQ
Can I sell Amazon items on the Facebook marketplace?
You certainly can. Just go to the Facebook Marketplace and select "Create New Listing." You can fill in all of the same information with images from your Amazon account; simply take screenshots or copy all descriptions.
How much does it cost to sell something on Facebook?
If you work as an individual, you do not have to pay anything, but if you operate as a merchant, you must pay a 5% fee on all transactions.
Is it possible to advertise products on Facebook?
Using dynamic ads, you can advertise specific products in the Facebook feed. You can also create ads by setting up a Business page. There's nothing complicated about it, just look for a menu on the left-hand side and press "Ad Center." Then click "Create Ad".