Types of Amazon PPC Campaigns
If you want to grow your Amazon brand, you need to be using the most efficient PPC campaign structure for your products. We systematically work through Amazon's sponsored ads units, and create ads campaigns that drive the highest return on ad spend (ROAS) for your ASINs.
The best-performing Amazon ad campaigns are:
Sponsored brands ads,
Sponsored display ads,
Sponsored product ads.
Sponsored Product Ads
There are two types of sponsored product ads
Keyword bidding
ASIN bidding
The keyword bidding ad type involves deciding which keywords you'd like your product to appear for when searched.
To start the keyword research process you will first have to opt in for one of the paid keyword research tools out in the market. Some popular ones include:
Semrush,
Ahrefs,
JungleScout.
When you have a seed list of keywords that match your product listings we move to the keyword targeting phase.
There are three types of keyword targeting:
Exact Match – This is when you only want to appear for a very specific keyword and avoid wasted ad spend. We use this when we know the keyword is converting well and want to reliably increase sales.
Phrase Match – The phrase match type requires the seller's bid keywords to appear within the customer's search query in the precise order. This approach is considerably more stringent and restrictive compared to the broad match. However, the increased control leads to more relevant ad placements, ensuring stronger keyword relevancy for your ads.
Broad match – These keywords allow your ad to be displayed when a customer's search term includes all the keyword terms or their close variations, such as plural forms, acronyms, stemming, abbreviations, and accents. The customer's search term can contain keywords or synonyms in any sequence. For example, if you set 'Vanilla Candle' in Broad Match, you may appear for keywords like 'Soy Vanilla Candle', 'Best Vanilla Aromatherapy'.
On the other hand, you can also bid on ASINs. You can set your product to appear on a competitor's product detail page. This is a great way to target competitors and steal sales. If you know you're better than a competing product and can communicate that to a prospective customer, bidding on ASINs can be a very lucrative Amazon advertising strategy.
We run sponsored product ads for all our Amazon PPC Management clients. It's one of the most reliable advertising units on the Amazon advertising platform.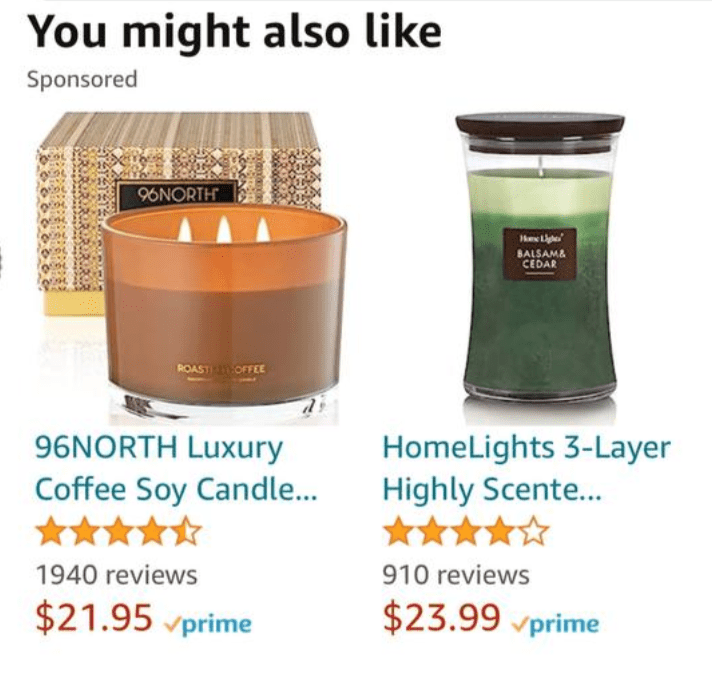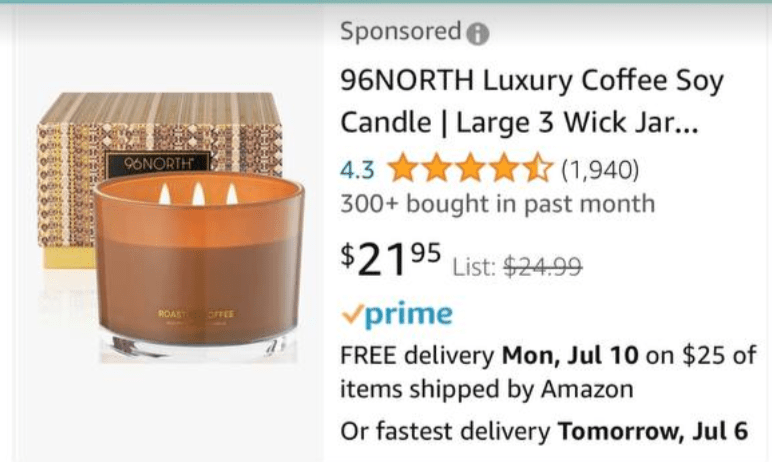 Sponsored Display Ads
Sponsored display ads has the lowest conversion rate and click-through rates out of all Amazon advertising units. When you run a sponsored display ad your product listing can appear in various spots including under sponsored product lists and at the bottom of product pages. Because of its low correlation with revenue, the sponsored display ad unit is mostly used for brand awareness. However, we use it for remarketing. This is an effective way to leverage the low costs of this advertising unit and also to increase conversion rates.
Sponsored display ads are a must have for Prime Day sales. They can dramatically increase your brand awareness on one of the most revenue generating days of the calendar year.
Sponsored Brand Ads
Must have for prime day window (edited) Sponsored brand ads
Sponsored brand ads are a highly lucrative Amazon advertising unit. There are two main sub advertising units and you can use target both sub advertising units by keywords and competitors ASINs.
Sponsored brands video ads, and
Sponsored brands store highlight (sponsored brands product collection) ads
Our team of Amazon PPC experts have spent over $20m on Amazon advertising and have seen the following results from both ad units:
Sponsored Brand Video Ads
Sponsored brand videos usually have exceptional click-through rates and conversion rates. They increase sales especially when paired with keyword bidding. They're a must-have for Amazon PPC campaigns and feature in most of our client PPC campaign strategies
You should know if you run sponsored brand videos to drive sales for a specific product, your ad will appear at the bottom of the search page. This will not have the greatest click-through rates but will have a high conversion rate (because users who scroll to the bottom are more likely to purchase).
On the other hand, if your sponsored brand video ad is leading to your brand store page, it will appear in the middle of the search results. This is a new feature for Amazon. This option will result in a higher click-through rate and increase your brand awareness faster. If you run SB Video ad on specific product your ad will appear at the bottom of the search page and if you lead them on your brand store – it appears before the middle of the page (fresh feature from amazon). The first option is better for CVR, on the other hand the second option for CTR and brand awareness
Sponsored Brand Store Highlight (Sponsored Brand Product Collection) Ads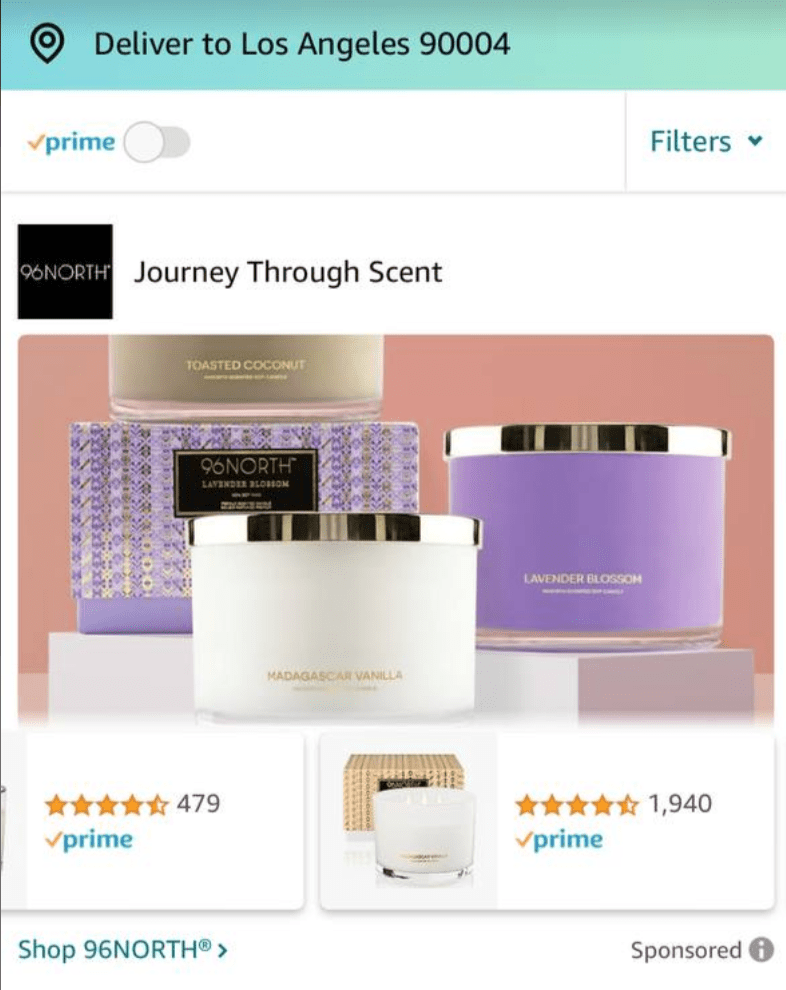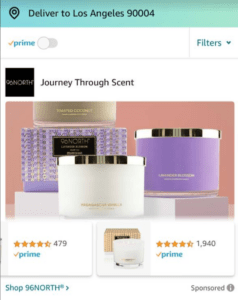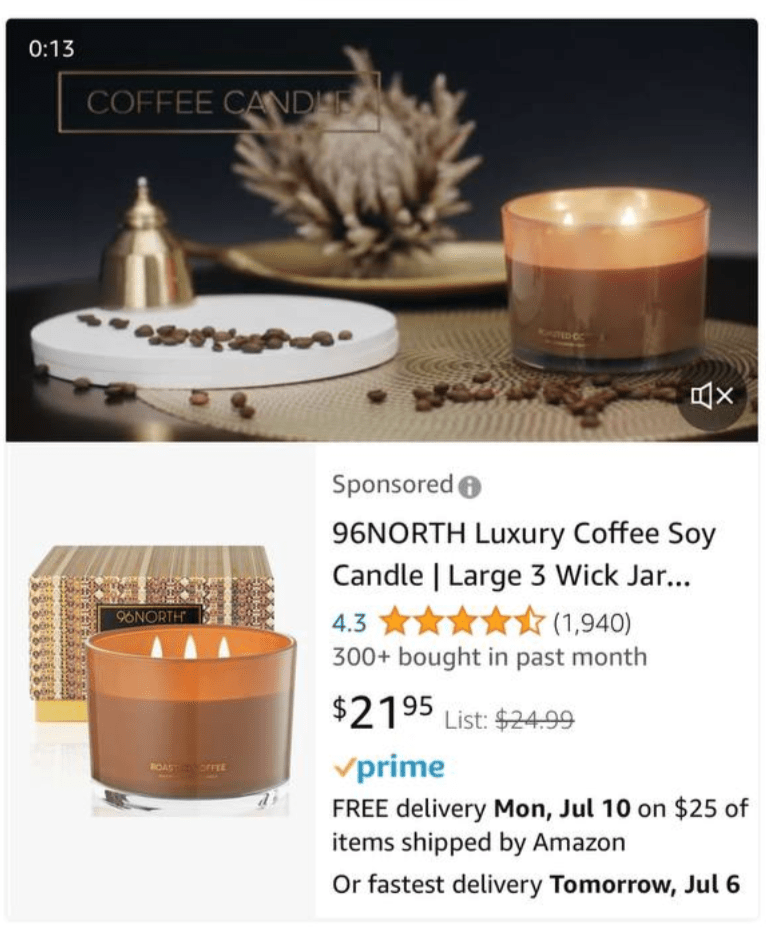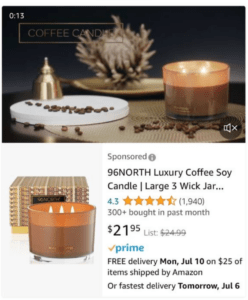 Sponsored brand store highlights, or also called product collection type ads typically appear on the right top corner of the search page. They have average click-through rates but usually poor conversion rates. To note, you need to fill the ad spot with a minimum of 3 products. Your potential customer can either click through to your brand store page, or your product page, which makes it slightly harder to convert traffic.