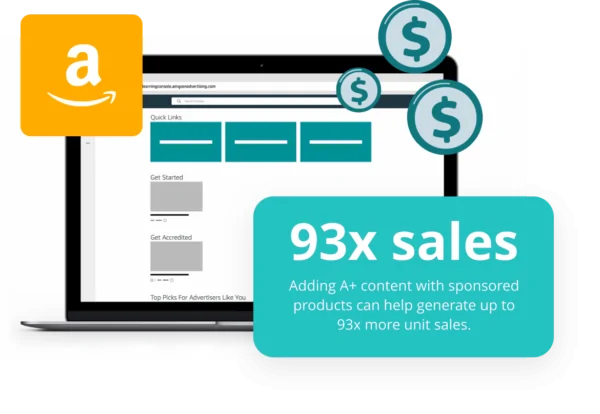 PPC Agency for Amazon Brands
We bring 40+ years of eCommerce performance marketing to Amazon to rapidly scale direct-to-consumer brands on Amazon marketplaces.
74% Use Аmazon еo discover new products
Nearly 3 out of 4 Amazon customers use Amazon
to discover new products or brands.
Over 300MM+ worldwide active customer
accounts on Amazon.
Advertisers who use Sponsored Display.
audiences on average see up to 82% of their
sales driven by new-to-brand customers.
Calling all Amazon sellers!
Are you looking to grow and automate your Amazon store? Get the experts in and allow us to implement the practices needed to get your Amazon business to where you want it to be. We live and breathe Amazon marketing and thrive on staying ahead of the Amazon game. From Amazon PPC advertising to listing optimisation, we can look after your Amazon account management to save you countless hours and frustration.
Request Amazon PPC Audit Today
Appointing us as your Amazon agency will give your business the best chance of success as all the latest strategies and tactics will be implemented correctly. We will help you stand out of the Amazon seller crowd to achieve eCommerce success. Check out below for details on our service offering. If you have any questions or want to chat, get in touch here.
Bespoke Launch, Management and Growth Services
Are you searching for a partner to support your Amazon store launch, set-up and growth strategy? We are top-level experts that are passionate about you getting the most out of the opportunities Amazon has to offer.
Our Amazon Seller Packages:
Amazon Growth Management: PPC & more
Our core service for growing brands on Amazon
Listing Optimisation
Boost your CVR with the best copy, SEO & infographics
Product Launch
Get quick reviews & rank on page 1 FAST
A-Z Seller Central Management
Grow & automate your Amazon channel.
Amazon Growth Management: PPC & more
Using Amazon PPC is one of the best ways to gain ground on the competition (especially at product launch). Over time as you rank higher in organic rankings for your search terms, you can cut down on your PPC spend.
Led by the leading Amazon advertising experts who have spent millions of dollars for clients in the last 10 years.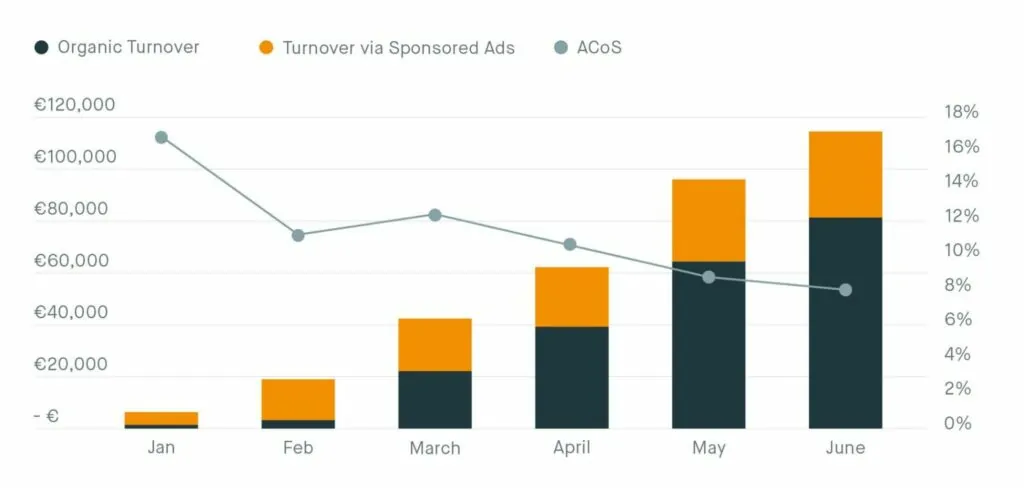 Growing brands on Amazon is what we do best
The Amazon Growth Management service is for brands that need top-level experts to handle their Amazon PPC advertising activities. We take PPC campaigns to the next level and implement other ranking tactics to boost you to page 1. Through actions such as carefully planned product promotions and A/B split testing, you can outperform the competition to reach and exceed sales targets.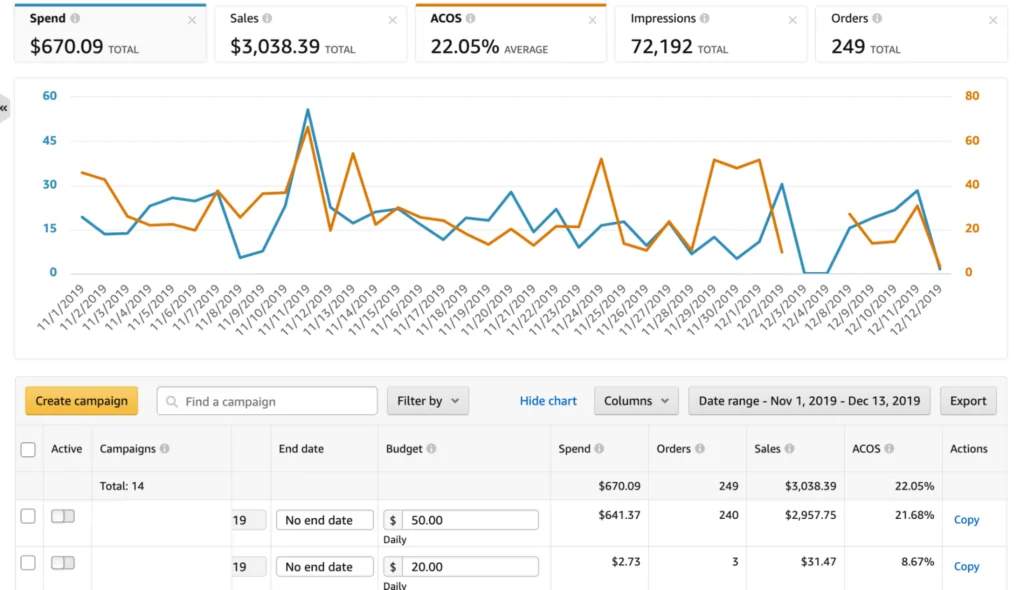 Growing Amazon brands is our core service as an agency. We are all about increasing sales, attracting new customers, boosting your products to page 1 and strengthening your brand. Unlike other agencies which provide PPC management, we go above and beyond because ranking on page 1 involves much more than just PPC. So allow us to strategically implement the latest Amazon marketing tactics.
Scope of Work Details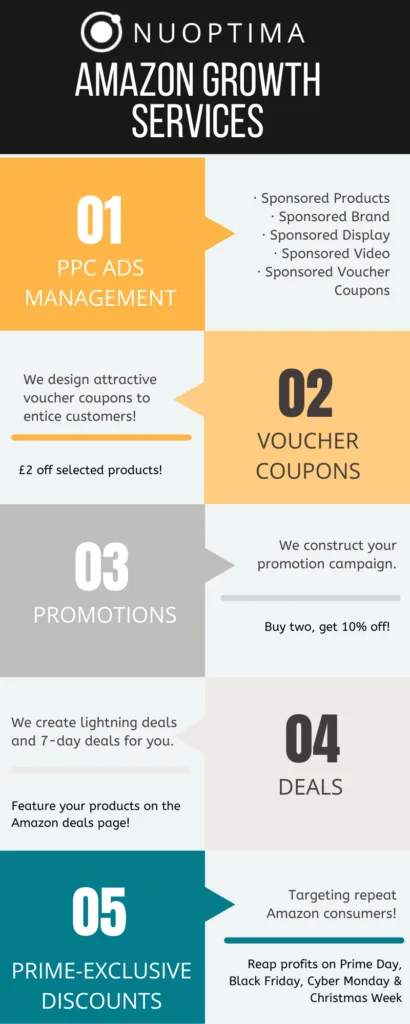 PPC Ads Management
We completely manage and continually optimise your Amazon advertising and all other sponsored advertising types.
Sponsored Products: We place your products in the sponsored sections of search results.
Sponsored Brands: Drive traffic to your storefront with banner ads and more.
Sponsored Display: Placements on competitor listings.
Sponsored Video: Video ads in search results. Send over your video, or we can take out the hassle and create one for you.
Sponsored Voucher Coupons: Advertise clickable vouchers for customers to collect and purchase your products.
Voucher Coupons
The voucher coupon is a relatively new feature on Amazon UK, and many sellers are missing out on this potential revenue booting opportunity. We design attractive voucher coupons to entice customers to collect them and purchase your products. An example of an Amazon coupon could be £2 off or 20% off selected products.
Promotions
Amazon customers love a good promotion! Through a carefully constructed promotion campaign, you can see your product sales climb and get your brand in front of more shoppers than ever before. So let us get those "buy one get 10% off" promotions in front of ready to purchase customers.
Deals
Did you know that the Amazon deals page is the second most visited page on the site? So get your products on that page by creating lightning deals and 7-day deals, so you don't miss out on the millions of customers browsing for a bargain.
Prime-Exclusive Discounts
Prime members like to feel special and receive exclusive discounts. By targeting these repeat Amazon consumers, you can get involved in the key eCommerce calendar to run Prime-exclusive discounts on Prime Day, Black Friday, Cyber Monday and Christmas Week, plus much more.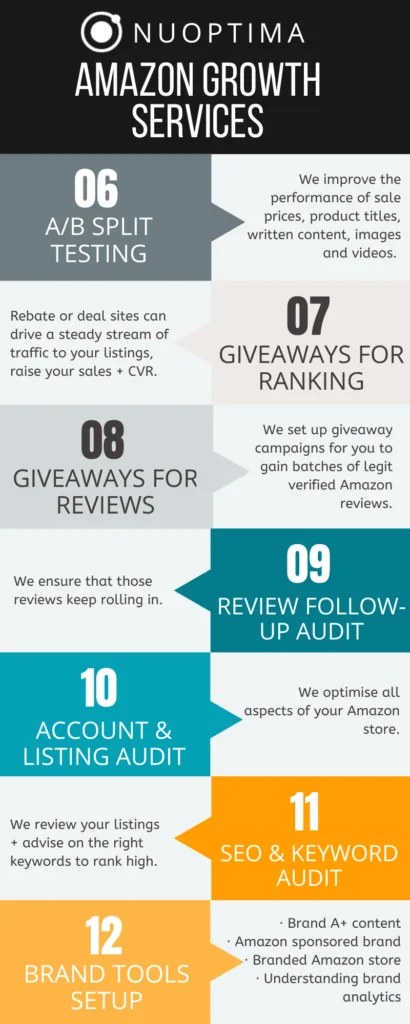 A/B Split Testing
A huge part of optimising sales and profits is testing various variables to determine the maximum click-through rate (CTR) and conversion rate (CVR). When A/B split testing is being used as part of your long-term marketing strategy, it can lead to thousands in extra profits. We implement the testing at the appropriate time to improve the performance of sale prices, product titles, written content, images and videos.
Giveaways for Ranking
For years, savvy Amazon sellers have been using giveaways to boost sales velocity – resulting in better ranking. One of the latest methods is to use rebate or deal sites to drive a steady stream of traffic to your listings to raise sales and CVR, bringing with it organic ranking.
Giveaways for Reviews
As you know, the more positive reviews the better. We can set up giveaway campaigns so you gain batches of legit verified Amazon reviews. A successful Amazon giveaway will grow your customer base, get your brand known, and improve the loyalty of the customers who have purchased from you.
Review Follow-Up Audit
Consumers are looking for products with lots of recent positive reviews to convince them your product is worth the money. We advise on the best tools to keep those reviews rolling in. From packaging inserts to automated follow-up software, we can get your customers to submit feedback.
Account & Listing Health Audit
You can spend hours looking over your frontend product listings and backend Amazon Seller accounts to figure out what needs improving. We conduct full account and listing health audits to identify how to optimise all aspects of your Amazon store.
SEO & Keyword Audit
To take your sales to the next level, your content needs to inspire the buyer to purchase while also being SEO optimised – containing the keywords to beat the Amazon algorithm. We review all your listings and advise on the keywords to add so more customers can find your products.
Brand Tools Setup
Get your brand registered with Amazon to gain greater influence and control over your listings. We can then assist you with strengthening your brand through enhancing brand A+ content, becoming a recognised Amazon sponsored brand, having a dedicated branded Amazon store and understanding brand analytics.
Talk to an Amazon expert
We work with 100+ businesses. Book a slot now to talk to one of our experts.