Product Launch Services for Amazon Brands
Are you looking to launch a product on Amazon? We can take the stress away and help you manage the launch process by accumulating your initial batch of reviews and driving traffic to your product listing. You will see your new product rise in the rankings for your target keywords.
Assuming your listing is already optimized, here is what an example launch process looks like:
Step 1: Get Reviews
It is vital you get those first 10+ reviews as quickly as possible as most shoppers do not buy products with no reviews. So how do you get reviews without having generated any sales yet? To get around this dilemma, savvy Amazon sellers can use free-after-rebate giveaways to get the first batch of reviews.
We can handle your giveaway promotion that will result in 10+ reviews within the first 2-4 weeks of product launch. An extensive network of real people is contacted to see if they would be interested in trying your product. If they approve, the individual receives a refund following the purchase of the item on Amazon using a unique URL containing your targeted keywords. The customer will test your product and provide an honest review on Amazon.
Step 2: Giveaways for Ranking Boost
The quickest and most effective way to drive sales to your new Amazon product is to list it on a rebate site. This will help boost your Amazon ranking at an affordable cost. We start with 3-5 giveaways per day for the first week and then slowly ramp up the promotion.
The Amazon A10 algorithm loves a flood of sales during the first few months of product launch – so this can be a very powerful ranking tool that has the potential to land your new product on page 1. Our market analysis strategy will determine how many giveaways to do. And ensure the entire campaign remains within budget.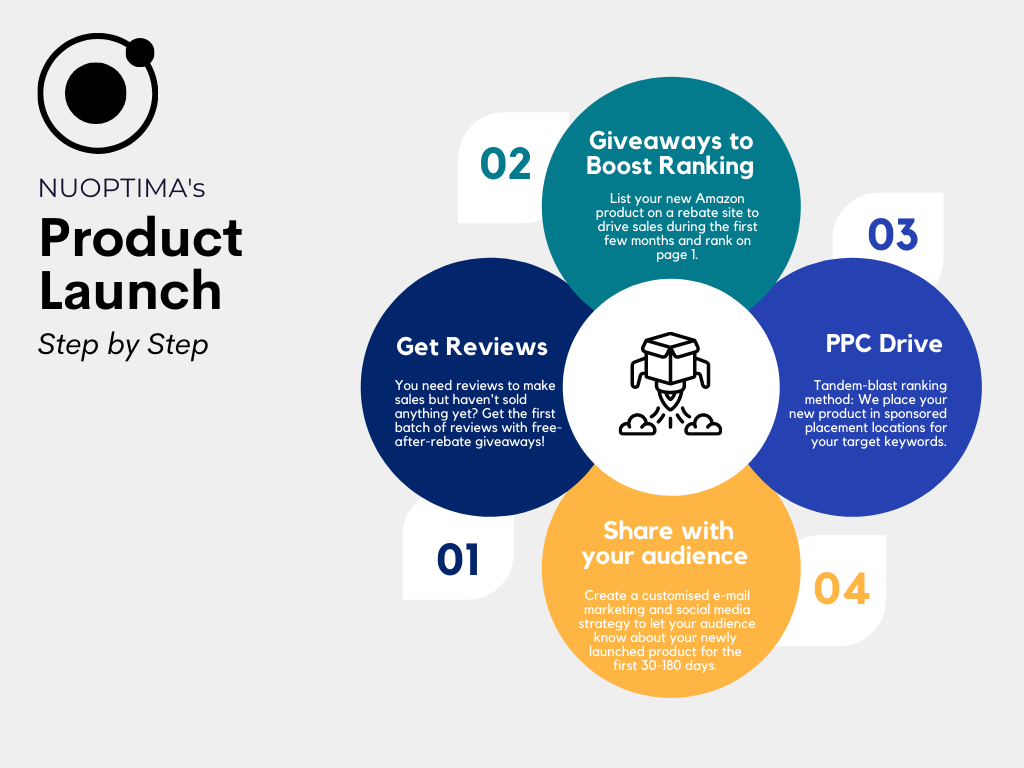 Step 3: PPC Drive
Once you have received your first 2 Amazon reviews, we will activate Amazon PPC Ads. We wait until the first couple of reviews because, as mentioned above, most shoppers do not purchase products with zero reviews. Our Amazon PPC experts will run the ads simultaneously with the external Amazon traffic coming in and place your new product in sponsored placement locations for your target keywords. This is known as the tandem-blast ranking method.
1. There are three basic PPC setups which include:
Automated Campaign – This is an automated method completed by Amazon. The campaign is simply switched on, and it will test keywords for you.
Manual Campaign – Add highly targeted keywords that we know should convert well.
Brand Keywords Campaign – Put any brand-containing keywords it keeps the conversion data separate.
2. Advanced PPC setups are a bit more complex. For example:
Auto-Discovery Campaign – This allows you to find and expand an audience. As the focus is on audience discovery, it is best to run it with a low budget. The results will likely be a low CTR, higher variable CPC and higher ACOS.
Manual Research Campaign – This is a manual campaign where we can test audiences and keywords together. Again, use a low to medium budget and expect a low to healthy CTR, medium variability CPC and medium ACOS.
Manual Most-Relevant Campaign – We consider this the high-flyer as it is used for your highest targeted and most relevant keywords. When created and managed correctly, you can expect impressive CTR and low variability CPC.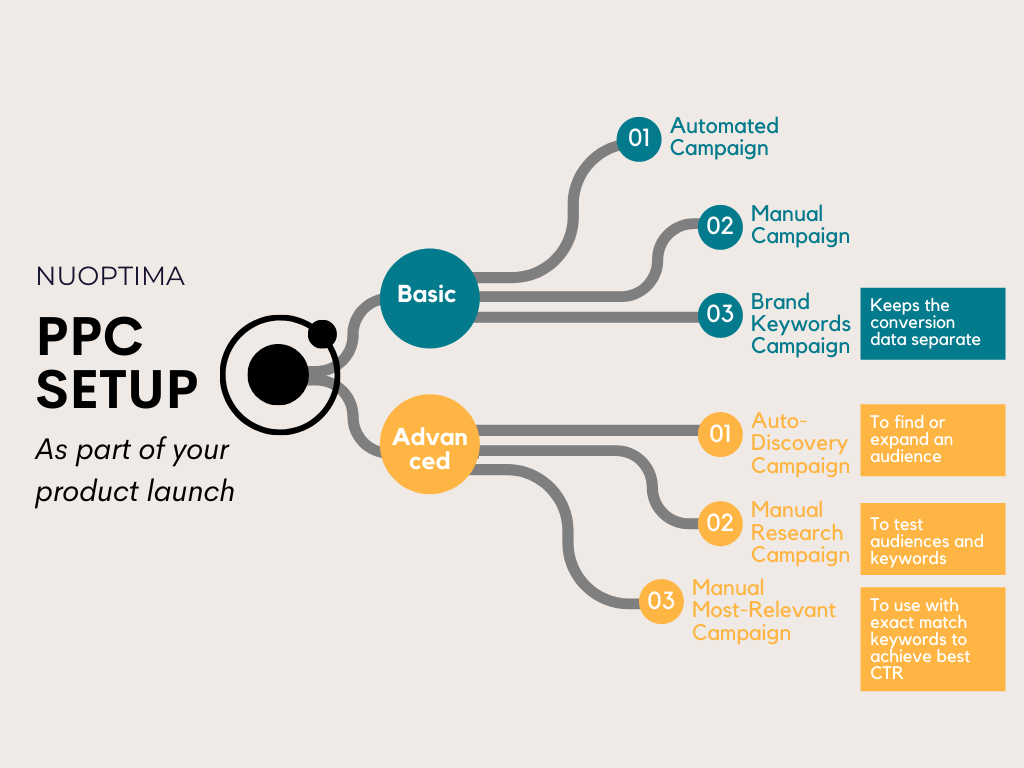 Advanced PPC setup
2.1 Auto-Discovery Campaign
This to find/expand an audience. Since it's for discovery, expect lower CTR, higher variable CPC, higher ACOS, and run it with a lower budget.
Set it up as an Auto campaign
You can test Sponsored Display audiences
You can test Categories
Complementary
2.2 Manual Research Campaign
This is a manual campaign where we can test audiences and keywords. Expect a low to healthy CTR, medium variability CPC, medium ACOS.
Use a low to medium budget
Use Broad and/or Phrase match
Use narrowed SD audiences (optional)
Use product targeting (optional)
Use Sponsored Brand headline ads (optional)
2.3 Manual Most-Relevant Campaign (your bread & butter)
This is for your highest targeted & most relevant keywords. So expect the best CTR, lowest variability CPC (but it may still be a high CPC if it keywords are competitive)
Use a medium to high budget.
Put exact match keywords here
Test Sponsored Video ads here
Put highly targeted ASINs here
1.3 Brand Keyword Campaign
Put any brand-containing keywords here so it keeps the conversion data separate. Eg. 'nike sandals for men'.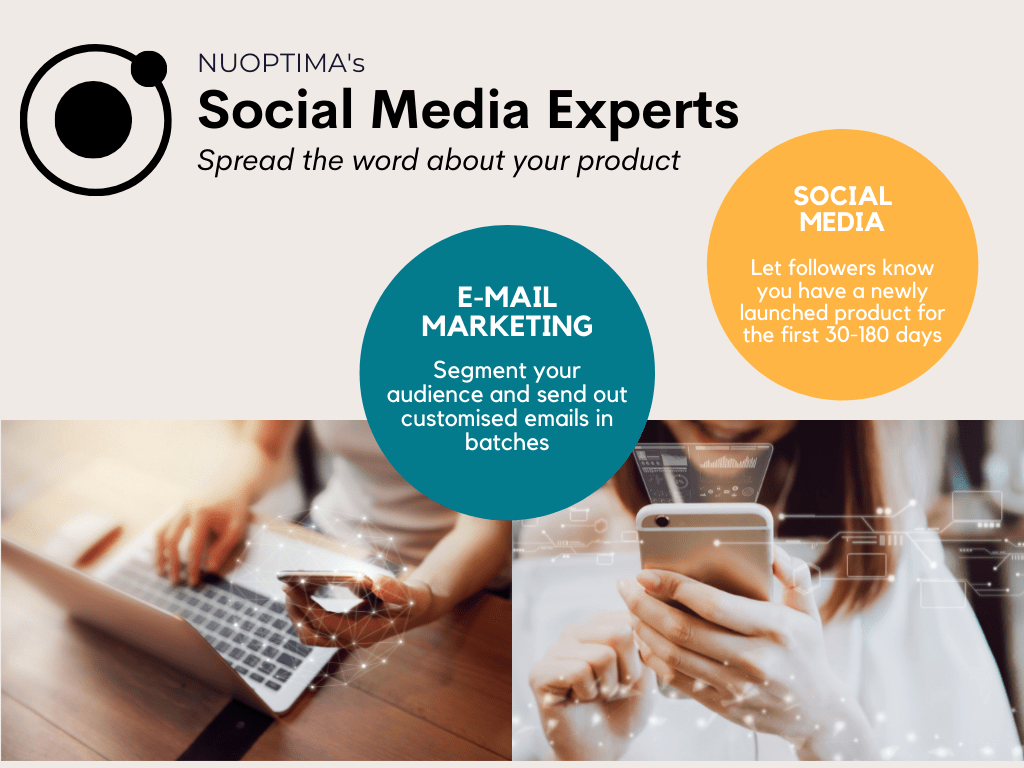 Step 4: Share with Your Audience
If you have any kind of audience, get sharing and invite them to your new Amazon product launch. Sellers that are lucky enough to have an email list should share any promotions with them. As we will be aiming to have a steady stream of sales, it is worth having our marketing gurus on hand to segment your audience and send out customised emails in batches.
Social media is another great place to leverage Amazon sales and brand awareness. Let your followers know you have a newly launched product for the first 30-180 days. If the thought of running a social media posting schedule and having to engage with followers is not your bag, we have social media experts here to look after this stuff for you.
Talk to an Amazon expert
We work with 100+ businesses. Book a slot now to talk to one of our experts.