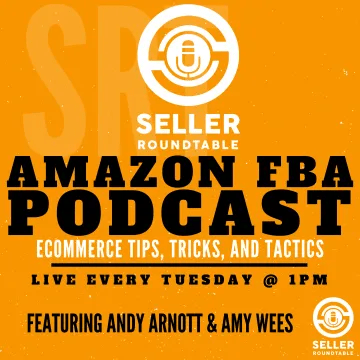 The Amazon Seller Roundtable podcast was created with novice founders in mind. Hosts Andy Arnott and Amy Wees have both built successful businesses in the eCommerce industry and decided to create a platform that focuses on giving knowledge back to the community.
Each week is structured like a coaching section, with a new expert guest featured every week. The speakers provide tips and tricks for optimising Amazon brands. From marketing to business systems and operations, the team sets out to cover all the basics, so you can have the best chance to take your FBA business to the next level.
Episodes are released weekly and split into two parts, making it easier for listeners to digest individual topics. The duration of each episode usually ranges from 20 to 30 minutes, which makes it a perfect listening experience for beginners who don't want to be overwhelmed with too much information.
Free coaching and Q&A sessions
As a listener, you don't get the opportunity to interact with podcast guests very often, and you are usually limited to listening to whatever they choose to speak about. What we love about Amazon Roundtable is that they actively involve the community and listeners with weekly Q&A sessions for those joining the podcast live.
This is ideal for beginners in the industry, as it gives you the opportunity to find out more about topics, concepts or terms that you don't fully understand or learn about things that weren't covered in the podcast. The question and answer format gives listeners a chance to get clarifications and learn more effectively.
Do you need help to get your Amazon business up and running? See what NUOPTIMA's full-service agency has to offer.
Our pick
#1 Scale Your E-Com Business Quickly – Amazon Seller Tips with DAVAN Group
All Amazon Seller Roundtable episodes feature informative content worth listening to, but our pick from the last few months is the episode with Davan Group. It is an inspiring story that exhibits how you can quickly scale a company on Amazon despite having limited experience and resources. The guests, David Lang and Ryan Sherrard, share their failures, successes and tips for anyone entering the industry. If you are new to the FBA game and need a successful case study to learn from, we suggest you start here.
Talk to an Amazon expert
We work with 100+ businesses. Book a slot now to talk to one of our experts.