Key points
An Amazon gift card is an extremely versatile present that can be used to pay for products and services on a variety of platforms.
You can use an Amazon gift card to pay for AmazonBasics products, Amazon Prime, Kindle e-readers, e-books, or purchase products on Amazon.
You can't use Amazon gift cards on Audible, at gas stations, Walmart, Target, or Whole Foods.
Unfortunately, Amazon doesn't allow gift card holders to exchange them for cash or use them to buy other gift cards.
However, if you want to get cash instead of an Amazon gift card, you can try selling your gift card online, using a gift card cashing service, purchasing something your friend or family member needs, trading it in for Bitcoin, using it to buy a Google Play or Apple gift card, or using the card to pay for Netflix, Spotify, or another subscription service.
Amazon gift cards are one of the simplest and best gift options because they prevent you from making gift mistakes and buying unnecessary items. Consider purchasing an Amazon gift card as a gift for Christmas or a birthday to give your loved ones access to all products sold on the platform. This way they will certainly find something they need. If you're unsure whether giving an Amazon gift card is such a great idea or where to use it if you already have one, keep reading to learn about the various options you have. We'll also go over some alternative ways you can use your Amazon gift card in this article.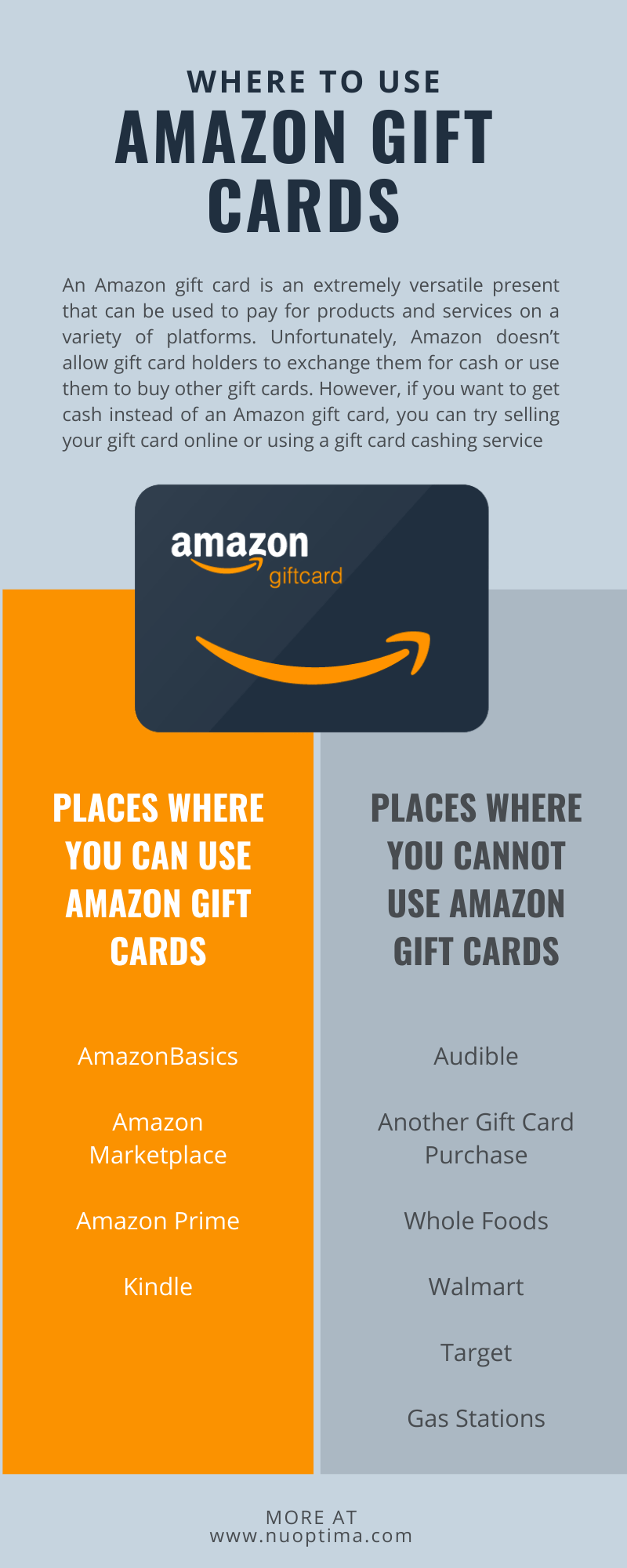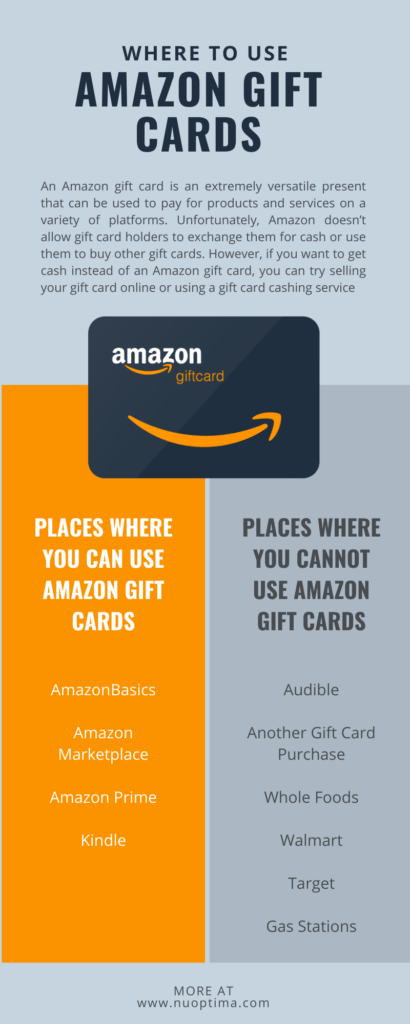 Places to Use an Amazon Gift Card
Amazon gift cards can be used to purchase products on Amazon.com as well as other services owned by Amazon. Let's look into a few of them!
AmazonBasics
We'll start with AmazonBasics. It's a private label brand that sells everything from kitchen appliances to office supplies. To make a purchase with a gift card, add the gift card balance to an existing Amazon account and use it during checkout.
Amazon Marketplace
The next stop is Amazon Marketplace, Amazon's e-commerce platform, where sellers from all over the world can set up accounts and invite customers to buy their products. You'll undoubtedly find what you're looking for, as this platform has everything from computer equipment to seedling pots. You can spend your Amazon gift card on whatever you want.
Amazon Prime
Amazon Prime members can get fast and free delivery on eligible items, ad-free music, free in-game content, and lots of other perks. They can also use their gift cards to pay for the Amazon Prime service. You can use your gift card as a payment method when signing up for Prime as long as it is valid and the balance is linked to your account. You also have the option to purchase a Prime gift membership, and the gift card will cover the costs of enrolling in the program. This membership is valid for three months or one year, depending on the plan selected.
Kindle
Amazon Kindle is a line of e-readers designed and marketed by Amazon. You can use gift cards to purchase e-reader devices and Kindle books. When you add a gift card to your balance, the amount will be automatically applied to your next e-book or digital download purchase.
Places Where You CANNOT Use Amazon Gift Cards
Audible
Audible is an audiobook and podcast service that allows customers to buy audiobooks and other forms of spoken word content. Audible is owned by Amazon, but the company does not accept Amazon gift cards. You can use only debit and credit cards to purchase an Audible subscription or individual books, so save your gift card for something else.
Another Gift Card Purchase
You can't use your gift card to buy another card on Amazon because gift cards can only be used to purchase products and services. However, you can buy a wide range of gift cards for restaurants, shops, and services on Amazon using your credit or debit card. In addition, you can buy a gift card from the Google Play Store using your Amazon gift card balance.
Whole Foods, Walmart, and Target
If you shop at Whole Foods, Walmart, or Target, you've probably noticed Amazon gift cards for sale at the checkout, and you may have wondered if it's possible to use Amazon gift cards to pay for purchases in those stores. Unfortunately, the answer is no, they do not accept Amazon gift cards, and the same rules apply to online purchases.
Gas Stations
Unfortunately, if you own an Amazon gift card, you cannot use it to pay for gas at gas stations.
Ways to Use Amazon Gift Card Besides Amazon
In this section, we will discuss some alternative ways to use Amazon gift cards. Unfortunately, the following methods are only available to residents of the United States, so if you want to try them but don't live in the US, try utilizing a VPN service to see if you can use them!
Exchange a Gift Card for a Cash
There are numerous services that will allow you to sell your unwanted gift cards and receive cash in exchange. However, keep in mind that these services typically charge between 2% and 15% of the card's value as a fee. For example, if you have a $100 gift card, you will most likely receive $80-$90 in cash after the exchange. Remember to only choose reputable and verified websites to avoid being scammed. This method will only work if you have an Amazon gift card code that you have not redeemed in your Amazon account.
Sell It on Other Marketplaces
You can also sell your Amazon gift card as a regular item on any online marketplace. Another good option is to use the gift card balance to buy a product that's usually in high demand on Amazon and then resell it somewhere else. You may even be able to get more money if you sell a product that's difficult to find. Another smart tip is to list the product on a few marketplaces before purchasing it and then buy it when a potential customer appears. This way, you can save money on delivery and ship the product directly to your customer.
Trade It for Bitcoin
If you don't want to receive cash and would rather invest your money elsewhere, you can try investing in cryptocurrency, such as Bitcoin. Even small sums of money can help diversify your investment portfolio. Peer-to-peer transfer allows you to send Bitcoins directly to an online wallet. It is also possible to use Bitcoin as a payment method when making other purchases, as it is now widely accepted by online stores, or to exchange it for real money.
Sell It Using Facebook
Social media platforms are also a great place to sell unwanted items. Try Facebook Marketplace, which is a fantastic platform that connects local sellers and buyers. There are also lots of dedicated groups where users can sell and buy gift cards for various services and stores, making them excellent places to find a potential buyer. You can also make a post about the gift card you're trying to sell on your Facebook timeline and use hashtags to promote it. You can experiment with different social media platforms that you use the most to broaden your pool of potential buyers.
Talk to Your Family or Friends
Sometimes there is no need to reinvent the wheel, and the simplest solution may be to ask your friends and relatives whether they need something from Amazon and purchase that item for them. You will pay for the order with your gift card balance, and they will reimburse you in cash. Offer them a 10% discount or simply pay for the delivery to ensure that this deal benefits both parties. This option is far safer than trying to sell your gift card online because you will not waste time communicating with unknown people, and there's very little chance of you getting scammed.
Buy Google Play Credits
This tip will be helpful for people who frequently use Google Play to purchase games, apps, books, films, and other digital products. There is an excellent method to use your Amazon gift card to purchase a Google Play gift card and then use that gift card in the future when you need it. It's also a good idea to buy audiobooks on Google Play since Audible doesn't allow you to do so with an Amazon gift card. If you use an iPhone instead of an Android device, you can do the same by purchasing an Apple Gift Card.
Buy an Online Subscription
Gift cards for Google Play or Apple products and services can be used to pay the subscription fees for services such as Netflix, Hulu, Spotify, and others. So keep your Amazon Gift card in your wallet and use it the next time you need to pay for your subscription. Unfortunately, this method does not work with Amazon Prime video.
Earn Free Amazon Gift Cards
If you don't have an Amazon gift card but want to get one, there are a few ways you can get Amazon Gift Cards for free:
Start a YouTube blog and sign up for Amazon Associates. You can easily earn Gift Cards or even monetize your traffic by using link-building tools to direct the audience to purchase products on Amazon via your affiliate links.
Use Amazon's Trade-In program to exchange unwanted items for Amazon Gift Cards.
Earn Amazon Gift Cards by taking surveys on websites like Swagbucks or Survey Junkie.
Is Amazon Cash The Same As Amazon Gift Cards?
Amazon Cash has the same balance as Amazon gift cards, but it operates on a slightly different principle. Before you can put money on your balance with a gift card, you must first receive the card as a present or purchase it for yourself. However, to use Amazon cash, you must present a dedicated barcode or verified number at a participating store location (or ATM) and add the money to your balance. Remember that Amazon cash and gift cards are both loaded onto the same account balance.
Final Thoughts
You can use an Amazon gift card to buy electronics, office supplies, books, household products, or pay for online subscriptions. However, if none of those options appeal to you, there are still numerous ways to get rid of Amazon gift cards and receive cash in exchange. Alternatively, because Amazon Gift Cards never expire, you can simply save your card and use it sometime in the future when you need to make a purchase on Amazon.
And if you are a seller interested in starting a business on Amazon, you should be aware of the incredibly high level of competition on the platform. This is why, if you want to set up a successful business strategy and make your venture profitable, we recommend seeking professional assistance. Our agency can create an effective growth strategy for your Amazon business that will enable you to outperform the competition. Request a free discovery call with a member of our team right now, or leave your email address so that we can contact you and tell you more.
Talk to an Amazon expert
We work with 100+ businesses. Book a slot now to talk to one of our experts.
---
FAQ
How do I transfer my Amazon balance to a different account?
Amazon does not allow you to transfer the balance of your Amazon gift card to another account. You can, however, try contacting customer service, as they may be able to transfer your gift card to a different account.
Is it possible to use an Amazon gift card at Walmart?
No, you cannot use an Amazon gift card at Walmart because the two companies are competitors.
Can I exchange my Amazon gift card for cash?
Although Amazon does not allow customers to return gift cards for cash, there are other options you can use to get cash in exchange for a gift card. This includes using special gift card cashing services, selling your gift card online, or purchasing something for your friend or family member and getting cash in return.