Key points
Even though Amazon is the biggest retailer in the United States, with millions of customers hopping on the platform every day, selling on the marketplace isn't easy because of the enormous competition.
As a result, sellers have to be very thorough when choosing which products to sell on Amazon.
If you're a new and inexperienced seller, it's always a good idea to try to sell products in the most popular categories. These are Home and Kitchen, Books, Beauty and Personal Care, Lawn and Garden, Electronics, and Toys & Games.
It's best to choose products that have a lot of demand but low competition and large profit margins.
Sellers should avoid listing products that are also sold by Amazon since the retail giant will beat individual sellers in the competition for orders in the majority of cases.
It's also a good idea to choose your business model and find a place where you're going to source your inventory before listing your product on Amazon.
Amazon is one of the world's largest online marketplaces with a diverse customer and seller base that continues to grow year after year. E-commerce has been a significant part of the retail industry for decades, but the percentage of online purchases has nearly doubled since humanity was hit by the COVID-19 pandemic. As a result, many sellers started their businesses on Amazon during the era of worldwide lockdowns, restrictions, and quarantines to capitalise on the benefits of online retailing.
However, because the Amazon marketplace features over 350 million unique products, the platform's size creates a lot of competition among sellers. As a result, finding a niche, building brand recognition and loyalty, and getting regular customers on the platform is extremely difficult. That is why it is critical to select the right items to sell. These products will usually have large profit margins and be in high demand among customers. In this article, we will look at the common characteristics of the best-selling Amazon products to help you easily choose products to sell, build your business strategy, and make your business profitable.
Understand Amazon as a Marketplace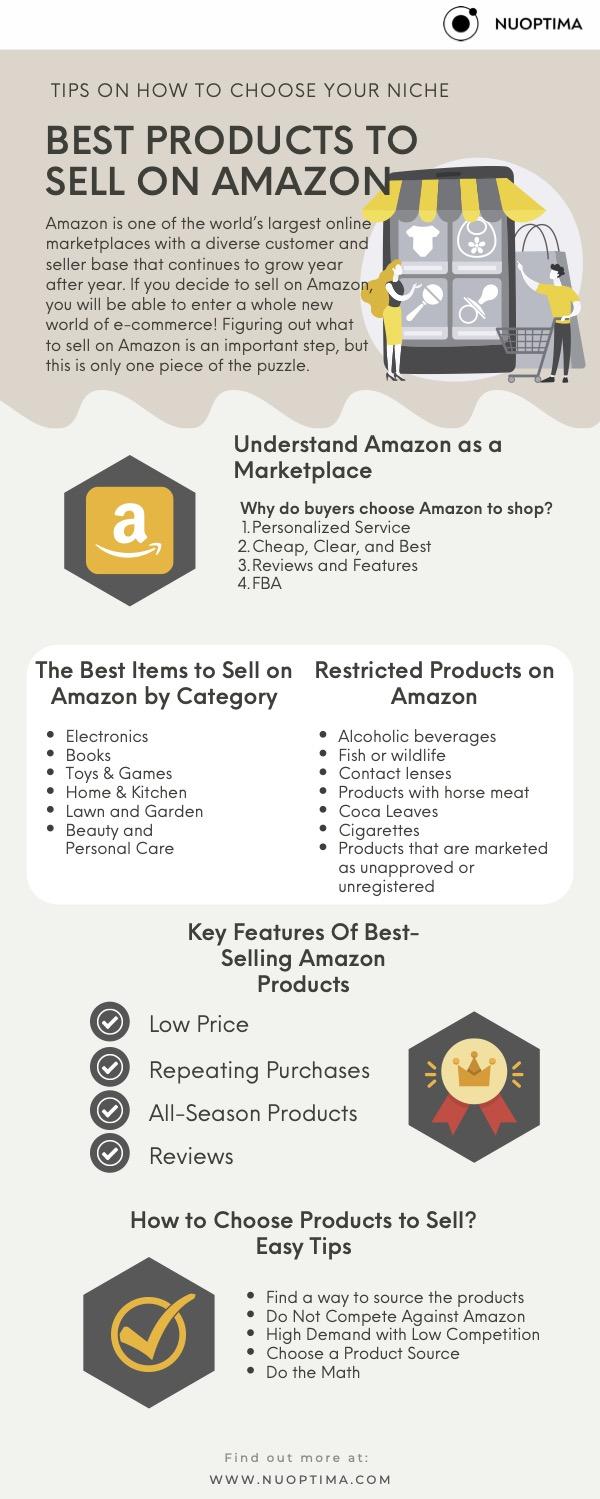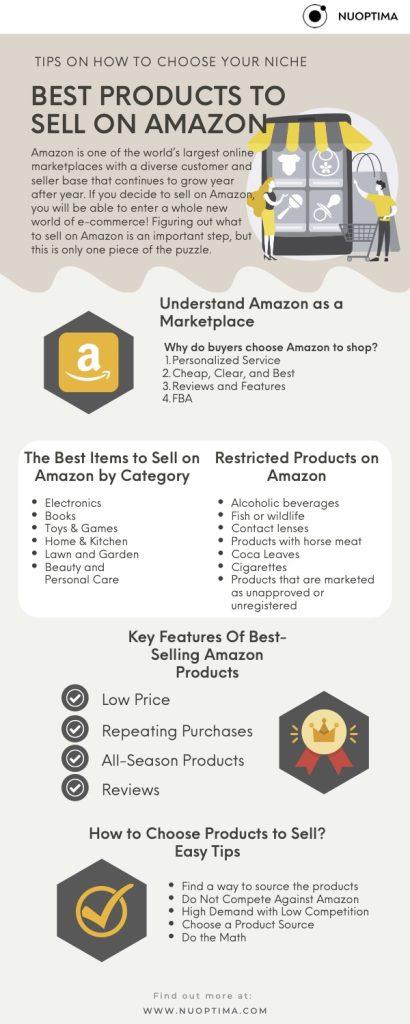 If you are a new seller on the Amazon marketplace, it will be vital for you to learn as much as possible about the market, its concepts, and how it operates. As mentioned above, Amazon is one of the largest e-commerce platforms with lots of competition, and putting up a product for sale without doing thorough research and analysis first is a bad strategy. Instead, you should start doing research to determine what products are relevant on the platform now, which niches are still not overcrowded, and which items can give you the highest profit margins.
Why do buyers choose Amazon to shop?
If you don't think about customers first and foremost in your business, then you've chosen the wrong strategy. The only way to be successful on Amazon or any other platform is to provide excellent customer service and have a clear understanding of all the rules and requirements. So, what are Amazon customers looking for?
Personalised Service
Amazon tracks its customers' online activity and recommends products that may be of interest to them. It also gives them important information, such as whether the items can be delivered to their location, and helps answer any questions that may arise. As a result, it makes the customers' lives easier, which, in turn, helps attract lots of buyers to the platform. This is why selling on Amazon is a good idea.
Cheap, Clear, and Best
Amazon makes an effort to anticipate customer needs and provide items and services that other online marketplaces cannot. For example, its pricing policy is designed in such a way that you are unlikely to find cheaper products elsewhere. Amazon continues to be the market leader because it is concerned with providing its customers with everything they need.
Reviews and Features
Customers appreciate the Amazon search system because they can easily filter the products they want to see, set the desired pricing, and avoid being distracted by irrelevant offers. Furthermore, Amazon allows customers to share their experiences with products with others, i.e., write reviews. It is estimated that customer reviews influence nearly 93 per cent of buyers. All of these features entice customers to shop at Amazon.
FBA
One of the primary advantages of Amazon's online marketplace is its lightning-fast shipping. The Amazon FBA (Fulfilment by Amazon) program not only makes the customers' lives easier with 1-day or 2-day shipping but also allows sellers to focus solely on selling rather than being distracted by order fulfilment and shipping. And since all of the work is done by logistics professionals, everything runs like clockwork.
If you want to be a successful Amazon seller without using the FBA program, you must first understand how Amazon helps customers and strive to meet that standard. This should govern how you sell, regardless of the product.
The Best Items to Sell on Amazon by Category
When you begin your product research, focus on the most popular categories first. This list of categories can be very helpful because Amazon frequently changes it to reflect the customers' current needs and preferences. For example, in 2019, the best-selling category was Electronics, while in 2021, it is Home and Kitchen. This shift likely occurred due to the global pandemic that kept us all cooped up in our homes. However, some categories continue to be among the most popular no matter what's happening in the world. These include:
Electronics
Books
Toys & Games
Home & Kitchen
Lawn and Garden
Beauty and Personal Care
Of course, there are numerous profitable products you can sell in other categories. However, if you are still unsure about what you want to sell, we recommend that you begin your search with categories that have the highest demand.
Restricted Products on Amazon
Amazon does not allow users to sell illegal or hazardous products, including those available only by prescription. You can go to the official Amazon website to see the complete list of restricted items, but there are a few restricted products you can't sell on Amazon:
Alcoholic beverages
Fish or wildlife that are taken, possessed, transported, or sold in violation of rules and regulations
Corrective and cosmetic contact lenses
Products containing horse meat
Coca Leaves, including all variations of leaves, tea, and coca extract
Cigarettes
Products that are marketed as unapproved or unregistered
If you are just starting out as a seller, it is best to avoid restricted products. However, if you are determined to sell suspicious goods on the platform, you should first study all of the rules, and perhaps you may be able to make the product appear legal on Amazon.
Key Features Of Best-Selling Amazon Products
The list of best-selling Amazon items tends to change rapidly, but there are a few key factors that determine what products will become top sellers. Here are a few of them:
Low Price
All of the best-selling products are inexpensive, with prices ranging from $3 to $60. Investing in inexpensive and popular items is a risk-free strategy and the best one for a new seller. Consider the following scenario: you order a large number of expensive electronics that have a large profit margin but are unable to sell them all. This could easily ruin your emerging business. You may say, "No risk, no reward," and we completely agree with you if you are confident in your business strategy. The choice is yours!
Repeating Purchases
The majority of successful retailers have a large percentage of repeat purchases. People will undoubtedly return for products like wet wipes, software subscriptions, and household appliances if they like the product the first time they purchase it. So selling these types of inventory is an excellent opportunity to build a regular customer base and ensure that you will always have orders.
All-Season Products
Some products, such as Halloween costumes or Christmas decorations, are only relevant during certain seasons, but many products are in demand year-round. So it's up to you whether you want to sell swimwear and make bank during the summer season or opt for products that will be profitable all year long.
Reviews
All of the best-selling products have at least a four-star average rating. Positive product reviews will always attract a large number of customers because they build trust in the seller. After all, for a customer, even the most detailed description will not provide as much information as a review from an ordinary user. The same is true for the number of reviews; some products receive thousands of them, implying that they have been sold more than a thousand times. Isn't that a good way to build customer trust?
How to Choose Products to Sell? Easy Tips
No matter how much product research you do, simply listing a best-selling product will never be enough and will not guarantee you success. Unfortunately, building a business on Amazon is that simple, and reading an article titled "Top Items to Sell on Amazon" will not solve all of your problems or make a decision for you. You will still need to develop your own methods and make numerous mistakes in your business journey. However, the following suggestions will help you devote less time to searching for products you want to sell and instead dedicate more time to building a successful business strategy.
Find a Way to Source Products
There are several methods you can use to source products to sell on Amazon:
Private labelling: This means you will be rebranding a product that was previously manufactured under a white label. Because there is no need for you to build a supply chain, this model takes less time, but there are no options for personalising the products if something doesn't suit you.
Online and/or Retail Arbitrage: Sellers who use this method find discounted or bargain goods in online stores and then resell them at a higher price on Amazon.
Wholesale: This model is similar to the arbitrage model, but instead of finding individual units, you buy low-cost or discounted goods in bulk. Obviously, making money on bulk items is easier, but there is a chance that you will order a large number of goods that fail to sell and end up with excess stock.
Dropshipping: Dropshipping is used by sellers who don't want to keep physical stock in their warehouse. Instead, they transfer orders directly to a third-party supplier who fulfils them.
Handmade: These sellers create products by hand and sell them on Amazon. You can sell items such as jewellery, clothing, and decorations. This is a good business model to use if you have a niche product that requires a lot of effort to list on other platforms.
Do Not Compete Against Amazon
There are numerous products sold on Amazon by Amazon, and there is little chance that you will be able to outprice them. Therefore, we advise you to save yourself the stress and avoid competing with Amazon, as they are the most likely to get all the Buy Boxes and orders for most products they sell. Instead, you should try to choose more specific products, such as selling food for short-haired dogs rather than dog food for all breeds.
Opt for High-Demand Products with Low Competition
The ideal product to sell is one that is in high demand and has little competition, but you will have to spend a lot of time looking for these products. You can use Amazon to conduct research and look at specific keywords to determine demand. However, we recommend going a step further and using Google Trends. Google Trends allows you to monitor the most popular recent search queries and filter them based on location, age, and other factors.
Find Where to Source Products for Amazon
Once you've decided on the type of product you want to sell, the next step is to figure out where you can get those items in bulk at a good price. Here are a few places to consider:
Alibaba. It is the most suitable location where you can source wholesale and private label products. It is a database of thousands of suppliers who offer low-cost items for purchase and resale.
Aliexpress: This website is very similar to Alibaba, but it is aimed at end customers instead of sellers. As a result, the prices on Aliexpress are higher, but you won't have to deal with minimum order requirements, so you will be able to purchase items in any quantity you want.
Brick and Mortar Stores: You can also try searching for products to sell at physical stores like Walmart. Prices in these stores vary significantly depending on your location (state, country). If you can find shops with permanent discounts that give you the option to buy products in bundles, you can make a significant profit by reselling them on Amazon at a higher price.
Garage Sales: Some items at garage sales are sold for much less than their true value. So, if you're willing to spend the entire day looking for valuable items, you should go to a garage sale, and maybe you'll find your treasure.
Do the Math
Even if you can price your products lower than the competition and get all the sales, this does not guarantee that your product will be profitable. That is why it is critical to account for all manufacturing costs, storage fees, packaging fees, and other expenses your business will face. If you can't get a large enough profit margin on one product, you must move on to the next idea.
Final Thoughts
If you decide to sell on Amazon, you will be able to enter a whole new world of e-commerce! Figuring out what to sell on Amazon is an important step, but this is only one piece of the puzzle. To make your business a success, you will need to learn a variety of skills. Selling on Amazon is a lot of work, especially if you don't have any experience, which is why we recommend hiring a professional agency to assist you with the development of your Amazon business. Sign up for a free discovery call with the best Amazon experts at Nuoptima, or leave your email address so we can contact you and tell you more about what we do.
Talk to an Amazon expert
We work with 100+ businesses. Book a slot now to talk to one of our experts.
---
FAQ
What is Amazon's most profitable item?
In 2021, computers had the highest profit margin of 28% on average. Following that are video games, books, and handcrafted items.
Is a business license required to sell on Amazon?
No, because the majority of products sold on Amazon are not federally regulated, you do not need a business license to sell online.
What is the most popular product in the world?
Clothing and fashion items are the most popular items in online marketplaces. Beauty products and household appliances are next on the list.