Key points
Amazon reviews are one of the most crucial deciding factors for most buyers. They also play a significant role in helping sellers win Buy Boxes, so you should strive to get as many positive reviews on your Amazon products as possible.
Amazon has strict rules regarding reviews that all sellers should adhere to. For instance, you're not allowed to promise customers gifts or discounts in exchange for 5-star reviews.
You can try to get more ratings on your products by using the "Request a Review" button, using third-party software to send feedback requests to customers, or including inserts in your product packaging.
You can also utilize the Amazon vine program if your brand is registered on Amazon and some of your products have fewer than 30 reviews.
The pandemic has touched virtually every person on the planet and significantly changed how we live our lives. Our shopping habits have also changed dramatically, and the percentage of purchases we make online has skyrocketed over the last two years. More and more people prefer to go on Amazon and make a purchase in two clicks instead of searching other websites for alternatives or shopping in physical stores.
Since customers cannot touch and examine the products they are browsing in person, the vast majority of them rely on reviews from other users. In fact, 72% of buyers do not add a product to their shopping cart until they read the reviews. As a result, it is crucial for Amazon sellers to work on gathering customer feedback to increase trust and boost sales as a result. In this article, we'll go over the best ways to get those reviews and cover different Amazon programs and strategies you can use to increase the amount of feedback on your products.
Amazon reviews policy
Before we discuss different methods of getting more reviews on Amazon, we need to talk about a few rules and updates to the Amazon reviews policy that you should be aware of.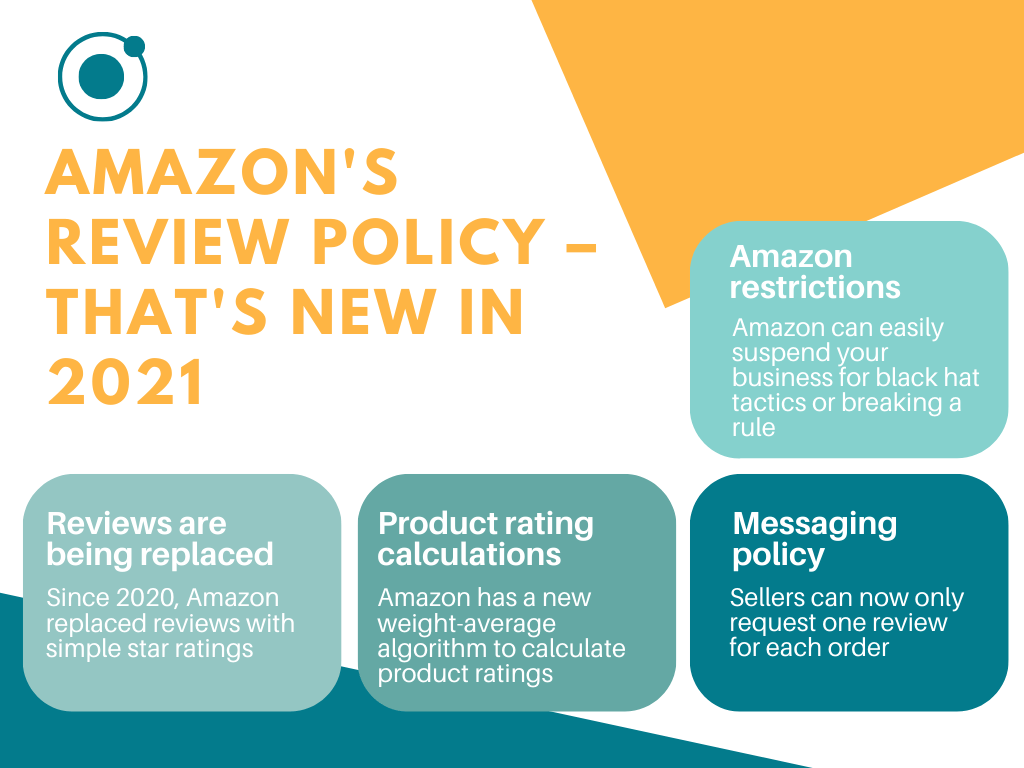 Reviews are being replaced
In 2020, Amazon replaced Reviews with Ratings. With the new update, customers no longer need to write a text review to evaluate a product. Instead, they can simply leave a star rating ranging from 1 to 5. As a result, getting ratings on Amazon has become much easier, which has a positive impact on the sellers' reputation.
Product rating calculations
Many sellers have a difficult time making sense of the way product ratings are calculated. Unfortunately, this is done through a complicated process in which ratings and reviews from different customers are not weighted equally. Amazon has recently developed a new weight-average algorithm to calculate product ratings, and it's unknown which variables influence the calculations. However, here are some factors that undoubtedly play a role
Whether the rating or review came from a verified or unverified buyer;
The date when the review was left;
The number of reviews written by the buyer;
Whether there is a deviation from the mean rating.
Therefore, a recent review left by a verified customer with a long purchasing history will likely have the most weight.
Messaging policy
Previously, it was customary for sellers to overwhelm customers with emails asking them to provide feedback. However, in 2017, Amazon enabled customers to cancel their newsletter subscriptions and opt-out of receiving millions of unsolicited letters. Amazon has also changed its messaging policy in 2020, stating that sellers can only request one review for each order. As a result, the Amazon review system has become far more complicated and significantly less beneficial to sellers.
Amazon restrictions
To ensure transparency and fairness, Amazon has provided plenty of restrictions and rules that prevent review manipulation. If you attempt using black hat tactics to get reviews, you will be skating on thin ice, as Amazon could suspend your business. That is why sellers must be familiar with Amazon policies regarding reviews and understand the difference between permitted and prohibited methods. You don't want to be suspended for breaking a rule you didn't even know existed. Here are some examples of these rules:
Do not ask your friends or family to write reviews, and do not do it on your own;
Do not provide any freebies or discounts in exchange for feedback;
Do not "cherry-pick" reviews. The "cherry-picking" method involves soliciting feedback from customers who had a positive experience while ignoring those who had a negative or neutral experience.
Do not post a review of a competing product.
Do not ask a reviewer to change or delete their review.
No matter what your situation is, it's always better to work on improving your products and service instead of looking for illegal ways to get new reviews. Of course, organic reviews are always preferable, but how can you get more of them?
Does Amazon ever take down negative reviews?
There are only very specific reasons why Amazon will remove a negative review. Here are some of the conditions under which Amazon removes a review:
If the reviewer took down the review
If the review was not in accordance with Community Guidelines
If only Amazon Verified Purchase reviews were accepted at that given time
If unusual review behaviour has been recognised
If numerous products were incorrectly listed as the same and the reviews needed to be separated.
If you believe there is a review violation on your product page, you can request that Amazon remove it by clicking on the "Report abuse" link or emailing Amazon Seller Support.
How to get more reviews on Amazon?
Note: All methods described below are legal and allowed by Amazon's rules and policies, so you don't need to worry about your account being banned if you use them.
"Request a review" button
Amazon has made some positive changes that have helped retailers promote their business on the platform in recent years. For example, in 2019, Amazon gave sellers the option to increase the likelihood of a customer leaving a review. According to statistics, after the "Request a review" button was introduced, the average number of reviews a seller had increased from 3.6 to 25.9. This button has a lot of power, which is why we recommend you start using it. Here are some more details about this tool:
You can now use the "Request Review" button within four to thirty days after the customer receives your product.
Product rating and seller feedback requests are automatically sent in the same email.
You are not permitted to use templates or customize the message.
After clicking the "Request a review" button, you can still send a separate review request.
Ask for reviews using third-party software
The most effective way to obtain reviews on Amazon and other platforms is to simply ask for them. Many customers forget to leave feedback and are happy to do so if the company reminds them. We've already mentioned that Amazon only allows you to send an email request once. So how can sellers ask for more reviews? You can use specialized software to create your own email template that will include your brand logo, product imagery, and any other information you want to use. Some Amazon review software gives sellers the ability to target customers who are most likely to leave a positive review. ​​These programs look at whether customers bought a product that usually gets positive reviews, whether they received their order on time, and whether they previously left positive or negative feedback for products sold by other brands.
Tips for sending Amazon review requests with third-party software
Because feedback software will not write a message for you, you will need to find the appropriate words to engage the customer on your own. Here are some simple tips you should take into account when requesting feedback from Amazon customers:
Choose the right time. There are certain hours or days of the week when the customer is more likely to respond to your request. As a result, you should research time zones, weekends, and other days to determine the best time to send a message.
Be selective. For example, you may be aware that the package was shipped to the customer late or that the order contained a fragile product that is difficult to deliver. If you are unlikely to receive positive feedback from a customer, it is best not to send them additional requests for reviews.
Make a good impression. You can include additional resources that will assist the customer in leaving a review when sending them a message with your request. It could be a video tutorial, a detailed description of how to use the review system, or a list of common questions and answers. These minor additions may persuade the customer to award you an extra star.
Pay attention to the negative feedback. If you receive a negative review, apologize to the customer to lessen the impact. Try to find a personal approach and emphasize with the person to show them that their opinion is important to you. This will help to improve the situation and reduce the customer's anger.
Build an Amazon email list
Creating your own email list is one of the best ways to gather a list of your regular customers or people who are simply interested in your business. The easiest way is to use social media to build it. For example, you can ask people to leave their email addresses in the comments to receive up-to-date information or special offers about your products. You can also start your own blog or website and ask people to visit it. After creating a mailing list, you can ask for feedback from those who have purchased from you.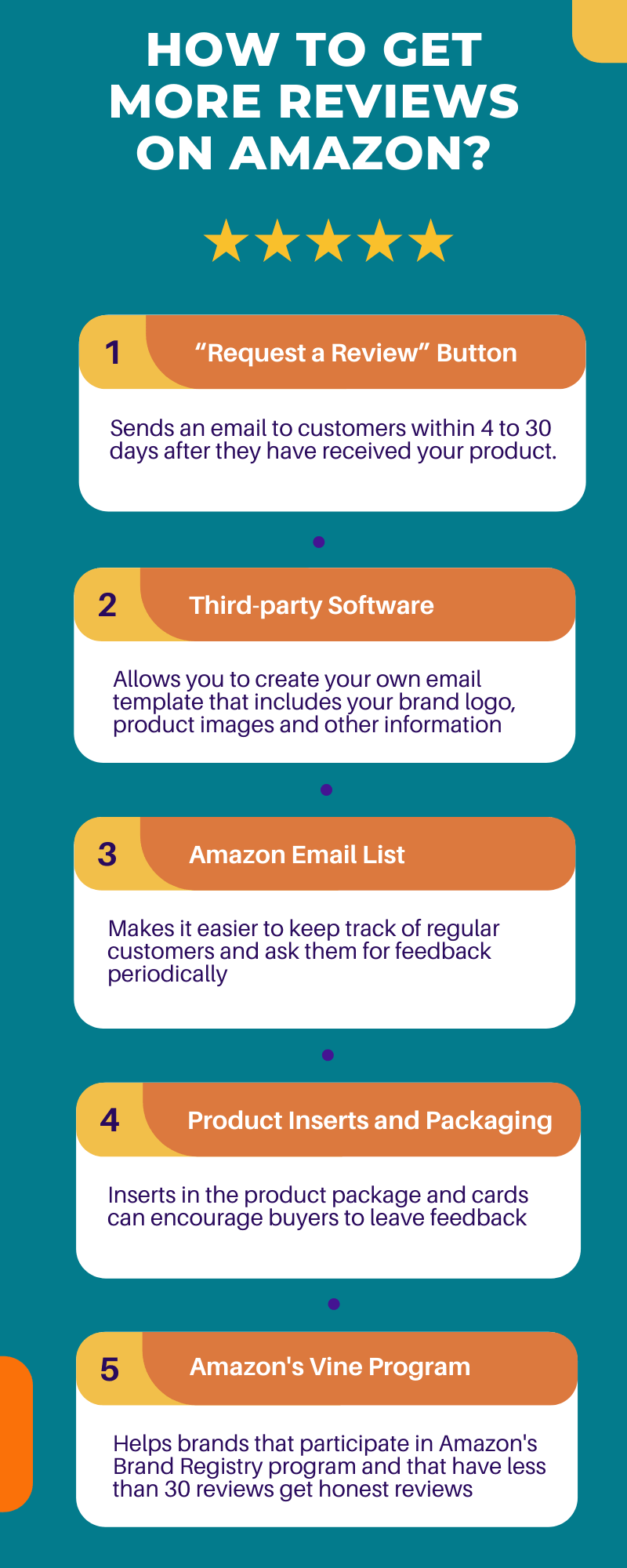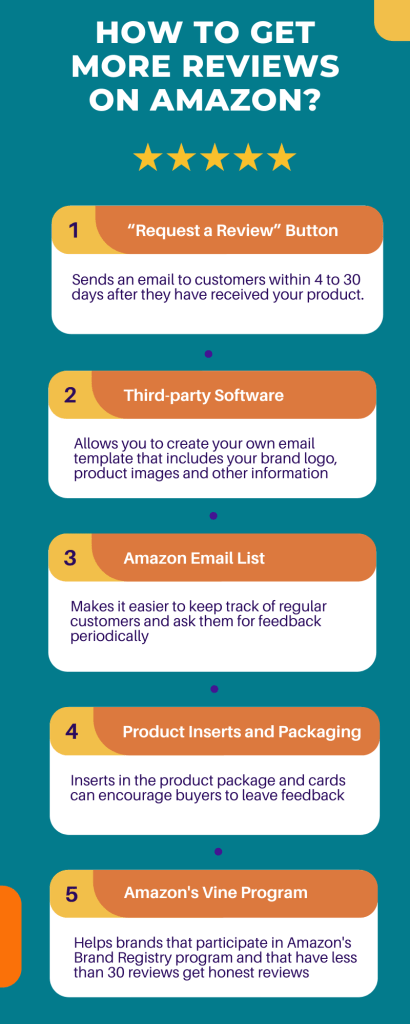 Work on product inserts and packaging
Many sellers include inserts in the product package. To use this tactic, you should simply insert a card asking the buyer to leave a review into each package you mail. However, you should avoid manipulating customers by asking them to leave positive feedback or offering a discount or warranty in exchange for a 5-star rating, as this is strictly against Amazon's rules. Reminding the customer to leave a review is acceptable; however, you cannot ask them to leave a positive review.
Just remember to be cautious and keep the following points in mind:
Maintain your neutrality. Do not be overly excited or ingratiating in your feedback requests; instead, simply ask for feedback politely.
Provide excellent customer service. Emphasize the fact that customers can easily contact you if any problems arise. Paying more attention to your customers' concerns will help to avoid negative product reviews.
Don't get caught up in the reviews. Reviews are not the only important things for business. It's a good idea to ask your customers to leave their email addresses or subscribe to your newsletters. It will impact future sales and help you gain regular customers who are willing to write positive reviews.
When leaving a review, don't forget to consider product packaging, which creates the first impression and plays a critical role in the customer experience. You don't need much time or money to buy kraft paper or print stickers with your brand logo. The design should depend on the product you're selling since you obviously don't want to wrap an electric drill in pink paper and ribbons. You can also include user manuals and inserts with useful info in packages, and you'll be well on your way to a five-star rating!
Try Amazon's vine program
If you're enrolled in the Brand Registry program on Amazon, and some or all of your products have fewer than 30 reviews, you should consider using Amazon's vine program. As part of the program, you will need to give 30 products to vine reviewers free of charge in exchange for reviews. Reviewers (people with a long history of leaving informative reviews) will receive the item, analyze its benefits and drawbacks, and then write honest reviews. Amazon checks the people who participate in this program as reviewers, so you don't have to worry about getting fake feedback.
Sellers were able to use this tool for free in the past, but now Amazon charges a fee to participate in the program.
How to use Amazon's vine program?
First, you need to enroll your product in the program through Seller Central's Advertising menu, paying a fee of $200 for each item. Keep in mind that only products that have fewer than 30 reviews are eligible. After that, you will distribute your products to reviewers.
Remember that Amazon vine feedback is typically more critical than average customer reviews, but it is still the fastest way to increase the number of reviews your product reviews.
Be proactive with negative reviews
Negative reviews can sometimes be a blessing in disguise. Say, for instance, you sell bags, and a customer left a negative review because the zipper broke immediately. Rather than ignoring the criticism, be proactive about it and make changes to stop more negative ratings from coming through for the same issue. Here are some proactive changes you can make:
Change suppliers: Negative reviews help to keep your suppliers in check. If a problem continues with the supplier, consider changing to a more reliable one.
Edit product listings: Poor reviews are often down to wrong or misleading information in your product listings. By improving this, you can garner more satisfied customers.
Product improvement: Consider improving the products you sell, even if it costs you money, as it will pay off in the long term.
Take care of dissatisfied customers (and fast): This method will not help you get more reviews, but it will help you resolve some issues that could harm your reputation. Using the Contact Customer feature, you can establish a personal connection with the customer, take steps to fix the situation, and encourage them to revise their feedback. Keep in mind that Amazon will also contact unhappy customers on its own, and you won't be able to send a custom message until Amazon receives a response from the buyer. Of course, this doesn't guarantee that the customer will revise the view, but it's another chance to improve the situation.
Send review requests at the right time
Once an item is received, you have only 30 days to send a review request. Getting the timing right is paramount. If it is sent too early, the buyer may not be ready to post a review. But, if it is sent too late, the ship might already have sailed. Here are some tips for timing your Amazon review request perfectly:
If you sell small consumables, send a request within several days of successful delivery.
If your products have a longer shelf-life or may take some time for a buyer to enjoy the benefits, wait between two to three weeks after delivery.
If a gift item has been bought early on in the holiday period, wait until the gift has been opened to request a review.
Exceed your customer's expectations
To get positive reviews, you will need to please the customer. And the best way to do this is to exceed their expectations, such as by:
Offering exceptional customer service: Keep in contact with customers regarding their orders and update your FAQs as appropriate. Ensure that customers can get in touch with you if they need help, and ensure that you then respond promptly.
Sell high-quality products: Your product should be of excellent quality (test all aspects of the product prior to launch), as this will practically guarantee positive reviews.
Use pricing promotions: Everyone loves a good deal, and customers will feel more obligated to leave a positive review to repay the favour.
Find little ways to increase value: This can be as small as adding a branded sticker or including product tips.
Use Contact Customer Option
For this option, you will need to be a Brand Registry seller. Before December 2020, sellers could comment publicly on their own product reviews. This is no longer the case, making it more difficult to communicate with buyers of your product directly. However, in July 2021, Amazon introduced a 'Contact Customer' feature. This feature allows you to directly message customers who have left one to three star reviews with a templated email offering a refund or further customer support. Bear in mind that these templates are uncustomisable. Using the Contact Customer feature improves the chances of a buyer removing or altering a review.
Final thoughts
This article has discussed the most effective legal ways to increase the number of Amazon reviews in 2022. As a seller, you should be cautious and try to abide by Amazon's rules. This is the only way to ensure that your Amazon business remains safe and continues expanding its reach on the platform.
Surely, all of this can be a heavy burden on your shoulders, which is why we recommend hiring a professional Amazon growth agency to assist you in developing your Amazon business. Sign up for a free discovery call with the best Amazon specialists NUOPTIMA has to offer today, or leave your email address so we can contact you and tell you more about our work.
Talk to an Amazon expert
We work with 100+ businesses. Book a slot now to talk to one of our experts.
---
FAQ
Can I review my own product on Amazon?
No, it is against Amazon's stated rules and restrictions. You, your family, and your friends are not permitted to write reviews on your product, or otherwise, your product listing will be removed from Amazon.
Are Amazon sellers allowed to pay for reviews?
Amazon prohibits all types of paid reviews. However, you can only participate in Amazon's vine program to obtain customer reviews without breaking the rules.
How long does it take for reviews to show up on Amazon?
Statistics show that most reviews are posted on the site within 72 hours. However, some reviews take longer to post than others (4-5 days). Amazon controls the entire process, and if any problems arise, you should contact Amazon's support service directly.