When running a business selling products on Amazon or any other marketplace, most sellers spend their days wondering how they can scale their operations, optimise their business, make more sales, and ultimately increase their profits. Breaking out into more international markets is one of the fastest and most effective ways to grow your customer base and increase your sales quickly. But naturally, the idea of taking your company to the global market can seem incredibly daunting, especially for a small business owner. And while international expansion can be difficult and require a lot of time, manpower, and money, Amazon makes this process a lot easier. Today, most Amazon sellers can break into international markets without investing a lot of money or hiring new staff. However, there are some things you need to know and do to make the expansion of your business successful.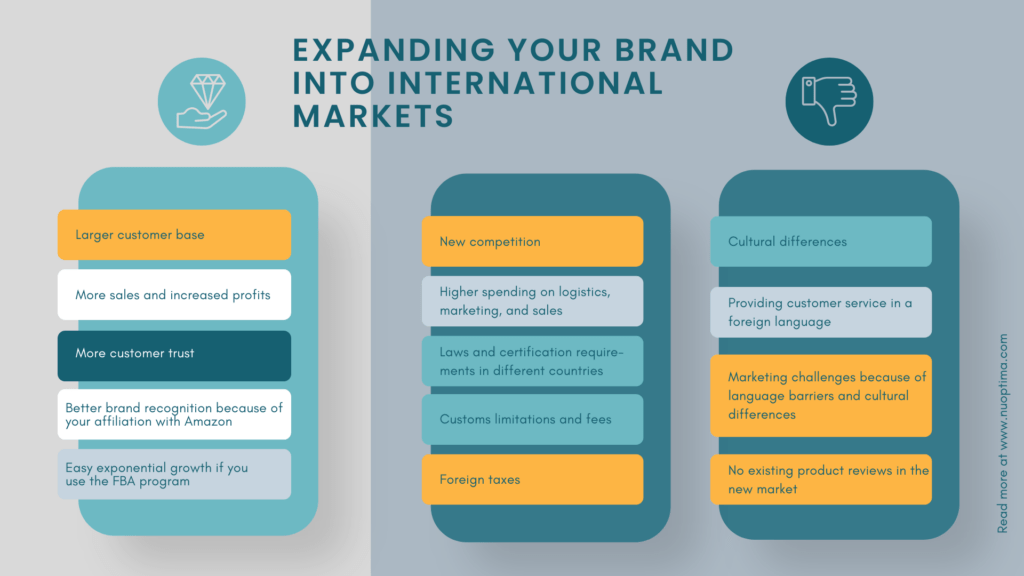 Advantages of expanding your brand into international markets
Breaking into a new market can be challenging, but it can also prove to be very rewarding for your business. Here are some advantages you can expect to get:
Larger customer base.
More sales and increased profits.
More customer trust and better brand recognition because of your affiliation with Amazon.
Easy exponential growth if you use the FBA program.
Difficulties Amazon sellers face when launching products in new markets
While expanding your brand into new markets provides numerous advantages, there are some challenges you can expect to face as well:
New competition.
The need to invest more money into logistics, marketing, and sales.
Laws and certification requirements in different countries.
Customs limitations and fees.
Foreign taxes.
Cultural differences that may prevent your product from being successful.
Providing customer service in a foreign language if you don't use the FBA program.
Marketing challenges because of language barriers and cultural differences.
No existing product reviews in the new market.
Below, we will give you a few tips and insights for creating a successful business strategy for global expansion on Amazon.
6 Things You Need to Do Before You Can Start Selling Internationally
Understand Amazon's rules and policies in different markets
Even though Amazon makes it quite easy for sellers to start a business and reach millions of potential customers, the company is notorious for having complex rules and guidelines that sometimes change without warning. Sellers who fail to obey Amazon's rules can be temporarily or even permanently banned from the platform. In addition, many Amazon guidelines change depending on the country. Thus, you need to thoroughly study Amazon's rules for each market before expanding your business.
In addition to the rules and regulations imposed by Amazon, you also need to consider the laws of the country where you're planning to sell your products and ensure that you can ship your products and get them through customs without any delays or issues.
Amazon's programs and services also work differently in some overseas markets. Thus, for example, you need to evaluate whether it will be financially viable for your business to use the FBA program for order fulfilment in other markets. You also need to ensure that you can successfully ship your products to the country in question and that you won't face any issues getting your inventory cleared at customs.
Create a strategy for taking your business to international markets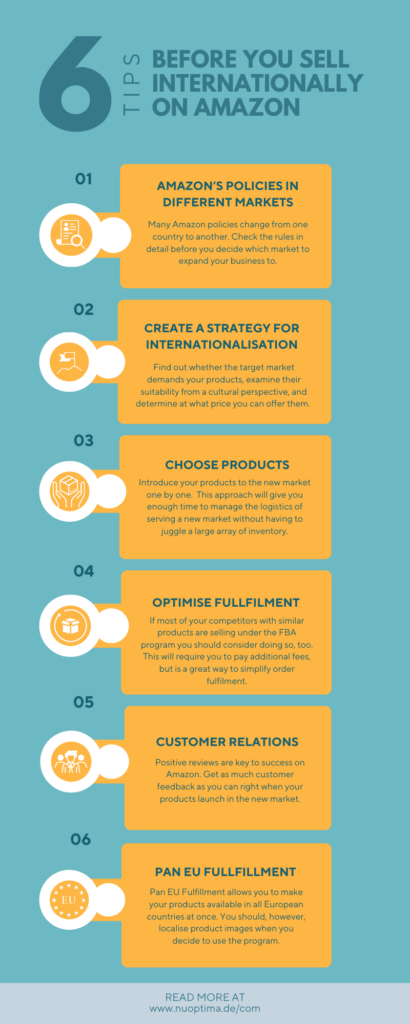 Even if your products have been a hit in the domestic market, it doesn't mean they will automatically achieve the same level of success in other markets. So to ensure that your brand realises its full potential in a new country, you need to create an effective and well-researched strategy. This includes studying the market and evaluating demand for the items your company sells, determining whether your product is appropriate for the country in question from the cultural point of view, and figuring out the optimal price point. Many sellers make the mistake of simply converting their regular princes to the currency of the new market. This is erroneous, as it can lead you to setting a price that's not competitive or one that diminishes your profit margins because of the added shipping, taxes, and other expenses.
In addition, you will need to create a portrait of your target customer in the new market and figure out how to attract these customers to your listings. Finally, it will also be necessary to assess your competition and determine how you can set your brand and your products apart.
Once you have your strategy, you will need to tailor your product listings to the market. This includes translating product descriptions, titles, and bullet points, tailoring this content to your target audience, creating new infographics and product images in the correct language, etc.
Choose which products to launch in the new market
While it may be tempting to launch all of your brand's products in the new market at once in an attempt to get a larger share of the market, this is often a bad idea, as you will be risking stretching yourself too thin too quickly. Instead, you should analyse all the data you've collected and determine which products are most likely to perform very well in the new market. These could be your current best sellers, but in some situations, other products can sell better because of cultural differences.
This risk-aware strategy will help you avoid shipping products that you may have trouble selling to another country and paying storage fees to keep them. Once you've established several products successfully and generated traction, you can focus on launching more product lines. Plus, you will have the opportunity to figure out all the logistics of selling your products in a new market without having to juggle a large array of inventory.
Optimise your order fulfilment process
No matter how eager you may be to list your products and start selling in the new market, you need to hold off until you've ironed out the order fulfilment process and ensured that you can deliver all orders on time. If you don't do this, you may face an influx of orders when your product goes live and fail to fulfil them in the appropriate timeframe. This can cause you to get lots of negative reviews right off the bat and essentially tank your brand in the new market before you've had a chance to prove yourself to customers.
One way to simplify order fulfilment is, of course, by using Amazon's FBA program. On the upside, if you use FBA to fulfil orders, your products will get the Prime badge, making them more attractive to customers. However, it will also require you to pay additional fees, which may or may not be too high for the prices you've set on your products. Ultimately, it's more likely for you to be successful selling under the FBA program if most of your competitors are also doing it.
Cultivate relationships with customers and work on getting positive reviews
Positive reviews are one of the most important keys to the success of any product on Amazon. Launching a product that doesn't have any reviews yet is incredibly challenging, so you should do everything possible to get as much customer feedback as you can right when your products launch in the new market. Amazon has several programs to help you achieve this goal, including Amazon Vine and ERP. Customer satisfaction should be your first priority if you want to build a successful international business on Amazon.
Practice caution when using Pan European or Pan North American fulfilment
If you want to expand your brand into North America or European Union, you may be considering utilising Amazon's Pan EU and Pan North America fulfilment programs. For example, if you list your products in France, the Pan EU program will allow you to make them available in other European countries automatically. While this can seem very useful and efficient, you need to remember that you will not be able to localise product images under this program. So if the images in your listings have any words on them, this is probably not a good idea. After all, you probably don't want customers in Germany to see images in French or some other foreign language.
Final Thoughts
Amazon makes it relatively easy for sellers to break out into new markets. However, there are still many things to consider and pitfalls to avoid. If you're interested in expanding your Amazon business, you can likely benefit from professional advice and guidance. So don't hesitate and sign up for a free call with one of Nuoptima's Amazon growth consultants.
Talk to an Amazon expert
We work with 100+ businesses. Book a slot now to talk to one of our experts.