Key points
Amazon FBA or fulfilment by Amazon is a program Amazon sellers can use to sell their products. Under this program, Amazon stores inventory in its warehouses, fulfils orders when they come in, handles customer service inquiries, and processes returns.
Amazon FBA is an excellent option for sellers who don't have their own warehouses or established logistics operations.
Becoming an FBA seller is very easy. You need to start by creating an Amazon Seller Account, choosing a plan, and adding FBA to the account.
Once you have a valid seller account, you can start choosing and ordering inventory, creating listings, and shipping your products to Amazon.
If you're interested in selling products online, there's no doubt that you've heard of Amazon's success. Today, Amazon is one of the biggest retail behemoths in the world. The company has over 300 million customers, and this number is constantly growing. And there are over 121 million Amazon Prime members who use Amazon as their primary shopping destination in the United States alone. In addition, more than half of all Amazon customers buy products on the platform once a week or more often.
Amazon is also the most user-friendly platform for sellers, as it provides a multitude of programs that make sellers' lives easier. Amazon FBA is one of them. In this article, you will learn about all of the benefits and bonuses that the FBA program can provide for you and discover a step-by-step guide on how to sign up for this program and start selling.
What is Amazon FBA?
FBA, or fulfilment by Amazon, is an Amazon service under which sellers ship their products to Amazon fulfilment centres, where they are stored, packed, and shipped to customers when orders are placed. Amazon also accepts returns and provides customer service. Amazon FBA gives sellers a simple way to save money on storage while focusing on selling rather than logistics management.
What Amazon Does for You:
Once you ship your products to Amazon, they will be delivered to Amazon fulfilment centres, which are large warehouses staffed by Amazon employees and robots.
Your products will be inventoried and stored in fulfilment centres. Don't be concerned about product damage. If something goes wrong, Amazon will always reimburse the full retail price of the damaged item.
When a customer orders your product, Amazon will automatically process the transaction, pick the item from the shelf, pack it into an Amazon box, and ship it to the customer.
Amazon is also in charge of providing customer service, which includes shipping notifications, reviews, and any problems that may arise (returns, product damage, etc.)
What You Will Need to Do:
Purchase items. As a business owner, you are in charge of selecting, sourcing, and purchasing the products.
Monitor inventory levels. Amazon always communicates with sellers about the inventory levels of their items, but you are solely responsible for delivering the inventory on time to avoid causing shortages and delays for customers who order your products.
Promote your products. You will almost certainly need to promote your products if you want to show them to a large number of customers. Choose the best marketing campaign for your products and start attracting new customers!
Why is Amazon FBA Worth It?
Amazon FBA is a very beneficial program for sellers because it allows them to unload their schedules and focus on more important things than packing and storing products. Aside from these apparent advantages, using FBA is an excellent way to keep track of and maintain inventory. FBA also provides the following benefits to Amazon sellers:
FBA allows you to devote more time to developing your marketing strategy and growing your business.
Simple logistics that require no effort. FBA is a dream come true for new sellers who have no prior experience with logistics. This program relieves you of the burden of managing all operations professionally.
Storage. With FBA, you don't have to worry about finding a suitable location to store your inventory and maintaining proper conditions. This can help you avoid the additional costs of leasing and maintaining a warehouse, and you'll also keep your home clear of inventory.
Access to Amazon Prime shipping. Registering for the FBA program will give you the opportunity to provide Amazon Prime benefits to your customers. This includes access to free 2-day Prime shipping as well as a variety of other appealing benefits.
Reputation boost. Amazon always appreciates sellers who take advantage of its bonuses and special offers. You will undoubtedly get more sales, and Amazon will show your products to more customers if you work under the FBA program.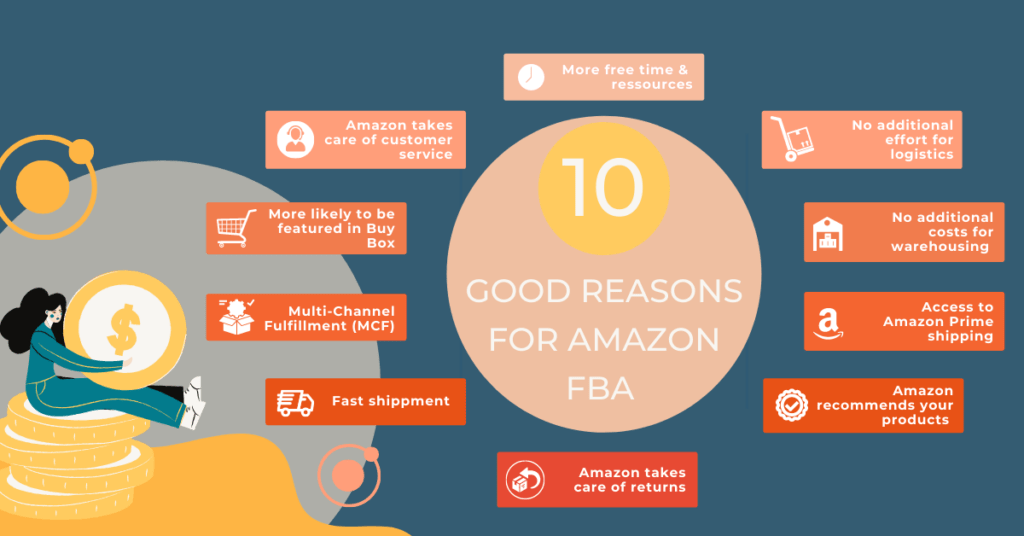 Easy returns. If you're a seasoned seller, you're well aware that returns are always a difficult process. You can forget about it with Amazon FBA because Amazon will handle the return process instead of you.
Quick delivery. Amazon has one of the fastest delivery times in the retail business, which is a significant advantage for sellers. Amazon provides two-day and overnight shipping, which helps sellers earn a lot of positive customer feedback. There is also convenient global shipping, which can help you get even more sales!
Amazon's Multi-Channel Fulfillment Service. You can still use the Amazon FBA program if you sell your products on other online marketplaces in addition to Amazon. This feature is known as Multi-Channel Fulfillment (MCF), and it allows you to sell outside of Amazon.
Buy Box. You will have much better chances of winning the Buy Box. Customers can add items to their shopping carts using the Buy Box, a white box located on the right side of each Amazon product page. Sellers who win the Buy Box and are displayed as the default BuyBox option make the most sales.
Customer Service. As previously stated, Amazon handles all customer communications for its FBA sellers.
How Much Do Sellers Earn with Amazon FBA?
Nobody can tell you how much money you will make using this program because it all depends on your strategy, the number of items you intend to sell, and the amount of time you're willing to devote to your business. The majority of sellers earn around $1,000 per month, but some manage to make as much as $250,000 per month by selling their products through FBA. Only 23% of sellers earn less than $1,000 per month. All of these statistics show that with a lot of hard work, you can build a business on Amazon and turn it into your main source of income.
How to Become an Amazon FBA Seller?
Joining the FBA program on Amazon is quite easy, and you can start selling products to customers in no time. Before you begin, make sure to have your bank account number, routing number, credit card information, and tax information ready. Here are all the steps you must take to become an Amazon FBA seller:
Create an Amazon Seller Account
You need to start by creating an Amazon seller account if you don't have one already because you won't be able to get enrolled in the FBA program without it. When you sign up, you will need to choose one of two Amazon seller account plans (Individual or Professional). If you want to know which option is best for you, read our article "How to Create an Amazon Seller Account" for more information. Next, you will need to add FBA to your account.
Find Products to Sell
If you don't have a specific product you're planning to sell on Amazon yet, you will need to start by conducting extensive research and selecting the appropriate product to fit your business strategy and intentions. It is worthwhile to select products that are in high demand and have little competition. While Amazon has a large number of products and product categories, the following are the most popular:
Almost half of the sellers sell their products in the "Home & Kitchen" category.
40% of sales occur in the "Toys & Games" category.
34% of sellers prefer to sell books.
Most other sellers work in the "Health, Household & Baby," "Kitchen and Dining," and "Pet Supplies" categories.
This is not to say that you must only work in these categories; they are simply the most popular and profitable. You can certainly find a good product to sell in a different category and make a lot of money.
Look for Product Suppliers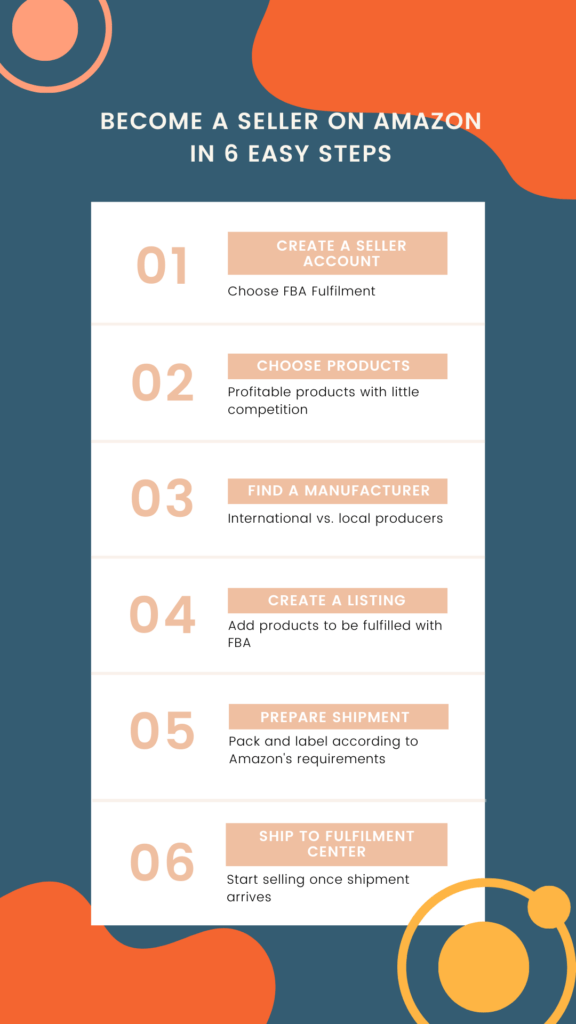 Once you know what product you will be selling, you should search for suppliers who can provide you with high-quality products. You have a few options for sourcing your products:
Overseas markets. Many sellers prefer to source products from China because there are so many low-cost and one-of-a-kind items. Aliexpress and Alibaba are two massive shopping platforms in China. Since Aliexpress is generally aimed at the end consumer, the prices there may be higher, whereas Alibaba is a B2B platform with a search function similar to Amazon's. Remember that since these products are shipped from China, delivery from these websites will be slow.
Local Trade Shows. These are ideal for purchasing products at a wholesale price. Check newspapers or magazines for tradeshow announcements.
Local manufacturers. If you don't want to deal with foreign markets, look for local manufacturers and try to negotiate good contracts with them.
Don't forget to double-check all the shipping details when placing your order, as shipping costs can eat into your profit margins. You should also check the delivery time because suppliers can quickly run out of stock, causing you to be late on refilling your inventory.
Tips for Choosing a Suitable Supplier for Amazon FBA
Look for high-quality products. If you sell poor quality items, this can lead to a slew of negative reviews, so proceed with caution.
Choose experienced suppliers. To ensure that nothing goes wrong, look for factories that have been in business for at least three years or check the prospective supplier's import history.
Communicate with the suppliers. Choose factories that are easy to contact and respond to all of your questions. Poor communication can cause issues with the production of items and affect their timely delivery.
Choose reasonable prices. Factories that offer prices that are too high or too low may not be very trustworthy, so you should conduct extensive research before selecting a supplier.
Create Your Product Listings
To create a product listing, you will need to go through the following steps:
Navigate to Amazon Seller Central and select "Add Product" from the drop-down menu.
Choose "Create a new listing" and the category your product belongs to.
Fill in all required information here, such as the product title, description, brand, manufacturer, price, and UPC (Universal Product Code). Keep in mind that if you don't already have a UPC for your product, you'll need to buy one before you can create the listing.
After adding the product description, check the FBA box to ensure that the item will be sold through FBA.
Change the tracking mode from Individual to Case-Packed Items. This will allow Amazon to track multiple identical items separately.
Click "Save", and you are done!
Prepare the Products
Once you've created your product listing, you need to get your items ready to be shipped to Amazon warehouses. There is a list of the rules you must follow when delivering your products, including strict instructions that outline how to properly pack and label the items to minimize the chance of them getting damaged. If you cannot deliver the products yourself, there are numerous services that can ship them for you. It's a good idea to use UPS as your carrier because you'll get a shipping discount.
Remember that if you fail to follow these rules, your products will not be allowed to be stored in fulfilment centres.
Once you've prepared your inventory for shipping, navigate to Seller Central and look for the "Work on Shipment" section. Here you will need to create special labels for your boxes and select a shipping method. Amazon gives sellers three shipping options to choose from: Small Parcel Delivery (SPD), Less-Than-Truckload (LTL), and Full Truckload (FTL).
Ship Your Products to Fulfilment Centres
Amazon will decide which warehouse your products will be shipped to after you have created your shipping plan. You can begin marketing your items once they arrive at the Amazon warehouse. Keep in mind that you can always track your shipments via Amazon using the information on your receipt. Amazon will also notify you when your products are sold and automatically deposit funds into your bank account.
Final Thoughts
Amazon is one of the most user-friendly platforms for sellers, with a plethora of programs designed to make sellers' lives easier. One of them is Amazon FBA. The FBA program does not only make your life easier, but it also helps you to become a professional seller with a successful, rapidly growing business.
Nonetheless, finding the right business strategy and figuring out how to make your business as successful as it can be is a difficult process. That is why it's a good idea to hire professional consultants who can help you make the best business decisions and scale your company. Many Amazon sellers are now opting to hire companies that can answer all of their Amazon-related questions, help them develop an effective business strategy, and facilitate business growth. Nuoptima's Amazon consultants can help you do just that. Sign up for a free discovery call with our top consultants to learn more about our services, or leave your email address, and we will contact you as soon as possible.
Talk to an Amazon expert
We work with 100+ businesses. Book a slot now to talk to one of our experts.
---
FAQ
Do Amazon FBA sellers make money?
Yes, being an FBA seller on Amazon can be very profitable. The average seller earns between $1,000 and $25,000 per month, and only about a quarter of all sellers earn less than $1,000.
Is Amazon FBA worth it in 2022?
Yes, Amazon FBA will continue to be profitable in 2022. And while there have been a few perplexing situations associated with Amazon FBA, and many people claim that the Amazon marketplace is already overcrowded, it is still an excellent idea to start an Amazon business if you have a good business strategy.
Can you sell clothes on Amazon FBA?
Yes, you can sell clothes on Amazon, but they need to be approved before being listed on the platform. You should also keep in mind that you can only sell new garments that haven't been worn.