Key Points
An SEO company works to improve your visibility in search results so your brand can generate more traffic and revenue. An SEO agency is advantageous to your business in many ways, including creating awareness of your brand, working towards higher conversion rates and sales, and getting you ahead of your competition.
When choosing an SEO agency, there are many things to consider. These include word-of-mouth reputation, the agency's past performance, communication skills, and pricing.
When picking an SEO agency, avoid browsing only local companies, be wary of very cheap SEO agencies, and steer clear of black hat SEO.
When choosing an SEO agency, look no further than NUOPTIMA. Book a free discovery call with one of our SEO experts today.
How Can an SEO Agency Help Your Business?
The aim of an SEO (Search Engine Optimisation) company is to help improve your visibility in search results so that your company can generate more traffic — and therefore revenue — from search. To accomplish this, SEO companies undertake multiple tasks such as keyword research, content creation, link building, and more. Let's look at various ways that an SEO agency can benefit your business:
Increase traffic to your website
Create awareness of your brand
Build the credibility of your business
Work towards higher conversion rates and sales
Improve user experience and website performance
Help you to sustain a share of the market
Improve parts of your website, e.g. general speed and mobile-friendliness
Improve rankings
Get you ahead of your competition.
Top Tips to Help You Choose the Best E-commerce SEO Agency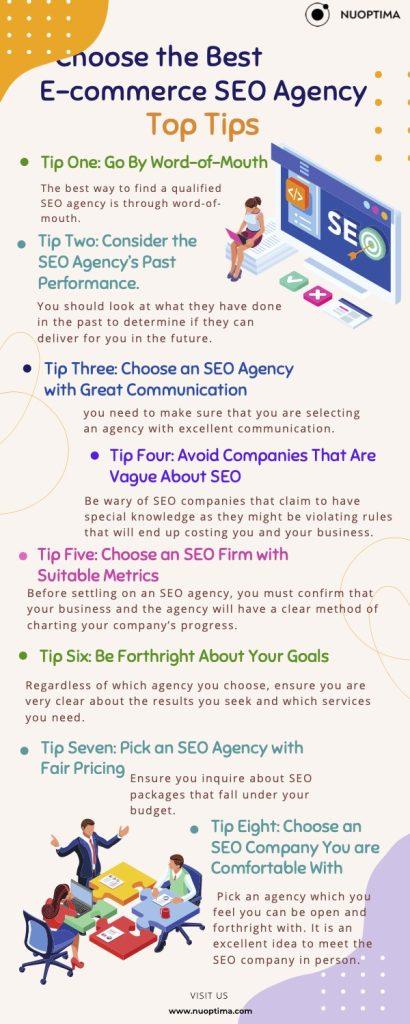 When selecting an SEO company, you need to be smart, logical, and thorough. Deciding the perfect SEO agency for your brand will have huge consequences on both your bank account and your business. Choose the wrong agency, and you could see a decrease in rankings. Pick the right one, and you could see a boom in traffic. Therefore, it is crucial that you take the time to select the perfect SEO agency for your business to ensure a beneficial outcome. This section provides you with some top tips to use when looking to hire an SEO agency.
Tip One: Go By Word-of-Mouth
While it might seem like the easy option to just research SEO companies on search engines and see how well they rank, this will not always give you an accurate representation of the best SEO companies. Remember, the very best SEO specialists will be too busy optimising their customers' websites to spend time optimising their own. Reputable firms will generally have many long-term customers who have referred other professionals to the same service, so there is no need for these SEO agencies to work towards ranking highly on search engines, such as Google. Only SEO companies looking for new clients will bother to rank for keywords such as "best SEO services". Furthermore, consider that SEO company listings are not always impartial as these companies have paid for their spot on the list more often than not.
As a result, the best way to find a qualified SEO agency is through word-of-mouth. So, instead of spending hours spooling through Google, ask people within your professional circle (excluding your competitors) for who they would recommend.
Tip Two: Consider the SEO Agency's Past Performance
Perhaps our most valuable tip is to consider the SEO agency's past performance. You should look at what they have done in the past to determine if they can deliver for you in the future. Therefore, you should take the time to examine the company's past performance, such as through industry awards, client testimonials, portfolio examples, or case studies. The internet is a place where companies can build up a fabricated image of themselves, which is why you mustn't just consider what they say about themselves but what proven results they have achieved. Therefore, it can be an excellent idea to ask companies for specific examples of work they have done in the past, such as a campaign or a website. That way, you can more accurately assess their suitability to your business and enter a partnership with confidence.
Tip Three: Choose an SEO Agency with Great Communication
You always want to select an SEO agency that will have a constructive working relationship with your business. While you may have access to certain tools that can help you measure your KPIs (Key Performance Indicators), you probably will not have time to analyse all the data. This is why you need a reputable SEO agency to work for you with excellent communication. SEO can be a process that takes time, so you could be working with an SEO agency for numerous years. For this reason, you need to make sure that you are selecting an agency that will provide you with regular updates and that communicates with you regularly and clearly. Otherwise, the partnership will not be conducive.
Tip Four: Avoid Companies That Are Vague About SEO
SEO is not easy. There would be no need for SEO agencies if it was. Therefore, if a company argues that they have a unique insight into the algorithms of Google or talk up the mystery around SEO, you can probably assume they are lying and are not an agency worth pursuing. Instead, great SEO depends on a deep understanding of how search engines work, close attention to detail, and regular modifications (as Google's algorithms change on almost a weekly basis).
You want to ensure you steer clear of companies that use shortcuts for SEO, such as keyword stuffing, cloaking, and buying links. This can lead search engines to demote your website and negatively impact your business. These shortcuts are called 'black hat' SEO as it violates search engines' rules. Upon discovering that shortcuts have been used, Google's bots will demote your website in their ranking, decreasing the organic traffic you will receive. Be wary of SEO companies that claim to have special knowledge as they might be violating rules that will end up costing you and your business.
Tip Five: Choose an SEO Firm with Suitable Metrics
Before settling on an SEO agency, you must confirm that your business and the agency will have a clear method of charting your company's progress. It is vital that you and the agency are on the same page regarding KPIs. KPIs are metrics that can apply to any part of a business and mean a range of different things within SEO. And different companies will have varying objectives, such as an older company with an established client base compared with a company launching a brand new product.
You, therefore, need to find an SEO firm that comprehends which metrics are the most important to your business and that can make this information concise for you to digest. Some KPIs that you will want to consider include:
Conversion rate
Keyword rankings
Organic sessions
Page load time
Google crawling errors
Tip Six: Be Forthright About Your Goals
When hiring an SEO firm, do not be vague about your goals. It is important that you avoid ambiguity and outline in detail what you wish to accomplish with SEO. For example, are you struggling to increase your conversion rate? Are you looking to boost product sales by ranking for particular keywords? Or are you looking for help with building a following on social media? Regardless of which firm you choose, ensure you are very clear about the results you seek and which services you need. This way, you can clarify whether the SEO agency you consider is a viable option. You want to choose a firm that specialises in the services you require.
Tip Seven: Pick an SEO Agency with Fair Pricing
You do not want to spend an arm and a leg when looking for assistance with SEO. Instead, you want to pay a fair price in relation to the competition as well as the results the company can give you. Take the time to research the pricing and determine whether it is a reasonable cost for what you receive in return. Ensure you inquire about SEO packages that fall under your budget. But bear in mind that low-cost SEO agencies have risks associated with them, as if they fail to follow proper Google guidelines, Google penalties could be incurred on your website, and your brand's reputation could be affected.
Tip Eight: Choose an SEO Company You are Comfortable With
It cannot be understated that you should select a company that you feel comfortable working with. You want to feel as though you can ask any questions and voice any concerns should you need to. If you do not feel this way, it can cause issues with developing a long-term relationship, which is critical because SEO is an extended and ongoing process. Pick an agency which you feel you can be open and forthright with. It is an excellent idea to meet the SEO company in person. Talking on the phone does not give you the same feeling about a company as sitting in a room with them and having a physical conversation.
Three Mistakes to Avoid When Choosing an SEO Agency
So far, we have provided you with eight of the best top tips when selecting an SEO company. Now we offer three mistakes you will want to avoid in this decision-making process.
Mistake One: Browsing only Local Companies
The deciding factor for an SEO agency should never be its location. Instead, other aspects should be prioritised, such as experience, performance, and client feedback, as this impacts your service quality far more than the agency's location. What if there are only inexperienced companies in your location, and your top competitor chooses an agency further away but bursting to full with experience? Even if you choose a faraway company, this is not necessarily a disadvantage. For example, SEO agencies may be willing to travel to meet you in person occasionally, and of course, there is always technology such as video conferencing that can be utilised.
Mistake Two: Choosing a 'Black Hat' SEO Agency
One of the most frustrating aspects of SEO is that it doesn't deliver results immediately. Generally, it can take up to six months before a return is provided. Consequently, many companies fall for black hat strategies, which are unethical and ineffective long-term SEO tactics that violate the rules. It may help you rank in search results fast, and it may be low-cost to go down this route, but you will fall from page one quickly. Plus, Google can ban your website from ever appearing in search results again. This is why you should focus on White Hat agencies that use best practices and ethical strategies.
Mistake Three: Choosing an Inexpensive Agency
Choosing a cheap SEO agency does not necessarily mean getting more bang for your buck. Conversely, low rates often indicate companies that underdeliver, such as by not personalising their approach for your business or by failing to communicate with you. Remember, you get what you pay for.
Final Thoughts
Looking for an SEO agency to partner with your business can be a long and thorough process. It is important that you take the time to meticulously research SEO companies to determine whether they are suitable for your business. Follow our top tips to help you find the best SEO company for you. At NUOPTIMA, not only are we SEO experts, but we also offer a free discovery call about your business. Book a phone call with us today, and we can explore how to expand your business and take it to the next level.
Talk to an Amazon expert
We work with 100+ businesses. Book a slot now to talk to one of our experts.
---
FAQ
What is an SEO agency?
An SEO agency employs experts in various areas of search engine optimisation (SEO). A business can partner with an SEO agency to improve its rankings in search results and deploy an SEO strategy.
How can an SEO company help my business?
An SEO company aims to help improve your visibility in search results so that your business can generate more traffic — and therefore revenue — from search. SEO companies undertake multiple tasks such as keyword research, content creation, link building, and more to accomplish this.
How do I choose the right SEO agency?
Follow our top tips in this article to help you choose an agency with confidence. This includes considering their past performance, metrics, communication skills, and pricing. If you are looking for a highly reputable and effective SEO company, look no further than NUOPTIMA.