Key points
Amazon logistics is a shipping and delivery service run by Amazon.
The company works together with third-party logistics operators (Amazon Delivery Service Partners), and independent drivers enrolled in the Amazon Flex program.
With Amazon Logistics, packages can be delivered within 2 hours, on the same day, or within 7 days.
For sellers and customers alike, the main advantage of using this service is order delivery speed.
While Amazon Logistics does have some downsides for sellers, its benefits greatly outweigh the disadvantages as long as you communicate with your customers closely and effectively.
Amazon is well-known for the wide range of premium services it provides to sellers, customers, and employees, and Amazon Logistics is one of them. This service was launched in 2015 with the goal of reducing shipping times and making customers happy. However, the Amazon Logistics infrastructure may not only help sellers improve their ability to serve customers, but it may also harm sellers' reputations. Whether you succeed or fail in using Amazon Logistics depends on how proactive you are in your approach. In this article, we'll go over all of the program's benefits and drawbacks and help you the most out of Amazon Logistics.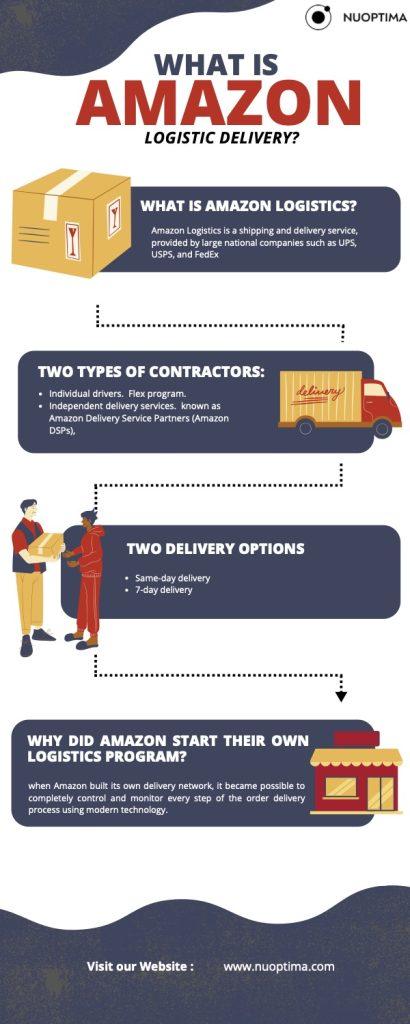 What is Amazon Logistics?
Amazon Logistics is a shipping and delivery service used to supplement delivery services provided by large national companies such as UPS, USPS, and FedEx. Simply put, it is a last-mile service that delivers packages to customers, similar to national postal services or commercial carriers. However, Amazon Logistics is not a large corporation; rather, it is a technology-driven marketplace or network similar to Uber, in which Amazon purchases delivery services carried out by bicyclists, motorcyclists, and walkers and supplied by independent delivery services.
There are two types of contractors used under Amazon Logistics delivery:
Individual drivers. These are people who have enrolled in the Amazon Flex program and work as many hours as they want.
Independent delivery services. These are companies known as Amazon Delivery Service Partners (Amazon DSPs), which have their own vans and drivers. Third-party vendors must adhere to certain guidelines in terms of safety training, licensing, vehicle size, and so on.
It is important to note that both types of drivers are independent contractors not employed by Amazon. The company simply contracts them to pick up items from fulfilment centres and ship them to customers. They use the Amazon app to manage work and register deliveries, and their schedules are completely flexible.
There are two delivery options under Amazon Logistics delivery:
Same-day delivery
7-day delivery
What is Amazon Flex?
Amazon Flex is very similar to services like Uber and Lyft, but instead of people, drivers deliver packages. To join Amazon Flex, prospective workers need to download their app, fill out a quick questionnaire, and wait a few days to see if they've been accepted. People who want to work for Amazon Flex must own a vehicle.
Why Did Amazon Start Their Own Logistics Program?
As a seller, you should be aware that most negative feedback left by Amazon customers is related to the shipping process, which is the most disorganized aspect of the order fulfilment process. Numerous factors can cause shipping issues and delays:
Car accidents
Customers who are not present at the time of delivery
Roadworks
Weather conditions
This list can go on and on. These issues result in late deliveries, product damage, or inconvenient delivery terms. It is a challenge for Amazon because the company doesn't have any influence over these issues when it ships products via other logistics companies. However, when Amazon built its own delivery network, it became possible to completely control and monitor every step of the order delivery process using modern technology. Furthermore, it is much easier to ensure good customer service if the company is aware of all potential problems that may arise during delivery. Thus, Amazon Logistics is an excellent option for cutting costs and increasing efficiency for Amazon sellers.
How Does Amazon Logistics Work?
Amazon Logistics aims to provide customers with the option of same-day shipping and delivery. However, this tool is only available to Prime members at an additional fee.
Most other shipping companies deliver packages only on weekdays during regular business hours. Customers generally also have to present and sign for their package since security is valued more than comfort in such companies. On the other hand, Amazon logistics makes deliveries 365 days a year, 7 days a week, and throughout the day from early morning to late evening. There is also the option to deliver the order to a neighbour without requiring a signature. While this can be less secure, this approach provides greater customer satisfaction and comfort.
The tracking numbers of packages shipped via Amazon Logistics shipments include the letters "AMZL US". Packages with this title are sent to special warehouses where Amazon DSPs (Amazon Delivery Service Partners) quickly pick them up and ship them to customers. The Amazon App assists workers in planning their routes and avoiding difficulties that may arise during the journey. Since Amazon Logistics works with third-party providers, service levels may differ from one DSP to another. While customers and sellers are accustomed to service standards set by UPS and FedEx, you can never know what to expect with Amazon Logistics.
Pros and Cons of Amazon Logistics
Just like any other service, Amazon Logistics has its advantages and disadvantages. We will review them below.
Pros:
With Amazon Logistics, orders are delivered much faster. Customers can choose between 2-hour and same-day delivery options, but these are only available in certain areas. Seven-day shipping is available in most locations.
Amazon Logistics gives sellers access to a variety of programs that can help ensure expedited shipping:

Amazon Fresh. This is a grocery delivery service available to Prime members living in some areas.
Amazon Flex. As previously stated, this is a courier service similar to Uber that manages same-day delivery services.
Amazon Locker. These are special delivery kiosks located in residential areas where customers can pick up their packages whenever they want.
Prime Air. This is a 30-minute delivery service that uses unmanned aerial vehicles, also known as drones.
Customers can use an Amazon map to track their orders and receive photo confirmation after the parcel is delivered.
There are no shipping issues and delays during peak shipping seasons because Amazon Logistics completes all orders on time and keeps warehouses from becoming overcrowded.
If you are a member of Amazon FBA (Fulfillment by Amazon) or Seller Fulfilled Prime, you will also receive additional benefits such as customer service handling by Amazon.
Because you will be communicating with internal teams and external partners on a regular basis, Amazon Logistics is also an excellent opportunity for achieving international growth and fostering new business connections.
Cons:
Because logistics providers are not Amazon employees, their methods differ from those Amazon uses to fulfil FBA orders. This can cause some unwanted consequences for Amazon merchants.
If a customer encounters issues such as late or mishandled delivery, there is a good chance that they will leave negative feedback on the product you sell. It will lower your ratings and reduce your chances of winning the Buy Box, which is crucial in attracting new customers.
Sellers have no control over Amazon Logistics because they cannot select a provider to ship their products even if they have previously had problems with one of the delivery companies. The entire logistics process is carried out without the sellers' participation, putting their reputation and shipments at risk. As a result, Amazon Logistics can be inconvenient for those who want to control every step of the product shipping process.
There were numerous instances where delivery services failed to follow protocols correctly, resulting in problems that could not be corrected.
How To Reduce The Risks Of Amazon Logistics?
Although some sellers may think that using Amazon Logistics is too dangerous, there are a few ways to reduce risks and get the most out of this tool:
Create various options for staying in touch with your customer. Allow them to call you, leave a message, or send you an email so that they can always find a convenient way to communicate with you. They must understand that, as a seller, you are always willing to help them with any questions or problems that may arise and find a solution. It's an excellent way to demonstrate that shipping problems aren't the seller's fault. Sending customers a tracking link, a review link, and Amazon's storefront link is also a good idea.
Consider developing an automated messaging system to solicit feedback so that it automatically sends a message after customers receive the parcel.
In any case, it is critical to maintain constant contact with the customer. It's a tried-and-true method for avoiding negative feedback and disappointing situations during order delivery. As a result, both you and your customers will benefit from using Amazon Logistics.
Final Thoughts
With Amazon Logistics, Amazon has signalled its intent to expand its shipping network and compete with the largest national delivery services. Furthermore, the company may soon expand and develop freight forwarding to handle all orders from start to finish. However, this system is not perfect yet, which is why we strongly advise proactively using Amazon Logistics and keeping close communication with customers. This will allow you to have the best possible experience with this program and avoid harming your reputation as a seller.
Nonetheless, determining the best strategy and making all of the available tools work for you is a difficult process. That is why it is a good idea to seek professional advice to ensure you are making the best decision for your company. Many Amazon sellers are now opting to hire consultants that can answer all of their Amazon-related questions, develop an effective business strategy, and assist them in growing their business. Let Nuoptima be your guide towards Amazon success. Sign up for a free discovery call with an Amazon expert to learn more about our services, or leave your email address, and we will reach out to you.
Talk to an Amazon expert
We work with 100+ businesses. Book a slot now to talk to one of our experts.
---
FAQ
Was bedeutet der Versand mit Amazon Logistik?
Amazon Logistics ist ein Lieferdienst für die letzte Meile, der von unabhängigen Lieferdiensten und Amazon Flex-Vertragspartnern angeboten wird. Dieser Service ermöglicht Amazon die Zustellung innerhalb von zwei Stunden und am selben Tag.
Kann man Amazon Logistik nutzen?
Als Verkäufer müssen Sie ein Mitglied von Amazon FBA sein, damit Ihre Bestellungen für die Erfüllung und Lieferung durch Amazon Logistics in Frage kommen.