Key Points
When considering a product as a best seller, ensure that it is in high demand, does not have a surplus of competition, has a positive or consistent sales trend, and has a high product score on product analysing platforms.
The most popular product categories for Amazon sellers are Home and Kitchen, Sports and Outdoors, Toys and Games, Beauty and Personal Care, and Health, Household and Baby Care.
It is a good idea to peruse the current best sellers list for inspiration and an insight into what is selling well – although do be wary of potential short-term trends.
Every Amazon business would love to offer best selling products. As the name suggests, a best seller sells more than the vast majority of other products in the same category and can consequently make your business a lot of money and get yourself more customers. But, it can be hard to predict what will be popular in the future and ascertain what will be a best seller. This is where we step in to help, whether you already have an Amazon business looking to expand or are about to start your business and are looking for a great product to sell. This article offers tips on what to look for when considering a product as a potential best seller before presenting some of the current Amazon best sellers so that you can increase your chances of finding a product that can help your business get off the ground.
Finding a Product that Will Become an Amazon Best Seller
Unfortunately, simply looking at the Amazon best seller list is not the way to find yourself a future best selling product – although this can sometimes give you a good indication. While this list will show you what is popular at this moment in time, it does not necessarily follow that the products will still be best sellers in the long-term or even short-term. There are several other factors that you should also consider when analysing an Amazon product, and these should help you substantiate whether it could be a best seller in the not too distant future.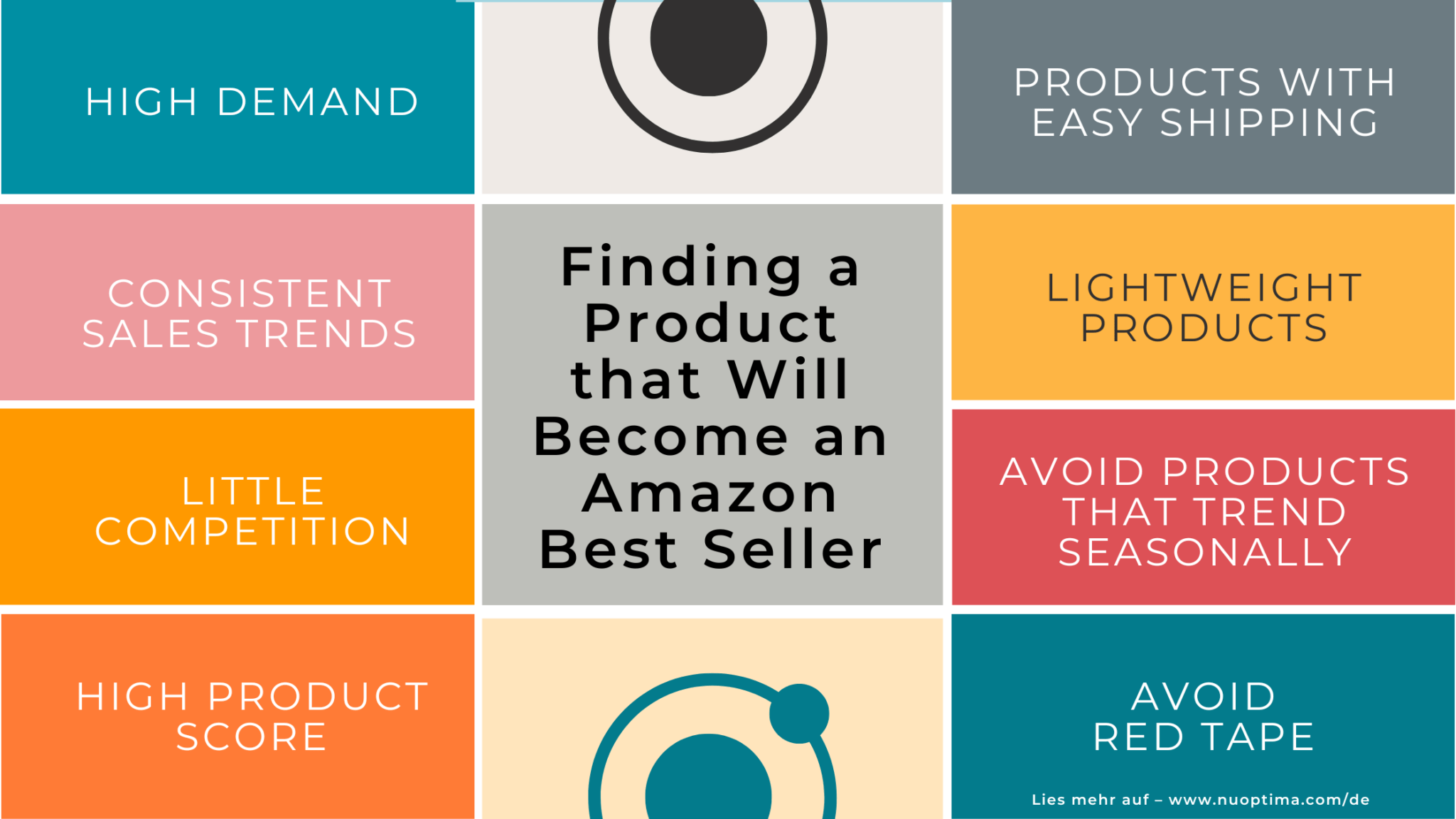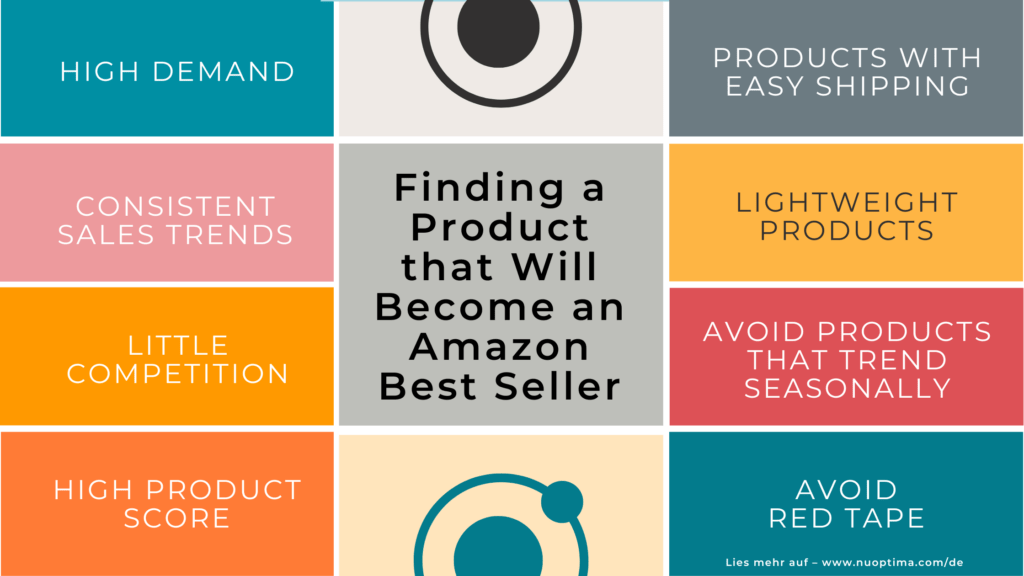 High Demand
This first point may sound obvious, but before investing in a product, you need to determine whether there is substantial and actual demand for it. This does not necessarily mean that it has to sell huge amounts daily, but rather that there is a consistent demand for the product. A good rule of thumb to follow is to see if the product gets over 10 sales each day. This is usually a good indication that a loyal customer base supports the product. Furthermore, it is valuable to know that if you optimise the product and make it more popular to the consumer, it could generate even more sales and put you at the top of the competition.
Little Competition
Another critical factor is how much competition your product has. If a product has much competition, it usually means it is a sought-after item in high demand. However, the more competition you have, the more you need to compete. While it's a great idea to sell a product that everybody wants, you can't stand out from the crowd if hundreds of other businesses are selling virtually the same thing. Therefore it becomes a mammoth task to capitalise on sales as they are being spread across all the sellers. On the other hand, if you opt for a product with less competition, you could be entering an untapped market. If you present a high demand but low supply item, you could benefit from huge sales as you are offering something that nobody else has on Amazon.
Consistent or Positive Sales Trends
Analysing the sales trends is a great way to tell if something is profitable. It is essential to look for either consistently good or trending up sales. Sometimes, products are only popular for a short time, and sales can then drastically decrease. So it is wise to avoid products with this potential. While it is great to find a product with sales that are trending up, bear in mind this may not be permanent, and it could take a sudden downward turn. The safest picks are products with consistent sales over an extended period of time. This displays that it has been in constant high demand for a long time, so you are less likely to get any nasty surprises.
High Product Score
If you are still unsure if a product is best seller worthy, it may be beneficial to use an intelligence platform or tool to analyse the item further. These services consider product demand, competition level, and sales margins to determine how successful the product is likely to be. Some people find it an efficient way of identifying items with high levels of potential in a short space of time.
Other Top Tips
Avoid choosing a product that trends seasonally.
Avoid products that require a lot of documentation, paperwork, and certificates, as it can be hard to keep up with all the red tape.
Consider shipping costs and other conditions when choosing a perishable or fragile item. You want to ensure that you deliver a quality product that does not cost you too much in shipping.
Choosing products that do not weigh a great deal is sensible due to low shipping and storage costs.
Popular Seller Categories on Amazon
When deciding what product you want to get behind, it is sensible to consider what product categories are the most popular so that you are sure you are delving into an area with a high amount of traffic and a lot of interest. Below we have a list of the top 10 main product categories of Amazon sellers according to the latest statistics:
Home and Kitchen – 40% (of sellers are in this category)
Sports and Outdoors – 21%
Toys and Games – 19%
Beauty and Personal Care – 19%
Health, Household, and Baby Care – 18%
Kitchen and Dining – 16%
Office Products – 15%
Garden and Outdoor – 14%
Tools and Home Improvement – 14%
Pet Supplies – 13%
As we can see, the categories cover a wide range of wants and needs, but Home and Kitchen is by far the most popular. In our final section, we look at the current best selling products on Amazon from the top five categories to inspire you with the product range, see what's out there and consider what it takes to be the cream of the crop.
Amazon Product Best Sellers
Home and Kitchen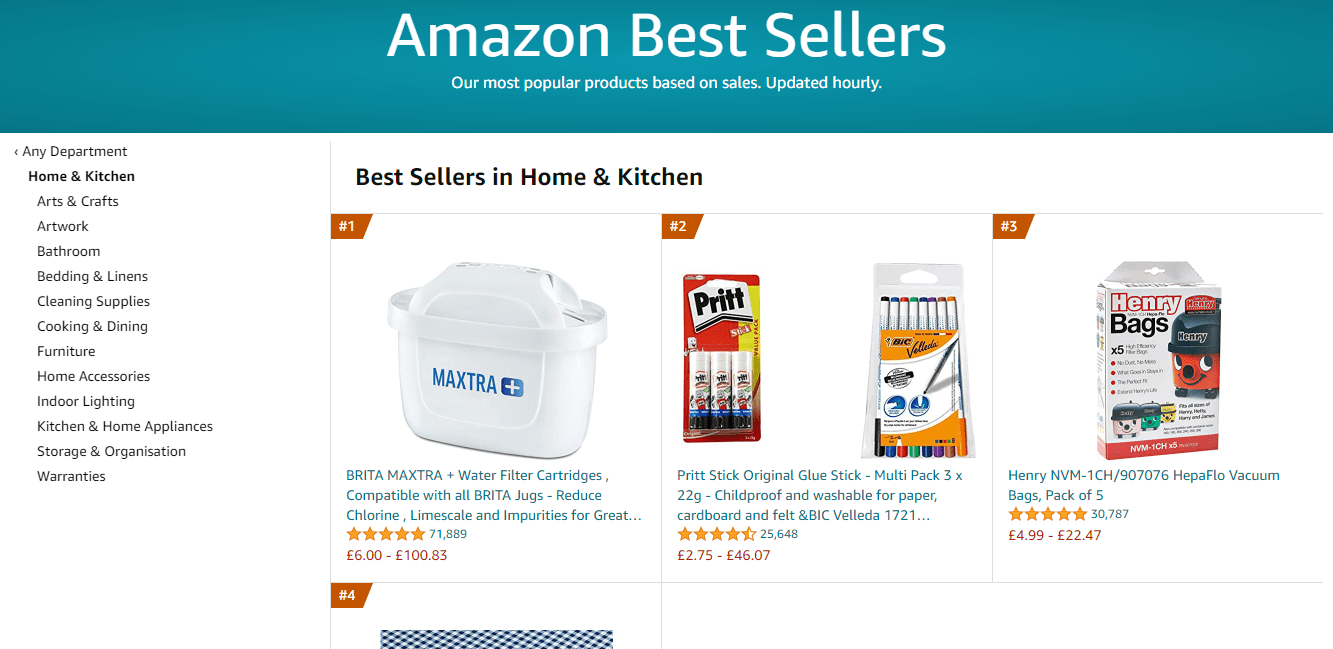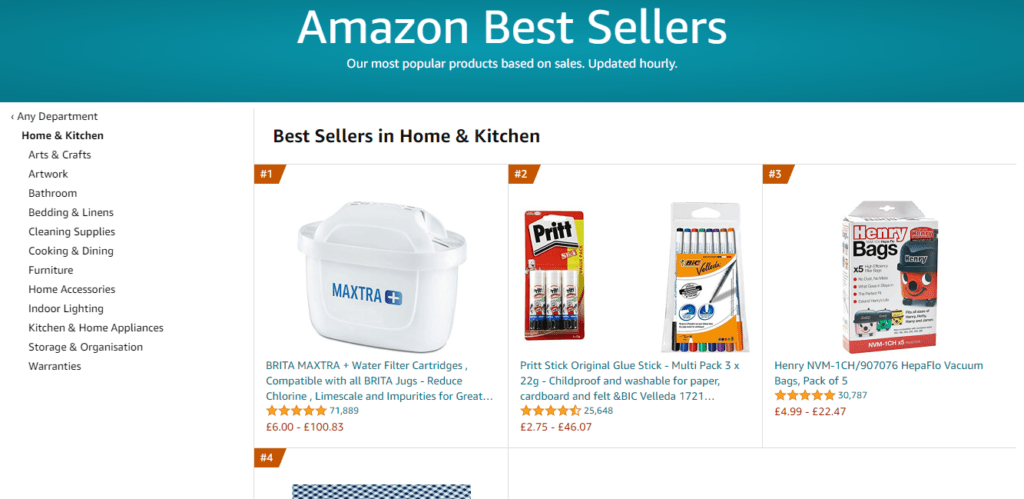 Home and Kitchen is by far the most popular seller category on Amazon. This is partly down to the varying subcategories it covers, including Arts and Crafts, Cooking and Dining, Furniture, and even Indoor Lighting. The current top three best sellers in this category display this clearly: a product for a water filter, glue sticks and pens, and vacuum bags. Some of the consistently popular products in this category are furniture, bedding, cleaning supplies, and air purifiers. Home and Kitchen is always an excellent choice for sellers because it enjoys consistent demand year-round. However, it may be worth avoiding heavy or large items such as furniture, which will lead to expensive shipping and storage costs.
Sports and Outdoors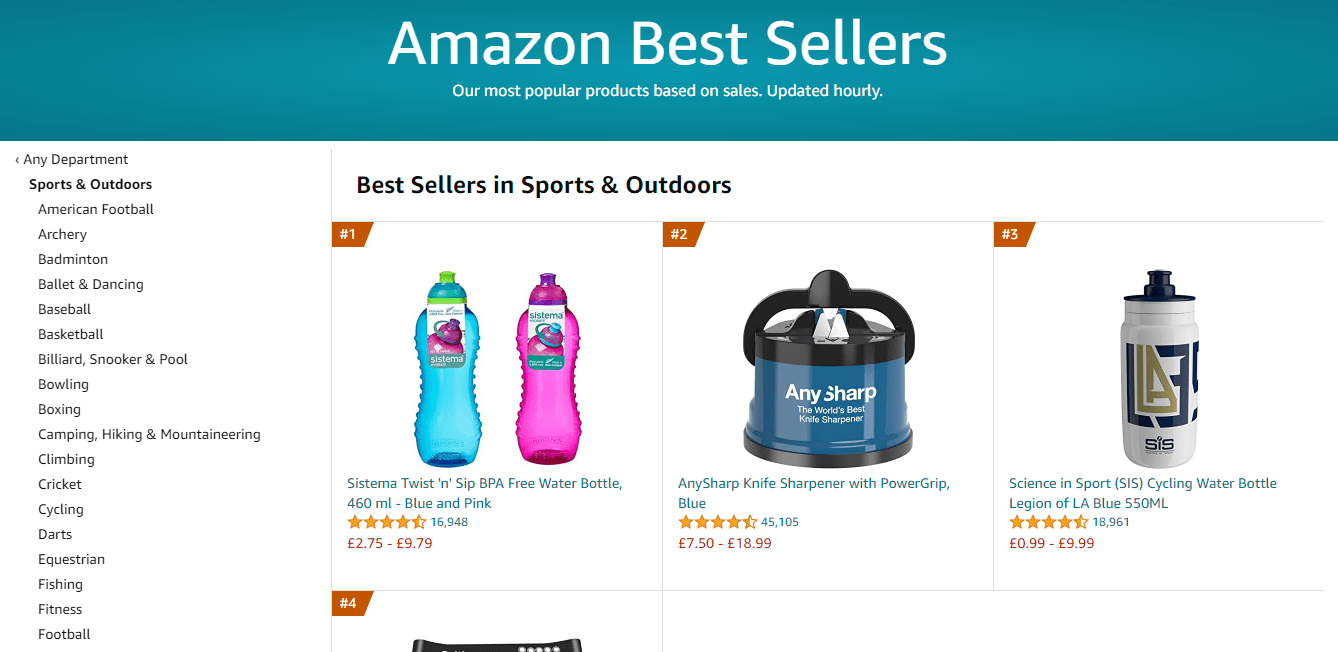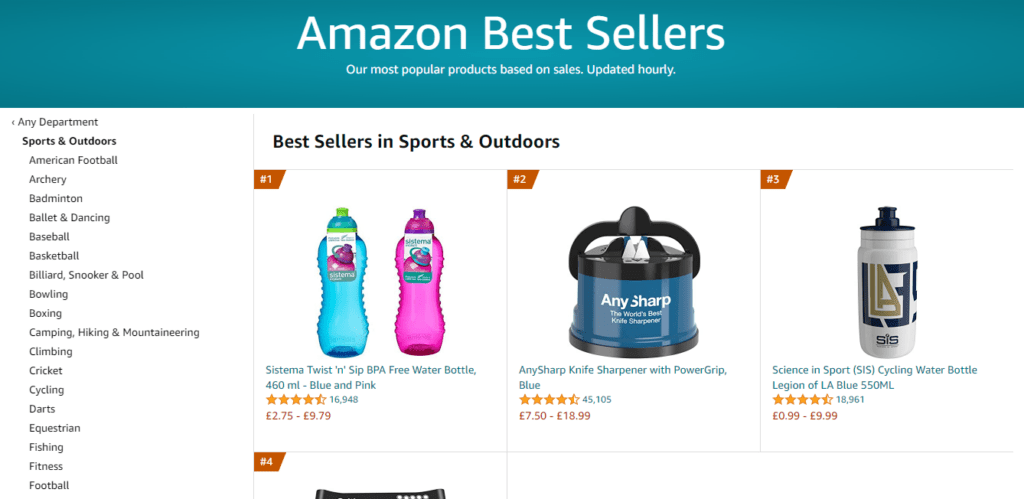 Sports and Outdoors cover all products associated with sports, including fitness, sports equipment, and even camping. Two of the top three best sellers are water bottles. But while water bottles might therefore seem like the perfect area to search in from this current ranking, remember our earlier point: consider that it may be a temporary trend. This is why it is prudent to not just look at what the best seller is but also to do further research on its demand, competitors, and sales trends to ensure you do not end up out of pocket.
Many products under this category follow the trend of working out at home. This is believed to be partially due to the current pandemic, which led to gym closures. Therefore, any product bringing exercise to people at home is likely to be popular at the moment. However, working out from home showed strong and constant sales even before the pandemic, which indicates that it will be popular in the long-term too.
Toys and Games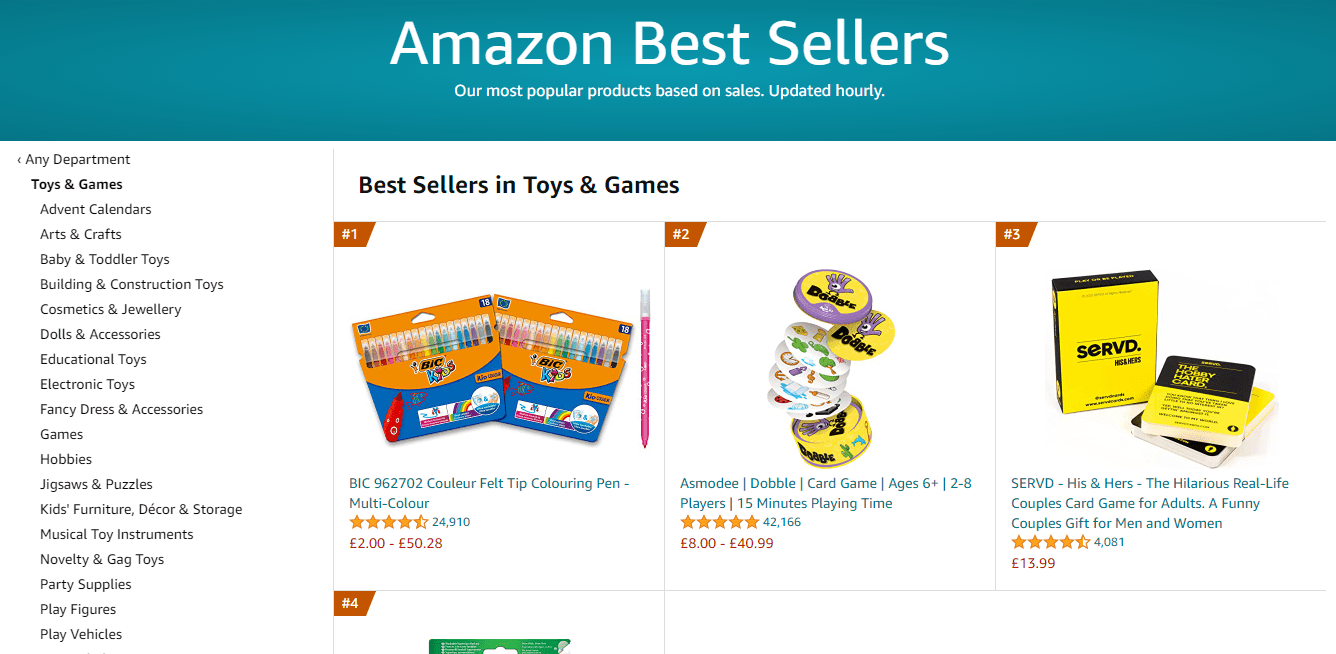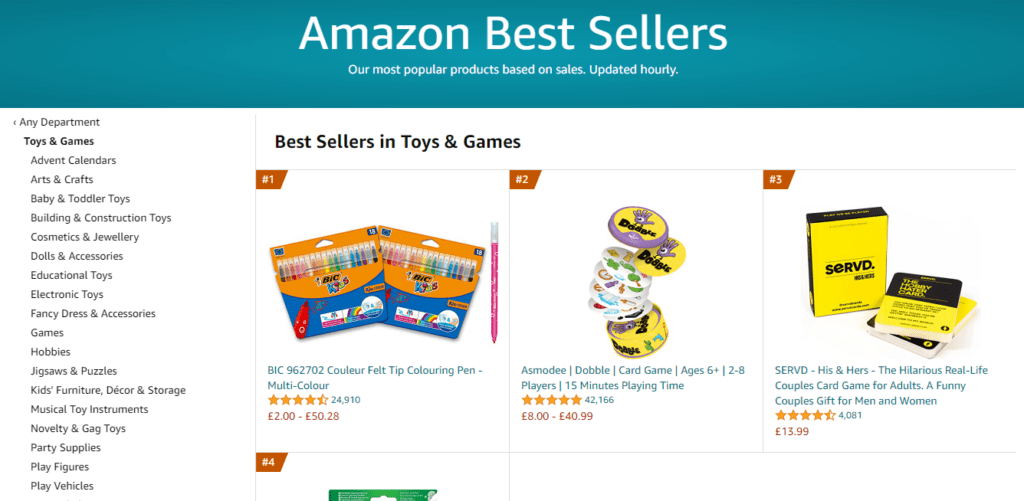 When you read the words Toys and Games, you might assume that this is a section exclusively for children, but it also covers products such as board and card games for adults and party supplies. As we can see, the third best selling product is a card game for adults. But, Toys and Games is an outstanding category to hone in on because parents are always looking for a new product to buy their children to keep them entertained. Children can outgrow toys fast as they mature, so parents continually search for that new thing to captivate their children. Therefore, going down this avenue should provide you with a steady demand stream if you pick the right product.
Beauty and Personal Care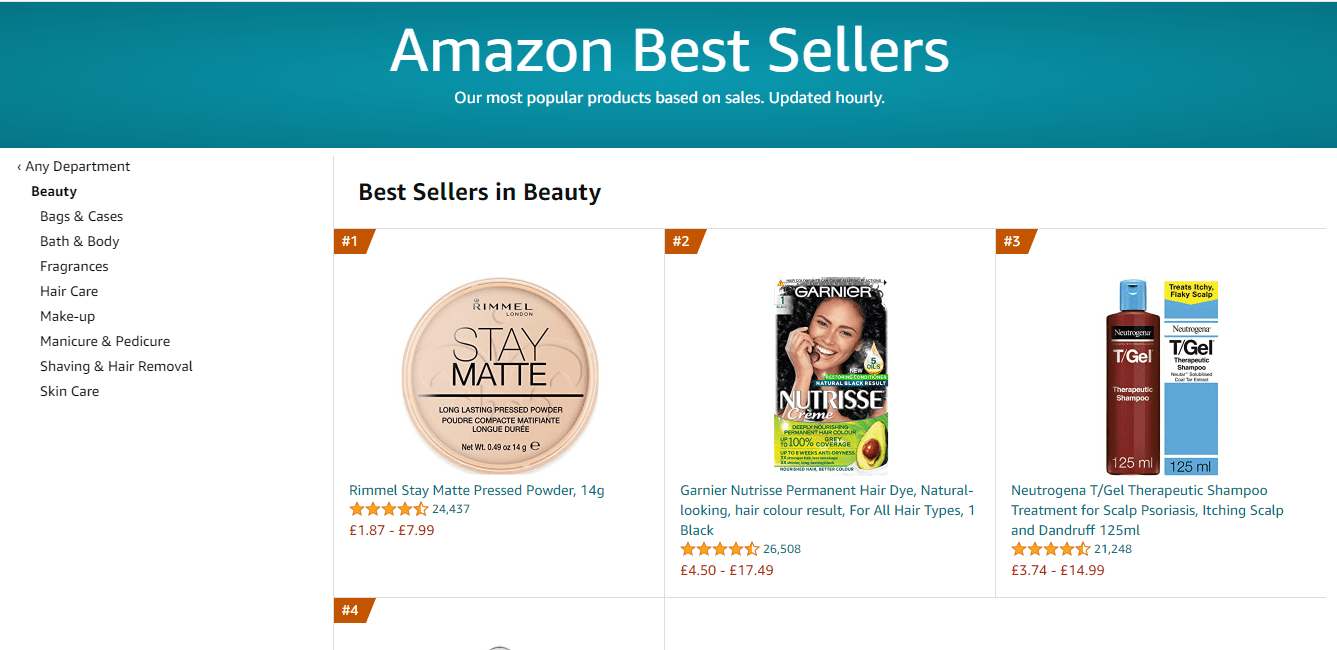 Beauty is a hugely popular industry, and this is shown as the fourth most popular Amazon seller category. Beauty and personal care products for hair, nails, skin, and oral hygiene have witnessed impressive sales, which is thought to be down to an increasingly health-conscious and image-conscious society. Popular products within this category include nail care, hand creams, perfumes, bathing accessories, and makeup. Many believe that the COVID pandemic has had a noticeable positive effect on certain beauty treatment products due to the unavailability of public services. For example, due to the closure of shops such as nail salons and hairdressers, more people are going online and ordering items such as nail care kits and hair dyes to perform their treatments at home. As we can see, a hair dye is number two on the current best seller list. Bear in mind, though, that as the world begins to reopen, these products may start to see slower sales.
Health, Household, and Baby Care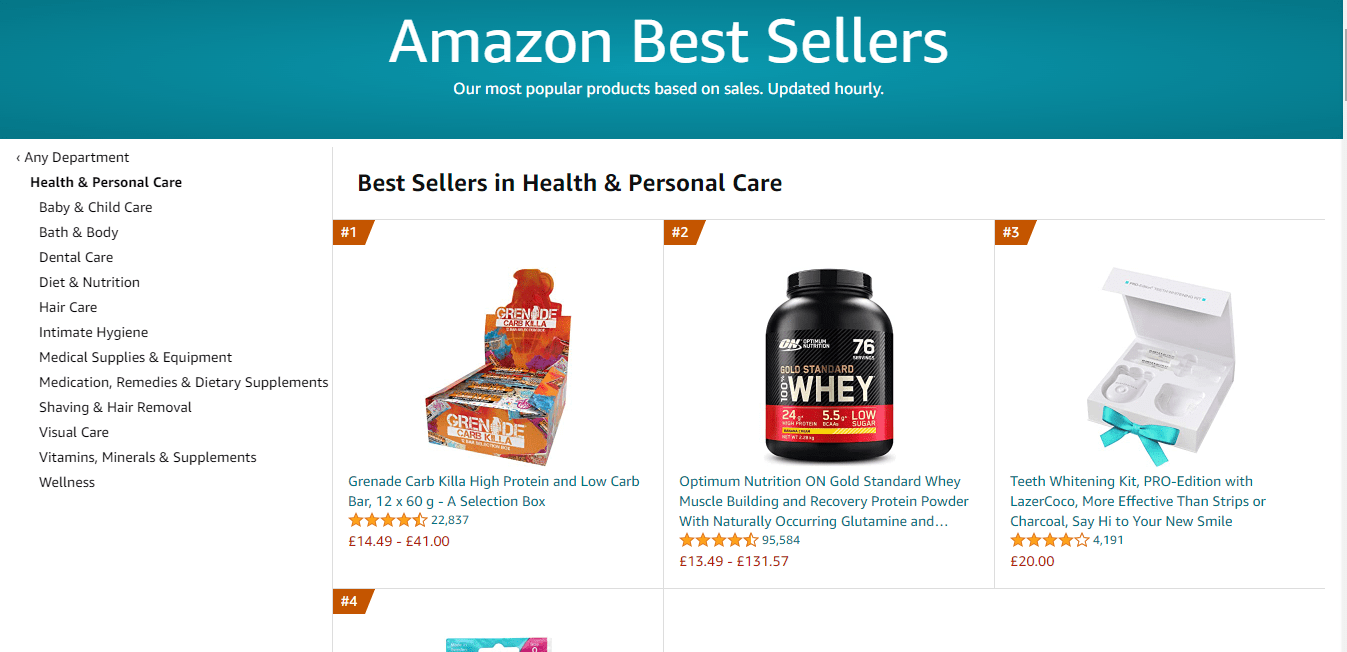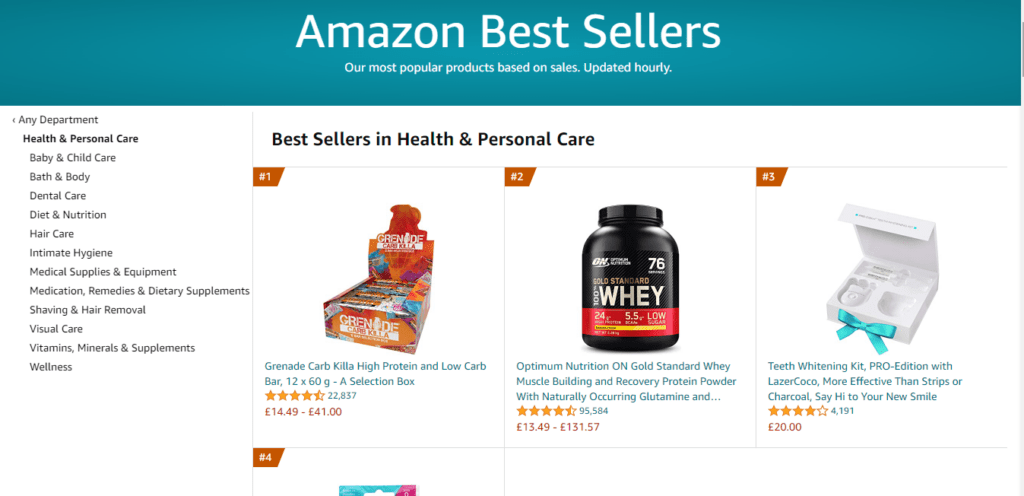 There is currently a high demand for organic health food products. This can be seen in the top best sellers, including a protein bar and protein powder. While this is most definitely a trend, many believe that this trend is likely to stay as we have become more health-conscious globally. Other products in this category include dental care — such as teeth whitening as seen at number three on the list — and wellness products. Many products in this category are experiencing tremendous growth, so this may be a wise area to look at when considering your potentially best selling product.
Final Thoughts
Determining which Amazon product is fated to be a best seller is never easy. If it were, everyone would be doing it. However, you can observe indications that suggest if a product is likely to become best selling in the future. It is prudent to consider the product's competition, demand and sales trends. It can be helpful to use a product analysis platform to find out available information too. It is also a great idea to find a product in tried-and-tested popular categories such as Home and Kitchen, as you have a better chance of success. Studying the Amazon best seller list can be beneficial to explore what is currently trending, but bear in mind that you want to avoid products that are likely to be a fad.
Talk to an Amazon expert
We work with 100+ businesses. Book a slot now to talk to one of our experts.
---
FAQ
How do I find the best sellers on Amazon?
You simply go to the Best Sellers page on Amazon's website and choose a category from the list on the left-hand side. Here you can see what products are currently doing well in each particular category.
What are the signs of a potential best selling product?
Signs of a product that could become a best seller include high demand, low competition, a positive or consistent sales trend, and a high product score from a product analysis tool.
What are the most popular seller categories on Amazon?
The most popular seller categories are Home and Kitchen, Sports and Outdoors, Toys and Games, Beauty and Personal Care, and Health, Household, and Baby Care.
Can you make a living selling on Amazon?
The majority of Amazon sellers earn at least $1,000 each month in sales. However, 'super-sellers' can make almost a quarter of a million per month! It comes down to analysing the product carefully and ascertaining whether it is likely to become a best seller. Follow our tips, and your chances of success will drastically increase. And if you decide you would like further help with your Amazon business, consult our experts for a free growth consultation.