Key points
Frustration-free packaging is an Amazon program that uses 100% recyclable materials and reduces packaging waste, transportation, and labour costs in the supply chain.
FFP is a great way for sellers to improve customer experience, as it reduces the time and effort needed to unwrap standard packages. Satisfied customers mean positive seller feedback and product reviews, which will ultimately increase your sales on Amazon.
FFP offers a lot of benefits for vendors, including being simpler to pack and unpack, using less packing materials, and reducing the average package size. Plus, Amazon offers more merchandising and promotions for products involved in FFPl.
Amazon is the biggest e-commerce company in the world, known for its excellent customer service. In order to remain the leader in the space, Amazon uses innovative ways to satisfy its customers. For instance, it works hard to deliver all packages in the shortest time possible and takes great care of the condition of the package.
Nowadays, the demand for eco-friendly products is at its peak, and the sustainability aspect of business is much stronger than ever before. Customers seek products that create minimum waste as well as products that contribute towards lower overall waste reduction and greenhouse gas reduction.
Also, market research suggests that the importance of packaging for consumers depends on the occasion for which they purchase the product. For example, if someone buys a product as a gift, they will seek easy-to-open packaging most of the time.
This brings us to frustration-free packaging. It is a type of packaging you can choose on Amazon that uses 100% recyclable materials. It is also designed to avoid the need for an additional shipping box, meaning that the products are shipped in their original packaging, reducing waste. It's also very easy to open, and customers don't have to struggle with a lot of plastic and wires. However, there are certain requirements that fulfilment centres have to meet in order to use frustration-free packaging, which is why the program is available only to FBA sellers.
Frustration-Free Packaging by FBA
This packaging is designed for e-commerce shipping, unlike traditional packaging. It not only secures the package but also makes it easy to open. This innovative packaging program improves customer experience as well as reduces packaging waste. Amazon cooperated with the International Safe Transit Association to test the packages and check whether the packaging and products could withstand unexpected transport hazards such as compression, vibration, and falls.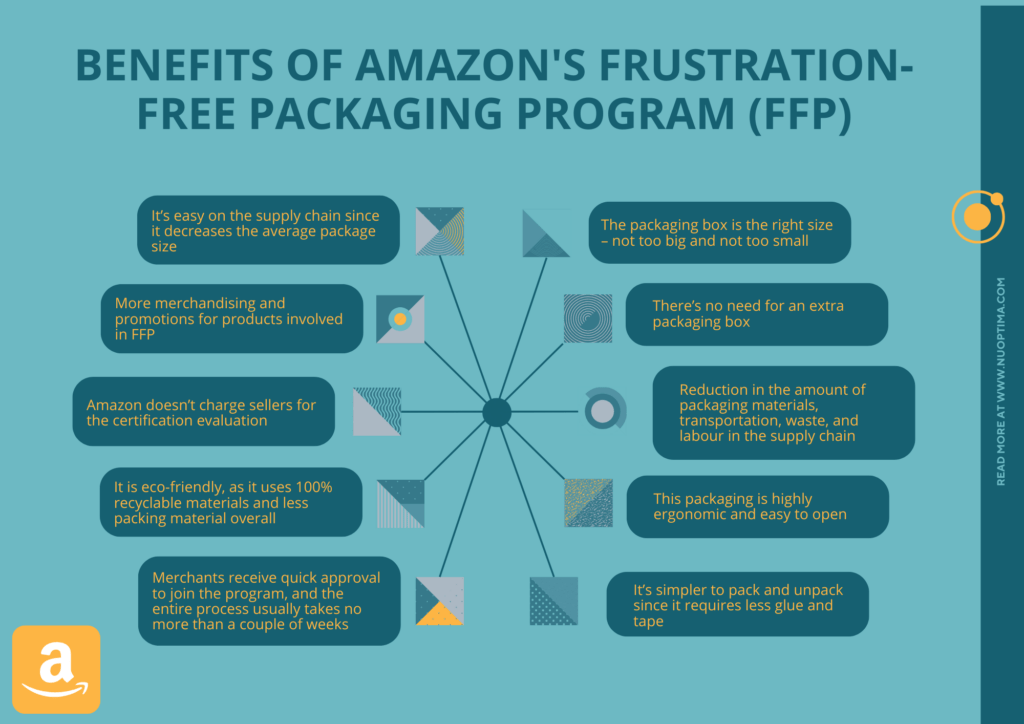 Benefits of Frustration-Free Packaging
The packaging box is the right size – not too big and not too small;
There's no need for an extra packaging box;
Potentially lower costs as a result of a reduction in the amount of packaging materials, transportation, waste, and labour in the supply chain;
This packaging is highly ergonomic and easy to open;
It's simpler to pack and unpack since it requires less glue and tape;
It's easy on the supply chain since it decreases the average package size;
More merchandising and promotions for products involved in FFP;
Amazon doesn't charge sellers for the certification evaluation;
It is eco-friendly, as it uses 100% recyclable materials and less packing material overall;
Merchants receive quick approval to join the program, and the entire process usually takes no more than a couple of weeks;
How Amazon Frustration Packaging Works
In 2021, Amazon expanded the Frustration-Free Packaging (FFP) Vendor Incentive Program to include the largest-sized sortable ASINs (dimensions of 6" x 4" x 0.375" to 18" x 14" x 8") and expanded incentives for non-sortable ASINs.
In order to receive financial incentives associated with participation in the program, merchants have to:
Pass ISTA 6A testing and receive a Ship in Own Container (SIOC) certification, and then prepare their products for shipping without additional packaging
Reengineer the packaging to reduce the overall volume
Achieve FFP certification by ensuring their packaging is 100% recyclable and easy to open.
The incentive per unit consists of three components:
1) SIOC certification incentive
2) Cube (box volume) reduction incentive
3) FFP incremental incentive, if applicable.
How To Apply For Amazon Frustration Packaging Program
Note: At the time of writing this article, Amazon is not accepting applications for the FFP programme. However, you should double-check this on the official website in case the program opens to sellers in the future. 
1. Get your current dimensions
The first step is to determine the dimensions of the product in its current packaging. These measurements should not reflect the actual measurements of the product itself but rather the smallest rectangular container that would hold the item. Measure the product's total length, width, and height.
2. Optimise your packaging
The next step is improving the packaging design and reducing its size as much as possible. The smaller the package – the bigger the incentive you're going to get. The program states that Sortable ASINs cannot increase in overall size, and Non-Sortable ASINs can increase in size by up to 10%.
The packaging has to meet the requirements of either Tier 1 FFP or Tier 2 SIOC. A packaging design agency in the Amazon Packaging Support and Supplier (APASS) network can help you with designing a package eligible for certification.
In order to get SIOC and FFP packaging certified with Amazon, it has to pass a physical performance test. If the item is not liquid or fragile, vendors can run the self-testing drop sequence and submit passing test reports. If the product is fragile and includes glass, porcelain, ceramic, clay, liquid, or semi-liquid, an ISTA-6A test via the Amazon packaging lab or a third-party lab is necessary to accurately simulate the journey of a package through the Amazon Fulfillment Network.
3. Test and certify
4. Get new dimensions
After completing the testing, sellers have to determine the new dimensions of the packaging using the same process as in step 1. After the measurements are taken, you'll be able to calculate the incentive amount. Fragile products will still need space for extra padding to provide adequate protection.
5. Enrol your certification
After receiving the certification, vendors have to upload it to Vendor Central. Amazon Vendor enrollment will provide step-by-step enrollment instructions.
Frustration-Free Packaging Alternatives
If a merchant is not eligible to be certified for the FFP program, they can consider many other options available to FBA sellers:
Small and Light
If the products a seller offers are certified as Small and Light, merchants receive reduced fulfilment costs, and customers get free shipping. Enrollment is a simple, 6-step process.
Subscribe and Save
Subscribe and Save is great for products that a shopper would purchase on a regular basis. Customers who subscribe to a particular product save money, and vendors get repeat buyers.
FBA Export
FBA export allows vendors to sell products straight to international customers from the US-based fulfilment centres, and there's no need to sell in each marketplace.
Talk to an Amazon expert
We work with 100+ businesses. Book a slot now to talk to one of our experts.
---
FAQ
What is Amazon's Frustration-Free packaging program?
This program allows FBA sellers to ship products without secondary packaging and instead ship products in their FFP-compliant original packaging. This reduces the overall amount of packing materials and ensures that sellers use 100% recyclable materials.
Is frustration-free packaging safe?
Yes, it's safe since all the parcels must undergo lab testing, which ensures that the items inside them are as safe as in the standard packaging.
What is the difference between frustration-free and standard packaging?
Frustration-Free packaging offers a better customer experience since it takes less time and effort for buyers to open the parcel.
What is easy-open packaging on Amazon?
Frustration-Free packaging on Amazon is very easy to open as it doesn't have extra packaging or wires and plastic.