Key points
Starting to sell products in Amazon's restricted categories is much easier than it seems. All you need to do as a seller is fill out the application and get approved within a few hours. If you fill in all the details correctly, you'll have the chance to get accepted for selling even in the most difficult categories.
Amazon has 18 restricted categories, and each of them requires a slightly different approval process. Sometimes, sellers will need to provide invoices or images of the product they want to sell.
The general process to get ungated on Amazon is to log into your Amazon wholesaler account, find the product you're interested in selling, click the "Listing Limitations May Apply" link, choose "Request Approval", and fill in the application form.
Amazon sellers, and especially beginners, always have a lot of questions about running a business on Amazon, but one of the most common things they ask is how to get ungated on Amazon.
For those who didn't know, Amazon has numerous restricted categories, and those who want to sell in these categories need to go through a dedicated application process. This process can be either quick and easy or long and complicated – it all depends on the category.
Keep on reading and find out more about getting ungated on Amazon and how to get permission to sell products in a specific category.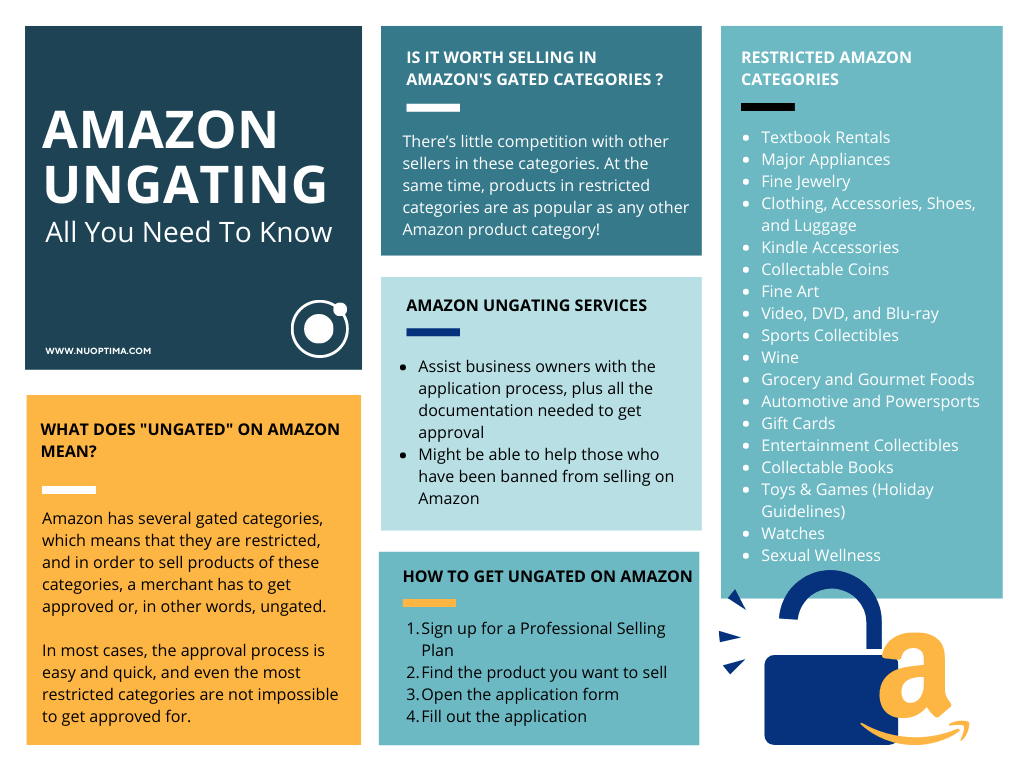 What Does Ungated On Amazon Mean
Amazon has several gated categories, which means that they are restricted, and in order to sell products of these categories, a merchant has to get approved or, in other words, ungated. Some specific products in the Software category, laser pointers and related products, as well as hoverboards, may require approval, even if the category doesn't.
For this reason, many sellers give up the idea of selling specific products, as they believe that the ungating process is rather long and complicated.
But in reality, in most cases, the approval process is easy and quick, and even the most restricted categories are not impossible to get approved for.
Gated Amazon Categories: Are It Worth It?
Selling products in the gated categories provides a lot of inventory options precisely because many Amazon merchants write off selling their products in restricted categories either because they think that the process is too difficult or they don't have the time or patience to do all the necessary work.
This means that there's little competition with other sellers in these categories, but this doesn't mean that the restricted categories have less demand – on the contrary, they are as popular as any other Amazon product category. This increases the potential income for sellers that work in these categories, as all potential revenue is split between fewer sellers. Plus, you have a higher chance of becoming one of the leading merchants in a gated category.
Restricted Amazon Categories
Now that we've looked over what gated categories are and their benefits, the next step is finding out which categories are restricted on Amazon. These categories usually contain products that can potentially be fake, and that's why they are heavily regulated. The reason why these categories are restricted is that Amazon wants to make sure that customers buy these products from reliable sellers and limits the number of merchants who are allowed to sell these products. By restricting certain product categories, Amazon makes sure that its customers get the best service possible and purchase merchandise from reliable sellers.
Currently, there are 18 restricted categories on Amazon:
Textbook Rentals
Major Appliances
Fine Jewelry
Clothing, Accessories, Shoes, and Luggage
Kindle Accessories
Collectable Coins
Fine Art
Video, DVD, and Blu-ray
Sports Collectibles
Wine
Grocery and Gourmet Foods
Automotive and Powersports
Gift Cards
Entertainment Collectibles
Collectable Books
Toys & Games (Holiday Guidelines)
Watches
Sexual Wellness
How To Get Ungated On Amazon
For some products, the approval process is very straightforward, and others require a little more time and effort. Here are general steps you will need to take to get ungated on Amazon:
Sign up for a Professional Selling Plan
The first step of the ungating process is becoming a Professional Seller because only merchants with a Professional Selling Plan can sell in restricted categories. The monthly fee for this plan is $39.99, but at the same time, Amazon will take a smaller cut from sales compared to the Individual plan. This means that if you manage to build a successful business, this plan can actually save you money over time.
Find the product you want to sell
Log into your Amazon account, select "Add Product" under the inventory menu, and search for the product you want to sell. 
Open the application form
After finding the product, click the "Listing Limitations May Apply" link, which will be located next to the item, then click "Request Approval". 
Fill out the application
Follow the instructions and complete the application form for your product. Remember that every application is slightly different, and sometimes, merchants are required to provide purchase invoices or images of the product. Make sure that all your personal information is correct, add your seller name at the top of the invoices, and write down the ASIN, UPC, and item model number for each product.
After that, Amazon will review the application and either accept or reject it. If you are rejected, you will be told the reason for the rejection, which will be the guideline for the improvements you need to make before re-applying. The most common reason to get rejected includes the need for the seller to get all the metrics into better shape to prove the high quality of their products and service.
Amazon Ungating Services
Amazon ungating services help sellers to get approved to sell in restricted categories. People who provide these services are experts and know all the necessary details about each product category. Amazon ungating services help business owners with the application process as well as all the documentation needed to get approval. Some of these companies even claim that they can help those who have been banned from selling on Amazon.
The price for such service ranges from $200 to $900, depending on the company and the category merchants want to get approved for. Whether or not these services are worth using depends on if the seller is willing to sacrifice their time and energy to fill out an ungating application by themselves or not. Amazon ungating services are good for those who want to get approved fast, as most of these companies advertise a 100% approval rate. Some of them also offer a money-back guarantee in case the application is rejected.
Talk to an Amazon expert
We work with 100+ businesses. Book a slot now to talk to one of our experts.
---
FAQ
Is it easy to get ungated on Amazon?
Under most circumstances, getting ungated on Amazon can take anywhere from a few hours to a few days. Some categories are easier to get approval for than others.
What items are ungated on Amazon?
Ungated categories on Amazon include baby, books, camera & photo, consumer electronics, health & personal care, home & garden, industrial & scientific (BISS), Kindle accessories, luggage & travel accessories, musical instruments, office products, outdoors, personal computers, pet supplies, software, sports, tools & home improvement, and video games.
Can I pay to get ungated?
Sellers have to pay a fee when asking for approval to sell in a restricted category, but the payment of this fee doesn't guarantee approval.
What does being gated on Amazon mean?
Gated categories are restricted categories that require sellers to get Amazon's approval before they can list products there. Amazon can require performance checks, additional fees, and other qualifications for sellers who want to become eligible to work with particular products and categories. The categories are gated to ensure the safety of both customers and sellers.