Key points
Amazon posts are a social media feature the platform rolled out in 2019.
This feature allows select sellers to create posts featuring their products to help improve brand recognition and loyalty and attract new customers to their listings.
Amazon posts are usually displayed in carousels on product pages, brand-owned details pages, related posts feed, product details pages, and in the category feed.
Amazon posts are free to use, they help brands build lasting relationships with customers and attract new shoppers to product listings organically.
Sellers can view post metrics to track their performance and gain insights into their customers' preferences.
In late 2019 Amazon launched a new and exciting project called Amazon posts. But many sellers are still unsure of what it is, how exactly it works, and what its purpose is. In this article, we will talk about all the features of Amazon posts in detail.
Amazon posts is a free feature that allows Amazon sellers to demonstrate their inventory in a shoppable catalog, helping their products become more discoverable. It is a great opportunity to attract more attention to your brand, which will result in an influx of customers and an increase in your sales. Amazon's new combination of social networking features and e-commerce shows a lot of potential in terms of online selling, and Amazon posts are essentially free advertisements for your products. Of course, using only Amazon Posts won't get you far, and it certainly won't be enough for your business to stay competitive on Amazon. But combining Amazon Posts with other campaigns and business growth methods is an excellent way to boost visibility and sales on the marketplace.
What are Amazon Posts?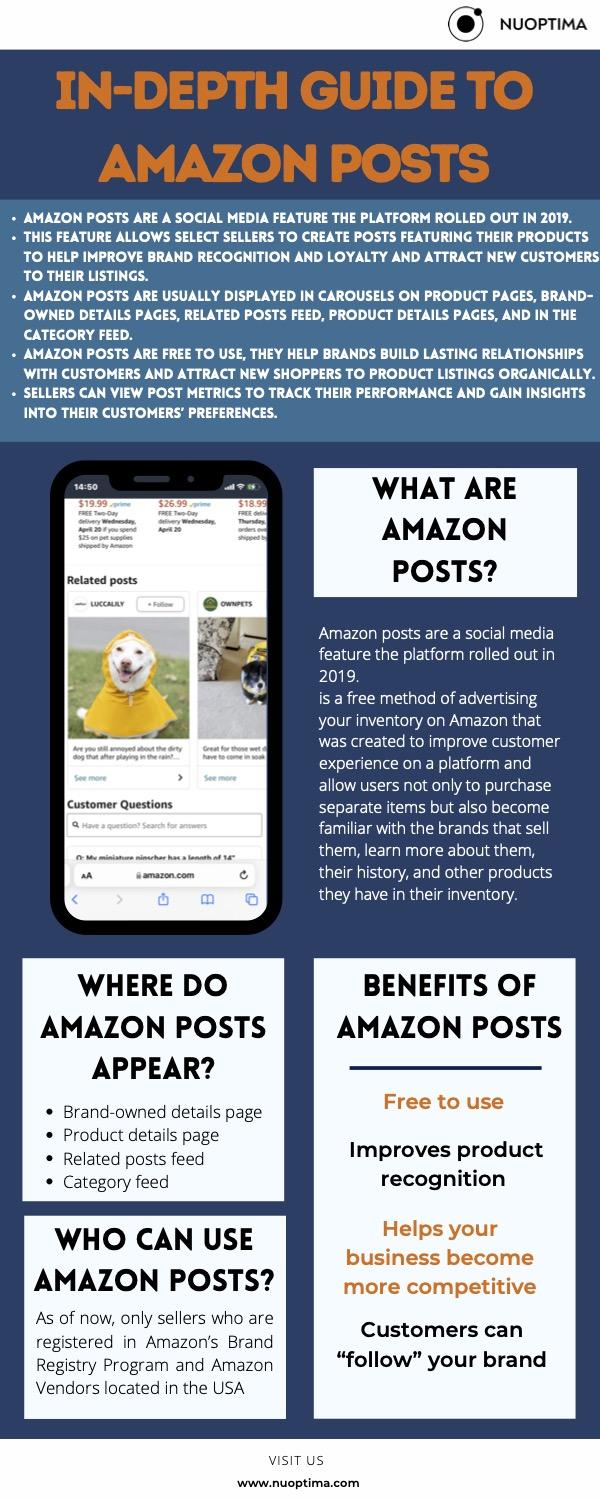 As mentioned above, Amazon posts is a free method of advertising your inventory on Amazon that was created to improve customer experience on a platform and allow users not only to purchase separate items but also become familiar with the brands that sell them, learn more about them, their history, and other products they have in their inventory.
The concept of Amazon posts resembles the way social media platforms work. Buyers can look through products using their mobile devices. For instance, they can scroll through their post feeds either using the Amazon mobile app or the mobile version of the Amazon website on a smartphone and discover new brands through posts related to their searches that appear in the feed.
However, despite looking exactly like social media posts, Amazon posts are quite different from them since they are directly connected to product listings within Amazon. However, you can still repurpose content from your Instagram and Facebook posts for your Amazon account.
Where Do Amazon Posts Appear?
As of late 2021, you don't get to decide where exactly your post will be displayed. Amazon chooses the post's location based on its relevance and customer engagement. Unlike an Amazon ad, you can't target your post.
In most cases, posts show up in carousels located on product pages. But there are also four other spots where they can be found:
Brand-owned details page
Product details page
Related posts feed
Category feed
Let's talk about each of these locations in a little more detail.
Brand-owned detail page
Brand-owned detail pages look just like a feed populated with posts from the brand listed in chronological order and containing your entire product line. This feed design lets customers easily find out more about the inventory you are selling by swiping through the feed. In addition, you can now obtain a unique link that will redirect customers to your brand's feed.
Product details page
On the product detail pages, all posts appear in one carousel that shoppers can scroll through by swiping horizontally.
But be warned, these carousels may include your competitors' posts and vice versa. That's why it is so important to create interesting and convincing content and choose a suitable and attractive image to display your products. There is always a possibility that you may attract your competitors' customers with these posts!
Related post feed
All you have to do to access this feed is click on a post in a product page carousel. Posts that show up on the related post feed will usually contain a lot of different products from other brands and your own products that the shopper may find interesting.
Category feed
Every Amazon post features a category tag that describes its relevant theme. This classification allows buyers to search and discover complementary and similar products within a given category. For instance, a customer going through the "Fashion" category feed can find any post related to clothes and accessories, starting from hats and ending with shoes.
Who Can Use Amazon Posts?
As of now, only sellers who are registered in Amazon's Brand Registry Program and Amazon Vendors located in the USA can take advantage of Amazon posts since the tool is still being beta tested. Owning an Amazon store is also one of the requirements you will have to meet if you want to create posts on the platform.
Benefits of Amazon Posts
Today, customers are becoming increasingly more receptive to social media influence when shopping online. Recent estimates show that 54% of US buyers have purchased something they found out about on social media at least once, and 21% look for products they need on Instagram.
Social media's capacity to display items in the most tempting and appealing way resonates with shoppers. Not only do Amazon posts recreate the settings and sensation of social media, but they also take it a step further by enabling buyers to view and purchase the desired product in just one short click.
Here are some further advantages of Amazon posts all sellers should know about:
Free to use
Posting on Amazon is absolutely free. In contrast to PPC or other advertising methods, there are no additional costs associated with the size or number of posts.
Improves product recognition
Amazon is a huge shopping platform that features millions of products. So it's no surprise that a lot of customers get lost in this overwhelming sea of options. Even the most loyal customers who have been purchasing your products for years may not be aware of the entire range of products you sell.
However, scrolling through your brand's feed filled with posts and pictures of your products will give them a chance to become familiar with the rest of your inventory and discover more information about the brand.
Helps your business become more competitive
As mentioned above, there is always a chance that one of your posts will end up in the "Related Posts" section on your competitors' product details page. So some Amazon users may scroll down the listing detail page of one of your competitors to this section and discover your product through your post. This makes it possible for sellers to use posts to poach their competitors' potential buyers. This is pretty similar to how Sponsored Display Ads work.
Customers can "follow" your brand
Amazon posts allow interested customers to "follow" your brand on Amazon to avoid missing updates or special offers.
How to Create an Amazon Post
Step 1: Sign up for Amazon Posts
As mentioned above, you have to meet a few requirements to be eligible to create posts. If your account complies with all of them, you won't have any obstacles or issues when signing up for Amazon Posts.
All you have to do is:
Visit https://posts.amazon.com
Sign in using your Amazon advertising credentials (or create a new account).
Create your posts profile and check your brand's name.
Upload your brand logo. It will appear on your posts next to the brand's name, like a profile picture on Instagram or Facebook.
Once you're done signing up, you will be able to post immediately.
Step 2: Tap the "Get Started" button.
Step 3: Enter your post copy and upload media.
Step 4: Indicate your product ASIN (Amazon Standard Identification Number).
Step 5: Check your post.
Step 6: Submit it for review.
Make sure to upload a high-quality lifestyle image of your product with an attractive background to go along with your post, come up with an interesting and eye-catching caption, and provide a few ASINs for relevant items in your product line. This will help Amazon to assign appropriate category tags to your post.
You also have the option to publish your post right away or schedule it for later.
Post specifications
There are a few technical requirements you have to meet with your posts:
Profile logo: Your brand logo has to be no smaller than 640×640 pixels.
Posts photos: Supports aspect ratios of 1×1, 16×9, and 4×3.
Caption text: Should be no longer than 2,200 characters.
Some additional tips for creating successful posts
Inspire buyers with a compelling picture that shows your product in action.
Do not use a white background, as it may drive customers away. Use a more realistic backdrop instead.
Try to make your images as simple as possible and avoid implementing unnecessary collages or text, buttons, and icons. If your picture is overcrowded and too complicated, customers will simply skip it.
Use only high-quality images.
Create a unique caption that will explain why your products are valuable and why customers should purchase them. Avoid copying your product description over and over again or featuring excerpts from customer reviews.
Track the performance of Amazon posts
This feature is another advantage of Amazon Posts. Amazon allows you to measure your content's performance and view relevant metrics, which resembles social media analytics. For example, sellers may access engagement metrics such as views, clicks, and click-through rates from the dashboard. Tracking and analyzing what posts get the most attention from customers can help you determine what your customers like and how you can increase your sales.
Final Thoughts
Using Amazon posts can help you get new products off the ground and get more people to discover your brand. It also helps you to share exciting news and updates with your customers faster and increase the visibility of your existing products. If some of your products struggle because of low sales numbers and lack of traffic, creating a few posts that feature these products can help shoppers rediscover them. Maybe someday, Amazon will charge a fee to use this feature, but as long as it is free, brands have nothing to lose. So what are you waiting for? Ready, steady, post!
Don't forget that selling products on Amazon is not always a quick and easy path. Even though there is an unstoppable stream of new possibilities, technologies, and updates designed to help improve your business, figuring out everything on your own can become a huge and time-consuming pain. Instead of trying to build your Amazon business entirely on your own and committing unnecessary mistakes in the process, you should consider hiring an agency to help manage and grow your business. Amazon growth consultants can help you develop an individual Amazon strategy for your company, solve Amazon-related business issues, and make your brand recognizable and successful. Sign up for a free discovery call with Nuoptima's Amazon experts or leave an email so we can reach out to you and tell you more about our services.
Talk to an Amazon expert
We work with 100+ businesses. Book a slot now to talk to one of our experts.
---
FAQ
What is the purpose of Amazon posts?
Amazon posts is a social media initiative that aims to improve customer experience on the platform and allow users to purchase specific items and become familiar with brands, learn more about them, and discover other products in their product line. Amazon posts are essentially a way for sellers to improve the discoverability of their brand and products.
How do I make a post on Amazon?
Step 1: Sign up for Amazon Posts on https://posts.amazon.com Step 2: Press "Get Started." Step 3: Enter the post text and upload images. Step 4: Input the product ASIN (Amazon Standard Identification Number). Step 5: Check the post. Step 6: Submit it for review.
Where are Amazon posts shown?
Amazon posts are often displayed in carousels located on product pages. But they may also show up on brand-owned details pages, product details pages, related posts feed, and category feed.