Key points
Merch By Amazon is a print-on-demand service that allows you to create designs, put them on products like T-shirts, pillows, and hoodies, and post them on Amazon.
This program gives creators an excellent opportunity to make extra money without any risks or investments, as Amazon will only print your design on a product if a customer orders it.
Sellers can set their own prices on Merch By Amazon products, but Amazon charges a fee for each item to cover production, shipping, and other costs.
If you want to join the Merch By Amazon program, you will need to register on the platform, fill out an application, and get approved before you can start selling products.
Amazon is one of the most popular online marketplaces with the world's largest seller base. One factor contributing to Amazon's popularity is the variety of Amazon services sellers can use to make a profit. The range of the company's services is so diverse that any seller can find something they can use to build a successful business. And if you have a passion for fashion and have always wanted to sell your own custom clothing, Merch by Amazon is a great option to try!
What is Merch By Amazon?
Merch By Amazon, which was officially launched in 2015, is a print-on-demand service. Sellers can use this service to list and sell their own branded T-shirts, tops, hoodies, phone cases, pillows, shopping bags, and so on. The best thing about this service is that you can start selling without making any initial investments; simply submit your design, set a price, and list your products on Amazon. You are not risking anything by using this service because Amazon will print your design onto clothing only after it sells. It means you don't have to invest money into inventory and store it somewhere while fearing getting stuck with unsold stock. Furthermore, the service is open to everyone, so if you have ideas for your branded clothing and want to make some extra cash, sign up for Merch By Amazon and get started selling! This service is also great if you have a significant following and want to make merch for your customers to buy.
How to Get Started with Merch By Amazon: Step-by-Step Guide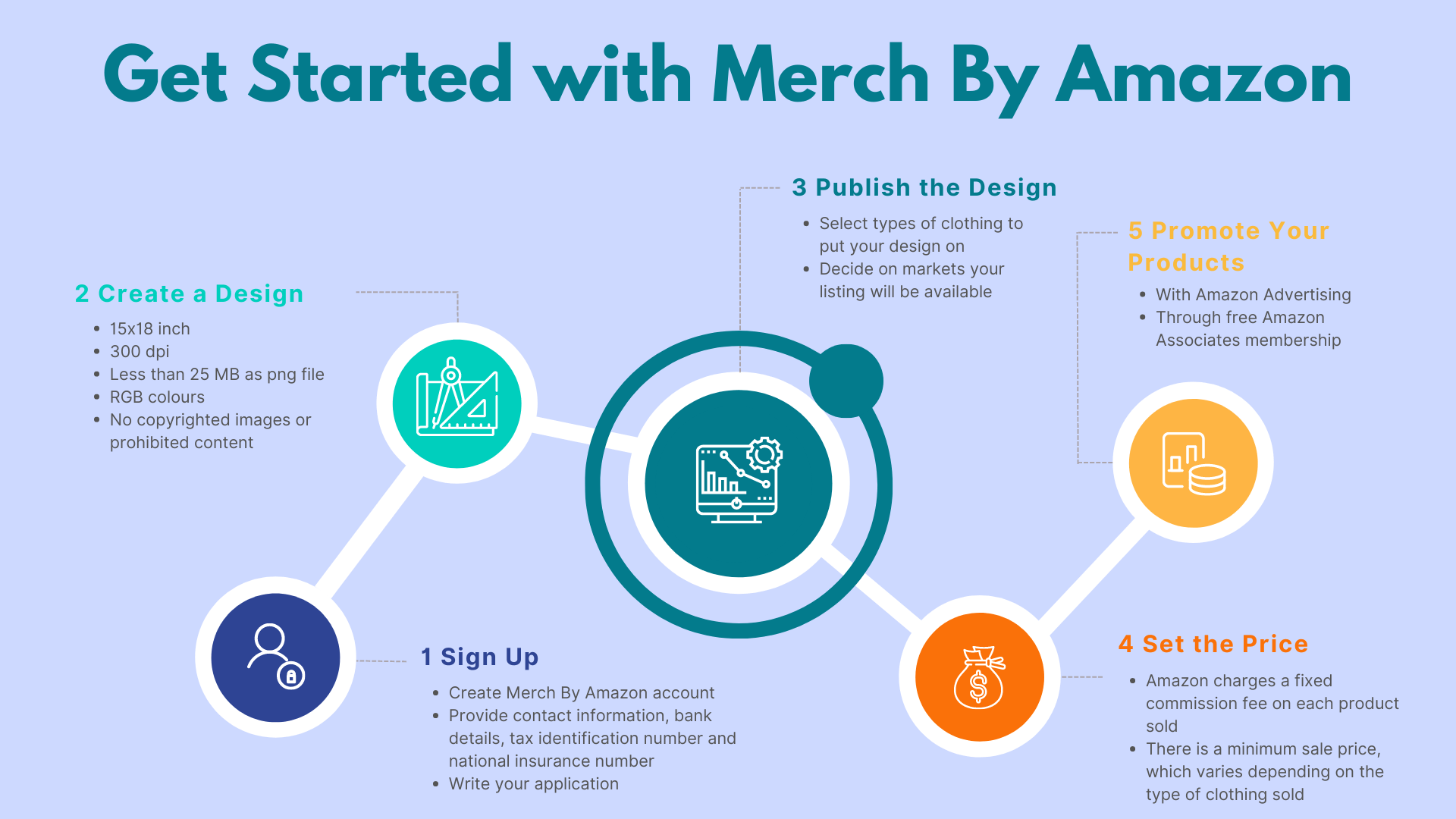 Step One: Sign Up
First, you must create a Merch By Amazon account, which is separate from Seller Central. You will need to enter basic details such as business contact information, bank account details, tax identification number, and Social Security number during registration. Here is the process step by step:
Go to https://merch.amazon.com/landing and find the "Request Invitation" button.
Sign in with your existing Amazon account, then click "Begin Application."
Fill in all of the required information, including your country, brand name, and bank account numbers.
Enter your tax information, confirm it, and then click "Save and continue."
After that, you'll be taken to the Request Invitation form, where you'll need to select the industry you want to work in, a business or brand name, and write a brief description of your design experience and how you see your future collaboration with Merch By Amazon. Here are some ideas for presenting yourself in the best light:
Describe your experience with other similar platforms or design companies in detail. It's a good idea to include links to previous designs on those websites or your portfolio.
Share your plans for promoting your brand with Amazon customers.
Include 5-10 designs that you are proud of, and don't forget to include your art licenses (if you have them).
After completing the sign-up process, you will need to be patient because it can take between three weeks to three months for Amazon to approve your application and provide an estimate. You can still make use of that time to learn Amazon's policies, create design templates, and develop your future marketing strategy. And don't forget to create a logo for your company!
Step Two: Create a Design
You are free to choose the platform you will use t to create your design. You can try going with something simple like Canva, or you can go as far as hiring a graphic designer to create a professional image. However, Amazon has some guidelines for how your design should look:
The image should be 15×18 inches at 300 dpi (dots per inch) and saved as a PNG file under 25MB.
Use RGB colour when creating the design.
Don't use prohibited elements or copyrighted images (as specified by Amazon's content policy).
Step Three: Publish the Design
To list your design on the platform, go to the Merch By Amazon dashboard and click the "Create" tab. You can select various types of clothing to put your design on and markets where your listing will be available.
If you are new to Merch By Amazon, you will begin at tier 10. This means you can only upload a total of ten designs. However, as you sell more and more products, Amazon will relax those restrictions (this is known as the "tier" system). Remember that it's not just the number of sales you make that matters but the quality of the items. After selling at least 10 products, you will be promoted to the 25th tier, which means you will be limited to uploading 25 designs. You can also reach tier 100, tier 400, and tier 500 by following the same procedure. However, you can get access to the Pro tier only by getting an invitation.
As you may have guessed, the tier system is necessary for Amazon to ensure high standards of product quality. As a result, the higher your tear, the more designs you can create and the more customers you can get.
Step Four: Set the Price
Before you set the prices for your products, keep in mind that Amazon charges a fixed commission fee on each product sold because they handle manufacturing, order fulfilment, customer service, returns, exchanges, and so on. There is also a minimum sale price, which varies according to the type of clothing sold. You can use the official Amazon Royalties page to estimate how much money you can expect to make on each sale. Royalties from all sales are accrued, and all payments are made the following month. All royalties data can be found in the Analyze tab of your dashboard. You can also see reviews of products you've sold in the past.
Step Five: Promote Your Products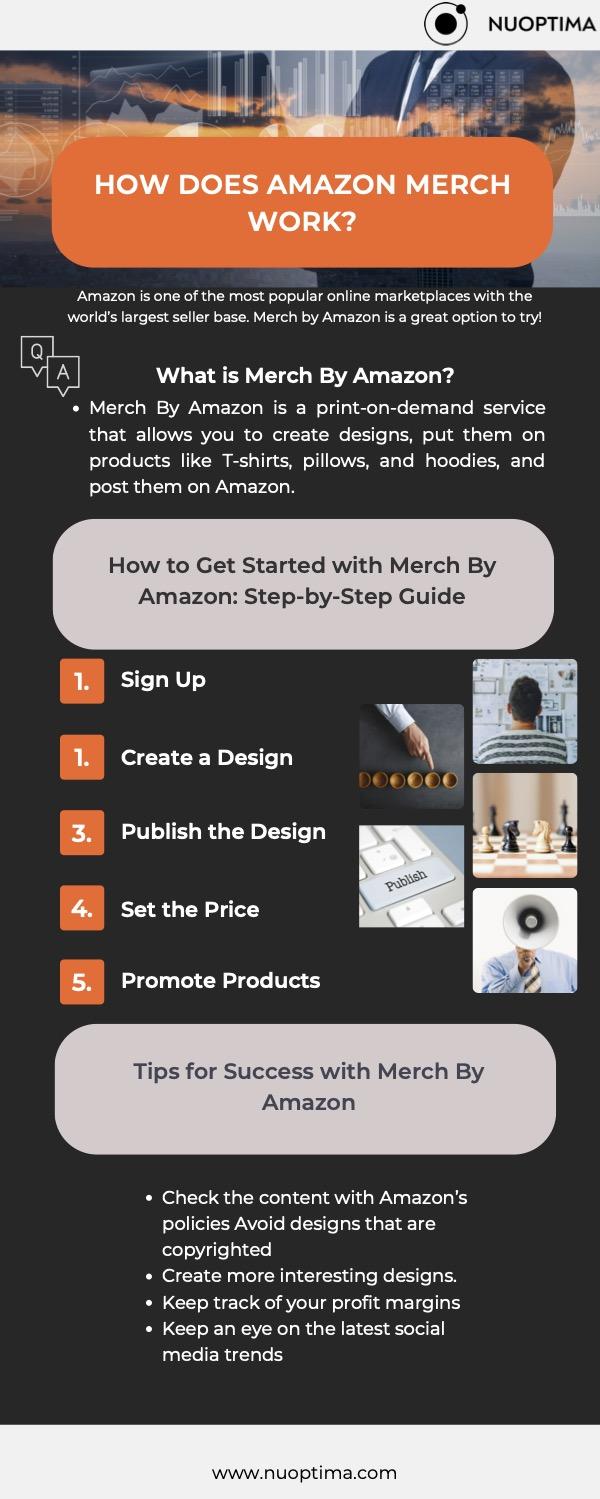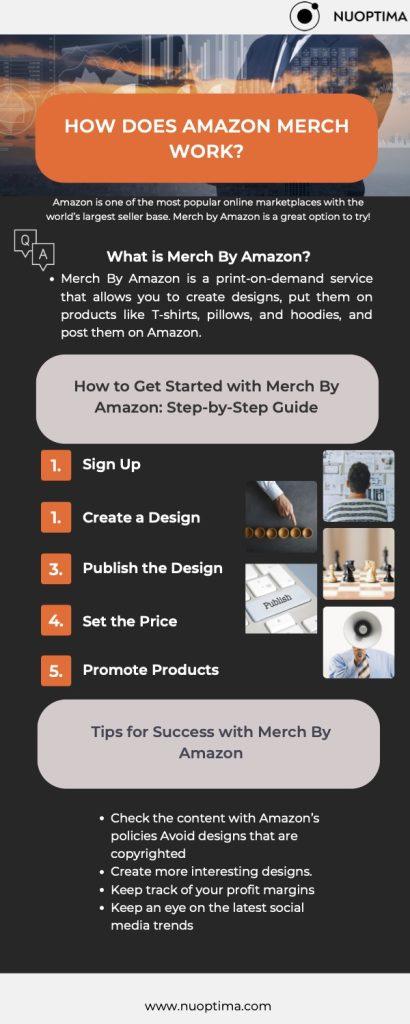 You can use Amazon Advertising to promote your products, as it is now available for select Merch By Amazon accounts in some countries (including the United States, Germany, the United Kingdom, Italy, Spain, and France). You can begin driving traffic to your product listings once you receive an email invitation. Another way to promote products is through Amazon Associates, which is free to join and earns you an additional 7% on each purchase.
Tips for Success with Merch By Amazon
Having great designs is not the only key to making lots of money through Merch By Amazon. Here are a few other things to keep in mind:
Check that all of your content complies with Amazon's policies and does not provide customers with misleading information about the product.
Avoid designs that are copyrighted or related to sensitive events such as disasters, and make sure they do not offend anyone.
Develop your skills with Adobe Photoshop or other similar software so you can create more interesting designs. You can also hire a professional designer if you have enough funds to invest.
Always keep track of your profit margins to ensure that they are high enough to cover fees while still giving you a profit.
Keep an eye on the latest social media trends because they can help you create interesting designs that sell incredibly well.
Order a sample T-shirt or other product to see if it's good enough to sell. Amazon provides a link for you to purchase a sample of the clothing before the product listing is posted.
Final Thoughts
Merch by Amazon is an excellent place to start your business because it is a low-risk and potentially lucrative way to supplement your income. However, as with any new venture, creating a design, signing up, and posting it on Amazon will only be the first step. Even if it's just an extra source of income, you will inevitably want to expand your business and build a large customer base. To accomplish this, you will need to develop a business strategy, promote your products, and learn how to run a real business. Getting professional assistance and hiring a professional agency to help you develop your Amazon business will allow you to avoid stress and lift the enormous burden off your shoulders. Sign up for a free discovery call with one of Nuoptima's Amazon experts today, or leave your email address so we can contact you and tell you more about how we can help your business succeed.
Talk to an Amazon expert
We work with 100+ businesses. Book a slot now to talk to one of our experts.
---
FAQ
How long does it take Amazon to review Merch?
After completing the Merch by Amazon application process, you will be notified that your application has been submitted. Amazon states that it can take up to 60 days to receive a response, but in some cases (if you're lucky), you can receive a response within three weeks.
How do you get approved for Merch faster on Amazon?
There are no official ways to speed up approval. However, statistics show that people who already have sales and an active customer base are prioritized. So, if you are an active seller, show it in your application.
How hard is Merch By Amazon?
Amazon Merch has become more challenging than it may appear at first sight. First and foremost, you will undoubtedly face stiff competition and some difficulties in developing your own design due to a large number of existing products on the platforms. However, if you are confident in your abilities to create something unique and interesting, you will undoubtedly find your customers!