Key Points
SEO or Search Engine Optimisation is the process of improving the quality and quantity of website traffic to a web page from search engines. SEO focuses on unpaid traffic.
Amazon's search algorithm is A9, and its factors involve performance and relevance.
Ways to improve your performance factors include gaining more customer reviews, pricing your products competitively, and using large, high-quality product images.
Ways to improve relevance factors include creating a product title that is clear, attractive, and optimised, utilising backend keywords, and having a detailed and informative product description and bullet points.
Get help with SEO today by booking a free consultation with a team of SEO experts.
Search Engine Optimisation or SEO is the process of improving both the quantity and the quality of website traffic to a web page from search engines. SEO focuses on unpaid traffic as opposed to paid or direct traffic. If you are an Amazon seller, you want customers to find your product pages. If you do not do Amazon SEO right, you will witness fewer sales and less traffic. For these reasons, you must understand a good strategy for Amazon SEO to help your seller account enjoy the most success that it can. While this article offers some top tips on how to help improve your ranking, it is also prudent to seek out expert help to improve your Amazon SEO further. NUOPTIMA offers specialist SEO services and a free consultation call on how to grow your brand.
Amazon's Search Algorithm – A9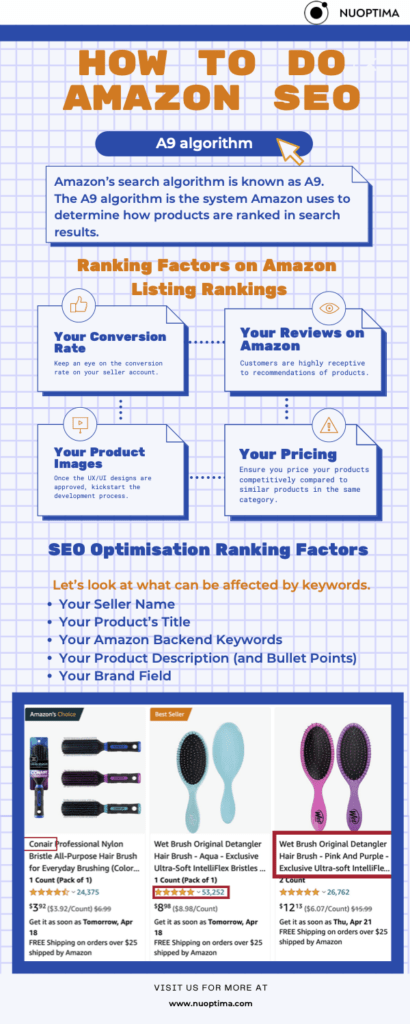 Amazon's search algorithm is known as A9. The A9 algorithm is the system Amazon uses to determine how products are ranked in search results. It is crucial that you understand that A9 works differently than other algorithms such as Google in surfacing results. This is because, put simply, there are far fewer ranking factors than with 'regular' SEO, which is alleged to include hundreds of factors. However, this does not necessarily mean it is easier. It is important to remember that Amazon is first and foremost a buying platform and cares about selling to their millions of customers with the utmost efficiency. To understand A9, it is important to remember that when people conduct Amazon searches, they are virtually all transactional. In contrast, when Google searches are conducted, they tend to be of a wide variety, including informational. For this reason, Amazon's algorithm only involves a couple of factors. These are performance and relevance. If you improve your Amazon page with these factors in mind, you will witness an increase in your sales. Let's look at both factors to see what you should consider.
The Effect of Amazon Performance Ranking Factors on Amazon Listing Rankings
Arguably, performance factors are more difficult to control than relevance factors, but it is nonetheless important that you understand them if you wish to improve your Amazon SEO. Let's review some of these considerations.
Your Reviews on Amazon
Customers are highly receptive to recommendations of products. Therefore, online reviews are a performance-related factor that plays into A9. You will notice a pattern between Amazon's search results and products with numerous reviews. Products that rank at the top for a broader keyword tend to have more and better reviews than those that are lower down on the list. This, therefore, displays that a higher number of reviews affects click-through rates which can ultimately lead to more sales. And more sales can affect an overall product ranking on the Amazon webstore.
In recent times, Amazon has clamped down on false reviews (a practice that used to be more prevalent among sellers) so if you are contemplating cheating the algorithm with fabricated reviews, don't. The best way to get more reviews for your products is to politely send follow-up reminder emails to consumers after they have made a purchase and ask them to leave a review. Don't throw your toys out of the pram if you receive negative reviews. Consider what the customers were unhappy about and address these problems to prevent further discontent.
Takeaway: Send customers reminder emails to leave a review after purchase and address any problems listed in negative reviews.
Your Conversion Rate
Your product's conversion rate is linked with price and is a critical factor related to performance and your search ranking. It can be challenging to understand how your conversion rate compares with complete confidence, but the best course of action is to analyse conversion data. On your Amazon Seller Central account, click on the Reports tab followed by Business Reports. Then click on Detail Page Sales and Traffic. Once here, examine the Unit Session Percentage, which is basically the number of units purchased per visit and is the closest you will get to a pure conversion rate. Suppose this rate is unimpressive, and you think it should be performing better. In that case, you should look at factors related to relevance (coming up in our article shortly) to appear higher up in Amazon searches and convince more consumers to buy from you.
Takeaway: Keep an eye on the conversion rate on your seller account. If you are unhappy with this rate, consider relevance-related factors.
Your Pricing
Obviously, the price you charge for your product has a noticeable impact on your conversion rate and the number of units moved on Amazon. Understandably, if your product price is competitive compared to other sellers with the same or similar product, your conversion rate should be positively affected.
But, it is essential to remember that your price compared to similar products in the same category on Amazon as you is crucial. This is because if many products in the same category as you are selling for less money, you will find it hard to sell as many units, and A9 will assume your product won't sell as much as others. It is vital that you study the price of competitors, both on Amazon and other websites, to help you set a price that will prove to be competitive. If you overcharge compared to similar products, your Amazon search ranking will suffer. The only way that you could justify a higher price should be for an apparent reason, such as significantly better reviews.
Takeaway: Ensure you price your products competitively compared to similar products in the same category.
Your Product Images
Another factor that has proven to be important is high-quality imagery. Products that have high-quality photos generally have a higher conversion rate. Another great tip is to incorporate larger images. Amazon explains on Seller Central that 'the optimal zoom experience for detail pages requires files to be 1600px or larger on the longest side. Zoom has been shown to help enhance sales'. Therefore, larger images of high quality tend to help increase your conversion rates.
Takeaway: Ensure you incorporate large, high-quality imagery of your products.
How Amazon Relevance Ranking Factors Affect SEO Optimisation
This section details how you can influence ranking factors with the strategic use of relevant keywords in various areas of your Amazon pages. Let's look at what can be affected by keywords.
Your Seller Name
Your seller name can have an impact on your ranking. It has been discovered that certain products can rank higher in the search results of Amazon if the main keywords for the product are incorporated within the seller name. For example, if you sold books and your seller name had 'novel' in the title, it could well help you get higher in the rankings.
Takeaway: Consider your choice of seller name compared to what you are selling.
Your Product's Title
This may well be the most vital element of Amazon SEO relating to relevance. Consequently, you should be looking to put the most relevant product keywords in the title. Keep the product name first and then incorporate all other relevant information. Some great tips to optimise your product title on Amazon:
Include a simple description of what your product does
Mention an essential material or particular ingredient
Incorporate your brand name (the brand's name will appear on your product page and should always be mentioned as many shoppers search for specific brands on Amazon)
Mention the colour of the product
Explain the product size
Mention the product quality (if applicable, such as a second-hand product)
Clarify product quantity
While you should take all of these into account, it is important that you avoid stuffing keywords into the title, as this can harm your Amazon search rankings. This is because the title may end up looking like spam and doesn't read clearly, resulting in a negative effect on your click-through rate. Conversely, you should also avoid very short titles as it can lead to lower click-through rates. A good rule of thumb is to use several keywords that have a high search volume, but that also explain the product. Make the first five words of the title concise, clear, and reader-friendly. It can make all the difference.
Takeaway: Your product title should be attractive, clear, and optimised. Avoid keyword-stuffing as well as short titles.
Your Amazon Backend Keywords
Backend keywords are known as 'hidden' keywords that are only used in your seller account's backend section. In a nutshell, they are keywords only Amazon sellers can see. While visitors cannot see them, it helps A9 understand that a particular keyword applies to your listing and is a way for sellers to focus on keywords that could not be targeted on the product page.
There are five fields that sellers can fill with these backend keywords (each line has a 50-character limit). When filling out these fields, bear in mind that you should not repeat any words, you should include variations in spelling or synonyms but do not include too many variations of the same word, and avoid using quotation marks and commas.
Takeaway: Utilise backend keywords to target words not used on your product page and help A9 understand what other keywords apply to your listing.
Your Product Description (and Bullet Points)
These areas inform your customers about your product, so it should be detailed and encouraging. Therefore, your most vital keywords should be included here too.
Description: Ensure the copy is natural, persuasive, and readable (from a sales perspective).
Bullet Points: Bullet points will be looked at with priority from customers because they are quick to read and scannable. Therefore you should use this section to inform your customers about your product's features, benefits, ingredients, and dimensions. Anything that you believe to be crucial information. Incorporate relevant keywords into this section to add further value to the information. It is a good idea also to consider your competition's bullet points to check they do not have more detailed information than you do.
Takeaway: Ensure your product description and bullet points are both full of detail, vital keywords and crucial information.
Your Brand Field
The brand field of a product always shows up on the product page — above the headline or title — and links to numerous search results for other products from the same brand. Therefore, you need to make sure that you use the exact spelling for your brand name when listing your products. Consumers on Amazon often search for a product based on the brand name.
Takeaway: Ensure you spell your brand name meticulously.
A Note on SEO for Websites
We could not conclude this article without briefly touching upon SEO for websites. Many Amazon sellers also have websites where they sell their merchandise. In this section, we give you three top tips on how you can improve SEO on your website:
Produce value-rich, lengthy content. A good length for a blog post is generally 1,500 words. But, to determine how long yours should be, go to Google and search for your primary keyword, and then visit the top 10 SERPs (Search Engine Results Pages). If some of these pages exceed 1,500 words, then yours should too. A longer article indicates to Google that you are providing more information, and if many people spend a lot of time reading your article, you will have a better chance of ranking higher.
Speed up your pages. This is crucial for both SEO and conversions. If a website takes a long time to load, many people will give up and look elsewhere. The same applies if a form fails to submit due to slow speed. It can be a valuable idea to study Google's PageSpeed Insights to look into how fast your site loads across numerous devices. It also can give you an insight into what specific things can be fixed to improve your site speed.
Obtain quality backlinks. Backlinks are key in helping your website rank better. When high-quality websites link to yours, Google sees this as a signal of your website's credibility, and as you build a solid backlink profile, your pages should enjoy rank climbing. It is a good idea to email other blogs and influencers within your niche to get quality backlinks.
Final Thoughts
This article has provided you with some critical points on how to do Amazon SEO. But, this does not mean it is easy. Improving SEO on Amazon is a very complicated and stressful process, which is why we don't recommend you tackle it alone. NUOPTIMA understands the difficulty of working to improve product rankings and grow your brand, which is why we offer expert help to optimise your seller account. Furthermore, we offer a free discovery call. If you would like assistance with growing your Amazon brand or would like to hire an agency that specialises in SEO services to do the hard work for you, contact our team today.
Talk to an Amazon expert
We work with 100+ businesses. Book a slot now to talk to one of our experts.
---
FAQ
What is SEO?
SEO (Search Engine Optimisation) improves the quality and quantity of website traffic to a web page from search engines. SEO focuses on unpaid traffic.
How do I improve SEO on Amazon?
There are many ways to improve SEO on Amazon. The key is understanding that Amazon's algorithm, A9, involves a couple of factors: performance and relevance. Look at our 'Takeaway' notes at the end of each section to obtain invaluable top tips on improving these two factors.
Are there any services that can help with Amazon SEO?
It is a great idea to hire an agency if you wish to take Amazon SEO seriously. At NUOPTIMA, we have a team of SEO experts ready and waiting to improve your business. Get in touch with us today for a free discovery call.