Key Points
A high demand product is an item that is desired by a large number of consumers and is the first aspect of a potential product that you should examine when looking to sell.
You can find high demand products by using a product analysis platform, researching Google Trends, and analysing the Amazon Best Sellers list.
It is prudent to analyse the Amazon Best Sellers list to explore what is in high demand at the moment and why.
Once you've started an Amazon business and are looking for products to sell, one factor that should always be considered is product demand. Even if you find one of the best and most revolutionary products available, you cannot make any money if there is no public demand for it. This article sets out what high demand means, along with some top tips on how you can seek out much-desired high demand products.
What is a High Demand Product?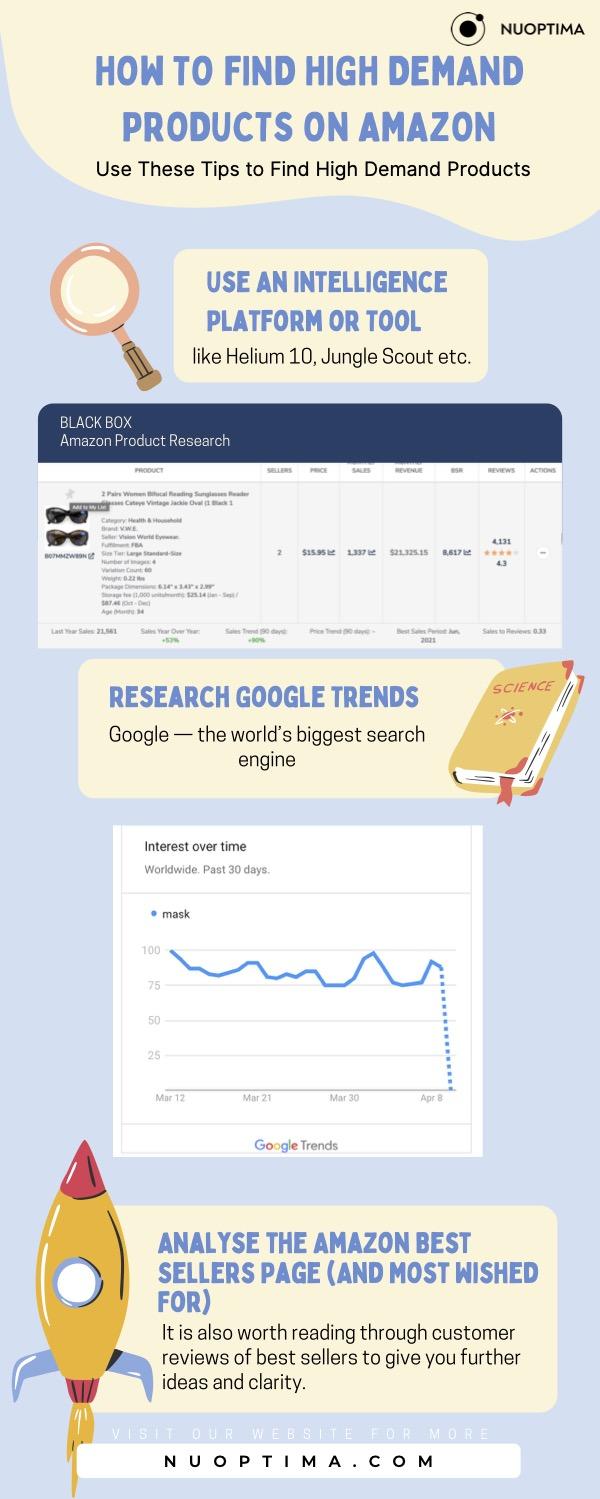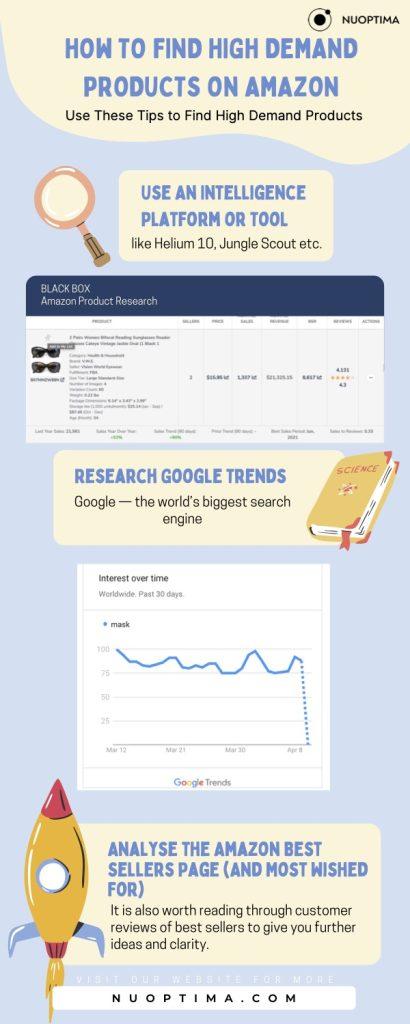 Product demand is defined as the willingness of a shopper to purchase a product at a proposed price. Therefore, high-demand products are desired by a large proportion of consumers. Demand is usually measured in the sales of a product. Still, it is important to note that the amount of sales required for a product to fall under the 'high demand' category is relative to the situation. A big retailer might consider a product of high demand to make thousands of sales each month. Because large businesses have higher operating costs, higher-selling products will be the focus of making money. Conversely, an independent seller would have lower costs, so lower selling products will still profit their business. It all depends on the situation. However, in general terms, an item with more than 300 sales each month is considered a high demand product for most Amazon sellers.
Demand is vitally important to a seller as you need customers to want your product and have an interest. Without demand, you will struggle to sell any inventory of products you have and fail in your business venture. A high number of sales is a distinct indication of a profitable business, though this is not guaranteed. However, demand is the first facet of a product that you should examine when looking for items to sell.
Tips to Find High Demand Products on Amazon
Now that we have a clearer understanding of what a high demand product is and why demand is essential, we have compiled a few tips to help you seek out high demand products on Amazon.
Use An Intelligence Platform or Tool
There are numerous product analysis platforms available online. These services can help you research particular products to determine if they are worth considering as an item you want to sell. Thousands of sellers use these tools to maximise their chances of finding an excellent product for their business. They can present beneficial information such as high demand products, estimated monthly sales of a product, and track your competition. These tools usually assign each product a score to help you quickly see if it is viable as a high demand product. This can be a fantastic method to get a detailed analysis of a product in a short space of time to save you the trouble of trawling through Amazon by yourself.
Research Google Trends
Google Trends is a great way to see what is popular right now and discover trending topics or keywords in specific regions. Google Trends base its data on Google — the world's biggest search engine — so it is seen as a highly reliable option. You use the search box to find out if a particular product or item is trending. As you can imagine, a trending product will be in demand.
Once you have entered a product into the search box, you will be presented with a graph showing its trending pattern from the last 12 months. You can also change the country that is analysed. Essentially, the higher the product's score, the higher its demand. Once you have found a promising product with encouraging results, it is then worth discovering what the competition is like to work out if it is a feasible product to try and sell.
Analyse the Amazon Best Sellers Page (And Most Wished For)
This is perhaps our most obvious tip, but it is always worth examining the Amazon Best Sellers page. Any product you see here will be a high-selling product currently on Amazon, meaning it is in high demand. Unfortunately, on this page, you cannot see the sales numbers, which can make it tougher to determine the true level of demand.
The Best Sellers page is organised into various categories. There is also a section that you can explore called Most Wished For. This is a great area of the site to truly analyse, as you need to ask yourself questions such as why a customer has wished for a product but then chose not to buy it. If you can determine whether this is down to a factor such as a low-quality product or one that is too expensive, you can then capitalise on these issues and develop new product ideas that would appeal more to potential customers. It is also worth reading through customer reviews of best sellers to give you further ideas and clarity.
Other Tips
Explore Pinterest: Pinterest is both a social media platform and a visual search engine. A product gets 'pinned' by a user when they are interested in it, and so it follows that the more 'pins' a post has, the more popular the product. When you search a product or word on Pinterest, it helpfully puts the most pinned products at the very top of your search result, helping you to discover what is most sought-after under that word.
Utilise Instagram: Another dominating platform you can use to find a high demand product is Instagram, an ingenious way for brands to market their products efficiently and immediately. It is a great idea to follow big brands on Instagram, as this way, you will be notified of any current trends, offerings, or products. By doing this, you can catch the trends as they occur, source these products and then profit back on Amazon. For example, if you run a clothes business, follow big clothing brands to discover any emerging trends you could use for your business.
Explore Amazon's auto-complete feature: When a user types into the search box, Amazon presents a list of long-tail keywords currently popular amongst other users. You can use this auto-complete feature and long-tail keywords to search and see if there are products related to those keywords. If you fail to find corresponding products, there may be a window of opportunity for you, or perhaps low competition.
Examples of High Demand Products on Amazon
When searching for a product in high demand, it is wise to start with the categories that are the most popular and with the most sales. Here are the top three categories of Amazon sellers and an example of a high demand product from each:
Home and Kitchen
This is the most popular category, and statistics show that 40% of Amazon sellers are in this category. This is believed to be down to the fact that people like to decorate their homes, and kitchen items are essential for everyone. For this reason, this category enjoys high demand and sales consistently throughout the year. Many products that fit in this category tend to be simpler, which means there is a lessened chance of an item being defective and is easier for customers to understand.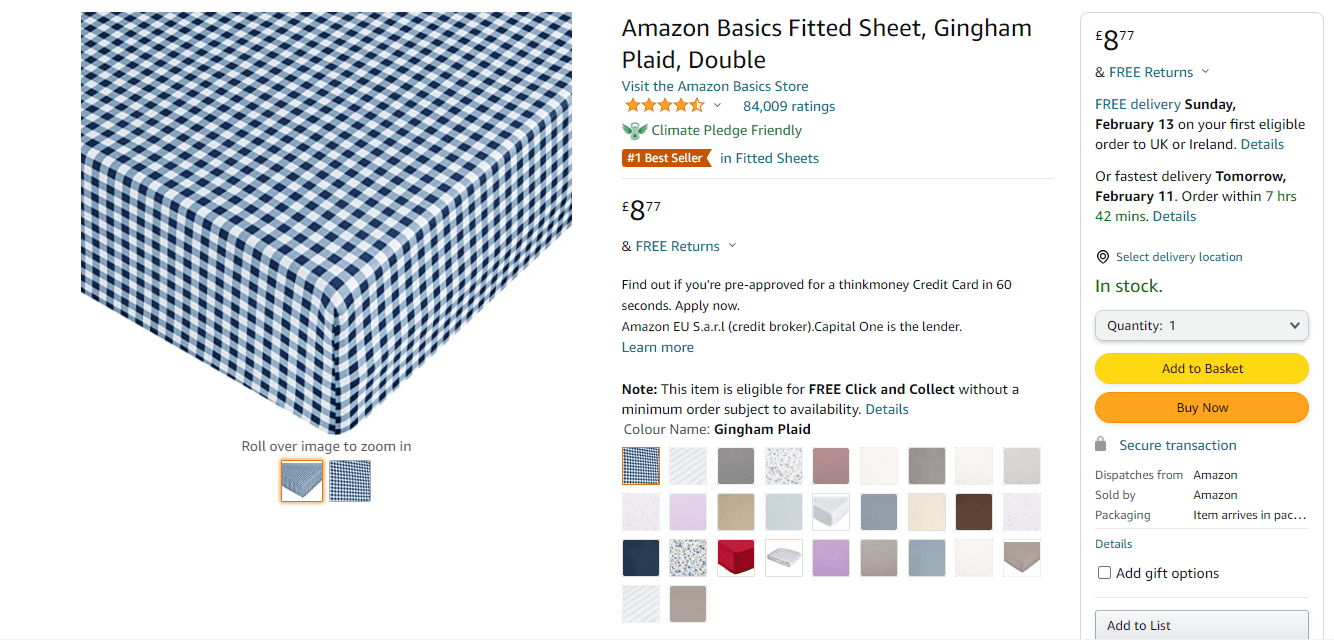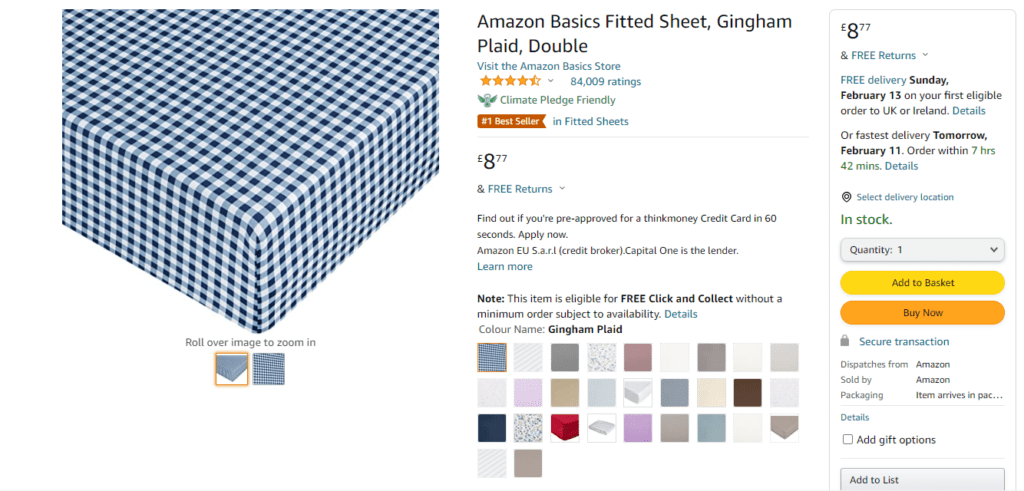 This item was found on the Amazon Best Seller page under Home and Kitchen. And taking a glance at the information displayed, it's easy to see why it is in high demand. This gingham plaid fitted sheet is rated first in the Fitted Sheets category. Furthermore, we can see that the product has received over 84,000 reviews with a four-and-a-half star rating! This clearly demonstrates that not only are many people buying this product, but a high percentage are also very satisfied with it. The page also explains that the product is climate-conscious, an attribute that is very well-received by the modern-day consumer. Additionally, the sheet is very reasonably priced by the seller. A further point to mention is that dozens of colour options come with the fitted sheet, making it appealing to more people as there is further choice.
Sports and Outdoors
Sports and Outdoors comes in second, with 21% of sellers in this category. It is believed to be so successful partly due to the wide range of products that it covers, from sportswear and equipment to camping gear and mountaineering. Plus, with the spread of the global pandemic, many people are opting to purchase sports items due to the closure of gyms, and also, many of us are exploring the great outdoors while the world is still relatively shut down.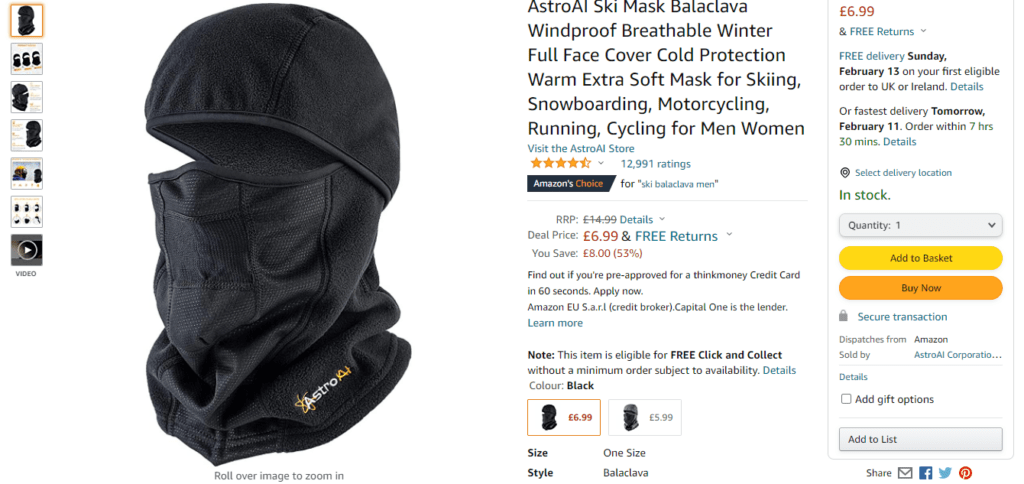 The item we have chosen from the Sport and Outdoor category is a ski mask. And again, it does not take long to conclude that this product is one in high demand. Firstly, we can again see thousands of high ratings for the product, which is always a big motivator for a potential consumer. On the left-hand side of the page, detailed images have been uploaded, which is also appealing for a consumer (as they are unable to touch or handle the product before purchase). You can also see that this item has been listed as 'Amazon's Choice', a persuasive endorsement from the website itself. Products under 'Amazon's Choice' are those which are highly rated and well-priced that can be shipped immediately. All three of these factors are massive ticks for a consumer. Even though a ski mask may not be top of most people's lists, the fact that this niche item is generating so many sales regardless indicates a truly fantastic high demand product.
Toys and Games
The third most popular category for sellers is Toys and Games with 19% in this area. It isn't hard to comprehend why this category does so well. Parents will always be looking to spoil their children, and as kids outgrow their toys reasonably fast, there is a constant demand for something new. Furthermore, the COVID pandemic is also thought to be behind the surge in board games and card games over the last couple of years as people look for new ways to keep occupied.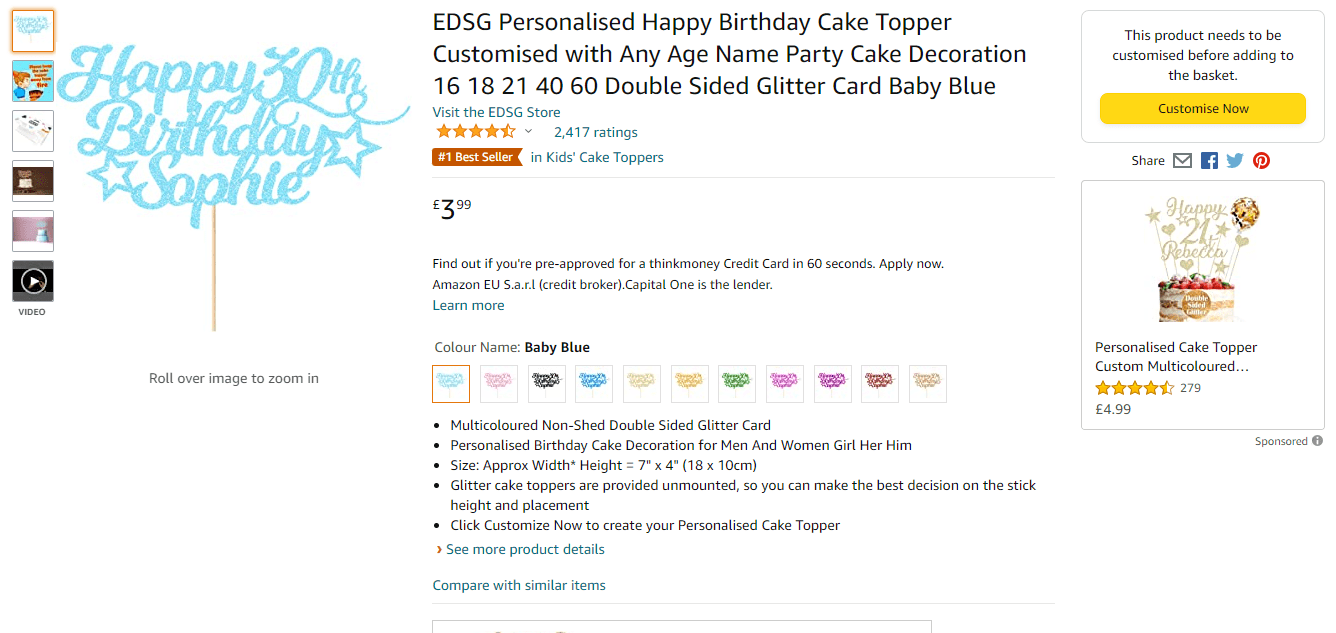 One of the best selling items in Toys and Games is a birthday cake topper. In fact, this product comes in at number one for Kids' Cake Toppers. This is an excellent niche as everybody has a birthday, so you expect the product to enjoy fairly consistent demand. Plus, the fact that the topper can be personalised with different colours and to any age and name is a further positive as it adds personalisation to the customer and gives them something unique to enjoy. Once again, this high demand product has thousands of reviews, with 80% of the ratings being five stars. It is also very affordable, and the detailed images on the side is a further appealing factor for a potential consumer. All of this information demonstrates why this product is in high demand.
Discovering high demand products shouldn't be too difficult a task. However, if you would like assistance with furthering your Amazon business or just need some advice, Nuoptima offers free expert advice to help you capitalise on your potentially highly profitable business venture
Final Thoughts
Finding high demand products on Amazon can be a challenge if you are unsure of what to look for. When trying to find a product in demand, it is good to use various services such as a product analysing tool and studying Google Trends. It is also crucial that you research the Amazon Best Seller list to discover what is popular right now and inspire you with ideas. You may also want to expand your research to popular platforms such as Instagram and Pinterest to work out what is in high demand. While it can take time to compile your research, it is crucial to ensure that any product you are looking to sell will cater to high consumer demand.
Talk to an Amazon expert
We work with 100+ businesses. Book a slot now to talk to one of our experts.
---
FAQ
What is a product in high demand?
A high demand product is a product that a large number of consumers desire and want to own.
How do I find a high demand product on Amazon?
There are several approaches to finding a high demand product on Amazon. You can utilise Google Trends, a product analysing service, or perhaps branch out onto platforms such as Instagram and Pinterest to see what is trending and if a product is proving popular. You should also consistently look at the Amazon Best Seller, and Most Wished For lists.
What products are in high demand on Amazon?
The best way to determine what products are in high demand is by looking at Amazon's Best Seller list. This presents all items that are selling in significant quantities and therefore has a significant consumer demand behind it. It is wise to focus first on the most popular seller categories: Home and Kitchen, Sports and Outdoor, and Toys and Games.