Key Points
It is highly recommended that you hire an SEO agency as search engine optimisation is extremely difficult to conduct efficiently on your own, especially if you do not have much prior experience. By hiring an SEO agency, you get the energy, time, and skills of a team of specialists in the various areas of SEO.
Top tips for finding a good SEO consultant or agency include looking at past performance, asking previous or current clients about their experience, and visiting the SEO agency online or in person.
Mistakes to avoid include choosing black hat, cheap agencies and only browsing local SEO agencies.
NUOPTIMA is an expert and highly qualified SEO agency that has been working with brands in various industries for many years. Book a free consultation call with our team today to explore how we can use SEO to achieve outstanding results for your company.
Why Do I Need An SEO Agency?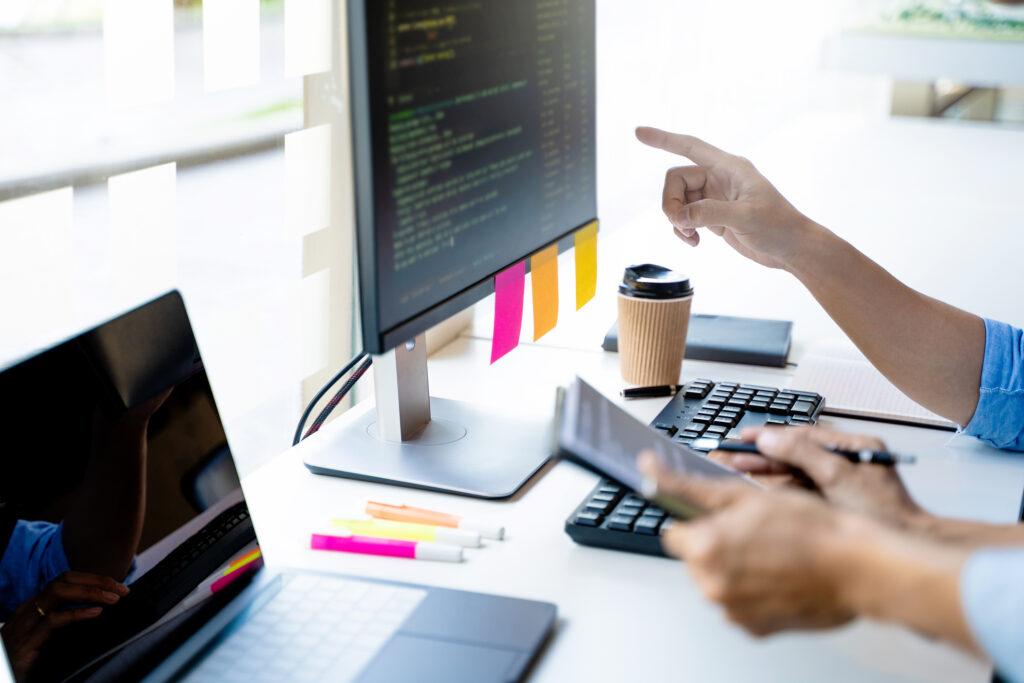 If you have never worked with an SEO consultant or agency, you might not immediately see the need to hire a company to help with your SEO efforts. However, it is crucial to understand that undertaking search engine optimisation alone, especially if you are new to the process, is extremely difficult to conduct efficiently. One person cannot do SEO alone, particularly if they have a limited SEO background and other business responsibilities. It is not easy, and the statistics demonstrate this. Over 90% of the web pages in Ahrefs database get zero traffic from Google. This is especially significant if you consider that the database on Ahrefs only includes pages that successfully meet its criteria and consequently doesn't account for billions of low-quality pages. Essentially, it is highly challenging to get good traffic on search engines.
It is also highly likely that your competitors are using SEO agencies for assistance. The benefit of hiring an expert SEO agency is that you get the energy, time, and skills of a team of specialists in the various areas of SEO (for example, link building, content marketing, technical SEO etc.). Below are some of the SEO results you can expect to witness if you hire a qualified SEO agency or consultant:
Improved rankings
Increased traffic to your website
Increased brand awareness
Higher conversion rates and sales
Increased brand credibility
Improved website performance and user experience
Improved aspects of your website, such as overall speed and mobile-friendliness
It gives you an advantage over the competition
How to Choose a Trustworthy SEO Agency
When choosing the right SEO company for your business, it is important to do your research. Below we offer five top tips to help you find an excellent SEO consultant or agency.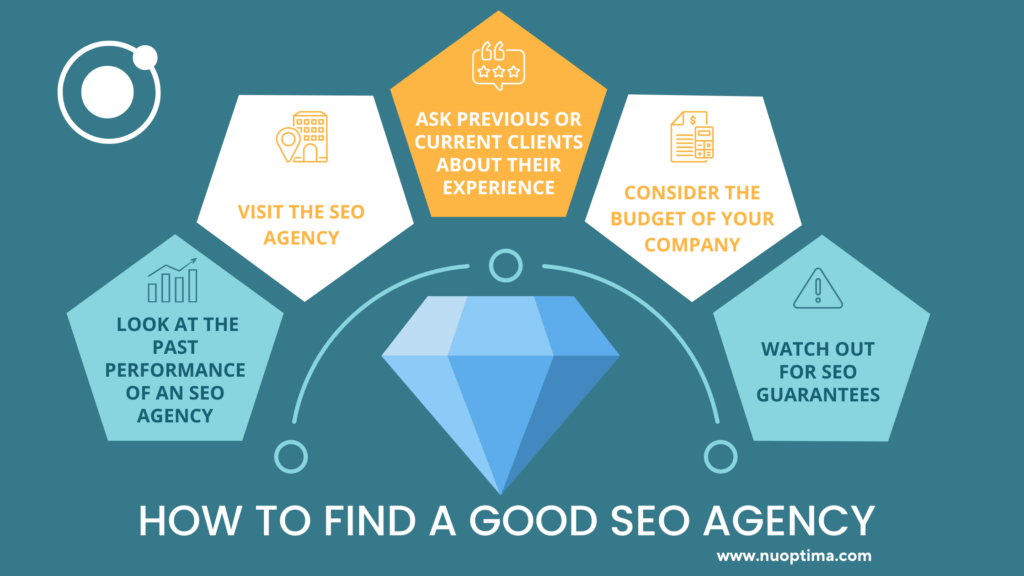 Tip One: Look at the Past Performance of an SEO Agency
The past performance of an SEO agency is essential in your considerations. Indeed, it is debatably the most critical factor when making a choice. While an agency may seem like the perfect fit on paper, it is important to do your research to ensure this is the case. Truly successful SEO companies will have verifiable and proven results available for potential clients to consider. You can analyse the past performance of an agency through:
Portfolio examples
Industry awards
Case studies
Client testimonials
You can ask the consultant or agency for examples of sites they have optimised and any keyword rankings they have assisted these websites in achieving. It is best to look for current examples that display encouraging progress. When requesting case studies, it is also sensible that you ask for those with a similar primary strategic goal to your business.
During this process, you should also note what the SEO agency presents to you as a demonstration of past performance. If the agency talks about rankings but fails to touch on actual sales and conversions, they may not have the complete picture in mind. Key SEO performance factors are rankings and traffic, but ultimately, it is increased conversions (whether it's leads or sales) that should be your main aim. While client confidentiality may stop you from seeing actual sales data, the SEO company should at least be able to share percentage growth.
By following this top tip, you will have actual proof of past performance and can go into a consultation with the confidence that it is a good company for realising your goals and growing your business.
Tip Two: Word of Mouth: Ask Previous or Current Clients About Their Experience
To find the perfect SEO agency, do not just enter a Google search. Rather, go by word of mouth. You should not pick an SEO company judged on how well they rank on search engines, as the best agencies are too busy optimising clients' websites to spend time on their own. The very best agencies will generally have many long-term clients who have referred people within their professional circle to the same service.
It is also prudent to be wary of listicles. Often, the companies on that list will have paid for their spot.
The best way to find a good SEO firm is the traditional way, through word of mouth. Rather than relying on search engines, ask people within your professional circle who they would recommend. It is also a good idea to ask other companies within your industry as the service they will recommend will already have experience in your field. Of course, do not ask direct competitors.
Another way to connect with previous or current clients is to read in-depth interviews and testimonials to gain insight into the client experience. This way, you can educate yourself about the SEO firm's strengths and weaknesses and preview the strategy and reporting process. To vet an SEO agency, you should look to get into contact with three to five current clients and see what their experience was like. This allows you to get a third-party view of an agency before committing to a partnership with them. Good questions to ask previous or current clients include:
How quickly does the SEO agency return emails or phone calls?
How much time do clients need to put aside to review reports and strategy decisions?
Do clients get a dedicated point-of-contact or numerous ones?
Tip Three: Visit the SEO Agency
It is highly encouraged to meet with a potential SEO agency. You will definitely want to meet them before you sign anything, as it allows you to get a feel for the people involved in the agency. This tip can be done in person or online, but this meeting should help determine if the SEO agency is the right option for your business. When you meet with a potential agency, ensure you prepare a list of questions. Below are a few examples of questions to include:
What is your experience within our company's industry?
What are the costs of your SEO services?
When should we expect to witness results?
Discussing various questions with your company and team leaders is a good idea. This way, you can get a diverse range of questions to include when you meet face-to-face. For instance, this could consist of queries regarding strategy, reporting, return on investment (ROI), and pricing.
Remember, when you hire an SEO agency, you are choosing an extended partner in your business. It is essential that you like the team within the agency. Therefore, you must select a firm eager to relate to and understand you, your business model, and your goals.
Tip Four: Consider the Budget of Your Company
The budget is an imperative factor when choosing an SEO agency. Depending on what SEO company you choose, SEO services can cost a substantial amount of money. Ensure that you have the funds to support your SEO campaign in the long term. Inquire with the SEO agencies about the SEO packages that fall into your budget. Although, bear in mind that there are risks associated with low-cost agencies. If they fail to follow the proper Google guidelines, it can damage your brand's reputation or even incur Google penalties on your website.
Tip Five: Watch Out for SEO Guarantees
If an SEO consultant or agency guarantees a specific outcome, this can be a huge red flag. There is no way to predict website search engine results pages (SERPS) with total accuracy. An agency might have a good idea of how to produce fantastic results, but Google's algorithms are changing all the time. There is no exact way to determine where your website will rank post-optimisation. Consequently, experience and how long the agency has been in business are determining factors of how effective an SEO firm's strategies are.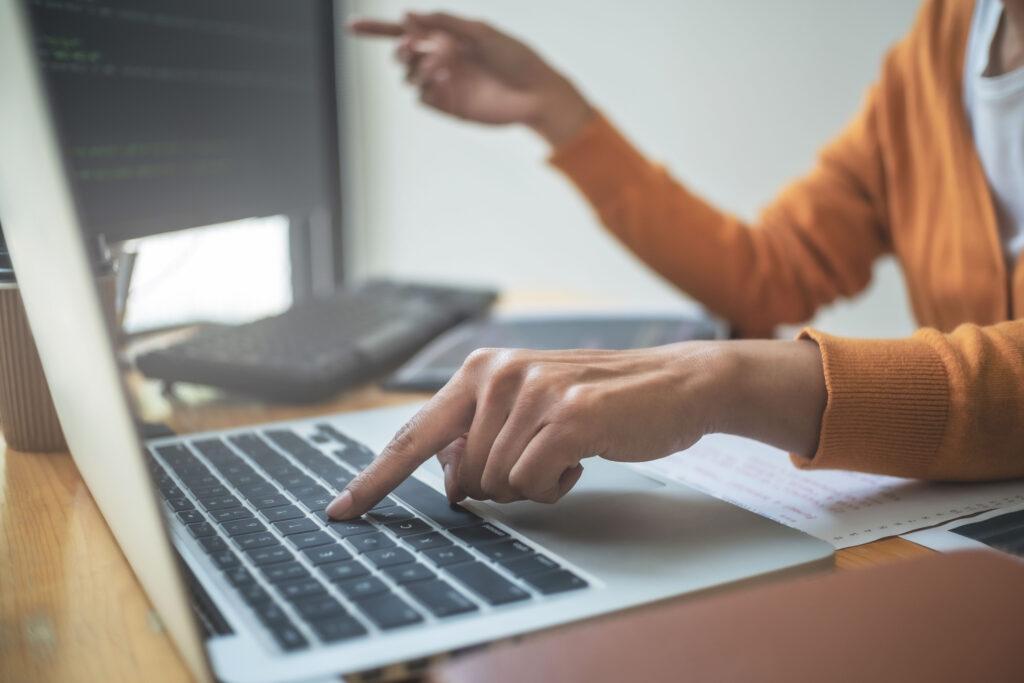 Mistakes to Avoid when Looking for an SEO Agency
Now we have listed five tips for finding the right SEO agency for you, below are three mistakes that are commonly made by companies when choosing an SEO agency.
ONE: Choosing a Black Hat SEO Agency
It is essential to understand that SEO does not deliver instantaneous results, and it usually takes several months before a return can be witnessed. This can be frustrating, leading some companies to fall on black hat strategies. Black hat SEO is ineffective and unethical long-term SEO strategies. Black hat tactics can be used to rank in search results fast, but you will fall from the first page quickly. Moreover, Google can even ban your site from appearing in its search results ever again, meaning people cannot find your business on the world's largest search engine. This is why you should focus your attention on established, white hat SEO firms. White hat agencies use ethical tactics and best practices to help your company rank well.
TWO: Choosing a Cheap SEO Agency
As mentioned before, there are risks associated with low-cost agencies. Prices are important regarding SEO services. Low-cost SEO agencies often underdeliver or fail to communicate with you. It is crucial that you understand SEO service costs, set a realistic budget and find a company within that budget. Educate your business about SEO pricing. Generally speaking, companies spend around £1000 per month on SEO services, though this number can vary depending on factors such as strategy and company size.
THREE: Only Browsing Local SEO Companies
Being able to work with a local SEO agency is a nice bonus. But, an agency's location should not be a primary factor when looking for an SEO company. Instead, you should prioritise experience, performance, and client experience as that will affect the quality of service much more. Also, looking within a small area can hinder your company from getting the results you seek as they may not be the best, most-experienced option. This could mean less revenue and fewer sales and leads. Even if you select an SEO firm that is not local, there are ways around this potential issue. For example, the agency may travel to meet you on occasion. Plus, they can use phone calls or video conferences to communicate with you.
Final Thoughts
When choosing the right SEO consultant or agency for your website, you should do your research and follow our top tips. These include looking at the past performance of an SEO agency, asking previous and current clients about their experience, and visiting the SEO agency online or in person. NUOPTIMA is an expert SEO agency that has been working with brands in a wide variety of industries for many years. We have a substantial and highly qualified SEO team with much expertise in helping websites achieve fantastic results. Book a free, no-obligation 15-minute consultation call with our team to explore our SEO company and discover how NUOPTIMA can use SEO to achieve impressive results for your business.
Talk to an SEO expert
We work with 100+ businesses. Book a slot now to talk to one of our experts.
---
FAQ
Can I do SEO on my own?
While it is possible to undertake search engine optimisation alone, it is extremely difficult to do efficiently, particularly if you are new to the process. It is almost impossible to be done by one person alone and is highly challenging. By hiring a qualified SEO agency, you get the energy, time, and skills of a specialist team in various areas of SEO. This will lead to benefits such as improved rankings, traffic and brand awareness and credibility, as well as higher conversion rates and sales.
What does an SEO agency do?
An SEO agency uses SEO strategies to get your website to appear high up in search engine results. These tactics can include: creating SEO-optimised content to help your site rank for more keywords on search engines, optimising existing pages to ensure they comply with Google's best practices, and creating pages to help your website get as much organic traffic as possible.
Is it worth hiring an SEO consultant or agency?
Absolutely. If you wish to improve your organic traffic (and your rankings in search engine results), an SEO agency will help bring more traffic to your website. NUOPTIMA is a highly qualified SEO agency that offers a free no-obligation discovery call so you can learn about the company and how professional SEO tactics performed by experts can be used to gain excellent results for your business.