Key points
Millions of people have managed to build successful businesses on Amazon, and the marketplace still offers numerous opportunities for people to make money.
The most obvious way to make money on Amazon is to sell products there. These can be private label items, bulk products, handmade goods. You can also try engaging in retail arbitrage,
You can also make money by publishing ebooks via Kindle Direct Publishing.
Alternatively, you can earn an income by working for Amazon at fulfillment centers or delivering packages through Amazon Flex.
Another option is to sell your services on Amazon Services or complete small tasks on Amazon's Mechanical Turk.
You can make money online by working on hundreds of e-commerce platforms. However, Amazon is the best place to start. With a net sales figure of around 386 billion dollars in 2020, it is the leading online marketplace in the United States and worldwide. There are numerous ways to make money on Amazon, and you will undoubtedly find one that is best for you, whether you want to supplement your income or turn your Amazon business into a full-time job. So, if you want to discover how not only to spend but also earn money on Amazon, keep reading to learn more about each method in depth.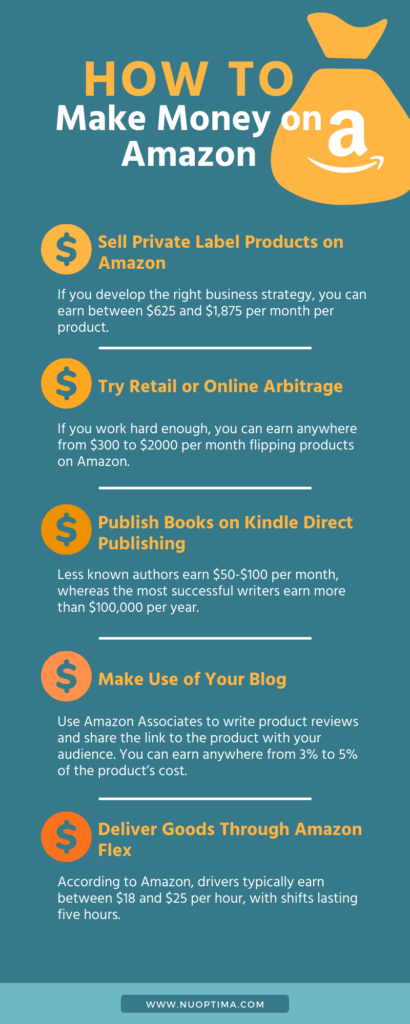 Sell Private Label Products on Amazon
Over 70% of Amazon sellers use the private label method to run their businesses because it is one of the best ways to make money. Most of these sellers simply upgrade items they source from white-label manufacturers by changing or improving them and putting branding logos on them. The main advantage of this method is that it makes your private label products unique on the market, which is an excellent way to avoid competition. But be careful because this business model will only be profitable if your products have both low competition and high demand.
Another significant advantage of private labeling is the ability to use FBA (Fulfillment by Amazon). Sellers can use this program to store their inventory in Amazon warehouses and delegate order fulfillment and shipping to professionals. It not only saves time and resources but also assists sellers in handling the entire shipping process if they are unfamiliar with logistics frameworks. However, you are still responsible for ordering, improving, and labeling your own private brand product if you participate in the FBA program.
How much profit can you make from selling private label products on Amazon?
The amount of money depends on the type of products you sell, but more than half of all sellers make $5,000 or more per month, and nearly 60% have profit margins of more than 16%. So if you develop the right business strategy, you can earn between $625 and $1,875 per month per product.
Try Retail or Online Arbitrage
If you're new to the retail industry, the most straightforward way to start making money is through online or retail arbitrage. Sellers who use this method seek out discounted or bargain goods in physical stores (Walmart, Target) or at online markets (eBay, Alibaba) and purchase them with the intention of reselling them on Amazon at a higher price. You can make a lot of money if your products are relevant and in demand.
How much can you make from Amazon retail or online arbitrage?
Be aware that retail arbitrage entails a high level of competition and effort, as you will need to spend a significant amount of time searching for discounted products that are in high demand on the market, which is challenging work. Furthermore, Amazon is making it more challenging to sell products from popular brands, which reduces the chance of making good money. Still, if you work hard enough, you can earn anywhere from $300 to $2000 per month flipping products on Amazon.
Publish Books on Kindle Direct Publishing
If you've noticed that you have exceptional writing abilities, now is the time to put them to use! Amazon Kindle Publishing (KDP) is a service that allows you to earn money by publishing your own books on Amazon. You do not need to invest much money into this endeavor; however, you should be ready to pay for a cover design, as it is preferable to hire a professional to create something eye-catching. Your book will be available worldwide within 24 to 48 hours after publication, so you can set the price you want and wait for your readers. In addition to making it available in digital formats, you can print the book with Amazon's CreateSpace to reach customers who only read paper books. However, writing in a popular niche is also necessary for success. For example, fiction writers make more money, but an increasing number of authors are turning to nonfiction because it's challenging to stand out in a crowded field. The choice is yours; write what you feel will give the best results and use the right keywords to ensure that your book appears in Amazon searches.
How much can you profit from KDP?
Some well-known authors are able to earn $40,000 per month using this strategy. Obviously, you must put in a lot of effort and devote all of your time to writing if you want to make anywhere close to that sum. Less known authors earn $50-$100 per month, whereas the most successful writers earn more than $100,000 per year.
Make Use of Your Blog
If you believe that ordering, packing, selling, and shipping products is not your strong suit, there are numerous other ways to make money on Amazon. For a more creative approach, start your own lifestyle blog, record videos, or publish your thoughts in text format. But how can you put this hobby to use and make money from it? Simply sign up for Amazon Associates, an affiliate program that will provide you with unique links that only you can share. Then, write a product review and share the link to the product with your audience. If a click on the link results in a purchase, you will receive a percentage of the sale. Furthermore, if customers buy something completely unrelated to what you were promoting but still use your link, you will also make a profit.
This method works best for people who have a well-established blog or social media pages with active audiences. And if you are familiar with SEO, you can optimize your website or blog for specific keywords, promote products through affiliate links, and begin earning money.
How much can you make from becoming an Amazon Affiliate?
You can earn anywhere from 3% to 5% of the product's cost. It may seem insignificant, but the volume of sales you make after sharing those links can cause your revenue to add up to a significant sum. However, we must warn you that it will likely be challenging to earn money if you are new to running a blog, as your audience may not be large enough to result in a substantial number of sales. So it's best to improve your blog, find your audience, and then test your skills with Amazon Affiliate!
Deliver Goods Through Amazon Flex
You are more than likely familiar with Uber and similar services. But what if we told you that you could do the same job for Amazon, but instead of delivering people, you'd be delivering packages? All you have to do is join Amazon's Flex program, download their app, fill out a quick questionnaire, and wait a few days to find out if you've been accepted. Keep in mind that you must own a vehicle before joining the program. Once you've been approved, you can begin taking orders and delivering them to specific addresses.
How much can you make with Amazon Flex?
Amazon Flex is more about providing people with extra income, but you can still make good money with the program. According to Amazon, drivers typically earn between $18 and $25 per hour, with shifts lasting five hours. If you add everything up, you can earn more than $100 per shift.
Sell Handmade Products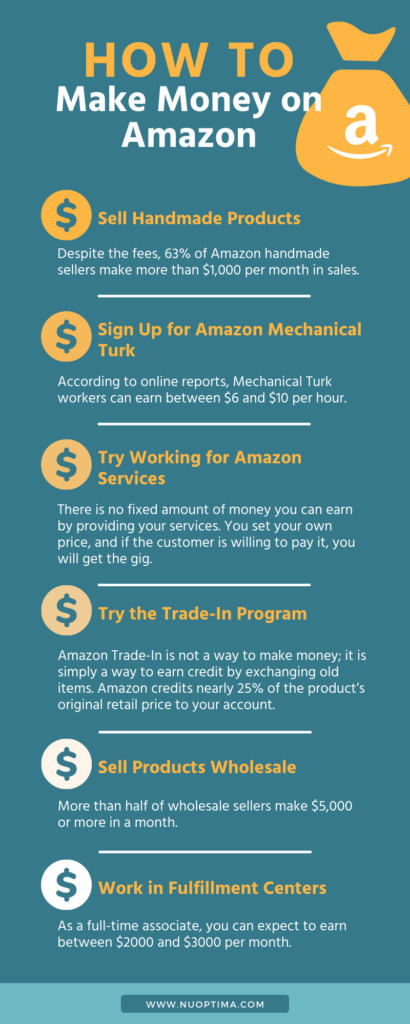 If you think you can make a silk purse out of a sow's ear, you should join Amazon Handmade! Handmade sellers create their products by hand and sell them on Amazon. For example, you can sell jewelry, clothing, decorations, and similar items. This is a good business model to use if you have a niche product that is in high demand. However, because creating your own products takes time and money, you must be sure that you can make a profit by selling them.
How much can you make with Amazon Handmade?
Some argue that Amazon's fees are higher than those of eBay or Etsy, but you can reach a much larger audience, so it balances things out. Despite the fees, 63% of Amazon handmade sellers make more than $1,000 per month in sales.
Sign Up for Amazon Mechanical Turk
Amazon Mechanical Turk is a small program that helps individuals and businesses find people to perform simple tasks such as data entry, data validation, research, etc. The more tasks you complete, the more money you will earn. To participate, simply sign up, select the tasks you want to work on, and submit them for payment. The platform doesn't have set working hours, so you can complete the tasks whenever you want.
How much can you profit from Amazon Mechanical Turk?
In reality, you likely won't make a lot of money with this type of job. Still, if you have some spare time and want to make some money, give it a chance. According to online reports, Mechanical Turk workers can earn between $6 and $10 per hour.
Try Working for Amazon Services
Amazon is now attempting to broaden its scope by selling professional services in addition to products. This opportunity is not for everyone because you must be a specialist in one of several specific fields, such as a plumber, tutor, dog walker and handler, and so on. The services are usually provided in response to a request made by a customer after purchasing a product.
How much can you make working on Amazon Services?
There is no fixed amount of money you can earn by providing your services. You set your own price, and if the customer is willing to pay it, you will get the gig. Amazon Services is a competitive market, but with the right pricing policy and skills, you will undoubtedly find customers. Check out Amazon Services' official website to find more information or fill out an application form.
Try the Trade-In Program
Although it is not technically a method of making money, Amazon Trade-In allows you to exchange unwanted items for Amazon credit. As a result, this is a fantastic opportunity to make some extra money that you will be able to use to purchase more products on Amazon. Simply sell your old items and receive money to spend on new Amazon purchases!
How much can you make with the Trade-In program?
Amazon Trade-In is not a way to make money; it is simply a way to earn credit by exchanging old items. Amazon credits nearly 25% of the product's original retail price to your account. However, you will not be able to sell any old items you have lying around your house this way because Amazon is looking for high-demand products with limited supply. Furthermore, the products must be in excellent or very good condition.
Sell Products Wholesale
This method is similar to private labeling, but instead of selling one item, you sell products in bulk. The benefit of this method is that you don't have to worry about manufacturing or branding your products, and there are a lot of customers looking for low-cost items in bulk.
How much can you profit from selling in bulk?
It all depends on how many orders you can complete in a month. We should point out that wholesale retail is much more difficult than private labeling because usually, there will be many other sellers selling the same product as you. As a result, business owners become engaged in a bidding war, and the seller with the lowest price wins. Even so, more than half of wholesale sellers make $5,000 or more in a month. Isn't that a promising prospect?
Work in Fulfillment/Distribution Centers
Working in Amazon's fulfillment centers is an excellent option, regardless of whether you have prior logistics experience. As a fulfillment center worker, you will be in charge of picking, packing, and shipping products for Amazon, as well as doing some accounting work.
How much money can you make working in an Amazon fulfillment center?
The minimum hourly rate at Amazon fulfillment centers is $15, and you will most likely receive some additional benefits from the company. As a full-time associate, you can expect to earn between $2000 and $3000 per month.
Final Thoughts
There are numerous interesting ways to make money on Amazon. These methods are helpful both for people looking for extra cash and those searching for a full-time job. However, if you decide to start a business selling products on Amazon, you will likely face numerous challenges, especially if you have no prior experience, which is why we recommend hiring a professional agency like Nuoptima to assist you with the development of your Amazon business. Sign up for a free discovery call with Nuoptima's best Amazon experts, or leave your email address so we can contact you and tell you more about what we do.
Talk to an Amazon expert
We work with 100+ businesses. Book a slot now to talk to one of our experts.
---
FAQ
Can you get rich from selling on Amazon?
You certainly can. Although many people believe that the Amazon marketplace is already overcrowded, it is still possible to become wealthy if you develop the right business strategy. In fact, 62 percent of new sellers on the marketplace have said their profits have increased in the last two years.
How much money do you need to start selling on Amazon?
The amount of capital you need to have upfront varies depending on the category you select. It can range from $300 to $3000 and even more. You should be aware that in addition to purchasing the items you intend to sell, you will also be required to pay fees imposed by Amazon. But don't worry, you will most likely make the money you invest back relatively quickly.
Can you make money on Amazon?
Yes. Most sellers earn at least $1,000 per month, nearly half earn $1,000-$25,000 per month, and some top sellers make $250,000 per month in sales! Amazon is a highly profitable platform for all types of retailers.