Running a medical practice is demanding work; with practitioners diagnosing and treating illnesses, injuries, and medical conditions on a daily basis, providing the utmost care to patients is a priority. But, of course, providing essential medical care is just one important aspect of running a medical practice. Another crucial element is implementing efficient business operations to ensure existing patients are satisfied with the quality of care they receive and to attract new patients to your practice.
Today, most practices don't attract new patients through traditional methods of communication, such as word of mouth or by posting leaflets through people's doors, as was the case as little as a decade or two ago. Patients' habits are rapidly changing, with an increasing number of people relying on the internet as their first (and often only) point of access to various services, to find solutions to their pain points and have their wide-ranging queries answered.
With an all-digital future looming on the economic horizon, medical practice owners must adopt a digital-first strategy to assert their online presence and provide a seamless patient experience. This approach involves more than creating a beautifully intuitive website. After all, what good is a website if nobody can find it in the online abyss? Businesses need to capitalise on the latest trends and technologies to gain a competitive edge in a realm that is hyper-aggressive.
There are many ways to attract new patients online, primarily PPC ads, social media marketing, and search engine optimisation (SEO), with each approach accompanied by distinct pros and cons.
On the one hand, PPC and social media advertising are excellent tools for driving instant traffic to your website. As impressive as the immediate results from these methods are, they are temporary at best, as once the ad ends, so does the number of visitors heading to your website. In a nutshell, such growth is only beneficial to the business owner for as long as the ad campaign is running, making them an expensive and unfeasible option in the long term.
On the other hand, SEO marketing may be a slow-burner when it comes to seeing results, but it's the clear winner in achieving long-term, sustainable growth. It usually takes a few months to increase website traffic, but once you've invested in SEO marketing, you'll find that your website will continue to rank on the first page of search engine results, such as Google, even after you've discontinued optimisation efforts. In other words, your website will indefinitely receive free traffic from Google and other search engines even after you've stopped paying for SEO services.
Such organic exposure and growth is not only a sustainable and financially viable option for business owners but also boosts trust and credibility among potential service users, as opposed to targeted ads.
Moreover, Google applies strict rules and regulations, particularly to websites that fall within the health and wellness categories, to avoid the spread of misinformation in the public domain. Therefore, positioning your business website as an authoritative and factually-credible source is crucial to maintaining high search engine rankings.
SEO Strategies for Medical Practices
SEO is a technically-complex process that requires niche expertise to achieve positive results. But when done correctly, SEO can help drive your target audience directly to your practice. Here are some of the most important SEO strategies to consider:
Keyword Research: This is about finding the best words or phrases that people use when they search for your services online. These keywords should be used in your website content to get your site ranking on Google.
Backlinking: This is when other trusted websites link to your site. Google sees these links as a sign that your site contains reliable and valuable information, which in turn leads to improved SEO results.
Page Structure: This is about making sure your website is easy to use and navigate. A well-structured site makes it easier for search engines to understand your content and can help improve your rankings.
Local SEO: This is about making your practice easy to find for people in your local area. This can involve using location-based keywords and making sure your practice's contact details are easy to find online.
Content Creation: Regularly adding new, useful content to your website can help improve your search rankings. This could be blog posts, articles, or updates about your services.
Online Reviews: Positive reviews can help place your site in a position of authority and bring a boost to your brand. People also often act on positive reviews, so encourage happy patients to leave reviews on your website and other review sites.
Mobile Optimisation: More and more people are using their mobiles to search online. Making sure your website works well on mobile devices can help boost your search rankings.
Search Demand for Medical Practices on Google


The screenshot above displays Google search data for the keyword 'medical practice'. The global volume section on the far right reveals the average number of times people search for the keyword per month across all countries; in this case, a total of 9.4 thousand people searched for 'medical practice.' More specifically, 2.6 thousand searches came from the United Kingdom, while 1.7 thousand and 1.6 thousand searches came from the United States and Australia, respectively. It is clear from these figures that the monthly search demand for medical practices in your country is quite high. By optimiыing your website for top-ranking search engine results, you can take advantage of this demand and increase online visibility to your target demographic.

A quick search in Google Trends returns similar results; as you can see, there has been steady overall growth in the number of people searching for medical practices from 2004 until now. Based on this positive correlation, the popularity of this search term will only continue to grow in the coming years. Therefore, now is the optimal time for you to utilise a trusted SEO agency to position your medical practice website for maximum growth and return on investment.
The cost of PPC and social media ads is increasing and will continue to do so in line with the rising interest in this search term. It only makes sense, then, to adopt SEO methods to drive maximum traffic to your website, encouraging organic and sustainable year-on-year growth at the most cost-effective price.
People Use Many Terms to Find Medical Practices
While 'medical practice' is the most obvious keyword, it's not the only one your target audience will use when searching for health and medical services. The foundation of a successful SEO strategy involves devising a list of suitable targeted keywords and phrases based on the specific interests of the audience and what they are actively looking for.
After analysing this key data, experts then create relevant web pages and optimise existing pages customised to the list of identified short and long-tail keywords. This process optimises the chances of your web content appearing at the top of search engine results pages and collecting organic traffic.
For instance, someone searching for health and medical services will enter the following search terms to find suitable options:
'Clinic near me', doctor near me'
'Doctor in…' + location. For example, 'Doctor in central London'
Clinic for…' + group. For example, 'Clinic for elderly'
Different types of doctors. For example, 'Cardiologist in London'
Information on health issues, such as illnesses, symptoms, treatment options, etc.
Information on medical treatments and procedures such as blood tests, vaccinations, prescription drugs, etc.
The screenshots below show various keywords associated with physicians and the monthly search volume for each term:

As you can see, there are tens of thousands of keyword phrases. For instance, the term 'primary care physician alone is searched on average 65 thousand times a month. Ranking your website for this term, along with thousands of others, has the potential to attract a substantial clientele.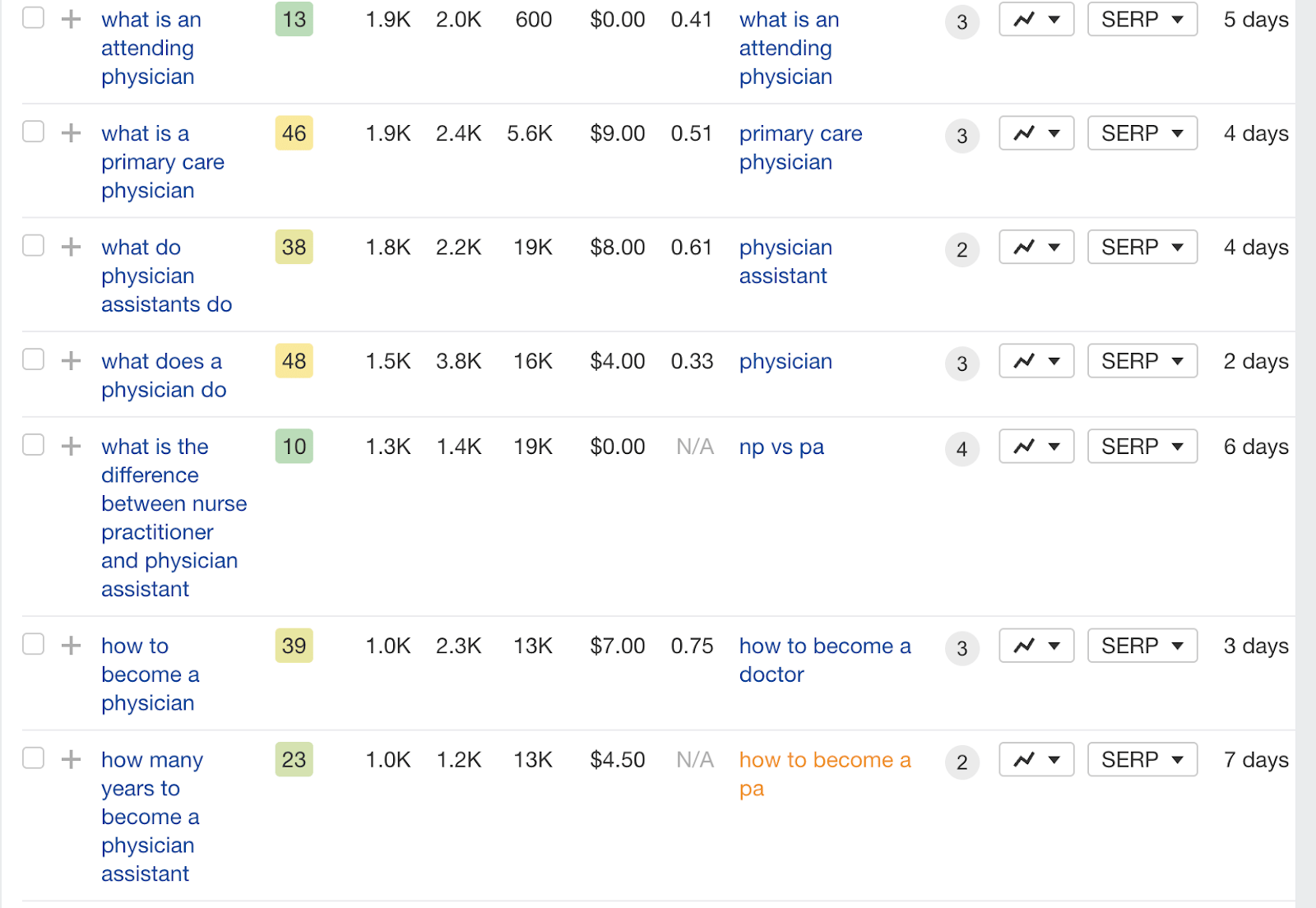 Selecting Keywords and Optimising Your Site
Choosing the right keywords and optimising your website is a crucial part of SEO. Here are some tips to get you started:
Use Keyword Tools: Use SEO tools like Ahrefs and Google Adwords Keyword Planner to build a list of words or phrases that people might use when searching for a medical practice online. They can also help you discover how certain keywords are performing in your local area.
Long-Tail Keywords: These are longer, more specific phrases that people might search for. For example, instead of just "dentist," you might use "emergency dentist in London." These long-tail keywords can often be less competitive and more targeted to your specific services.
Optimise Your Content: Once you've chosen your keywords, you need to use them in your website content. This includes your page titles, headings, and the main body of your text. But remember, your content should always be easy to read and useful for your visitors. Don't just add keywords for the sake of it.
Monitor and Adjust: SEO is an ongoing process. Keep an eye on how your keywords perform and adjust as needed. If a keyword isn't working, try a different one. If a page isn't ranking well, look at ways to improve it.
By carefully selecting your keywords and optimising your site, you can improve your search rankings and make it easier for potential patients to find you online.
Other Medical Practices Are Already Getting Results From SEO
Other medical practice owners are already reaping the benefits of SEO; with websites consistently positioning higher in search results, business owners like you are potentially saving hundreds of thousands on advertising costs each year.
Take a look at the two examples below of medical practice websites that are seeing excellent results from SEO:


The above example is the website www.mayoclinic.org, an American medical centre focused on integrated healthcare, education, and research. This website has organic traffic of 263 million; in other words, the number of people who have visited the site after finding it on Google.
You can also see the site has a traffic value of $197 million, which is what the website owner would have to pay in monthly advertising, such as PPC, to generate the same amount of traffic without SEO. Essentially, the website owner is saving millions each month, all thanks to a keyword-optimised site that returns high rankings on Google.
The screenshot below provides a detailed picture of specifically which pages bring the most traffic to the website: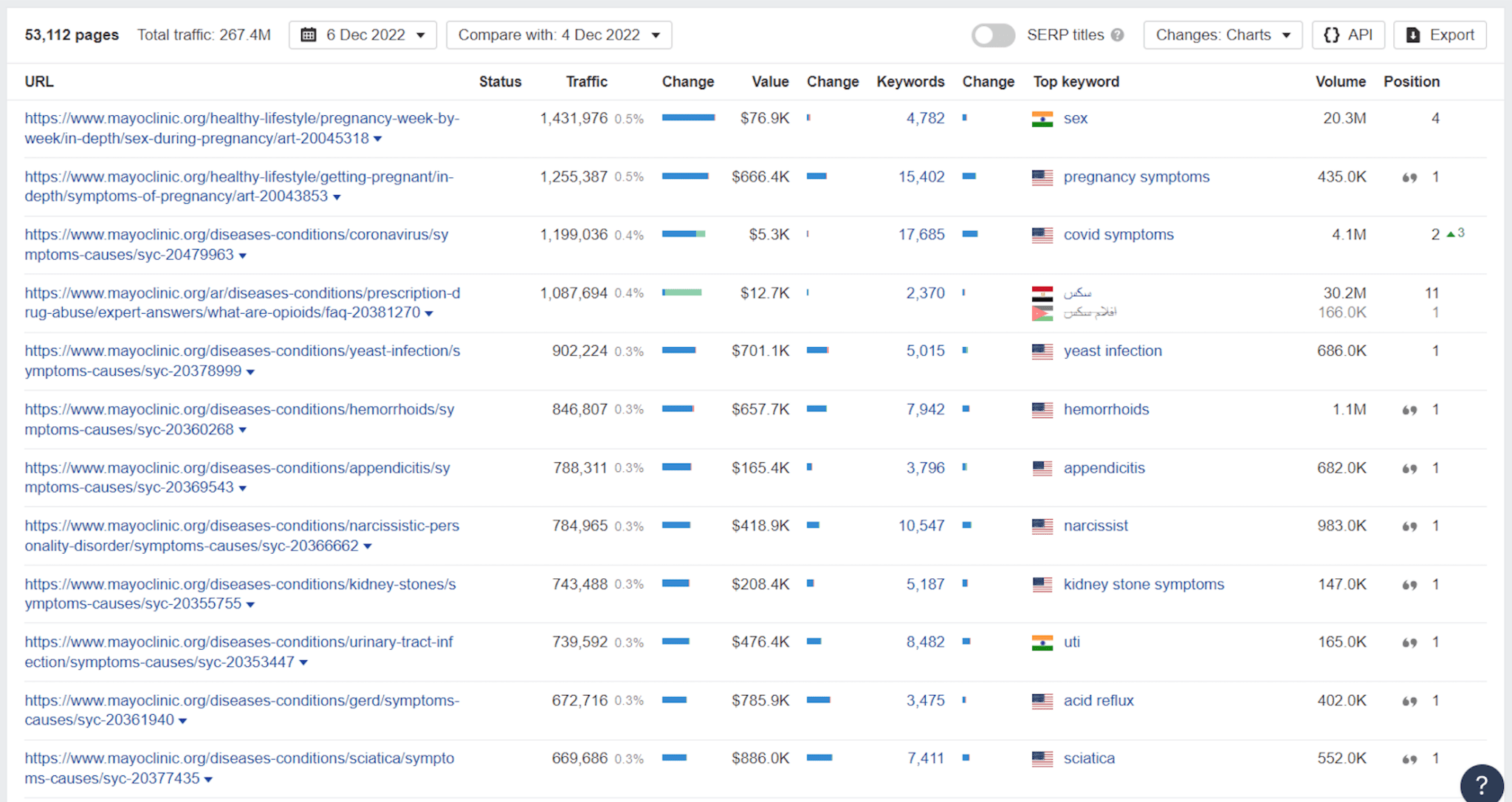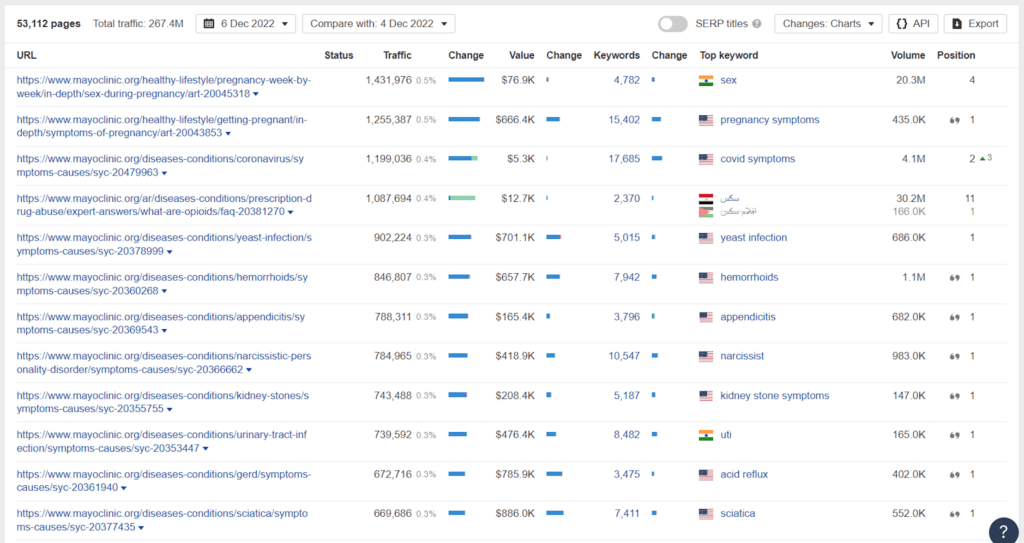 As you can see, there is a wide range of pages consisting of many keyword topics that have generated significant traffic to the website. An SEO expert will analyse the data on your website and your competitors' existing pages. Using this information, they will then optimise your current pages to ensure they rank high in search results and create new pages to collect maximum organic traffic.
These results are from one of the most popular medical health websites on the internet, but that's not to say that websites owned by significantly smaller medical practices cannot also enjoy the extensive benefits of SEO. Take, for instance, the data below for the website www.stjohnswood.nhs.uk:

Despite its relatively small online presence, this London-based medical practice has 3.3 thousand people visiting its website organically each month. It saves almost $5,000 in monthly advertising costs thanks to its SEO efforts.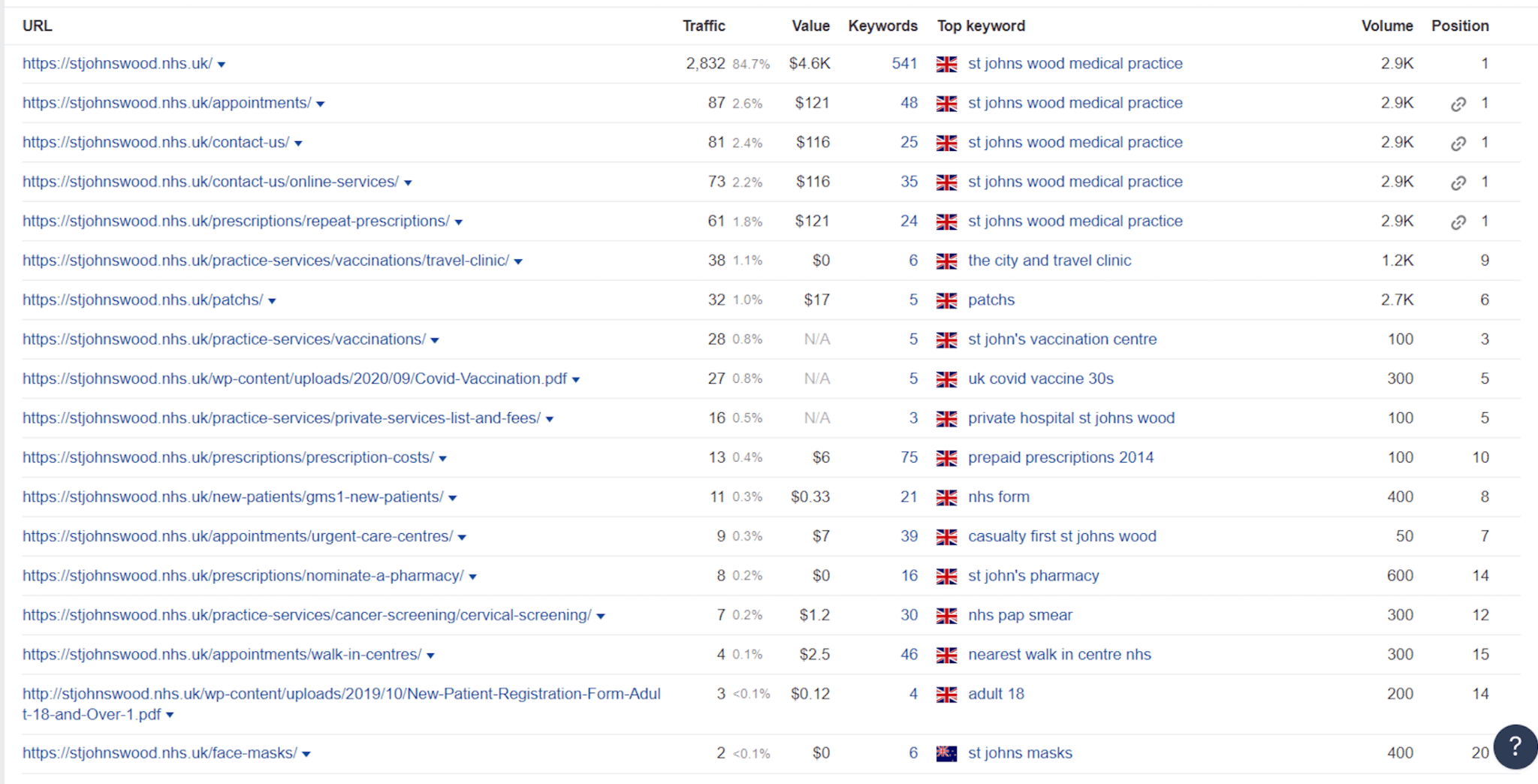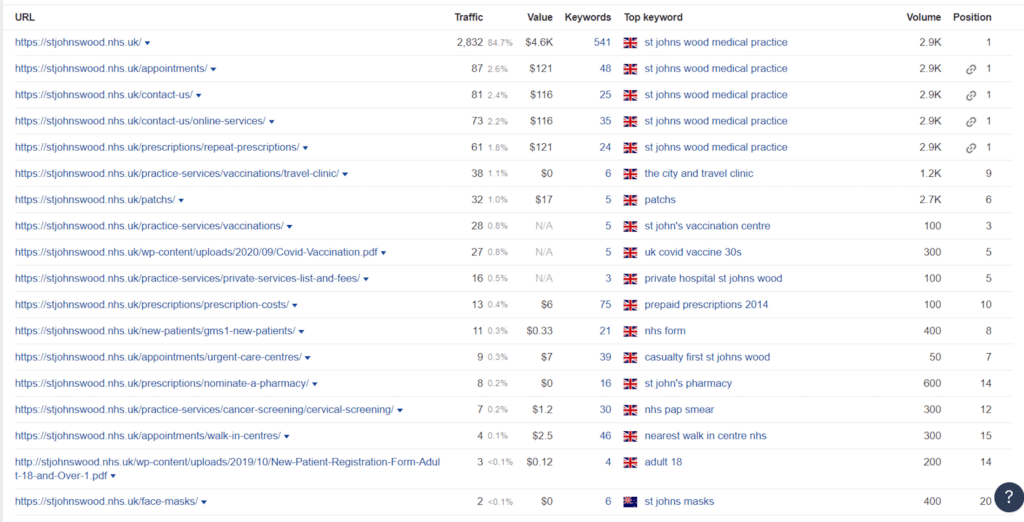 St. Johns Wood Medical Practice generates over $4,600 worth of free Google traffic each month just to the home page, showing that SEO results can still be promising, even for small websites.
Unlike PPC advertising, an SEO agency can boost your website's search rankings on Google, and you retain your high position even after you've stopped paying for their services. Your assigned SEO expert will identify opportunities within your website to capitalise on relevant keywords, optimise existing pages and create new ones, and help you achieve long-lasting results.
Advantages of SEO for Medical Practices
There is huge potential for SEO implementation on a well-designed medical practice site. This is due to the varied medical services you can list, the unlimited blog topics that can be covered, and even the potential health-related products that can be sold on the site. With this in mind, here are some of the key advantages of SEO:
Higher Google Ranking: Most people won't look beyond the first page, which is why appearing high on the SERPs is essential for growing traffic. SEO is one of the best and most cost-effective ways to achieve good positioning.
Increased Local Visibility: SEO can make your practice easier to find for people in your local area. This can be done by using location-based keywords and making sure your contact details are easy to find online.
Cost-Effective Marketing: SEO targets people who are already looking for your services. This makes it a cost-effective way to reach potential patients compared to other types of advertising.
Improved Awareness: SEO can help more people learn about your practice. This can be done by creating useful content that answers common questions or provides helpful information about your services.
Attracting Younger Patients: Most people aged 18 to 50 use the internet to find services. SEO can help make sure your practice is easy to find for this younger demographic.
Local SEO For Medical Practices
Local SEO is crucial for any business offering its services in person. Still, it takes more than simply registering your website on Google My Business or adding your address to Google Maps to maximise your traffic potential. You want to ensure that your website is the first to appear on Google when people in your local area search for health and medical services. Local SEO techniques ensure that Google will prioritise your business when people in your area enter a search term like 'medical practice near me' to generate leads and boost conversion rates.
What Can An SEO Agency Do For Your Medical Practice?
Evidently, SEO marketing is a smart investment for anyone running a medical practice who wants impressive results and high ROIs. However, achieving consistently high rankings in Google amidst increasingly fierce competition isn't an easy feat. This notion rings especially true for businesses within the health and wellness sector as they are subjected to stringent rules and regulations to avoid low-quality and unreliable sources securing a position on the highly-coveted first page of Google.
With that said, as a healthcare organisation, optimal care and patient safety takes priority over any other business goal, including any marketing efforts to acquire new service users. As important as it is for business growth, SEO ought to be the least of your worries. After all, you wouldn't expect an SEO agency to provide healthcare to patients, right? So leave it to the experts at NUOPTIMA to take care of your SEO needs while you focus on what really matters.
With years of experience and proven results from working with various companies within the health and wellness sector, our team of experts knows exactly what to do to get your website featured on the first page of Google.
We invest our time, hard work, and expertise to direct free traffic to your website, generate leads, and ultimately maximise the profit potential for your medical practice. Here are a few of the methods we employ:
Organise the placement of various links on reputable health and medical websites to link back to your website.
Create SEO content that is keyword optimised to make it consistently rank higher on Google.
Analyse and optimise existing pages to comply with Google's rules and best practices.
Create relevant content to inform and educate your website visitors to gain maximum organic traffic.
At NUOPTIMA, our extensive team of qualified experts is on hand to help your website achieve excellent results. Start by booking a free discovery call today and see how SEO can completely transform your website and business.
Services We Offer
Our range of SEO services aims to elevate your medical practice's online presence. Here are some of the core SEO services we offer:
Developing SEO Strategy: We will devise an SEO strategy that meets your practice's requirements, inclusive of keyword research, competitor evaluation, and setting measurable objectives.
Optimising Your Website: We ensure your site is search engine-friendly by using relevant keywords, enhancing site layout, and ensuring seamless performance on all devices.
Curating Content: We assist in producing valuable content optimised for search engines and valuable to your site visitors.
Local SEO Enhancement: We improve your visibility in local searches through website optimisation for local search terms, boosting online reviews, and ensuring your contact details are easily accessible online.
Building Backlinks: We obtain backlinks from trustworthy and relevant websites, which can amplify your site's authority and enhance your search rankings.
Providing SEO Training: We offer training on maintaining your SEO strategy, including choosing and using keywords, developing optimised content, and tracking SEO performance.
Managing SEO Continuously: We understand SEO is a perpetual process, and we're committed to supporting you throughout. We'll monitor your SEO performance, update you with detailed reports, and make necessary technical adjustments.
Our SEO services aim to broaden your patient base, enhance your online visibility, and facilitate your practice's growth.
Enhance Your Medical Practice with SEO
In the competitive landscape of medical services, standing out is key. With the right SEO strategies, your medical practice can rise above the competition, attracting more potential clients and partners. SEO is not just about increasing website traffic; it's about attracting the right kind of traffic – those who are actively interested in what your medical practice has to offer. Don't let your medical practice's potential get lost in the digital noise. Start your SEO journey with NUOPTIMA today and watch your growth accelerate.
Talk to an SEO expert
We work with 100+ businesses. Book a slot now to talk to one of our experts.
Why is SEO important for medical practices?
SEO is important for medical practices because it helps improve their online visibility. With the right SEO strategies, a medical practice's website can rank higher in search engine results, attracting more potential clients and partners. It's a cost-effective way to increase website traffic and generate awareness for your medical practice.
How long does it take to see results from SEO?
SEO is a long-term strategy, and it often takes a few months to start showing results. However, once your website starts ranking higher in search results, it can retain those positions even if you pause your optimization efforts.
What is local SEO and why is it important for medical practices?
Local SEO is a strategy that helps businesses rank higher in local search results. For medical practices, this means appearing in search results when potential clients are looking for services in their local area. It's a powerful way to attract local support and build a strong presence in your community.
What kind of SEO services does NUOPTIMA provide for medical practices?
NUOPTIMA provides a range of SEO services for medical practices, including keyword research, high-quality content creation, link building, and technical SEO. These strategies can improve your website's rankings, increase its relevance and credibility, and attract more support for your medical practice.
How can I get started with NUOPTIMA's SEO services for medical practices?
You can get started with NUOPTIMA's SEO services by booking a slot to talk to one of our SEO experts. We'll discuss your needs and how we can use SEO strategies to improve your medical practice's website rankings.