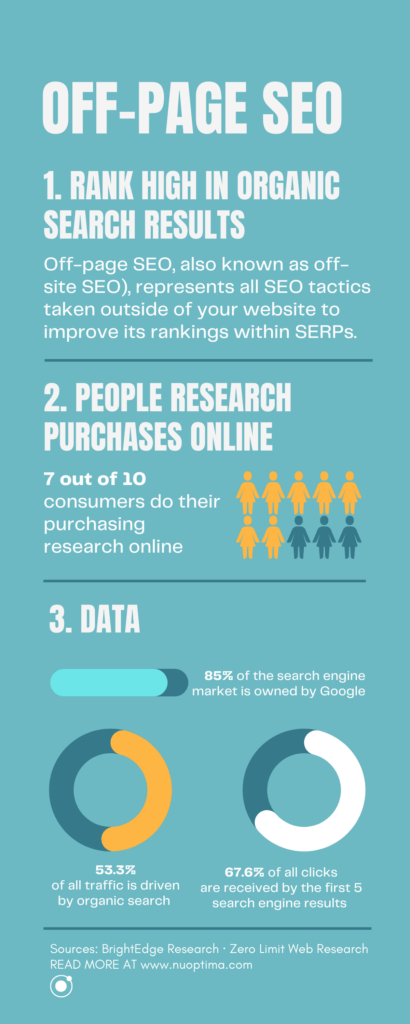 According to BrightEdge research, organic search drives 53.3% of all traffic, remaining the dominant source of trackable web traffic and the largest digital channel. It means that no matter big or small, SEO is something that your business can't afford to ignore if you want to get in front of a new audience. To win in search engine optimisation, you have to play by Google's rules as it currently has over 85% of the search engine market. Google has already received over 1.2 trillion searches worldwide this year, which means people are searching… a lot.
To date, consumers do more than 70% of their purchasing research online before deciding to get into the sales conversation. What does it mean for the website owners? Ranking high in search engines enables your potential customers to find your brand among millions of others and become your clients. SEO increases the chances for companies to grow and develop by increasing the quantity and quality of the traffic to their websites. According to Zero Limit Web research, the first five search engine results account for 67.6% of all the clicks. How to get there and maximally increase your brand's organic traffic? Can SEO provide the desired results on its own? Keep reading to find out how effective SEO tools can be for your business and who needs off-page search engine optimisation.
The Role of Off-Page SEO in Website Growth
Off-page SEO, also known as off-site SEO, represents all SEO tactics taken outside of your website to impact its rankings within SERPs. Along with on-page SEO and technical SEO, off-page SEO represents the main optimisation techniques that help a website rank on Google or other search engines. Off-page search engine optimisation doesn't involve updating or publishing content to the website and includes:
brand building;
content marketing;
link building;
podcasts;
reviews;
social media.
These tactics help search engines and users better understand your website and increase its credibility, authority, and relevance. Why does off-page SEO matter to websites? According to Backlinko, Google's search algorithm uses more than 200 factors to rank websites, and these ranking factors are constantly changing. Because of this, the general consensus within the SEO community is that the relevance, authority, and trustworthiness provided by the off-page SEO tactics play a crucial role in a page's ability to rank. Recent studies have shown that off-page SEO makes up to 75% of a good digital strategy.
Off-page SEO includes activities that don't have to be present on the page, 'telling' Google or other search engines about what the audience thinks about your website. The primary task of this SEO technique is to build your website's authority – otherwise, it may struggle to outrank other websites with higher authority that tend to rank better as search engines consider them more credible, trustworthy, and relevant. Off-page SEO tactics signal that many people trust, reference, and share your website to search engines. Let's look at the most common off-page SEO techniques you can use to boost your website ranking.
Using Off-Page SEO Tactics to Grow Website Authority
Several years ago, many people use the terms 'link building' and 'off-page SEO' interchangeably, but in fact, there are many off-page SEO tactics that work and can increase the organic traffic to your website significantly. Let's look at some of them.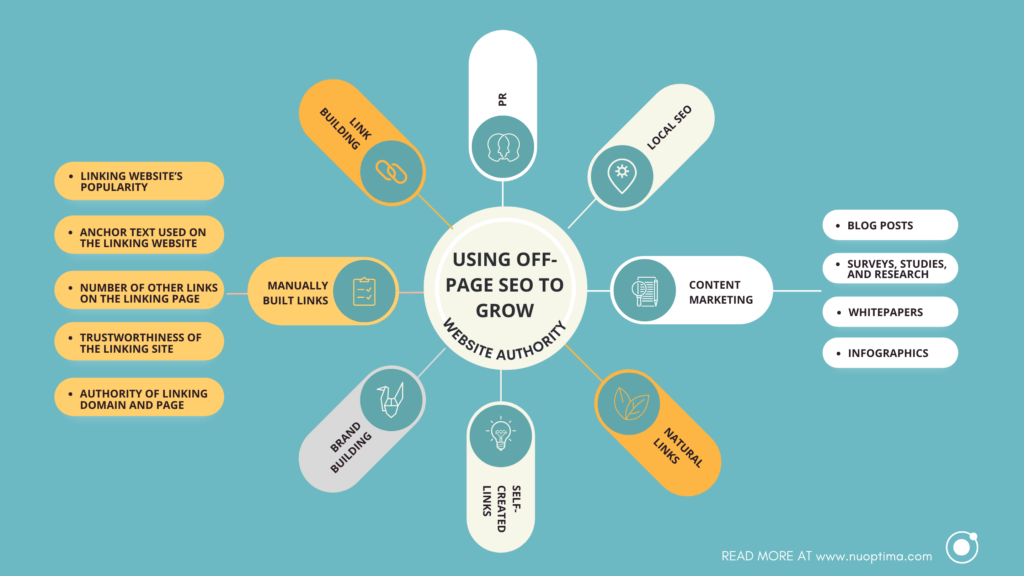 Link building. This tactic is at the heart of off-page SEO. Earning backlinks from high-authority websites remains an integral part of any SEO strategy as it helps position your website as an authority. Search engines use backlinks from other sites as indicators of the website content quality. This results in a website with many backlinks usually ranking better than an equal website but with fewer backlinks. The main goal of link building is to earn quality links from authority websites and a crucial moment to note here is that quality is always more important than quantity. There are three main types of links in this tactic:
Natural links. This type occurs organically and is given without any action from a page owner. Other bloggers or website owners can add a link to your content (images, products, videos, blogs etc.) because they think it may be helpful for their readers and add value to their websites.
Self-created links. These links are created by adding backlinks in forums, blog comments, an online directory, or a press release with optimised anchor text. Self-created links belong to non-editorial links and are frowned upon by search engines.
Manually built links. The links are acquired through deliberate link-building activities like asking influencers to share your content or getting customers to link to your website.
Backlinks that pass the most equity offer the greatest contribution to SEO efforts. Among the signals that positively contribute to the equity passed are:
The linking website's popularity;
The anchor text used on the linking website;
The number of other links on the linking page;
The trustworthiness of the linking site;
Authority of the linking domain and page.
Brand building is another popular tactic in off-page SEO. Google rewards brands and brand-building activities are a crucial part of the broader SEO and marketing strategy and integral to the off-page SEO approach. The strongest indicator that you're building a brand is an increase in brand searches that may include your brand name, services, products or domain name. Brand building activities boost the credibility of your website and make it easier to earn links and mentions naturally across the web.
Content marketing. This tactic covers both on-page and off-page SEO. Publishing content on your website is only a part of content marketing – any content you write on the web falls under the content marketing term. Creating interesting, engaging assets makes it easier to promote your content and encourage others to link to or share it. Marketing tactics that can help boost off-page SEO results include:
Blog posts;
Surveys, studies, and research;
Whitepapers;
Infographics.
Content marketing is closely linked to other off-page SEO tactics like link building, brand reputation, social media, and PR.
PR. Search engine optimisation and PR were seen as two entirely separate marketing branches for a long time, but, in recent years, these disciplines have come together. Digital PR is the new link-building tactic that can be used to promote linkable assets and earn authority backlinks through them. This tactic helps off-page SEO more than just building backlinks – it can also help your business by putting your website at the front of the target audience, driving referral traffic, increasing the brand awareness, helping to build trust signals, and positioning you as the industry leader.
Local SEO. Local SEO is a complete discipline of search engine optimisation, although some of its elements are parts of the off-page SEO tactic – Google My Business (GMB) and citations. GMB is an essential tool for any local business willing to boost its online presence. It was found that almost half of all Google searches (46%) are looking for local information, while 4 in 5 consumers use search engines to find local information. It means that your competitors are at an advantage if your website doesn't show in local GMB results, and you can't ignore its importance in ranking for the local map pack.
A citation is a mention of the business online, typically referencing its NAP (name, address, and phone number). If you're running a local business looking for geographically targeted search terms on the SERPs or map pack, you can't ignore the importance of this off-page SEO tool.
Do You Need a Professional SEO Agency for Off-Page SEO?
Off-page SEO includes many different tactics, and we've reviewed only a part of them. Professional implementation of the off-page SEO of a website involves improving its perception by users and search engines. It happens by getting links from other reputable websites, mentioning your brand, sharing your website's content, and "votes of confidence" from sources outside the website. Off-page SEO is much more than link building and should be done by a skilled SEO team to bring successful results for your business.
According to the 2021 marketing report, 75% of marketers believe their SEO tactics are "extremely effective" or "very effective" in achieving their marketing goals. If you also want your business to rank high on the search engines and get a steady flow of organic traffic, all types of SEO, including off-page optimisation, should be done by a professional SEO agency. Here, at NUOPTIMA, we offer various packages to support your marketing strategy. Off-page SEO technics are an integral part of the entire SEO strategy and are best carried out by experts due to the complex nature of search engines and the growing number of websites trying to rank on Google.
NUOPTIMA is a leading eCommerce growth agency and offers a range of professional SEO services to promote the sustainable growth of your website. Our SEO specialists know how to make your website stand out and can provide different optimisation services from copywriting and backlink building to full-stack SEO support for your business. At NUOPTIMA, we know how to create link profiles that appear natural and help the website grow, as well as we can also utilise effective local and technical SEO strategies and other SEO approaches to improve your website's authority, credibility, and relevance.
Off-page SEO is fundamental for your marketing strategy as it builds your website's authority. A professional SEO agency can effectively utilise off-page SEO tactics to build your brand recognition and improve website ranking. Book a free discovery call with the NUOPTIMA team today and learn how we can help you take the business to the next level.
Talk to an SEO expert
We work with 100+ businesses. Book a slot now to talk to one of our experts.