Key Points:
Compared to conventional text-based advertisements, LinkedIn video ads provide a number of benefits: Amongst others, they offer a more captivating and eye-catching approach for viewers to learn about your business's good or service, which may raise brand recognition and conversion.
Businesses can use LinkedIn's Campaign Manager to track key metrics and adjust their campaigns for the best ROI. The Audience Insights function, specifically, allows businesses to target their audience using demographic data from LinkedIn's user base.
To help businesses get the most out of their campaigns, LinkedIn recommends certain formats, file sizes, and aspect ratios for videos that are being uploaded to the platform.
Best practices for LinkedIn video ads include using a square or horizontal format, creating a focused video message, keeping it professional, and choosing a clear call to action. Furthermore, deciding on effective keywords, targeting the audience as precisely as possible, and optimising the ad budget can also increase the chances of conversions.
With over 875 million users worldwide, LinkedIn offers a unique opportunity to tap into a massive global audience and effectively promote your brand. But where do you begin?
In this blog post, we'll dive into the following areas:
Benefits of video ads on LinkedIn
Best practices for LinkedIn video ads
Techniques to set up a video ad campaign
Ways to track the results
Tricks to optimise your video ad
So, whether you're a small business owner or a marketer at a large corporation, read on to discover the power of video advertising on LinkedIn.
Two Ways For Video Advertising on LinkedIn
You can create LinkedIn video advertising using one of these two methods:
The first approach is to publish Sponsored Content campaigns on your company's or brand's social media profiles. Sponsored content advertisements, like pre-roll advertising, are broadcast directly into LinkedIn newsfeeds rather than being linked to another video. This method works similarly to boosting sponsored Facebook posts to appear on your company's timeline.
The second option is to create a directly sponsored content ad. The goal of these video advertisements is to target a specific audience. Because LinkedIn members reveal a lot of personal information about their professional lives, LinkedIn's analytics may present you with many options.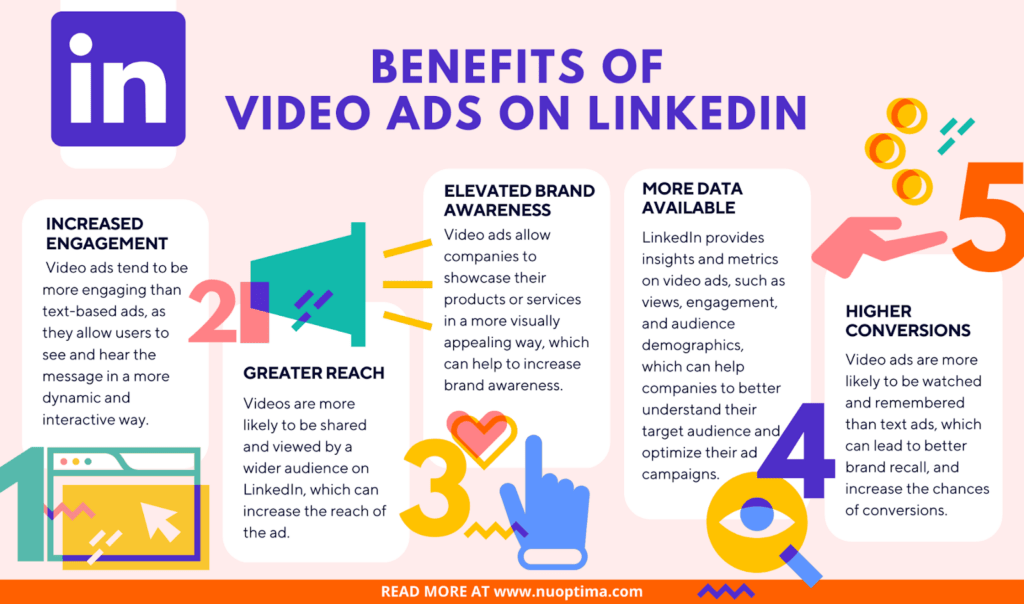 Understanding the Benefits of Video Ads on LinkedIn
LinkedIn video ads provide several advantages over typical text-based advertisements. Here are the five most important benefits:
Increased Engagement: Video ads tend to be more engaging than text-based ads, as they allow users to see and hear the message in a more dynamic and interactive way.
Greater Reach: Videos are more likely to be shared and viewed by a wider audience on LinkedIn, which can increase the reach of the ad.
Elevated Brand Awareness: Video ads allow companies to showcase their products or services in a more visually appealing way, which can help to increase brand awareness and make a stronger impression on potential customers.
More Data is Available: LinkedIn provides insights and metrics on video ads, such as views, engagement, and audience demographics, which can help companies to understand their target audience better and optimise their ad campaigns. Generally speaking, the better the ad fits the tastes and needs of the viewer, the higher the engagement and, thus, the Return On Investment (ROI).
Higher Chances for Conversions. Video ads are more likely to be watched and remembered than text ads, which can lead to better brand recall and increase the chances of conversions.
Tracking the Results of Your Video Ad Campaign with the Campaign Manager
Campaign Manager is LinkedIn's self-service ad management tool that helps you create, launch, and evaluate the performance of your LinkedIn ad campaigns. This is quite essential because once your video ad campaign is up and running, you should keep track of the results to see how well it is doing.
LinkedIn Campaign Manager has various analytics tools that allow businesses to track key metrics like the following:
Cost Per Result (CPR)
Impressions
Clicks
Average Click Through Rate (CTR)
Cost Per Lead
Downloads
Also, regularly checking and analysis of these metrics allow you to adjust your ad campaign to improve its performance.
Leveraging LinkedIn Audience Insights to Improve the Performance of Your Video Ads
In 2022, LinkedIn launched Audience Insights, a new feature as part of its Campaign Manager. Audience Insights provides businesses with powerful analytics tools to optimise their video ad campaigns, help them better understand their audience, and improve targeting.
When running an ad, you can target individuals based on traits like their job title, company name, industry, and seniority, as well as by professional or personal interests. You can even combine criteria to build an ideal persona. Such a campaign could be directed specifically at C-level executives, female leaders, prospective students, or small business owners.
Another great function is Matched Audiences. This feature is very useful if you're looking to retarget advertising to users who have recently visited your website. Matched Audiences allows you to generate different types of content for each target segment based on the interactions of your visitors with the brand.
Last but not least, you can now upload a customised list of contacts via LinkedIn or incorporate contact IDs straight into your Customer Relationship Management (CRM). This might be particularly helpful when running an account-based campaign.
LinkedIn Ad Video Specs: Optimising Your Video Ads for Maximum Reach
To maximise the reach of your video ads, ensure that your ad is the correct size and format for LinkedIn, as this can affect how it is displayed on the platform.
LinkedIn recommends the following video ad specs:
Layout: Horizontal or square
File size: 75 KB to 200 MB
Height (px): 360-1080px
Aspect Ratio: Horizontal: 16:9 (1.77) with a minimum of 640 x 360 pixels, or Square: 1:1 with a minimum of 360 x 360 pixels
Width: 480-1920px
Audio Type: MPEG4 or AAC
File Type: MP4
Length: Up to 3 minutes
5 Steps to Setting Up Your Video Ad Campaign on LinkedIn
After making your video ad, you'll need to set up a campaign to ensure it gets to the right people.
Create a Campaign: Sign in to Campaign Manager and create a campaign and campaign group. You then want to choose your advertising objective and define your audience.
Decide on a Budget, Bid, and Schedule: Depending on the type of product or service you are advertising, think about running your advertisement during specific hours of the day or week when your target audience is more likely to be active. You could also run your ad for a limited amount of time to make people feel like they have to act quickly.
Choose Ad Delivery: Now, decide how you want the ad to be delivered. Some options include InMail, as Sponsored Content campaigns in your company's social media feed or as Directly Sponsored content ads.
Creatives and Call To Action (CTA): Depending on which type of ad delivery you've picked, you want to add creatives and implement your CTA or attach an optional Lead Gen Form. Both CTA and Lead Gen Forms can help you capture good leads straight from your video ads.
Review and Launch: Review your LinkedIn video ad campaign and launch it if it's ready to go.
7 LinkedIn Video Ads Best Practices
To inspire your advertising efforts, we collected seven LinkedIn video ad best practices. Consider the following suggestions to create compelling LinkedIn video ads that connect with your target audience and drive outstanding results: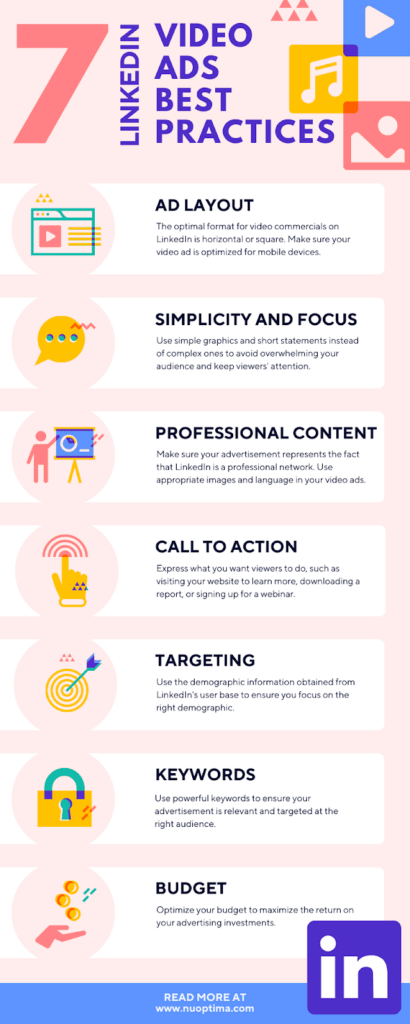 #1 – Ad Layout
The optimal format for video commercials on LinkedIn is horizontal or square. Make sure your video ad is optimised for mobile devices.
#2 – Simplicity And Focus
Use simple graphics and short statements instead of complex ones to avoid overwhelming your audience. Focus on creating an ad that conveys your idea clearly and captivates viewers' attention.
#3 – Professional Content
Make sure your advertisement represents the fact that LinkedIn is a professional network. Use appropriate images and language in your video ads.
#4 – Call to Action
In your CTA, express what you want viewers to do, such as visiting your website to learn more, applying for an open position, downloading a report, or signing up for a webinar.
#5 – Targeting
Use the demographic information obtained from LinkedIn's user base to ensure you focus on the right demographic. Clearly state who you are trying to reach in the advertisement.
#6 – Keywords
Use powerful keywords to ensure your advertisement is relevant and targeted at the right audience.
#7 – Budget
Optimise your budget to maximise the return on your advertising investments.
Great LinkedIn Video Ad Examples
Now that we've dived into what it takes to create a memorable video ad, let's look at three LinkedIn video ad examples and why they did extraordinarily well on the platform.
1 – Deloitte
Deloitte does an excellent job with this recruitment video. They introduce an actual team member and highlight her personal story about how she came to work at Deloitte. That makes the business more relatable and enticing to future applicants.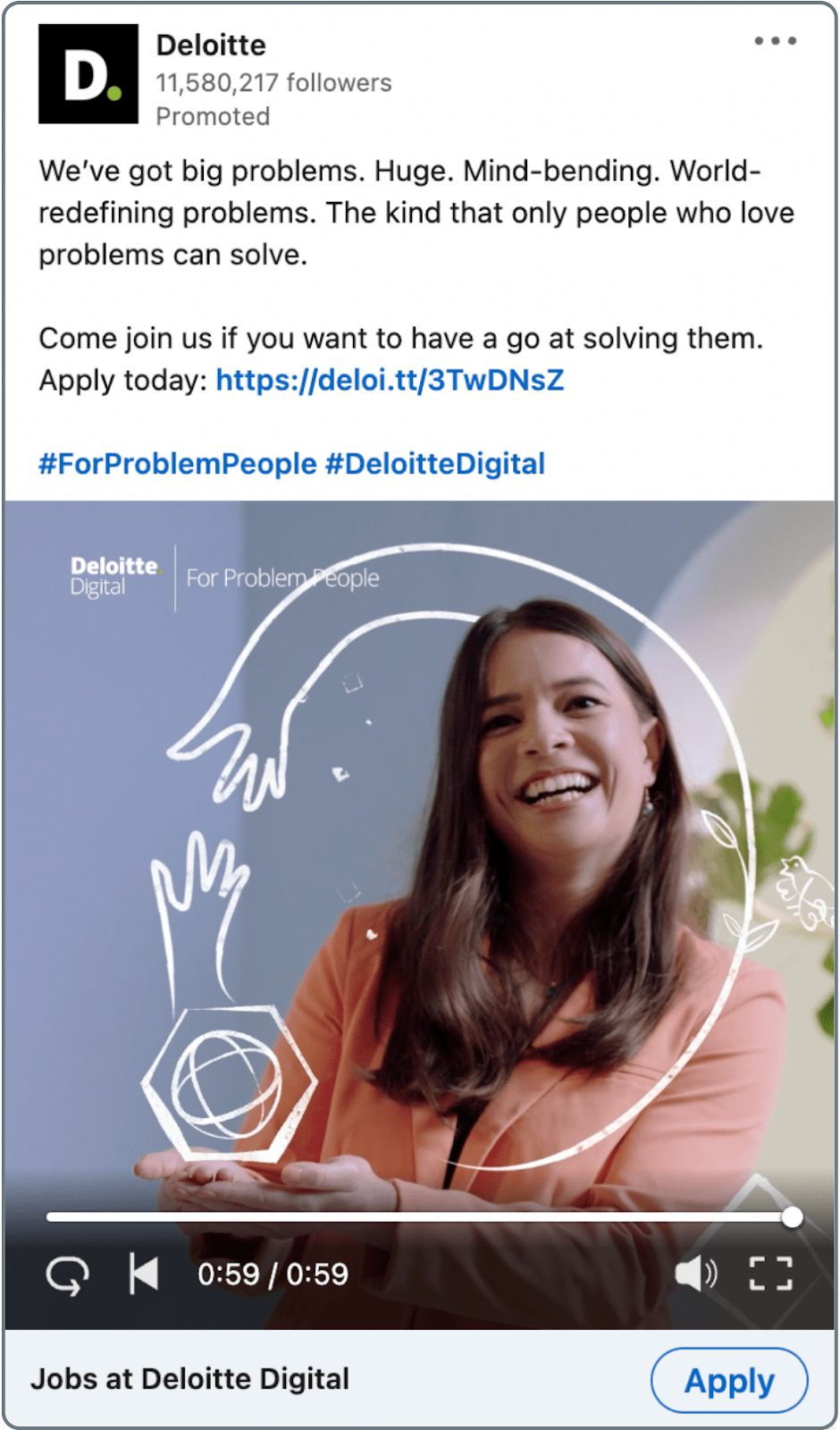 It's evident from the start what kind of applicant profile Deloitte is searching for. To receive the best possible results, Deloitte most likely targeted promising LinkedIn profiles based on industry, seniority, and personal interests. The protagonist's setup and attire make it clear that the video is aimed at professionals. Nonetheless, the background is lively, and the overall tone is friendly rather than formal or jargon-heavy.
Best Practices Used:
#3 Professional Content
#4 Call to Action
#5 Targeting
2 – IKEA
This video ad from IKEA addresses one of the most pressing questions of our time: How can companies be more sustainable?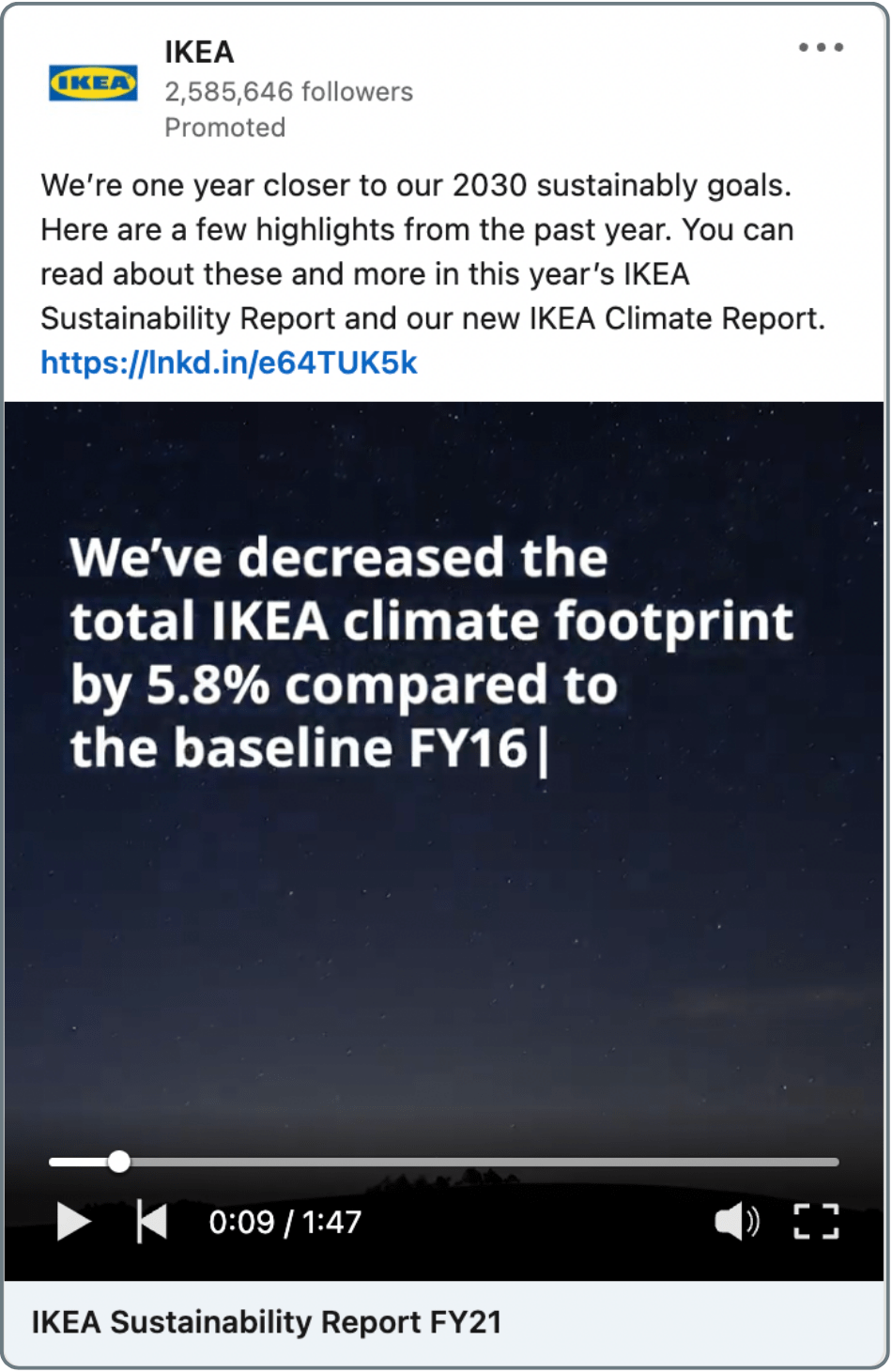 By highlighting the exact steps the company is taking towards their 2030 sustainability goals, IKEA effectively communicates that sustainability is not just a trend or a buzzword, but an essential aspect of their business. The square video format, simple images, short statements, and lots of statistics, make the ad credibly convey its message while also remaining captivating and interesting.
Best Practices Used:
#1 Ad Layout
#2 Simplicity And Focus
#6 Keywords
3 – Airbnb
This ad is an excellent example of how powerfully video can foster empathy and a sense of community. In this series, Airbnb tells the story of New York City hosts whose source of income is being threatened by new legislation.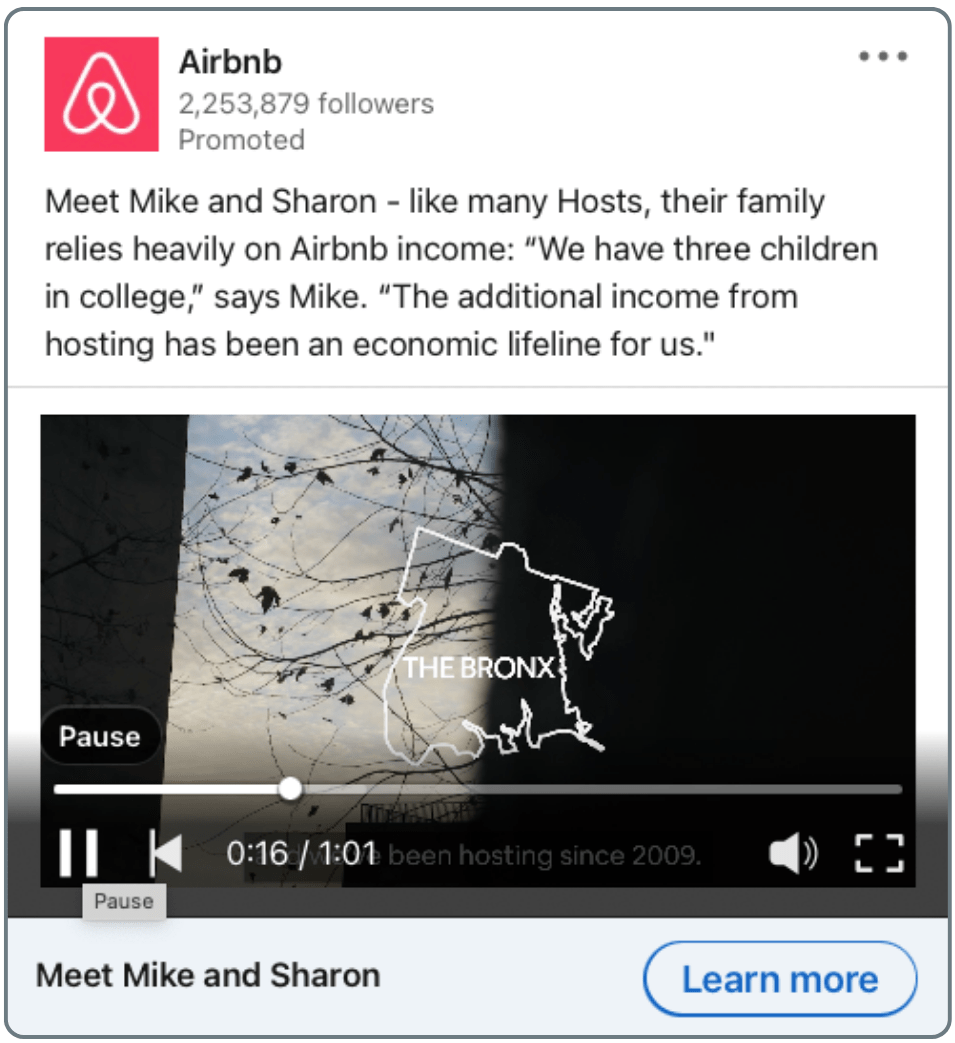 This advertisement skilfully fosters empathy and a sense of community, encouraging the audience to learn more. When following the CTA, viewers are directed to an Airbnb landing page where they can find more personal stories from hosts and how the new bill from the City Council would affect their livelihoods. This not only boosts engagement with the post itself but also boosts Airbnb's website traffic and strengthens its recognition among the community of New York City hosts.
Best Practices Used:
#1 Ad Format
#4 Call to Action
#5 Targeting
Could Use Some Help?
Congratulations! With this article, you've just taken the first step to success. As we found out that video ads on LinkedIn can give a real boost when you're looking to increase brand awareness, drive website traffic, and generate leads. At the same time, managing your advertisements might be a tedious process.
So, why not hire an experienced agency to take the work off your hands? At NUOPTIMA, we're experts in creating and growing next-generation brands and marketplaces. Whether it's SEO, performance marketing, branding, or web development, our team has the skills to help you achieve your business goals. Reach out to us today to schedule a consultation and start your journey towards growth and success.
---
FAQ
How long can video ads be on LinkedIn?
LinkedIn video ads can be up to 3 minutes long.
Which video aspect ratios are supported on LinkedIn ads?
LinkedIn supports the following video aspect ratios for ads: Horizontal/landscape (16:9) with a minimum of 640 x 360 pixels, and square (1:1) with a minimum of 360 x 360 pixels. LinkedIn also supports vertical aspect ratios. However, for the best video ad performance, square and horizontal are the better options.
What are the benefits of video ads on LinkedIn?
LinkedIn video ads offer several advantages over traditional text-based ads. They provide viewers with a more engaging and visually appealing way to learn about your product or service, and can help to increase brand awareness, brand recognition, and loyalty. They also allow businesses to target their audience more effectively.
How do I set up a video ad campaign on LinkedIn?
To set up a video ad campaign on LinkedIn, sign in to Campaign Manager and create a campaign and campaign group. Choose your advertising objective and define your audience. Create a budget, bid, and schedule. Decide how you want the ad delivered, add creatives, and implement your CTA or attach an optional Lead Gen Form. Finally, review and launch your LinkedIn video ad campaign.
How can I improve the performance of my video ads on LinkedIn?
You can improve the performance of your video ads on LinkedIn by using LinkedIn Campaign Manager. This feature provides businesses with powerful analytics tools that can help them better understand their target audience and optimise their video ad campaigns.
References
https://www.linkedin.com/help/lms/answer/a425108
https://business.linkedin.com/marketing-solutions/native-advertising/video-ads
https://www.theb2bhouse.com/linkedin-video-ads/
https://www.lemonlight.com/blog/video-advertising-on-linkedin-how-to-and-best-practices/