As an accountant, you deliver a great experience to business owners struggling to organise their finances. However, providing these services is only half the battle. You also have to run a website, manage your own finances, and market those services. Unfortunately, with so much competition and everything going online, finding and securing new clients can take a lot of work.
The truth is, it's time to innovate.
Your prospects are online more than ever before, using search engines (aka Google) to find what they need. The internet is where people learn more about services like yours; however, if they can't find any information about you online, they may never try your services.
The question is, how do you market yourself online? Accounting SEO (Search Engine Optimisation) is one of the best ways to find new clients and grow your business. SEO is the process of improving the visibility of a website or webpage in search engines.
The key to SEO is establishing trust with potential customers while building credibility and authority with search engines.
Accountants can attract new clients by getting an SEO-friendly website that drives traffic back to their office. The right SEO strategy for accountants can not only help you reach thousands of potential customers but also save you money along the way.
Book a call
Start your growth journey today.
Paid Search vs. SEO for Accountants
Getting leads for accountants comes down to marketing your website to potential clients. You can grow organically through SEO or pay for ads, such as Pay-Per-Click (PPC) or social media ads. At first glance, PPC is an attractive option as it starts generating traffic to your website immediately. However, the moment you stop paying for ads, the traffic stops, too.
In comparison, while it takes longer to see SEO results, these optimisations build a strong foundation for your website to grow over time. So, even if you stop SEO efforts, you'll continue to benefit from the work you put in.
You could look at it this way; PPC is better for momentary growth, thanks to its instantaneous results. In contrast, SEO is a longevity strategy that sets you up for long-term, sustainable growth.
If you're dedicated to building an online presence that allows you to focus on serving your existing clients while still attracting new leads, SEO is the way forward.
Why is SEO for Accountants Important?
When your ideal client searches for accountancy services on Google, they'll see a few types of results, including ads and organic results, as shown in the below screenshots. Typically, people trust the sites they find in organic searches more than paid search results.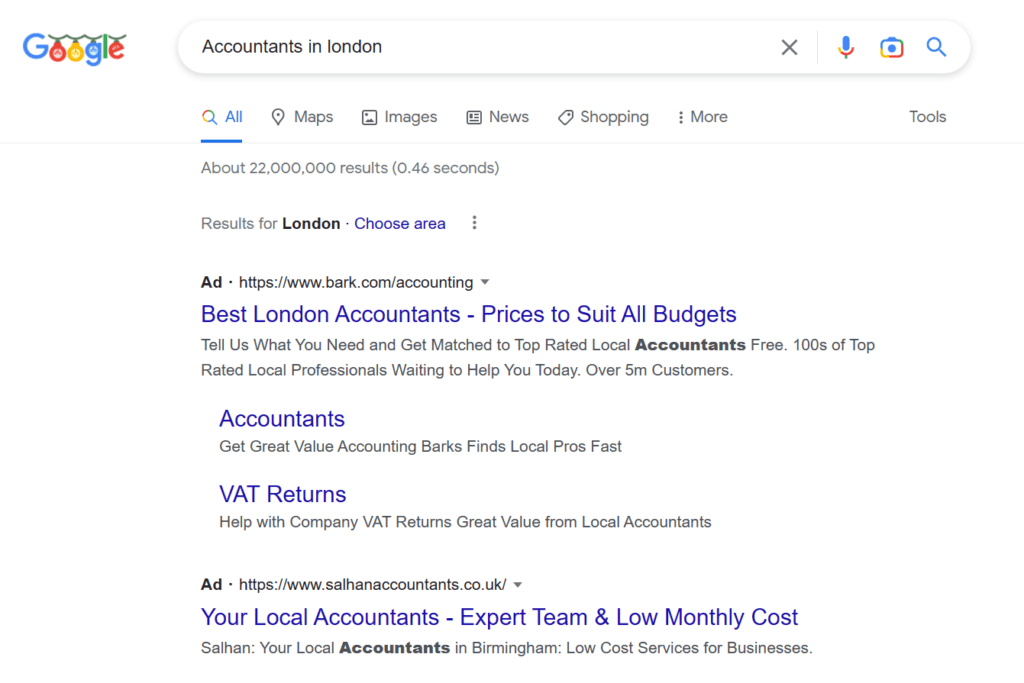 Your goal is to get in front of your ideal buyer by winning those top spots in organic searches. Since Google's job is to show the best results possible, search engine optimisation is how you make Google believe your site is worthy of position one.
To do this, the search engine needs to understand that your content is relevant, high quality, and accurate. So, when Google bots crawl your pages, they will be evaluating them according to thousands of metrics.
SEO is how you show Google your pages are better than any other accounting website's in the search engine results page (SERP). When this happens, you'll get more visibility online and increase the number of people clicking on your website. This is why SEO for accountants is so important; it gives you access to potential customers and positions your website at the top of the SERP.
The question remains, is it worth investing in SEO for accountants? Are there really enough people searching for your services? Can accountants use SEO to attract new customers? Yes! We're going to show you what's possible when you invest in accountancy SEO.
Search Demand for Accountants on Google

Using the SEO software Ahrefs, we can see the keyword 'Accountants' has a global search volume of 49,000 monthly searches. This figure tells us that an average of 49,000 people search for 'accountants' every month. This data also reveals where these searches originate. For example, there's a monthly average of 13,000 searches from Australia and 6,000 from the United States, telling us thousands of people are searching for accountants in your country every month. Investing in SEO gives you access to this pool of potential customers.
Unfortunately, some big players are in the game, making it very challenging to get on the first SERP for the main keyword, 'accountants.' That doesn't mean SEO won't work for you, though. You just need to be strategic about which keywords work best for your company.

Above is a screenshot showing keywords within the accountancy niche. This snippet of data indicates what opportunities there are to rank on Google. For example, within your strategy, you might use local SEO to target terms such as 'accountants near me,' which has 34,000 monthly searches.
There are many keywords to choose from and different ways to access your audience. An SEO expert might use this data to identify the best keywords for accountants, depending on search volume, search intent, location, and more.
Potential Clients Use Many Terms to Find Accountants
From our experience, the best way to show Google that your website deserves the top position on the result page is to prove that you are serving the customer. You need to demonstrate topical authority and provide genuine value to the reader. To do this, you cannot simply target one keyword.
People use many accounting keywords and phrases to learn about the industry and find services. You should target the correct terms for your business. For example, targeting low-volume keywords will be easier if you have a relatively new site.
Instead of competing with industry giants for attractive keywords like 'accountants,' you can target long-tail keywords, which tend to be more specific. Here are some accountancy keywords that your clients are searching for:
Accountants in [city]
Accountants for [type of company or industry], e.g., accountants for freelancers
Types of accountants, e.g., personal tax accountant
Questions about the industry and accounting terms
Although many of these might have lower search volumes, they often have a higher buying intent, meaning you can target specific customers at different parts of their buying journey.
For instance, you might create educational content for top-funnel customers learning about accountancy. Alternatively, you could create landing pages to target bottom-funnel searches. These people have already done their research; they know they want an accountant and are ready to purchase – these searches have a high commercial value. Despite having a lower search volume, search intent is high. It'll be easier to rank on page one in these searches and to convert people into paying customers.
An SEO expert can help you position your pages in the right searches to achieve the desired outcome, whether that's boosting brand awareness, increasing leads, or making sales.
Other Accountants Are Already Getting Results From SEO
SEO has helped many businesses take their brand to the next level. In fact, accountants all over the world are using SEO to promote their financial services.

In this example, you can see website data for Crunch, an online accounting software and service provider dominating the industry. The screenshot reveals that Crunch attracts 88.600 people through organic traffic every month. This means 88,600 people have searched for accounting software or services, discovered Crunch in the organic search results, and clicked through to their website. That's not all, though. The above data also highlights the huge savings Crunch is making through their SEO efforts – we can see this through its traffic value.
Traffic value refers to the amount the website owner would need to spend on contextual advertising to attract the same volume of traffic they get from organic searches.
Since Crunch is getting 88,60k in organic traffic, it would cost them $197,000 per month to achieve the same traffic in paid ads. In other words, by investing in accounting SEO, Crunch saves $197,000 every month.

Moreover, we can also see which pages generate the most traffic for this brand. The above image shows they have impeccable brand awareness, with their homepage ranking in position 1 for their brand name.
Looking at the top-ranking pages, we can deduce that this brand has taken an educational approach to its content. For example, they are in the third position for the term 'setting up new company,' which has a traffic value of $17,600 per month and generates over 3,000 monthly visitors.
Crunch is an excellent example of how much expenditure SEO can save over time. However, they are an aggregator in this space, making it easier to see bigger savings. Below we analyse a smaller website to see if SEO still has a significant impact.

Here we have alexander.co.uk, which generates 6,500 monthly visitors from organic searches. These figures are a mile away from Crunch, but if we look at the traffic value, the savings are still significant. By investing in SEO, the website owner gets 6,500 in free traffic while saving an average of $13,000 per month.
Looking at their top-ranking pages, we can see where they attract this traffic. For example, they rank in the top spot when people search for 'VAT on commercial property,' a page to educate their ideal client. Additionally, they target specific customers looking for their services, such as 'accounts for dentists,' 'personal tax accountant,' and 'family investment company.'
The above example is just a small insight into how smaller accountant firms and individuals can use SEO to save thousands per month.
What Does an SEO Company Do?
The web is a tough place for an accountant. There are hundreds of competitors for every keyword, and getting your site to appear in the search results can take time and effort. On top of that, you have a business to run and accounting services to provide.
Tackling SEO on your own is an impossible task. That's why many business owners outsource SEO work to relieve the pressure and guarantee results. Instead of learning the ins and outs of the SEO industry, financing software, and trying to implement the work consistently, consider investing in an SEO company to do the hard work for you.
Here are just some of the things an SEO agency does:
Data analysis to identify appropriate accounting keywords and form clusters
Forming an SEO strategy that suits your business
Content creation and publication
Running a technical audit and implementing tech fixes
Backlink creation and organisation
Working with an SEO agency for accountants gives you access to numerous experts across marketing, technical, and content teams. They'll take the stress out of growing your business and ensure your website adheres to Google's strict rules, particularly in an industry like accounting. Google is known to implement harsher practices on some websites, such as health, law, and finance categories. However, here at NUOPTIMA, our expert team knows how to create content that pleases the reader and Google, so you'll rank on page one in no time.
As the cost of paid ads increases, SEO remains the more affordable option, helping you achieve high ROIs year after year. With an SEO company, you don't have to worry about wasting money on an ineffective SEO strategy. Instead, we use proven methods to stay ahead of competitors and position you as an industry expert.