As an immigration attorney, your days are filled with the challenges of assisting companies and individuals with nationality or immigration issues. An added pressure is, of course, to ensure you have a steady stream of clients choosing to use your services so that your firm is successful. With the internet being used increasingly to locate services, including immigration attorneys, there is no better time to create a website for your company and entice new clients online.

There are numerous options that can help you attract visitors to your website. Two popular choices are social media marketing (SMM) and pay-per-click (PPC) ads. Businesses find these methods appealing because they bring fast results and will quickly draw fresh clients to a site. However, both SMM and PPC are expensive, and the results do not have a long-lasting effect. The moment you stop investing in these services, your traffic will undoubtedly drop.
Another option to consider is SEO or search engine optimisation. This method does take several months to start bringing results. Still, unlike the previous two options, the effects will remain, and you can continue getting free traffic indefinitely, even when you choose to stop using this service. Furthermore, your organic positions within search results will improve if you adopt a strong SEO strategy. Visitors are more likely to click on your website if they see it appear organically instead of as a paid advert. Therefore, SEO is generally seen by experts as the best option.
In this article, we will show how immigration attorneys can successfully use SEO to gain more clients for their businesses.
Search Demand for Immigration Lawyers on Google

In the screenshot above, we can see Google search statistics for the phrase 'immigration lawyer'. Worldwide, this phrase is searched for approximately 90 thousand times a month. And if we look at the countries generating most of this search volume, we can see that 64 thousand of these searches were in the United States, 7.9 thousand in Canada, and 3.5 thousand in the United Kingdom. With so many people searching for immigration attorneys across the globe, it is clear that you have to incorporate a strong SEO strategy into your business so you can potentially attract thousands of visitors to your website monthly.
Hiring an SEO agency for your immigration attorney website will put you in a great position to attract many of these searchers and receive a strong return on investment (ROI) in the long term. This is especially important now, at a time when SMM and PPC advertising methods are constantly increasing in price and popularity, which causes competition to skyrocket.
Searchers Use Numerous Terms to Find Immigration Attorneys
It is imperative to be aware that 'immigration attorney' and 'immigration lawyer' are only two of the many search terms a person might use to find immigration attorney services. Keyword research is a primary component of any good SEO strategy. It involves analysing search terms, deciding which pages should be created on the site, and attracting the most possible traffic by optimising these pages for keyword usage.
To demonstrate further, below we offer an array of search terms that a person might use when trying to find immigration attorneys:
'Immigration attorney near me'
'Immigration attorney in' + location. For example, 'immigration attorney in London'.
'Immigration attorney for' + specific service. For example, 'immigration attorney for seeking asylum'.
'Immigration attorney for' + type of visa. For example, 'immigration attorney for Skilled Worker visa'.
In the next screenshots, we illustrate the average monthly search volume for numerous immigration attorney-related keywords. There are hundreds of thousands of searches for these terms every single month. This displays that you can entice thousands of visitors a month by adopting an SEO strategy and appearing on Google for these search terms.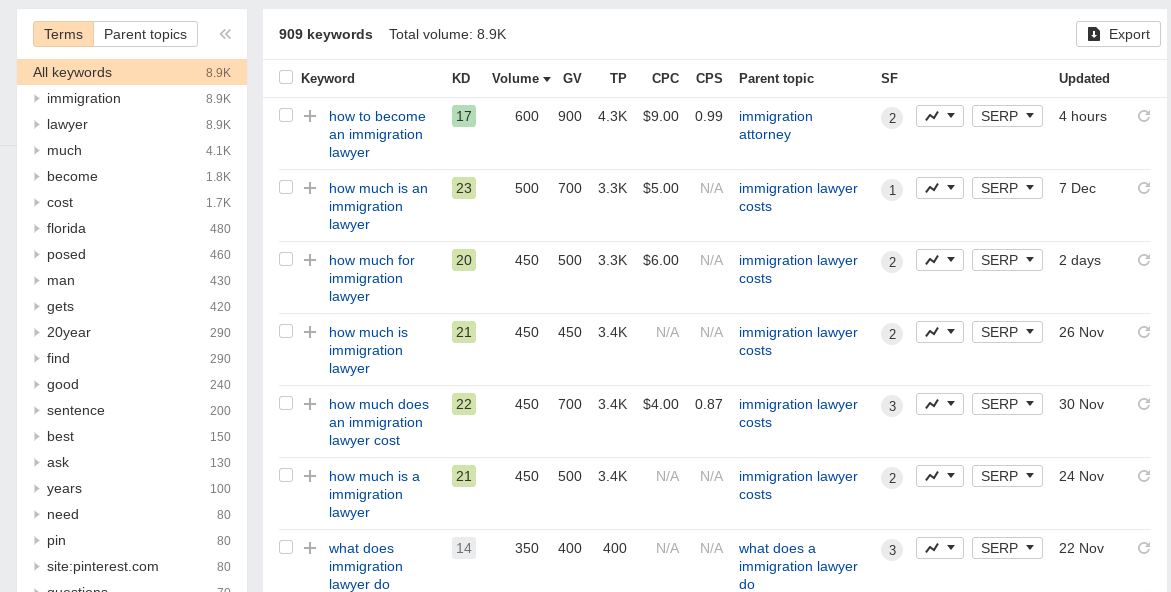 Other Immigration Lawyers are Already Enjoying the Effects of SEO
SEO can be extremely beneficial to a business, helping to improve organic positioning in search engine results pages (SERPs) and eradicating the need to pay high prices on advertising each month. To further illustrate that SEO can hugely benefit immigration attorneys, below we have a couple of examples of immigration lawyers that are witnessing success from their SEO efforts.

The screenshot above displays data for www.iasservices.org.uk, a UK immigration lawyer company with 20 offices distributed across the UK. Their website has over 220 thousand average visitors per month. This figure represents people who click on the site after seeing it appear in Google's SERPs. Furthermore, the site's approximate monthly traffic value is over $270 thousand. This amount illustrates how much the owner of the site would have to spend monthly to gain the same amount of traffic (gained organically) from contextual advertising options (such as PPC). Ultimately, this means that the owner of this website is currently saving $273 thousand per month because of the site's strong positioning in Google's SERPs. Incredible, right?
The following image shows the pages responsible for bringing the majority of traffic to the site.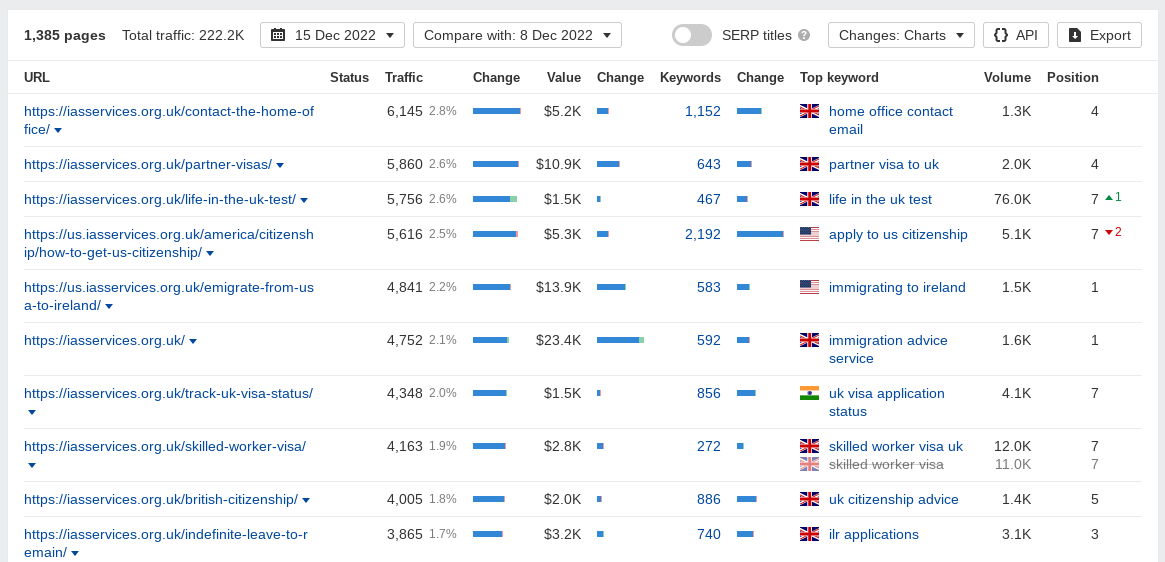 As you can see, there are a lot of different pages that bring in thousands of people every month.
When working with a website, an SEO professional will examine existing pages on your website, evaluate the pages on competitor sites, optimise current pages to attract more visitors, and build new pages to gain the most amount of organic traffic possible. This is just one vital process in any comprehensive SEO strategy.
How does the data stack up when we look at another, smaller immigration attorney business? As you will see, a more humble business can still benefit hugely from SEO.

This next example shows that a smaller immigration law firm can also experience great results from SEO. Reiss Edwards is a London-based immigration lawyer with one office. Their website attracts 63 thousand organic visitors each month and has an approximate traffic value of just over $45 thousand. This website ranks very well on Google for the term 'immigration attorney' among others and is witnessing outstanding traffic as a result. This website receives $45 thousand of free traffic from Google, so this money can be conserved rather than invested into advertising options.
As mentioned earlier, PPC strategies only work for as long as you pay for them. But, with SEO, the strong positions you gain will be kept even if you decide to cease using SEO services. By improving your rankings through an SEO expert, money can be conserved and traffic maintained without the need for such advertising systems.
Let's now examine the pages bringing the most people to the Reiss Edwards website: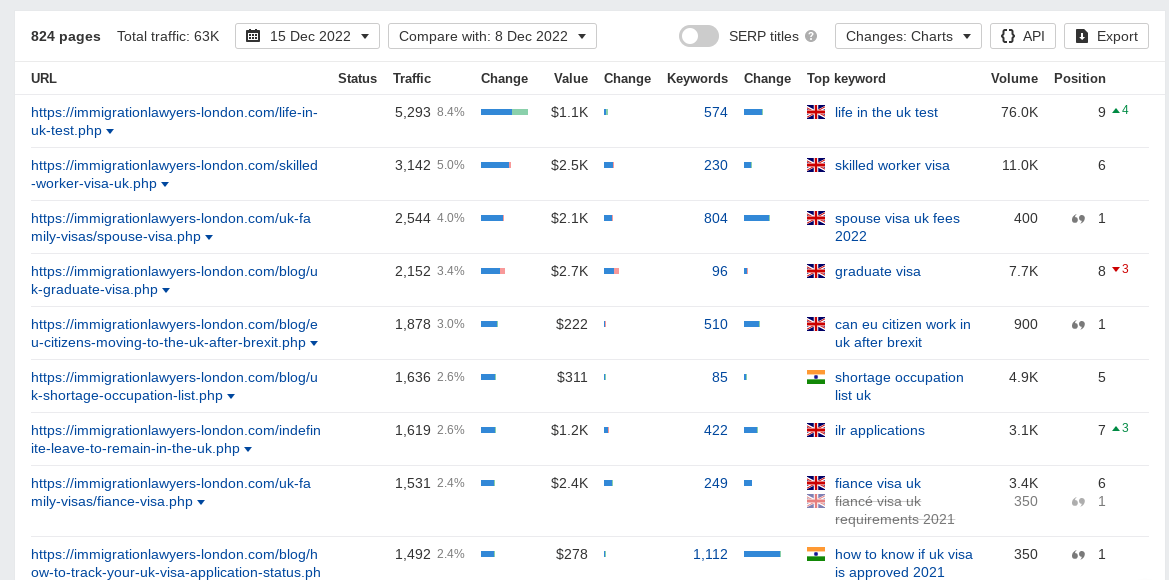 We can see that keywords bringing the most traffic to these webpages include 'life in the UK test', 'skilled worker visa', and 'spouse visa UK fees 2022'. This further displays that many keywords can be used on your website to garner free organic traffic. A professional SEO expert can build, optimise, and promote webpages to bring increased business to your immigration attorney company.
Local SEO For Immigration Lawyers
Local SEO processes involve making sure that a particular site is shown to people looking locally for a certain service. To explain, if you enter 'immigration attorney near me' into SERPs, websites will appear that are run by immigration attorneys within the local area. Local SEO is a must-have for any company offering in-person services, including immigration lawyers. However, bear in mind that creating a Google Business Profile or adding your location on Google Maps is simply not enough to deliver you great traffic. Extensive SEO of your immigration attorney website is the only way that real results will manifest, and it will help your website gain a higher and stronger foothold in search engine rankings.
What Does an SEO Agency Do For My Website?
SEO for immigration lawyers is an excellent option and can produce outstanding results. However, getting these results for websites involves much due diligence, knowledge, and expertise. This includes websites that offer services, such as immigration lawyers. Google has high standards to stop poor-quality sites from appearing in the top positions of its search results, and so much hard work has to be undertaken to ensure these standards are met. SEO is virtually impossible to do alone, as deep knowledge is required and the workload is heavy, so an SEO agency with an extensive, knowledgeable team is recommended.
NUOPTIMA is an expert SEO agency assisting companies in many industry sectors for years. Our professionals have in-depth knowledge and widespread experience in undertaking search engine optimisation for countless clients. We understand precisely what actions need to be taken to get your website onto page one of Google. To demonstrate, here are a few tasks that we can complete to improve the rankings of your immigration attorney website:
Build content that is SEO-optimised so your site can rank on Google for more keywords.
Optimise pages that already exist to ensure they abide by Google's best practices and rules.
Put link placements on reputable immigration attorney directories and aggregator websites.
Build all the pages needed to get your website successfully, drawing outstanding organic traffic.
Comprehensive search engine optimisation can bring incredible results when performed thoroughly and efficiently by professionals. NUOPTIMA has a large SEO team filled to the brim with know-how and expertise to help your immigration attorney firm enjoy great results. Book a free Growth Strategy call with our professional team to learn how we can use SEO to get amazing results for your website and, more importantly, your immigration lawyer practice.
Talk to an SEO expert
We work with 100+ businesses. Book a slot now to talk to one of our experts.