If you run a landscaping business, you will know that it does not only involve elevating outdoor spaces. While this is, of course, an integral part of the company, you will also face numerous business challenges relating to running a successful landscaping company on a day-to-day basis. One of these challenges is finding new customers. Years ago, many landscape designers would enjoy a regular stream of fresh customers through word of mouth. But, in today's technology-obsessed society, more and more potential clients are turning to the internet to find landscaping services. As a result, many landscapers are beginning to create websites for their businesses to help find new customers online.
There are various ways that a business owner — such as a landscaper — can draw people to their online website. Common methods include pay-per-click ads (PPC), social media marketing, and search engine optimisation (SEO). These methods differ in their pros and cons. For example, PPC and social media marketing will give you results immediately because as soon as you begin the ad campaign, you will start getting visitors to your website.
However, these options are expensive and do not offer long-term benefits or results. New website visitors will only keep coming to your website for as long as you continue paying for adverts. On the other hand, search engine optimisation methods usually take several months to start showing results. But, if you invest in SEO services, your website's positions within search results will improve, bringing more organic traffic to the site. And your site will maintain these positions even if you choose to cease SEO services in the future. Essentially, this means you can continue getting free traffic indefinitely.
Considering the long-term, investing in SEO services is a far better option than paying sizable sums of money for PPC or social media adverts year after year. Moreover, potential clients will trust you more if they find your website organically through search results instead of seeing an advert for your landscaping services.
But, the critical question is, can landscapers genuinely attract fresh customers to their websites and businesses by utilising SEO? The answer is a resounding yes! Below, we will show you just how successful your business can be if you decide to employ an effective SEO strategy.
Search Demand for Landscapers on Google


The above screenshot shows Google search data on the term 'landscaping'. As we can see, people globally search for the word landscaping 185 thousand times a month on average. Roughly 83 thousand of these searches occur in the United States, 15 thousand in India, 10 thousand in Canada, and 6.6 thousand in the United Kingdom. This shows there is a significant number of people searching for landscaping services in your country daily. Therefore, effective SEO can assist you in attracting tens of thousands of visitors to your website each month. If you decide to hire an SEO company to promote your landscape design website in search results, you will be in good stead to get a high return on investment (ROIs) for years to come in the future, especially as PPC and social media adverts are becoming more costly and competitive.
People Use Lots of Search Terms to Find Landscapers
It is important to be conscious that 'landscaper' and 'landscape designer' are only a couple of possible keywords, and there are numerous other terms people might use when searching for help with landscaping. One vital part of SEO is keyword research, where experts examine search queries and determine which pages need to be created on the website and optimise for keyword usage to attract maximum traffic. Here is just a small number of examples of search queries that people enter on Google when they require landscaping services:
'Landscaper near me'
'Landscaper in…' + location. For instance, 'landscaper in North London'.
'Landscaper for…' + a particular issue. For example, 'landscaper for repairing a patio'.
Landscaping services such as erecting a garden fence or having artificial grass installed.
The screenshots below demonstrate the average monthly search volume for various landscaper-related keywords. As you can see, there are millions of people searching for these keywords each month, meaning that a good SEO-optimised landscaping website can attract thousands of free visitors every month purely by showing up for these keywords on Google.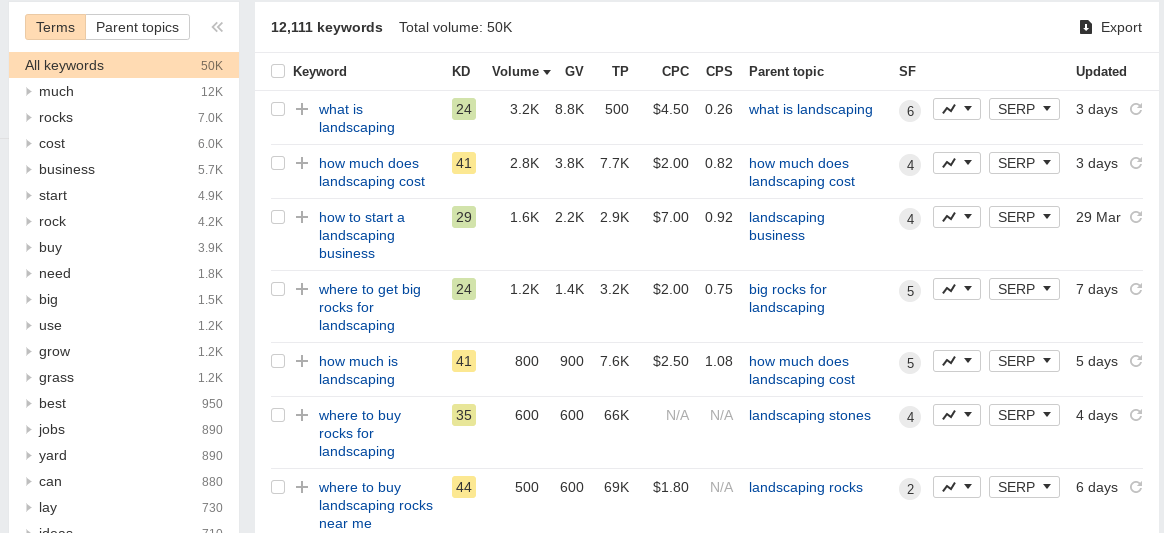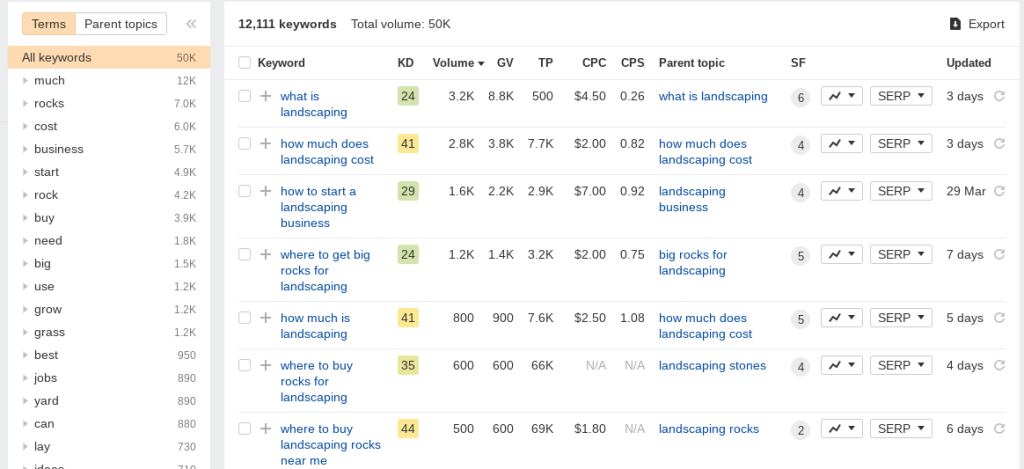 Other Landscapers are Already Getting Results from SEO
Effective search engine optimisation can bring fantastic results, helping websites appear higher in search results and potentially saving website owners thousands of dollars on advertising every month. But don't just take our word for it! Below, we take a look at several examples of landscaper websites that are enjoying a great return from their SEO efforts.


Our first example is www.best4hedging.co.uk, a landscaping company website that specialises in hedging services across the UK. The website has 98.1 thousand average monthly visitors. These are people who visit the website after seeing it pop up in Google search results.
At the same time, the website's average monthly traffic value is roughly $76,000. This amount shows how much money the website owner would need to spend every month to purchase an identical amount of traffic they get organically from contextual advertising systems such as PPC adverts. Therefore, this means that the owner of the website can save over $75,000 per month because their website enjoys outstanding positions in Google's search results.
The screenshot below shows which pages bring the most traffic to this website.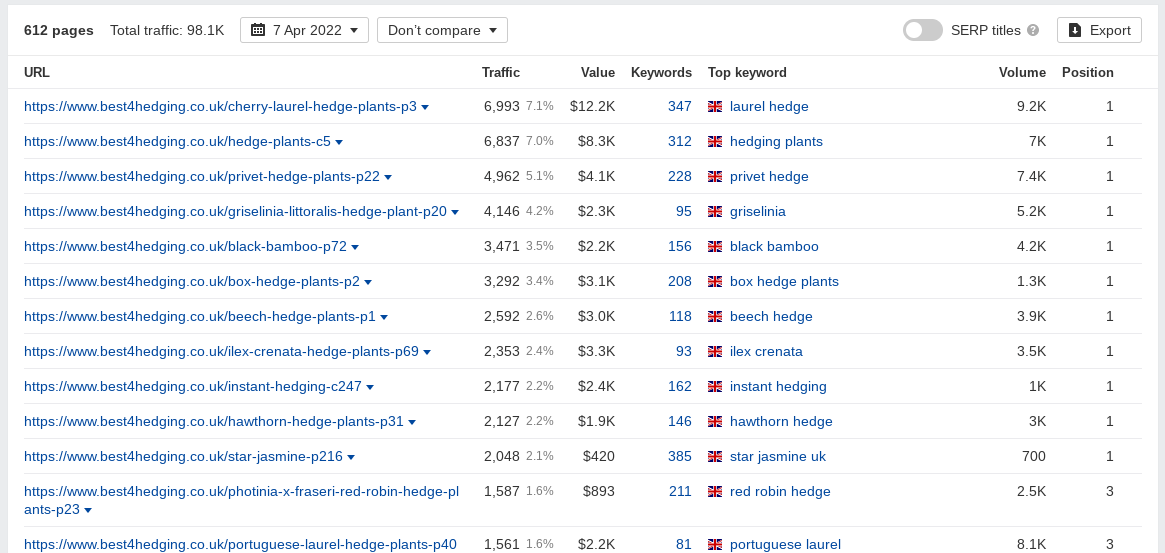 As we can see, the pages shown in this list collect impressive traffic from a range of pages. An excellent SEO expert can analyse the pages currently on your website (and on competitor sites), optimise existing pages to help attract even more people, and create brand new pages that will collect as much organic search traffic as possible. Of course, this is only one aspect of SEO work, and there are countless other things that SEO agencies do to promote websites.
You might be thinking that it is hardly surprising to see impressive results with a large landscaping business website, but what about a smaller website? Is SEO still a feasible investment? Our screenshot below will demonstrate that it definitely is.


Clearly, even for a much smaller website, the results are encouraging. This North London landscaping company attracts roughly 1.6 thousand organic website visitors every month and has a traffic value of about $2,100. Acacia Gardens ranks very highly on Google for the search term 'London landscaping company' and many other keywords and is drawing great traffic. This website gets $2,100 worth of free traffic from Google, meaning they can save this money that would otherwise have been spent on PPC ads.
The key factor to keep in mind is that PPC ads involve buying traffic in exchange for money. So, it makes sense that once you cease paying for these adverts, you stop getting traffic too. But, with SEO, you will maintain your search positions and keep getting traffic even if you no longer use SEO services. By hiring an expert SEO agency and boosting your website rankings on Google, you can conserve money and keep your website's traffic without having to spend money on advertising channels such as PPC.
Let's now look at the pages that draw the most visitors to this website: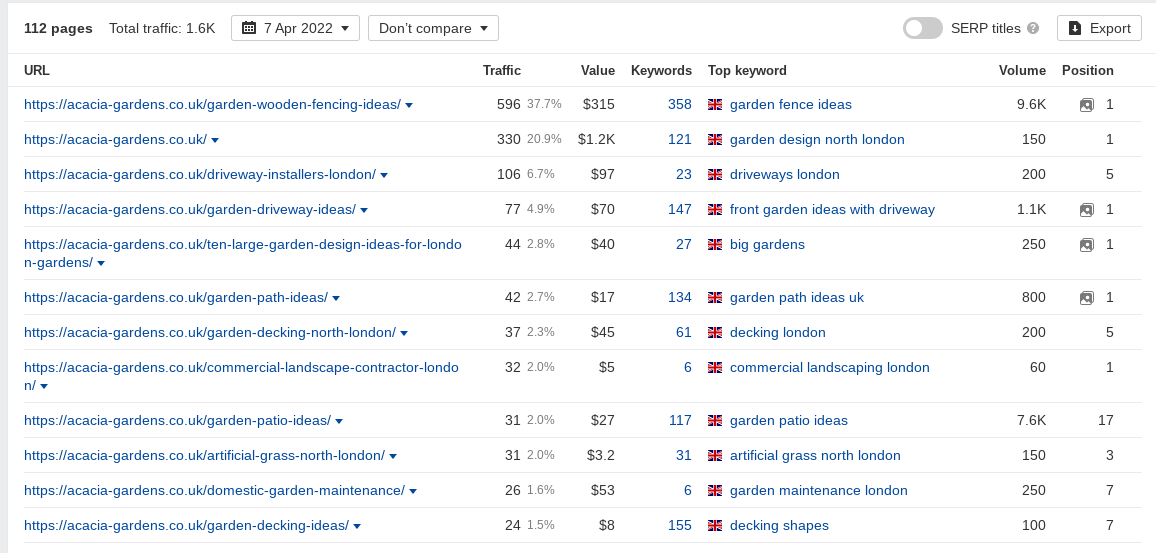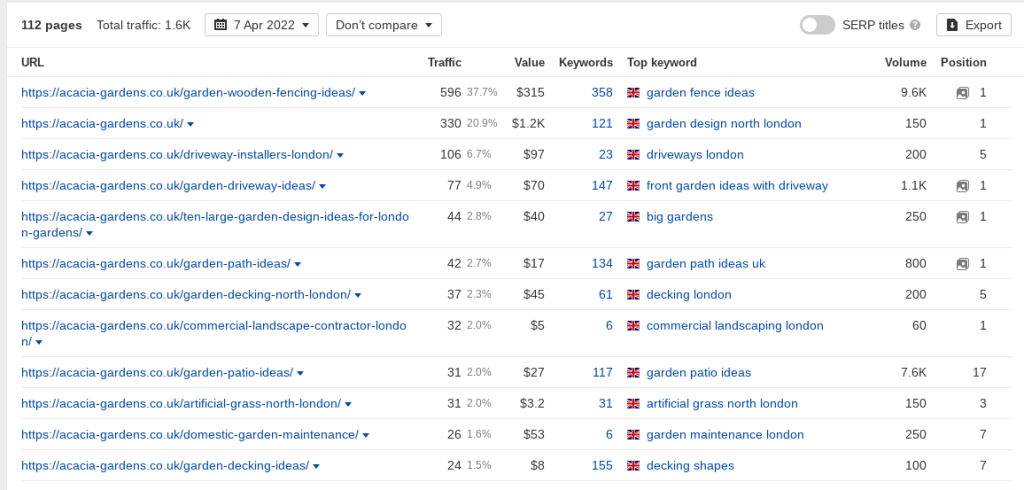 Some of the keywords that bring the most traffic to these pages include 'garden design north london', 'decking london', 'driveways london', and 'garden patio ideas'. This again shows that there is a substantial variety of keywords that your website can use to collect free organic traffic on Google. A reputable SEO agency can effectively create, optimise, and promote those pages, bringing more business to your landscaping company.
Local SEO
Local SEO techniques are used to ensure that a website is shown to people who search for certain services locally. For example, if you were to enter 'landscaper near me' on Google, you will find websites run by landscapers within your local vicinity. Local SEO is crucial for businesses offering services in-person, such as landscape design. But, simply adding your website to Google My Business and putting the location on Google Maps will not deliver you as much traffic as you might like or expect. Only comprehensive search engine optimisation of a site can lead to tangible results and help your website rise in search engine rankings.
What Does an SEO Company Do?
While SEO is, without a doubt, a tremendous investment for landscapers, achieving great results takes a lot of expertise, skill, and hard work. This is no exception for websites that provide services. Google has high standards to make sure that low-quality websites do not reach the top positions in search results.
But, NUOPTIMA has been working with brands in a variety of industries for many years. Our experts have an abundance of experience doing SEO for clients, including real estate, startups, medical clinics, SaaS, plumbing, and e-commerce companies. Therefore, you can rest assured we know exactly what to do to get your website to appear on the first page of Google. Here are just a handful of things we can do to improve your landscaping company's Google rankings:
Arrange link placements on reputable home and garden improvement websites and online directories of tradespeople.
Create SEO-optimised content to help your website rank for more keywords on Google.
Optimise existing pages to make sure they comply with Google's best practices and rules.
Create all the necessary pages to help your website collect as much organic traffic as possible.
Efficient search engine optimisation can bring outstanding results if done properly and correctly by qualified experts. SEO expert Jes Scholz says this well in his famous quote:
"Impactful SEO is rarely executed by a lone wolf."- Jes Scholz, International Digital Director at Ringier AG
At NUOPTIMA, we have a substantial SEO team packed with expertise to help your website achieve great results. Book a free discovery call today with our professional team to explore how we can use SEO to get fantastic results for both your website and your landscaping business.
Elevate Your Landscaping Business with SEO
In the competitive landscaping industry, standing out online is crucial. With effective SEO strategies, your landscaping business can rise above the competition, attracting more potential customers and driving growth. SEO is not just about increasing website traffic; it's about attracting the right kind of traffic – potential customers who are actively looking for your services. Don't let your landscaping business blend into the background. Start your SEO journey with NUOPTIMA today and watch your business flourish.
Talk to an SEO expert
We work with 100+ businesses. Book a slot now to talk to one of our experts.
Why is SEO important for landscaping companies?
SEO is important for landscaping companies because it helps improve their online visibility. With the right SEO strategies, a landscaping company's website can rank higher in search engine results, attracting more potential customers. It's a cost-effective way to increase website traffic and generate leads.
How long does it take to see results from SEO?
SEO is a long-term strategy, and it often takes a few months to start showing results. However, once your website starts ranking higher in search results, it can retain those positions even if you pause your optimization efforts.
What is local SEO and why is it important for landscaping companies?
Local SEO is a strategy that helps businesses rank higher in local search results. For landscaping companies, this means appearing in search results when potential customers are looking for landscaping services in their local area. It's a powerful way to attract local customers and build a strong presence in your community.
What kind of SEO services does NUOPTIMA provide for landscaping companies?
NUOPTIMA provides a range of SEO services for landscaping companies, including link placement on reputable home and garden improvement websites, creation of SEO-optimized content, evaluation and optimization of existing pages, and creation of new pages to attract more organic traffic.
How can I get started with NUOPTIMA's SEO services for landscaping companies?
You can get started with NUOPTIMA's SEO services by booking a free discovery call with our professionals. We'll discuss your needs and how we can use SEO tools to achieve fantastic results for your business.