Read NUOPTIMA's article on online reputation management and book a consultation call with our experts if you would like to use our reputation management services.
Key Points
Online reputation management is a digital marketing strategy where business owners monitor the perception of their business on search engine results pages. The primary tool to monitor this reputation is search engine optimisation.
A negative online reputation can have serious repercussions for your business, such as losing paid search traffic, organic search traffic, brand value, and profitability.
Several strategies can be used to tackle a negative online reputation, such as addressing any negative search results, boosting positive search results, and refining content on all online platforms.
Online reputation management can be a mammoth task, and for this reason, it is advised that you seek out a reputable SEO agency to assist with your efforts. Book a free discovery call with NUOPTIMA SEO agency today to explore our reputation management services.
What is SEO Reputation Management?
Online reputation management (ORM) is a digital marketing technique. It is when business owners help control the perception of their business on search engine results pages (SERPs). The point of this is to protect your brand's reputation, and it involves monitoring mentions of the company online and tackling any negative feedback.
The primary tool used to monitor your online reputation is search engine optimisation (SEO). This is when you optimise your content, such as landing pages, blog posts, social media videos, and more, so that it ranks among the first results on search engines such as Google. Numerous SEO strategies are used to improve your company's visibility, such as using target keywords and backlink building. These tactics can help improve the public perception of your business.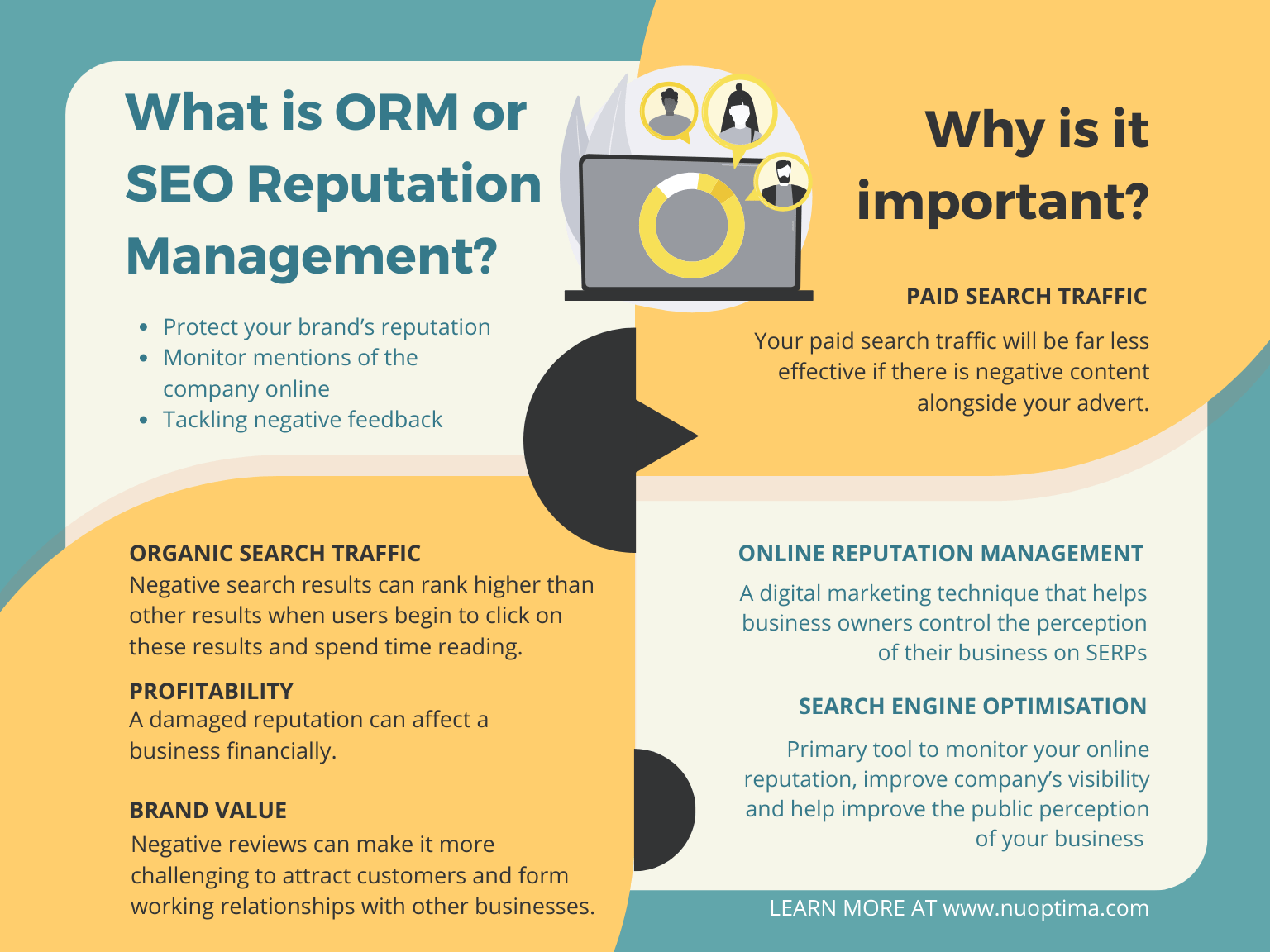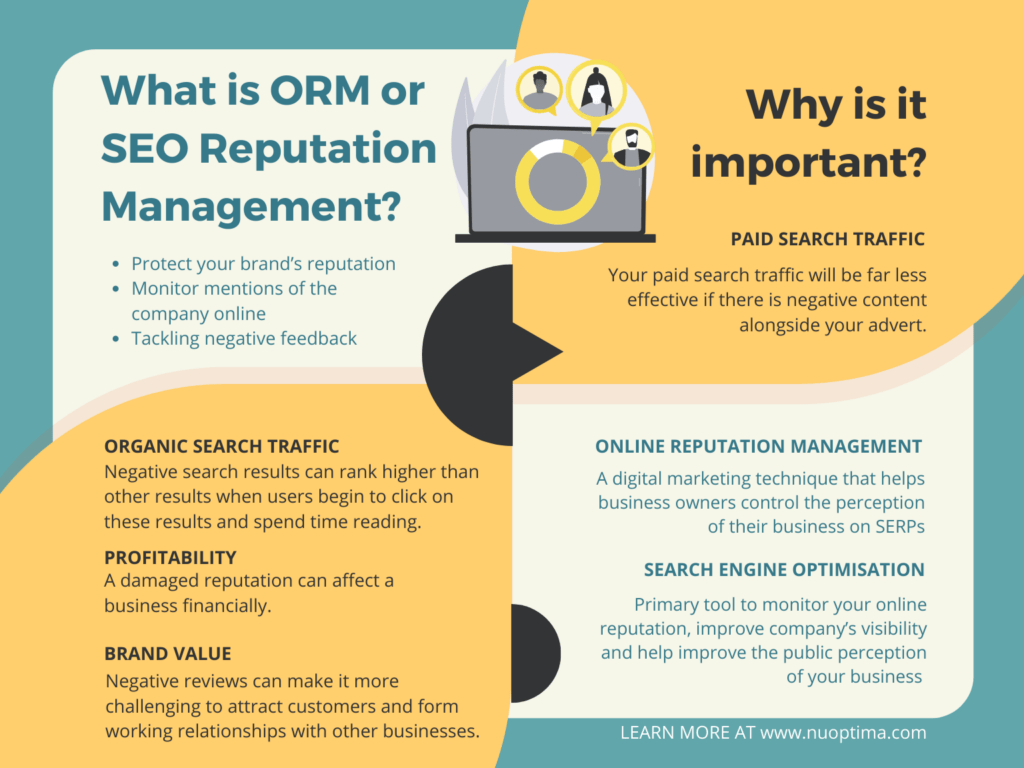 Why is SEO Reputation Management Important?
In the modern world, ORM is crucial. What people say about you online is arguably the biggest influence on your company's success. This is true regardless of the size and location of your business. Remember: reputation is everything.
Ensuring your brand has a positive reputation should be vital for any marketing strategy. Of course, no brand has complete control of how they are perceived online or written about. Receiving negative attention online can occur without warning and very suddenly. But, it is without question that harmful content and reviews have severe consequences for brands, especially if they show up in online searches for your brand. And negative attention can happen regardless of the size and popularity of your company. For these reasons, you must include ORM into your brand's marketing strategy. Below, we explain in more detail how a negative online reputation can have severe consequences for your business:
Paid Search Traffic
If you pay for search traffic, you will still reach the top of search results regardless of your online reputation. However, if there is negative content alongside your advert, it will, without question, make potential visitors more hesitant to click on the advert. As a result, your paid search traffic will be far less effective, even if you attempt to shell out more money to buy your way out of the negative search results. In a nutshell, the negative information can make customers much warier of your business and deter potential visitors.
Organic Search Traffic
Unlike paid search traffic, organic search traffic is traffic that you have earnt rather than paid for. Needless to say, this requires much time and commitment. Unfortunately, when harmful content and search results begin to rank well for a brand name or related searches, visitors will see this as a warning and can convince them to avoid your business. Negative search results can rank higher than other results when users begin to click on these results and spend time reading the negative content. Google sees these clicks and 'time spent on page' as a reason to rank this content higher up in search results. Sometimes, all it can take is a gossip-riddled description to get curious readers to click on negative search results. If this happens, your official business website can start to get buried beneath the negative press and become stigmatised. This can lead to a decrease in website visitors and, consequently, a loss in sales.
Profitability
There are several ways that a damaged reputation can affect a business financially. Here are a few different ways:
Loss of marketing revenue: If a company relies on digital marketing, negative affiliations with the company can stop and even reverse campaigns that were initially performing well. Therefore, starting at the beginning again means losing some marketing spend investments.
Loss of stock value: A company that is publicly traded could see shareholders unloading their stocks or their share prices decrease dramatically.
Loss of customers: If current customers become influenced by negative press and then choose to stop using your company, this results in revenue loss.
Expense increases: When suffering from a poor reputation, employees of the business may work longer hours to assist in managing this predicament. Plus, consultants may be hired to help. All of this eats into your brand's money and profits.
Brand Value
Negative reviews can directly affect both your brand value and equity. This can make it more challenging to attract customers and form working relationships with other businesses. Your brand value and equity are about loyalty, financial merit, and trust. If your brand value takes a negative hit, this causes your competitors to have an advantage over you because customers will look elsewhere for similar items from other businesses that do not suffer from bad reputations.
Strategies for SEO Online Reputation Management
Clearly, a negative reputation can have huge repercussions on a business. But, by creating an effective reputation management strategy, you can work to protect your brand name and even turn things around if your reputation is becoming sullied. The primary goal of SEO reputation management is to keep the first page of SERPs full of positive content about your brand and website. This includes content such as online reviews, social media content, news stories, and Google My Business results. Below, we offer a few strategies to help manage your brand's online reputation. SEO requires a lot of work and can prove too much for some businesses. For this reason, it can be a great idea to consider hiring an SEO agency to assist you in your efforts.
1. Address Any Negative Search Results
On the first page of Google's search results will be the top ten results for any search item. If you wish to remove any negative content from this first page, you will have to ensure nine other pieces of content rank in front of it. This can require much time and effort, but it is ultimately worth it if you manage to quash the negative search results.
To push negative results down the page, SEO tools are key. You should start by identifying the keywords that are affected. An excellent tool for this is Ahrefs. Once you have discovered the search terms producing negative results, you can focus your SEO work on those keywords.
It is also a good idea to invest in link building (a process where a website links out to another site's content). This can help increase the trustworthiness of your website, and this is a crucial factor that Google's algorithm uses. The trust of a page is partially determined by the number of links pointing to that page. So, by getting other websites to link to the more positive results, they will begin to rank higher on the first page and consequently push down any negative results. Bear in mind that it is best to use a white-hat approach to get backlinks and to only obtain backlinks from authority websites.
2. Boost Positive Search Results
It is also a good idea to work on boosting your positive search results, as it will make those negative results less visible to potential customers. You should work on improving the rankings of positive and even neutral content to bury the harmful content. You can use SEO tools as mentioned in our previous strategy to do this. However, there are also other ways to boost positive content. For instance, you can request that happy and satisfied customers leave reviews so that there is a regular stream of positive content on your services and products. These reviews will appear in search results, but they will also give new potential customers more trust and confidence in your brand.
3. Address and Refine Content On All Platforms
It is vital that you address content on all platforms because Google search results display more than just links to business sites. It shows social media profiles, Google My Business profiles, videos, images, paid aids, featured snippets, and more! ORM strategies tackle all types of content that show up on SERPs. Addressing all platforms is key because you cannot repair your reputation by just focusing your efforts on one platform. Below are a few examples of ways you can tackle this strategy:
Google My Business
If you do not already have a Google My Business listing, you should absolutely make one. It is a free tool that helps you manage and control basic information about your business on both Google Maps and Google Search. This tool features key information such as your company name, phone number, business address, and physical location. Moreover, this is a smart move because these search results commonly take up a large amount of Google's search engine, pushing down negative content and news stories.
Social Media
One of the simplest places to start is social media. Having a social media profile allows you to engage with consumers directly as well as make the most of influencers. Posting on social media often is a great way of moving positive content up to the top of SERPs. Plus, social media websites possess significant search traffic and a high domain rating, both of which are key metrics used by Google to rank content in their search engine. Here are some tips for major social media platforms: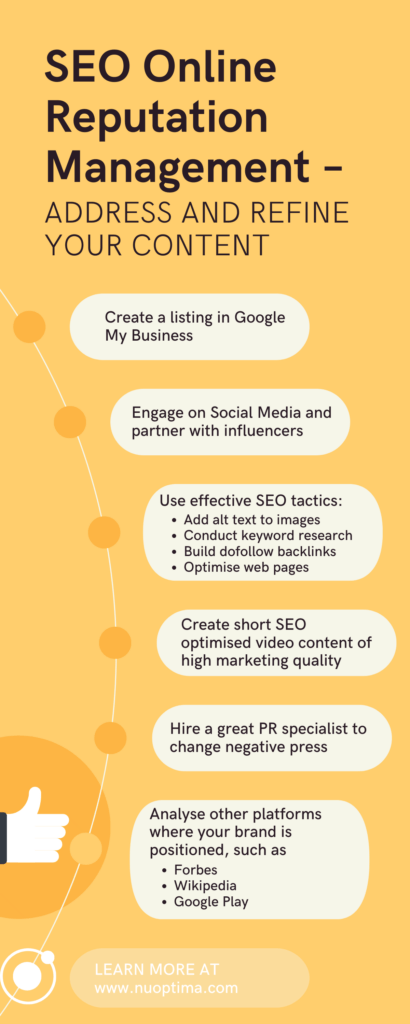 Facebook: This is the most used social media platform, so a Facebook business page is a great way to represent your brand. Work on creating a complete profile as this provides all the information needed for your consumers and interested businesses.
Twitter: Making a Twitter profile is a fantastic way of utilising branding tools such as slogans, campaign posts, and logos. On occasion, official account Tweets from well-known celebrities, influencers or brands will appear in their own featured snippet section in Google's SERPs. A great tip is to use hashtags often to increase the chances of a Tweet being found. Forming a partnership with an industry influencer can also be a huge help.
Instagram: This platform is perfect for influencers and B2C organisations. Even if you are not an influencer of a B2C company, it is still worthwhile to make a profile here. As with Twitter, you can use hashtags for your own gain.
YouTube: YouTube is a property of Google, so of course, popular results on this platform show up on Google's search results. Therefore, optimising company-related video content here has a great shot of ranking well in SERPs.
LinkedIn: This is a place for companies and professionals exclusively, so it can make your brand seem more professional. Naturally, a business has much say over how they come across on LinkedIn. A good idea is to create long-form content to increase your business's positive news and developments. It is also a great way of reaching new audiences.
Posting on social media can help tackle negative reviews by changing the conversation. By uploading informative content about your services and products, interacting with people who support your brand, and addressing negative feedback constructively can all contribute to improving your brand's reputation. This is because it demonstrates to customers that you care about them and will go to any lengths to fix issues.
Companies can take advantage of the domain authority of these platforms to obtain positive search results. Using best social media practices can help maintain positive search results for your brand.
Effective SEO Tactics
There are several SEO tactics you can use to help your brand shine. For example:
Add alt text to images to make them show up in search rankings. Web crawlers depend on the text attached to an image to comprehend the subject matter of the image. Therefore, you can push down negative content by uploading high-quality images and including title, alt, and caption text with tactical keywords.
Conduct keyword research when making new content to determine what people are searching for. As this content begins to do well, it can push negative results off the first page of SERPs.
Build dofollow backlinks to your page (ensure you use white hat techniques).
Optimise web pages to increase your content on Google's first page. Optimise your home page for your key search terms, but also consider optimising another landing page — such as the About Us page — for similar search terms if you are struggling to tackle negative press.
Video Content
Google has placed increased focus on video content in recent times, so videos with high viewing figures often rank higher in search engines. You can use YouTube to post video content and then embed them into main content pieces. This will assist your main content and your video channel in ranking higher. As we know, people love video content because it is easy to watch. Plus, many people would much rather view a short clip than read a long article. This is why an engaging video is a must.
Top tips include ensuring your videos are no longer than ten minutes and are of high marketing quality. The topic should also be focused on a specific keyword. You should ensure the content is informative and consider using a video editor to make your videos as good as they can possibly be. Once you have done all this, ensure the video title is optimised to reflect the keyword you are targeting and add a description to help search engines rank the video higher.
It is also a great idea to team up with a Youtuber with a large following to help promote your brand further. Google prefers to feature content with more views, so this helps ensure your videos will show up on your branded search.
Public Relations
Public Relations (PR) is an incredibly useful tool for changing your reputation online. If your brand has suffered from bad reviews or content, a PR campaign can help turn things around. You can increase information about alterations in the business or hire a great PR specialist to change negative press. One great tool that can be used to get great press about your company is Help a Reporter Out (HARO). It is a tool that connects companies with blogging experts and reports who can act as sources on developments in the industry or as subject matter experts. This is useful as it can build recognition of your brand name and build trust by dishing out insider tips or information on products for investigative journalism or news items.
Analyse Other Platforms
Your business might have a listing related to your company on other sites, including Forbes, Wikipedia, Google Play, and more. Therefore, going through and optimising all the possible platforms where your brand is positioned can increase the chances of replacing negative search results. It is paramount to be thorough.
Hire a Reputable SEO Agency for Reputation Management Services
As we can see from this article, tackling a bad reputation can be a mammoth task. The worse a reputation becomes, the harder it is to turn around. Therefore, it is highly recommended that you consider enlisting the help of an expert SEO company. Qualified SEO agencies know in great detail how search engines work and can apply their expertise to work out a personalised and effective plan to turn around a damaged search engine reputation. Their expertise is not something that can be learned overnight and requires much skill and knowledge. If you would like to learn more about how a reputable, expert SEO agency can assist with the reputation management of your brand, book a free 15-minute consultation call with NUOPTIMA today.
Talk to an SEO expert
We work with 100+ businesses. Book a slot now to talk to one of our experts.
---
FAQ
What is online reputation management?
Online reputation management is a digital marketing strategy. It is when company owners monitor the perception of their business on search engine results pages. The main tool used to monitor a company's reputation is search engine optimisation or SEO.
Why is reputation management important?
If you do not monitor your online reputation, you may suffer the consequences of a bad one. A negative reputation can lead to a loss of paid traffic, organic search traffic, brand value, and profitability. Essentially, if you do not perform online reputation management, negative content could destroy your brand and its success.
How do I do online reputation management?
There are numerous strategies that can be used to tackle a negative reputation, such as boosting positive search results, addressing negative search results, and optimising content on all online platforms. However, this is a huge undertaking, and it is highly recommended that you enlist the help of an expert SEO agency that offers SEO reputation management services online. Book a free consultation call with reputable and expert SEO agency NUOPTIMA today to explore how we can assist with monitoring and improving your company's reputation.