Learn about NUOPTIMA'S advice for promoting a Shopify store. Arrange a free 15-minute discovery call with our expert team and discover how our professional SEO agency can promote your website.
Key points
Shopify is an ecommerce platform and website builder ideal for small businesses who want to grow their online store.
SEO is essential to building a sustainable online business, simplifying lead generation and saving money on paid advertisements.
Shopify SEO offers basic built-in features, perfect for beginners. However, with a lack of customisation, these features alone cannot guarantee success. Alongside, one can do keyword research, create relevant content, optimise photos, and more.
SEO requires time and expertise to implement. Thus, many businesses consider hiring an SEO agency to optimise their site and get it to rank as highly as possible.
If you're trying to boost your online presence, SEO is the most efficient, sustainable method to increase high converting traffic to your website. In this article, we learn about Shopify SEO, the pros and cons of using it and our top tips to promote your site.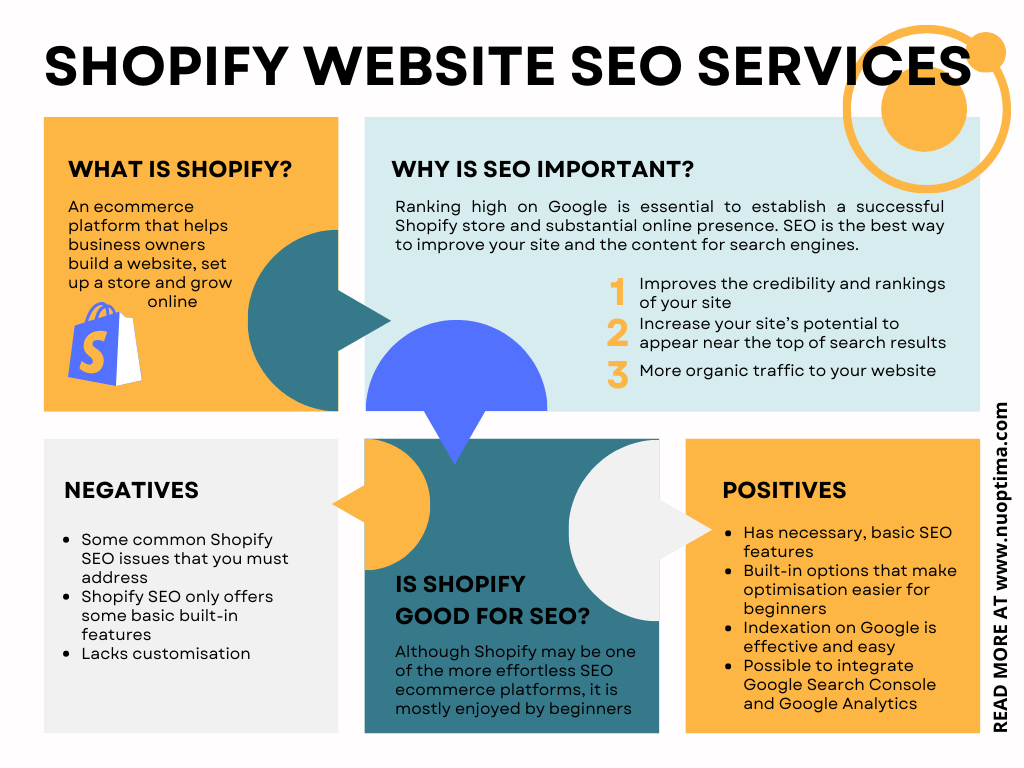 What is Shopify?
Shopify is an ecommerce platform that helps business owners build a website, set up a store and grow online. Through subscription-based services, people can easily set up an online store as it helps organise products, payment, customer engagement, marketing and more.
Why is SEO Important?
When searching for something, most people turn to search engines like Google. These platforms evaluate the sites and show the most relevant ones near the top of the search results. Ranking high on Google is essential to establish a successful Shopify store and substantial online presence.
There are various ways to improve the credibility and rankings of your site, but for most businesses, it's best to focus on website structure and content.
Search engine optimisation (SEO) is the best way to improve your site and the content for search engines. SEO could increase your site's potential to appear near the top of search results. The higher your site's rankings, the more organic traffic to your website.
However, when it comes to a website builder, does Shopify SEO provide good growth prospects? And, can you rank highly on Google if you have a Shopify store?
Is Shopify Good for SEO?
Shopify may be one of the more effortless SEO ecommerce platforms. However, as far as optimisation goes, does it provide enough assistance and customisation to make your Shopify website appear in search engines? Let's look at the pros and cons:
Positives:
Shopify has necessary, basic SEO features.
There are some built-in options that make optimisation easier for beginners.
It can effectively get your pages indexed so they can rank on Google.
One can implement Google services, such as Google Search Console and Google Analytics.
Negatives:
There are some common Shopify SEO issues that you must address.
Shopify SEO only offers some basic built-in features and lacks customisation.
Beginners may enjoy Shopify SEO. However, the lack of customisation and advanced options means it's essential to take a holistic SEO approach as Shopify's options alone may not guarantee growth.
How to Improve SEO on Shopify: NUOPTIMA's Top Tips
1. Keyword Research
This is one of the most critical steps in SEO. Finding relevant keywords form the basis of your SEO strategy as it determines what your ideal customer is searching for. These keywords represent the search terms you optimise your site with and try to rank for in Google.
2. Use Shopify SEO Features
Although they may only provide basic SEO options, they are there for a reason and play a role in the broader strategy. For instance, Shopify allows you to edit meta tags on blog posts and product pages, including meta titles, descriptions, and alt text.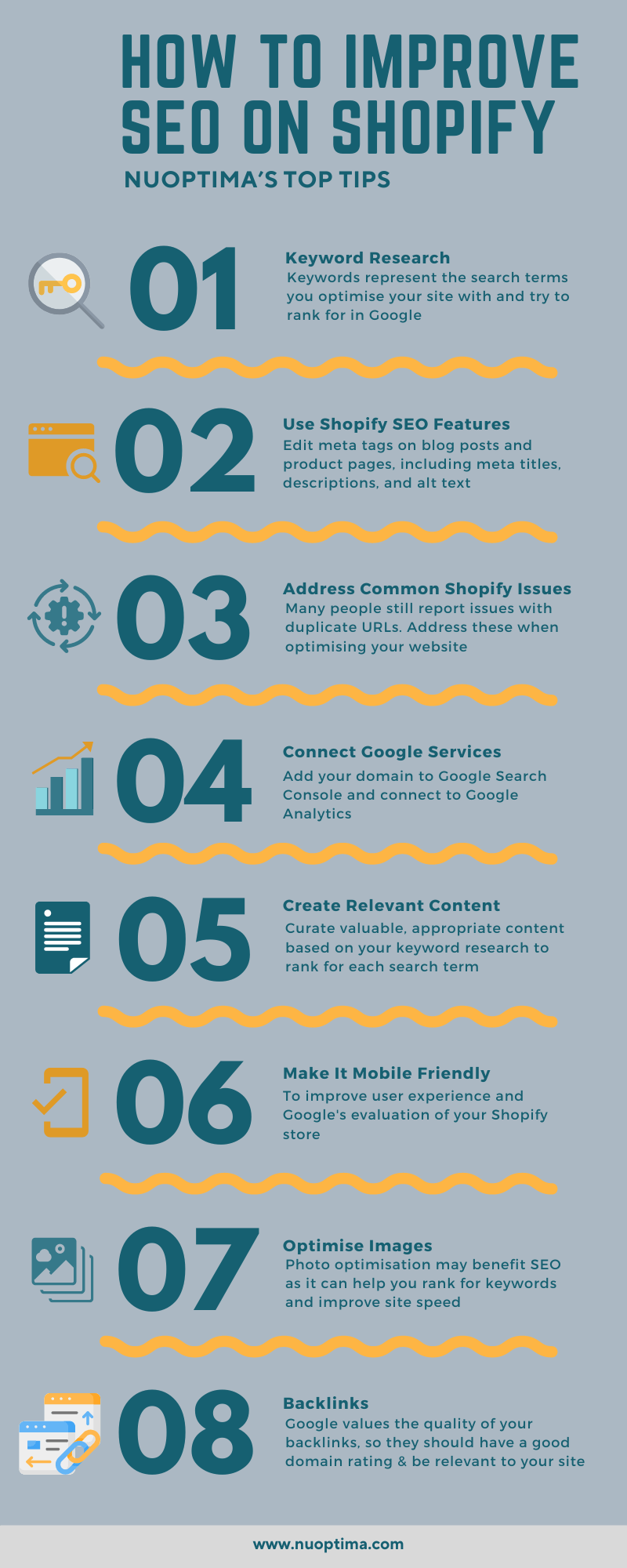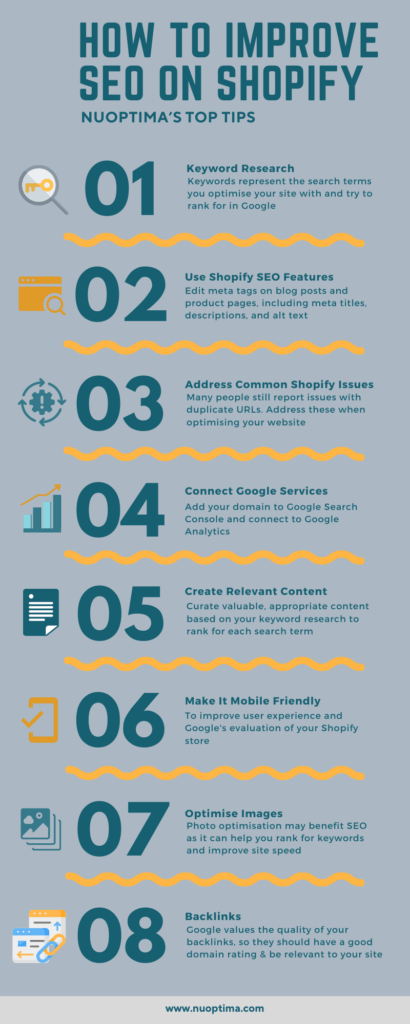 3. Address Common Shopify Issues
Shopify automates some SEO aspects like canonical tags that should prevent duplicate pages. That said, many people still report issues with duplicate URLs. Some of these common hurdles may harm your SEO efforts so we recommend addressing these when optimising your website.
4. Connect Google Services
Google offers various services that can assist Shopify SEO. It's advisable to add your domain to Google Search Console and connect to Google Analytics, as these will support your site in ranking higher in search results.
5. Create Relevant Content
Search engines evaluate the relevancy of a site based on the content. It's essential to curate valuable, appropriate content based on your keyword research to rank for each search term. Website owners can optimise blog posts, product pages, and category pages with appropriate keywords.
6. Make It Mobile Friendly
As online shopping is more prevalent than ever, many people use their phones to search and shop. That said, numerous website owners fail to optimise their mobile site, affecting the user experience and potentially harming how Google evaluates your Shopify store.
7. Optimise Images
Photo optimisation may benefit SEO as it can help you rank for keywords and improve site speed. One may decide to edit the alt tags to improve accessibility and use keywords to describe the image, alongside compressing the photos to reduce the size of the file and the time it takes to load.
8. Backlinks
Backlinks represent external websites that link to your domain. Search engines like Google value the quality of your backlinks, meaning they should have a good domain rating and be relevant to your Shopify site.
Final Thoughts on Shopify SEO
Shopify SEO is a suitable option for startups and small businesses looking for an ecommerce platform with built in marketing features. SEO is a game-changer as it has the ability to save the website owner thousands of pounds in comparison to paid advertising. Optimising your site for search engines can generate substantial organic, high converting traffic; however, to be effective, SEO must be done right.
Shopify SEO lacks some customisation, so it is crucial to have a well-rounded strategy to promote your site. However, implementation takes hard work, expertise, and time to implement, so many businesses consider hiring a professional SEO agency. An experienced team of SEO experts can curate a strategy suitable to your needs and industry, so your Shopify store continues to rank in Google even if you decide to stop your SEO efforts in the future.
We recommend booking a free discovery call with one of NUOPTIMA's SEO experts and discover how SEO can elevate your online presence and your business.

Talk to an SEO expert
We work with 100+ businesses. Book a slot now to talk to one of our experts.
---
FAQ
Is Shopify good for SEO?
Shopify offers some basic built-in SEO features that make it simple for beginners and more experienced ecommerce users to optimise their site. However, these may be limiting, and don't cover the vast SEO strategies needed to get your site on Google.
How to do SEO on Shopify?
Firstly make sure to use Shopify's SEO features; these provide a good starting point. Alongside this, you can optimise photos, curate relevant content, and work to build quality backlinks that help make your site's credibility.
Do Shopify sites rank on google?
Yes. Many Shopify websites rank highly on Google search results. Although the built-in Shopify SEO options are basic, there are many ways to optimise your site for search energies. An SEO agency can analyse appropriate keywords, curate content and ensure your site ranks well.