Technical SEO audit is one of the most important aspects of search engine optimisation. This audit allows SEO experts to identify how search engines perceive your website, what issues are preventing your site from ranking on the first page of Google, what can be done to improve your site's positions, and much more. A technical audit is one of the first things we do here at NUOPTIMA when we start working on a new project. Below, you can find a complete checklist our SEO team uses to analyse your website, discover problems, and identify areas of growth that can help your website achieve much better results in search engine results.
If you are looking for a team of highly knowledgeable and experienced SEO experts to carry out a technical audit for your website, optimise it, and get it on the first page of Google, NUOPTIMA is here to help. Sign up for a free discovery call with one of our SEO consultants now and learn how we can help your site's traffic grow.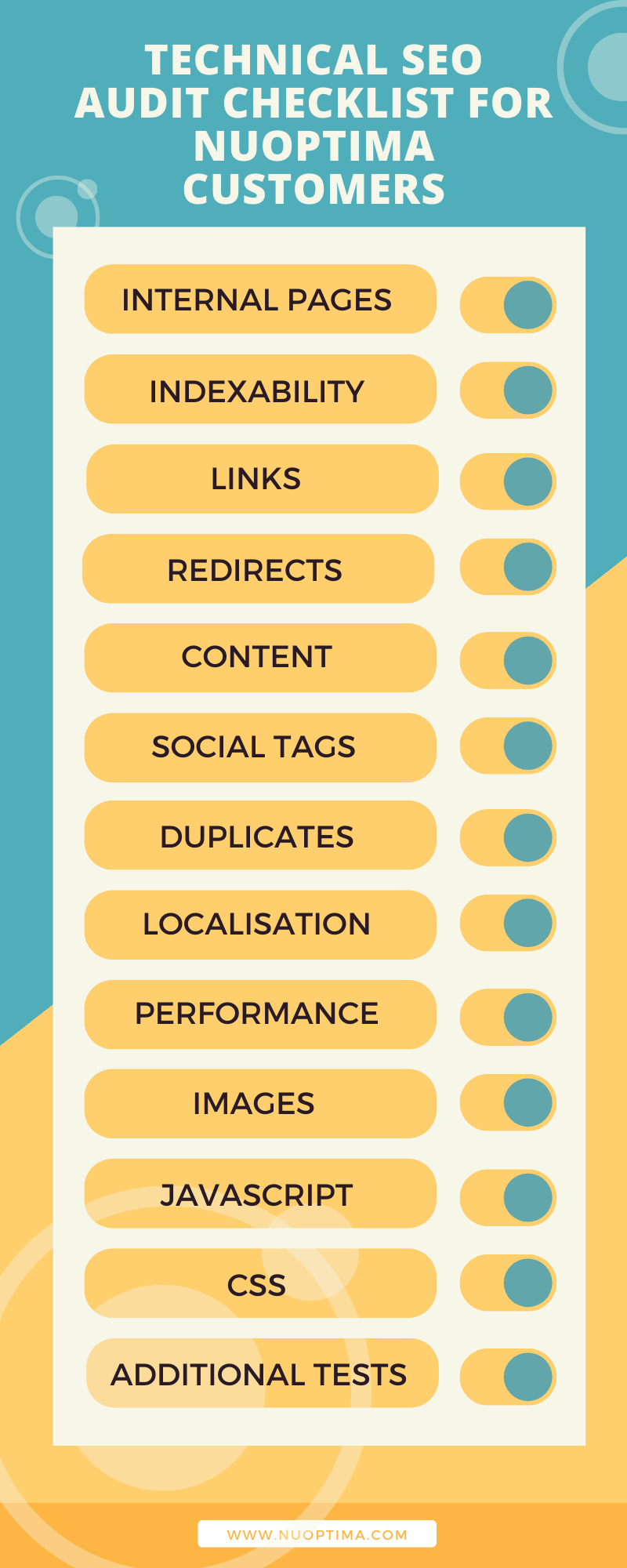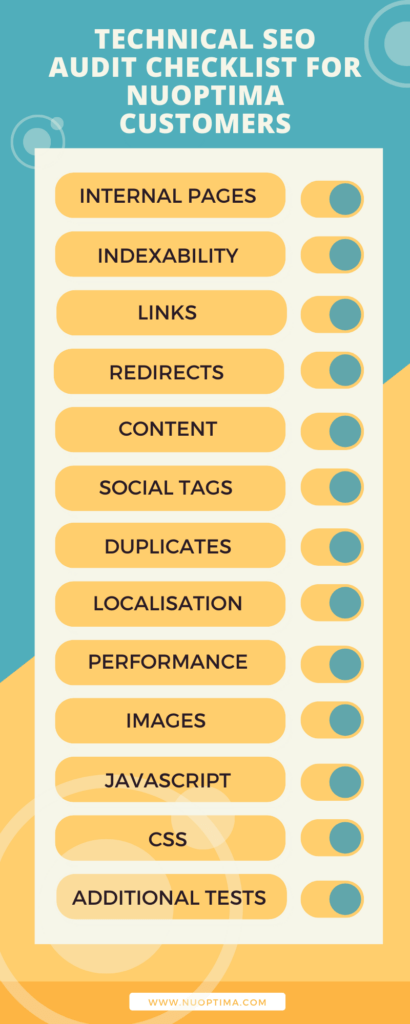 Internal pages
This section of the technical SEO audit checklist analyses your website to discover pages that return errors when users try to access them.
404 page
4XX page
500 page
5XX page
HTTPS/HTTP mixed content
Timed out
Indexability
During this part of the audit, we ensure that all pages on your website are able to be indexed correctly.
Canonical from HTTP to HTTPS
Canonical from HTTPS to HTTP
Canonical points to 4XX
Canonical points to 5XX
Canonical points to redirect
Nofollow in HTML and HTTP header
Nofollow page
Noindex and nofollow page
Noindex follow page
Noindex in HTML and HTTP header
Noindex page
Non-canonical page specified as canonical ones
Links
This section of the audit analyses links on your website to ensure that they are optimised for SEO purposes.
Canonical URL has no incoming internal links
HTTP page has internal links to HTTPS
HTTPS page has internal links to HTTP
Orphan page (has no incoming internal links)
Page has links to broken pages
Page has links to redirect
Page has no outgoing links
Page has nofollow and dofollow incoming internal links
Page has nofollow incoming internal links only
Page has nofollow outgoing internal links
Page has only one dofollow incoming internal link
Redirected page has no incoming internal links
Redirects
During this part of the audit, our team tests all redirects present on the page to ensure that there are no issues that are harming your site's SEO performance and search results.
302 redirect
3XX redirect
Broken redirect
HTTP to HTTPS redirect
HTTPS to HTTP redirect
Meta refresh redirect
Redirect chain
Redirect chain too long
Redirect loop
Content
This part of the audit analyses all content present on your site to ensure that the articles and pages have adequate length and all the necessary metatags.
H1 tag missing or empty
Low word count
Meta description tag missing or empty
Meta description too long
Meta description too short
Multiple H1 tags
Multiple meta description tags
Multiple title tags
Page and SERP titles do not match
Title tag missing or empty
Title too long
Title too short
Social tags
During this portion of the audit we ensure that all social media tags are present and complete.
Open Graph tags incomplete
Open Graph tags missing
Open Graph URL not matching canonical
Twitter card incomplete
Twitter card missing
Duplicates
This section of the audit ensures that there are no duplicate pages that could be hurting your SEO efforts.
Duplicate pages without canonical
Localisation
During this stage of the technical audit, we ensure that your website has correct localisation settings and tags.
Hreflang and HTML lang mismatch
Hreflang annotation invalid
Hreflang defined but HTML lang missing
Hreflang to non-canonical
Hreflang to redirect or broken page
HTML lang attribute invalid
HTML lang attribute missing
Missing reciprocal hreflang (no return-tag)
More than one page for same language in hreflang
Not all pages from hreflang group were crawled
Page referenced for more than one language in hreflang
Self-reference hreflang annotation missing
X-default hreflang annotation missing
Performance
During the Performance stage of the audit, our team checks file sizes, site speed, and other crucial parameters.
HTML file size too large
Not compressed
Pages with poor CLS
Pages with poor FID
Pages with poor LCP
Slow page
Images
Our experts run tests to analyse all images on your site and determine whether there are any issues associated with them.
HTTPS page links to HTTP image
Image broken
Image file size too large
Image redirects
Missing alt text
Page has broken image
Page has redirected image
JavaScript
This section of the technical audit is dedicated to analysing issues with the JavaScript code on your site.
HTTPS page links to HTTP JavaScript
JavaScript broken
JavaScript redirects
Page has broken JavaScript
Page has redirected JavaScript
CSS
During this part of the audit, our team analyses your site's CSS to ensure that there are no errors or other issues that have a negative impact on your traffic and positions.
CSS broken
CSS file size too large
CSS redirects
HTTPS page links to HTTP CSS
Page has broken CSS
Page has redirected CSS
External pages
External 3XX redirect
External 4XX
External 5XX
External time out
Other
We also run a number of additional tests to ensure that there are no issues that were missed or other problems that could prevent your website from getting excellent rankings in search engine results.
3XX page receives organic traffic
3XX redirect in sitemap
403 page in sitemap
403 page receives organic traffic
4XX page in sitemap
4XX page receives organic traffic
5XX page in sitemap
Double slash in URL
More than three parameters in URL
Noindex page in sitemap
Noindex page receives organic traffic
Non-canonical page in sitemap
Non-canonical page receives organic traffic
Page from sitemap timed out
Talk to an SEO expert
We work with 100+ businesses. Book a slot now to talk to one of our experts.