Key Points
SEO ranking factors are indicators that search engines use to prioritise results when a search is made and determines how websites should be ranked. To reach the top positions in search engines, such as Google, you should learn about the top SEO ranking factors for 2022.
Key SEO ranking factors for 2022 include optimising your website loading speed, matching search intent, high-quality content, and keyword optimisation.
To learn about SEO services and how they can be used to benefit your website, book a free discovery call with NUOPTIMA today.
What is an SEO Ranking Factor?
An SEO (search engine optimisation) ranking factor is an indicator that search engines use to prioritise results when someone performs a search. There are over 200 ranking factors for SEO, and they help search engines such as Google and Bing determine how websites should be ranked. To secure the top spots on search engine results pages (SERPs), you should optimise your website based on vital ranking factors. Naturally, the more important a search engine believes a ranking factor to be, the more crucial it is to optimise your website for that particular factor. SEO is a regularly changing field, and the top-ranking factors can alter over time. Therefore, focusing on the top ranking factors for this year, 2022, can significantly help your website, so special attention should be paid to the following critical SEO ranking factors.
Top SEO Ranking Factors for 2022
Website Loading Speed
One of the most important current ranking factors is page speed. As of May 2021, Google made website loading speed part of its Core Web Vitals (CWVs). CWVs are a set of metrics used by Google to score a user's experience when they load your webpage and look at responsiveness, speed, and how fast various elements such as images and fonts load. It is vital to consider how quickly your web pages load for your users. Essentially, search engines want your site to load fast and give a great user experience to your visitors. One handy way of checking the speed of your pages is to use PageSpeed Insights. Remember:
Good Website Performance + Good Core Web Vitals = Great User Experience
User Experience
One of the biggest SEO ranking factors is user experience. Google uses artificial intelligence called Rankbrain to rank web pages. Rankbrain seeks out particular user experience signals and runs them through an algorithm to decide positions on SERPs. These SEO signals include time spent on the page, click-through rate (CTR), and bounce rate. Let's briefly consider each in more detail:
Time spent on the page refers to how long a user stays on your web page. The longer a user spends reading and browsing your website and its content, the better. This indicates to Google that a user is absorbing relevant information and is finding your website helpful.
The CTR refers to the number of users that click on your page after performing a search.
Bounce rate refers to the number of people who come to your site and immediately leave without interaction.
You must consider all of these when working on user experience. You will want to work on improving the user's time spent on your pages, click-through rate, and decreasing bounce rate.
Website Security and Data Privacy
The security of your website is now a critical ranking factor. You need to ensure that your website is now on HTTPS because this encrypts the data between a user's browser and your website. This was made a ranking signal back in 2014 by Google, so there is no time like today to update your website to HTTPS if you haven't already. This is especially important if your website requires its users to enter data.
Search Intent
Search intent refers to a user's specific motive in entering a query. This is critical to consider, as otherwise, you will struggle to rank and may even attract the wrong demographic (and not the audience you were hoping for). Every keyword is unique on search engines such as Google, and it is vital to understand the motive behind that search query. Remember that search intent can vary depending on format and content style. For instance, if Google shows infographics and videos exclusively in the top results for a specific keyword and you want to rank for those words, you should concentrate on creating and publishing that kind of content. This way, you know that you are catering to your audience by making the correct type of content.
Another key point is that search intent also displays how far along your visitors are in the buyer journey. Are they in the final stages and ready to buy, or are they just seeking out basic information about your products? By matching search intent, these questions can be answered, and you can create content that people are looking for.
Link Building
Link building, or backlinks, is one of the most challenging parts of SEO. It takes much effort to accomplish this ranking factor. Backlinks are a crucial part of Google's ranking algorithm. This is because it assists Google crawlers in finding your page for indexing. Furthermore, inbound links and backlinks are essentially a vote of confidence for a site. The more links you have from numerous high-authority domains, the more likely you will rank well for top keywords. Some people use black hat SEO strategies by buying backlinks, but although it might help you rank in search results fast, you will fall from page one quickly and potentially build a bad link profile.
Hot tip: If links between websites are of a commercial nature, ensure you mark them as this according to Google's specifications. This will help stop external links from being listed as spam and negatively affecting your rankings.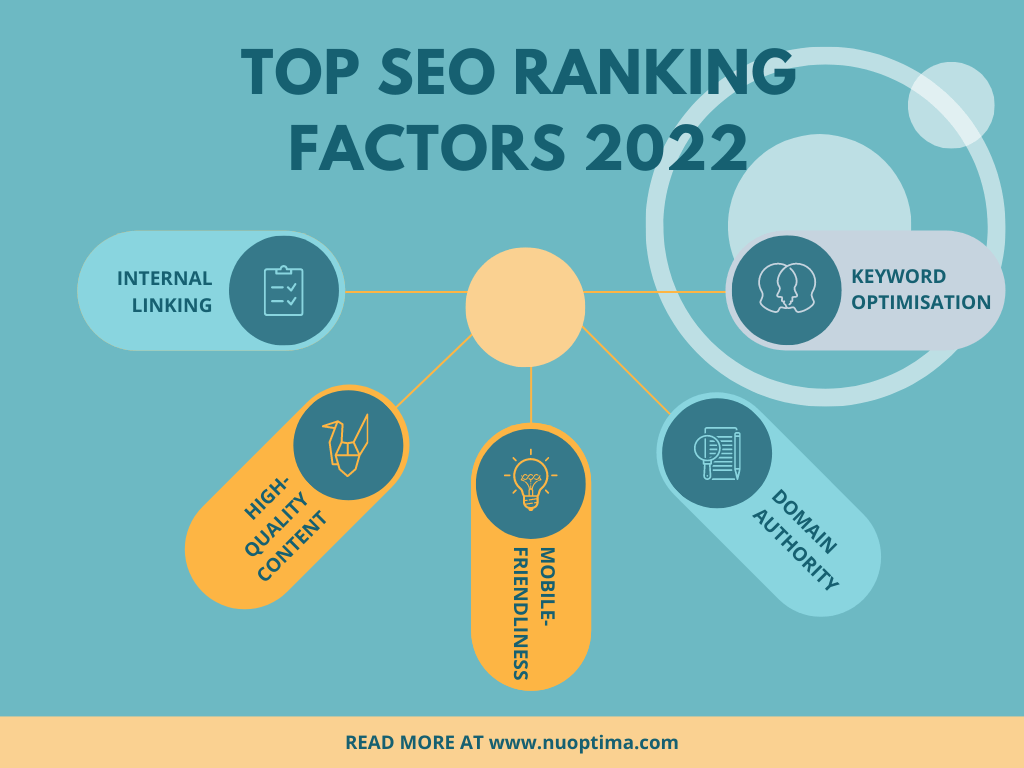 Internal Linking
Internal linking is critical to your SEO strategy and is debatably as important as external linking. Internal links show crawlers a content trail they can follow, which lets more pages rank and improves your overall website performance. Internal links help search engines index and comprehend your website. This is vital because you might have outstanding content, but that is all irrelevant if Google cannot find it. A good process is to add links to old, useful pages on new blog posts and add links to recent posts on old ones. This will result in higher ranks and substantial results. This is prudent as it helps Google understand that the content produced is within a similar topic which will reinforce the niche you wish to be known for.
High-Quality Content
The content of your website is a main aspect of search engine ranking. Content that is unique, informative, and fresh consistently ranks well on SERPs. Here are certain content quality parameters to consider to help you accomplish this factor:
Original and valuable content: Search engines such as Google prefer unique content. Therefore, it is prudent to ensure that your content is different and superior to other sites ranking for the same keywords.
Content structure and length: There is no strict rule regarding content length and word limit, although you want to ensure you provide useful information without too much rambling. You should use several headings and subheadings to systemise your content for content structure.
Fresh content: Your content should be updated regularly. By doing this, you are sending good signals to search engines.
Essentially, in-depth content covering a broad spectrum of its subject tends to rank well. It should provide actual value to the user and include engaging visual content to accompany the written content. If your content is not useful or relevant, this will be detrimental to your rankings. Focus on content quality rather than your word count.
Mobile-Friendliness
A crucial factor in your website's SEO ranking is whether your website is mobile-friendly. In 2019, Google announced that mobile-first indexing would be the default for all new web domains. Ever since, Google has used the website's mobile version for ranking and indexing. Historically, web designers build desktop versions followed by mobile versions. Today, however, mobile usage surpasses desktop usage, so websites should prioritise mobile versions to guarantee a better user experience.
Domain Authority
The domain authority of a website refers to its relevance to a certain subject area or industry. It is an SEO ranking metric that reflects your website's expertise on a particular topic and its potential to rank on Google. The higher the domain authority, the better the odds of ranking well on search engines. There are certain ways to enhance this, such as creating quality content and getting high-quality backlinks. Your domain authority will increase when Google starts to view your website as an expert on a specific topic.
Keyword Optimisation
Keywords are the search terms that users enter to look things up on Google. Therefore, you want to ensure your website contains the keywords that the audience is searching for. Google can then bring up your page in its search results. To make sure your website is keyword optimised, here are some of our top tips:
Incorporate title tags: Use your target keyword at the beginning of your posts.
Write excellent meta descriptions: Write great meta descriptions and ensure you add your focus keyword, so users understand what your page is about.
Anchor text: Google uses anchor text to discover what a page is about. Use your keywords for anchor text when linking your pages.
Add image alt text: Doing this helps search engines understand what your visuals are.
Avoid keyword stuffing: Do not just include your primary search term repeatedly. This is known as keyword stuffing as it is not viewed as a good SEO practice. Vouch to include your primary search term a few times but also use different variations.
Use latent semantic indexing (LSI) keywords: Apart from your primary keyword, there are other associated terms people search for called LSI keywords. Include these to help Google understand what the content on your website is about.
Include the main keyword in URL: This is another great keyword optimisation practice.
Include keywords in H2 and H3: Your content's SEO organisation can be improved by using keyword variations (or LSI keywords) in H2 or H3.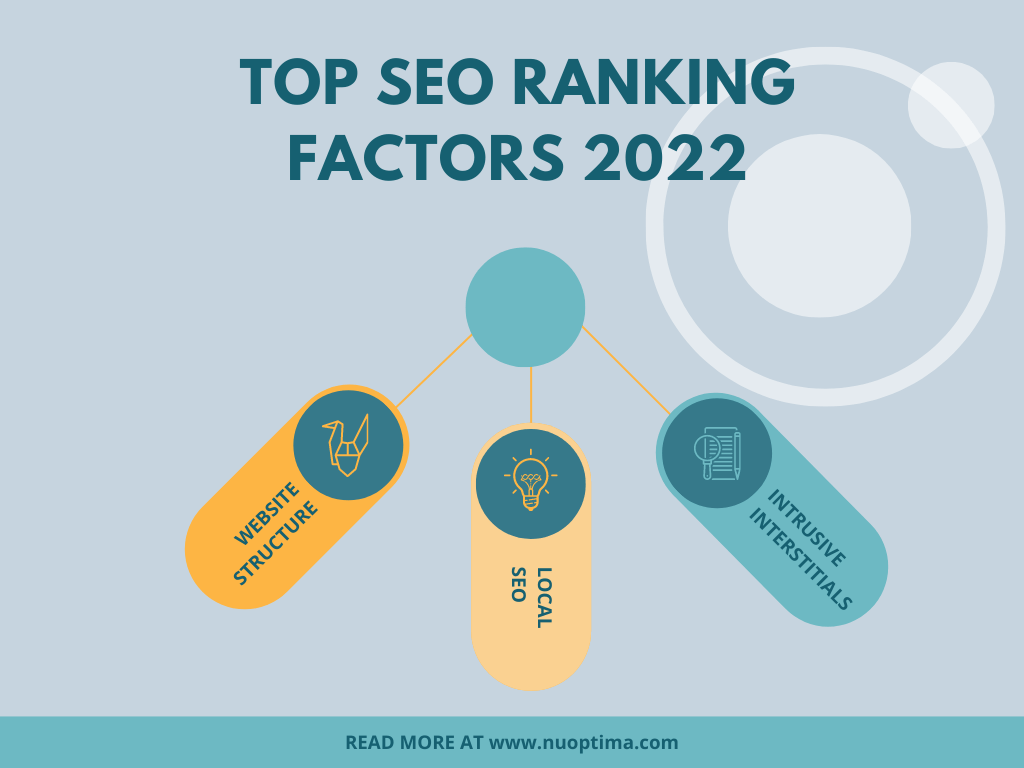 Website Structure
The structure of your website helps decide your SEO ranking, especially if you are launching a new website imminently. The architecture of a website is vital as it allows crawlers to locate both your site and its pages quickly. Ways to achieve this include:
Creating a sitemap: A sitemap includes all the important pages you wish a search engine to know about and helps crawlers navigate through your website easily. Plus, it allows crawlers to discover fresh content and index your pages.
Optimise your robots.txt file: A robots.txt file gives crawlers a pathway and informs them of how to crawl and index your site. It indicates which pages should be crawled and which should not. This will conserve crawl quota and prevent crawlers from going through unnecessary pages, such as admin pages.
Local SEO
Google updated how local search results are formulated in November 2021 by altering the different factors that decide rank. Local search results are ranked by distance, prominence, and relevance. The most prominent ranking factor regarding local SEO is having high-quality product reviews. In 2021, Google made updates on how product reviews rank in search results. Here are some product review best practices:
Provide audio, visual, or any other kind of links that share a personal experience with the product. This displays that the review is genuine and shows real expertise.
Show how the product compares to others quantitatively in regards to various performance measurements.
Provide readers with the option of buying from the seller of their choice by giving links to numerous sellers.
It is also a good idea to add your website to Google My Business if you are a real business. This lets Google know you are a genuine business. Make sure you include information such as name, address, and contact number. It also helps to receive reviews for your business on platforms such as Google, Yelp, and Facebook.
Intrusive Interstitials
A key CWV depends on interstitials that are deemed intrusive. For instance, interstitials that cover the whole page. Google warns against doing this, and so to avoid it being a problem, use banners that do not take up the entire space of a page. This makes it easier for users and search engines to reach your page content.
Final Thoughts
SEO has a massive impact on business. The algorithms of search engines are based on ranking factors that push for high-value content and a great user experience. Key ranking SEO factors include the mobile-friendliness of your site, its structure, security, and speed. Understanding the top SEO ranking factors can be the making or breaking of your online marketing strategy. Therefore it is essential to read up on the basics and keep informed of any updates. Tackling SEO can be extremely challenging when undertaken alone. For this reason, many businesses and websites are beginning to invest in an SEO agency to help them reach as high in SERPs as possible. To explore how an expert SEO agency could assist your website, book a free 15-minute discovery call today with NUOPTIMA.
Talk to an SEO expert
We work with 100+ businesses. Book a slot now to talk to one of our experts.
---
FAQ
Is SEO important in 2022?
In 2022, efficient search engine optimisation is imperative to guarantee good performance and the overall success of your website. It should be seen as a priority, as performing SEO ensures your website is positioned well in search engine results and makes it easier for your potential audience to find you.
How many SEO ranking factors are there in total?
There are over 200 ranking factors that search engines use in their algorithm. These ranking factors help search engines decide how websites should be ranked.
What is the most important SEO ranking factor?
There is not one ranking factor that takes precedence over any other. There are many important SEO ranking factors that should be addressed, but one of the most vital is, without question, an accessible and secure website. Ensuring that your website has a sitemap and is on HTTPS are two ways to ensure that your site is easy to navigate and relatively safe. High-quality content is also highly important.
How do I improve my SEO rankings in 2022?
To improve your rankings in 2022, absorb the information provided in this article. It is also prudent to keep apprised of any changes to ranking factors to keep ahead of the game and ensure your website is optimised to the best of your ability. Many people struggle with the challenges of conducting SEO independently, so it can be a great idea to hire an expert SEO agency to assist you. Book a free discovery call with NUOPTIMA today to discover how our SEO services can help improve your website and its overall success.