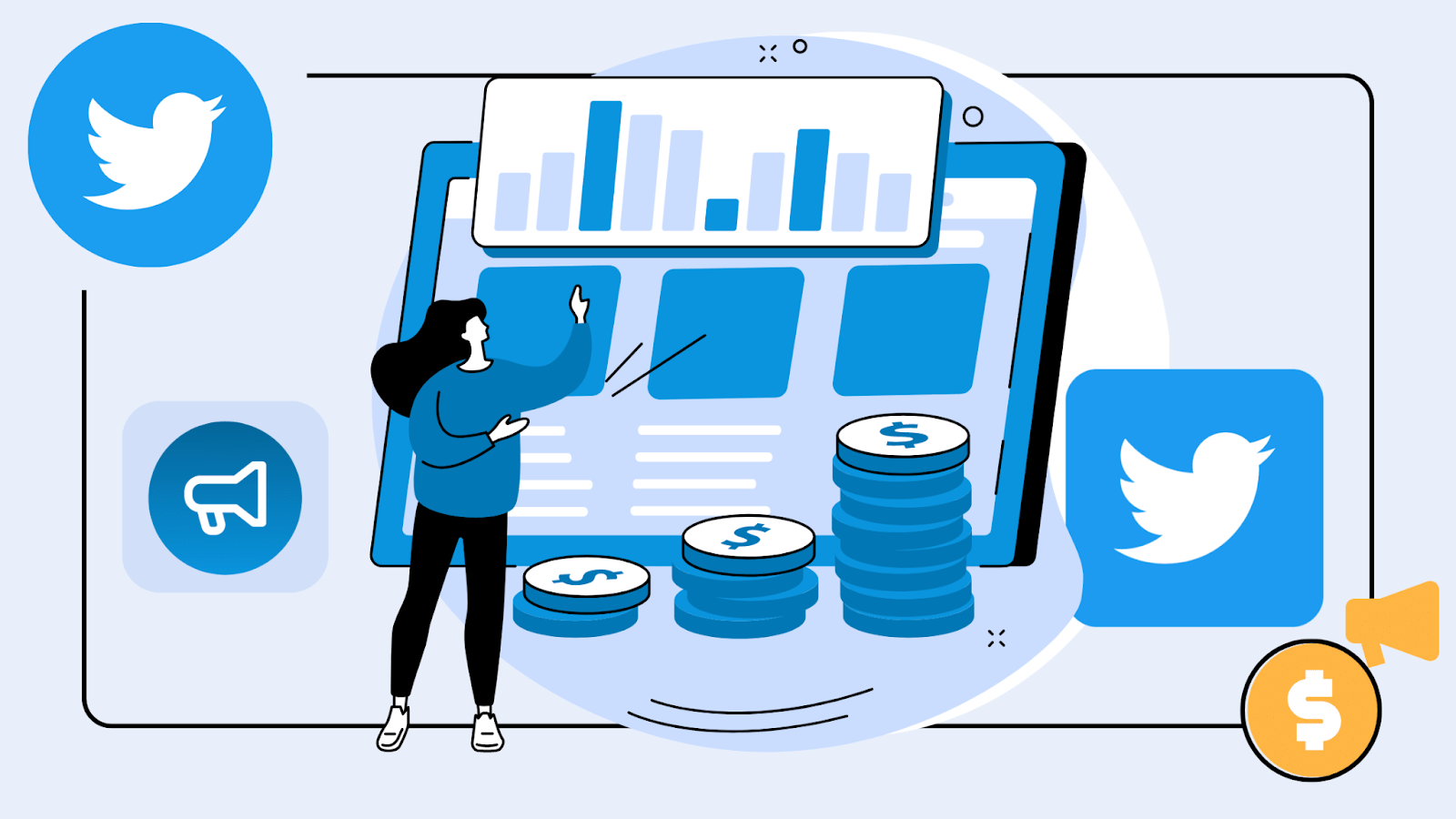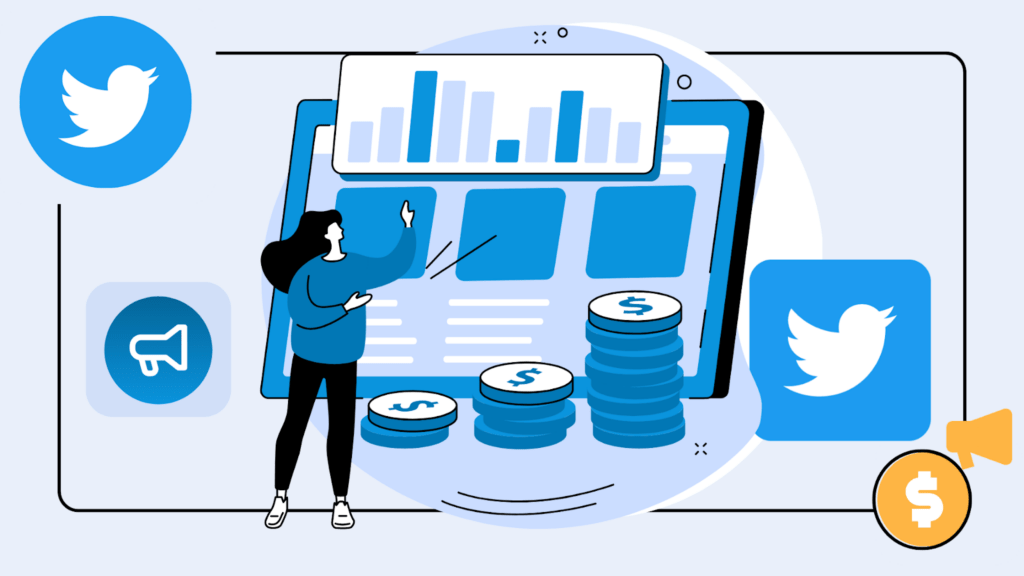 Advertising through social media can be hard to figure out since none of the platforms offers a direct quote. Twitter makes no exception here. It's all about budgets, bidding, and the goals you want to achieve through each campaign.
The good news is that Twitter has advertising solutions available for all business sizes and budgets. And Twitter's CPM is the lowest of all the major platforms, with an average CPM of $6.46.
In this blog article, we will review the mechanics behind Twitter advertising, which budget you'll need to succeed, and how to control your advertising spend.
Key Points
Twitter's advertising model is based on an auction system, where advertisers bid against each other to serve ads to a target audience. The cost of advertising on Twitter depends on various factors, including the type of ad, billable actions, bid amount, quality score, audience, and industry.
Twitter offers three types of bids (automatic, maximum, and target) and three ad options (promoted tweets, promoted accounts, and promoted trends). Promoted trends are the most expensive ad type, costing $200,000 per day.
While promoted tweets cost $0.50 to $2 per action (this could be a retweet, follow, or like), promoted accounts cost between $2 and $4 per follow. Promoted trends, on the other hand, cost a whopping $200,000 per day.
Is Advertising a Fixed Cost on Twitter?
There is no such thing as buying ads on Twitter.
Twitter ads run on an auction system where advertisers bid against each other to serve ads to a target audience. As a result, the price per billable action is not a fixed grade.
Regarding bids, Twitter provides advertisers with real-time guidance and suggestions on competitive bids during the campaign setup. Besides their capacity to bid, several other factors influence the final cost of each Twitter ad campaign.
These factors include the type of bid (target, maximum, or automated bid) and the target audience size. How compelling the ad is and how many other advertisers are trying to reach the same audience will also influence the final ad cost.
How to Choose the Right Bidding Option for Your Twitter Ad Campaigns
A bid indicates the price you're prepared to pay for the billable actions associated with your chosen goal.
In most cases, the advertisers that bid the highest amount have a better chance of winning the auction, thus having their ad run.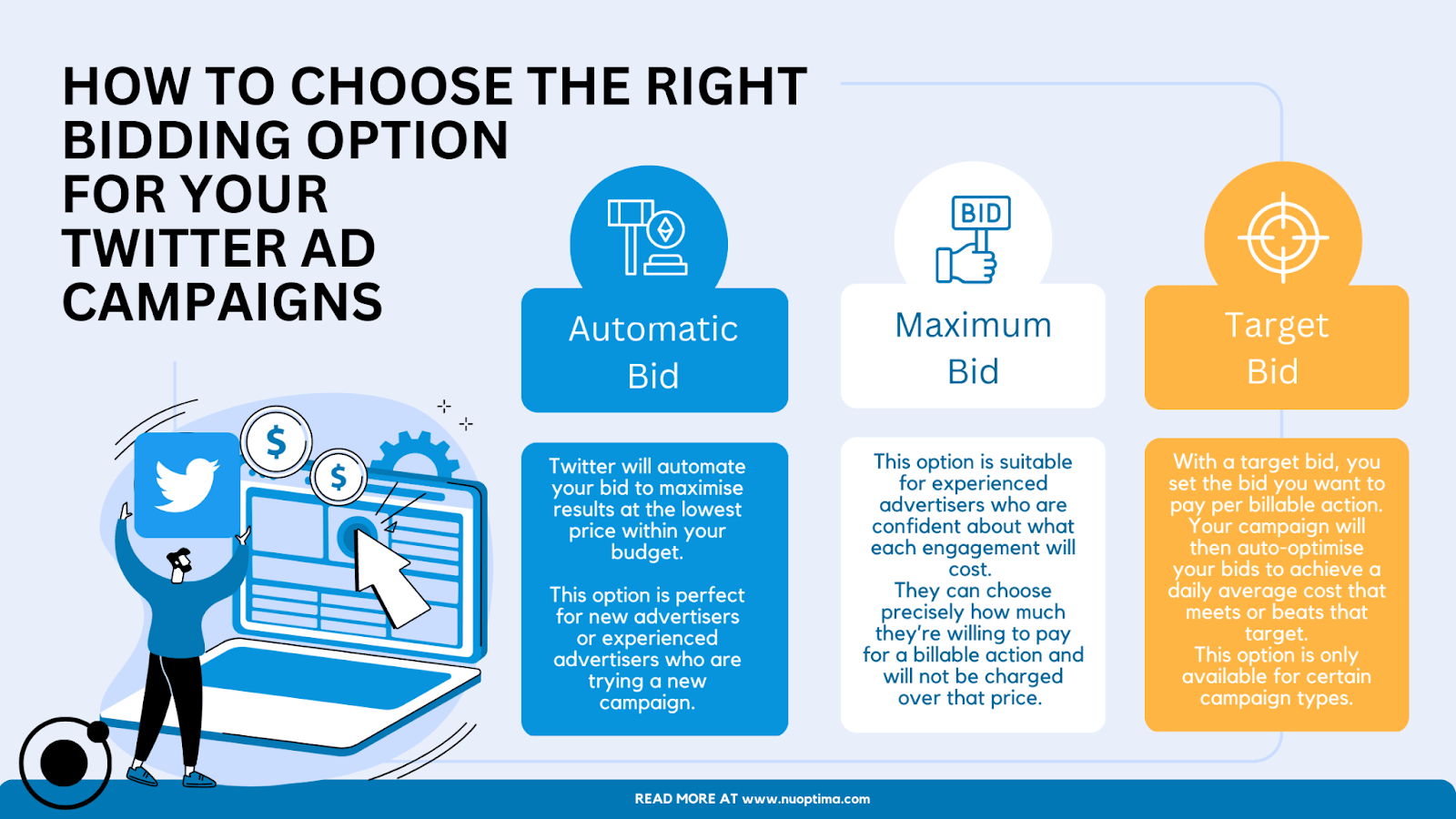 Automatic Bid
Twitter will automate your bid to maximise results at the lowest price within your budget. This option is perfect for new advertisers or experienced advertisers who are trying a new campaign.
Maximum Bid
This option is suitable for experienced advertisers who are confident about what each engagement will cost. They can choose precisely how much they're willing to pay for a billable action and will not be charged over that price.
Target Bid
With a target bid, you name the bid you want to pay per billable action. Your campaign will then auto-optimise your bids to achieve a daily average cost that meets or beats that target. This option is only available for certain campaign types.
The Right Twitter Ad Pricing Depending on Ad Types
Twitter suggests deciding how much you are willing to spend on the campaign first before choosing the ad type and optimising it for your desired cost per action.
How much advertising on Twitter costs depends significantly on the type of ad. You may choose from three ad types on Twitter: promoted Tweets, promoted accounts, and promoted trends.
Promoted Tweets
Promoted Tweets are original Tweets that are labelled "promoted" and appear on non-followers' timelines. Promoted Tweets can be liked, shared, and retweeted in the same way that regular Tweets can.
These Tweets allow you to target a large number of potential customers while also increasing a Tweet's visibility and page traffic.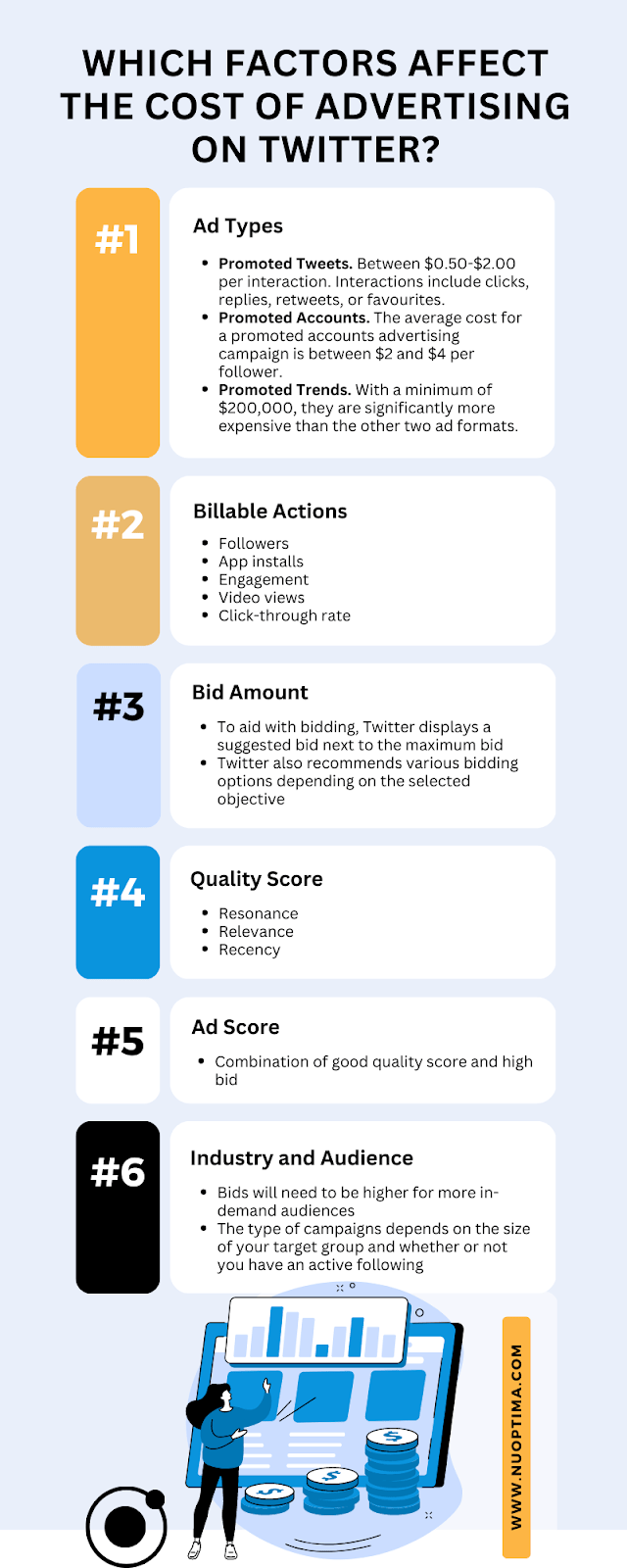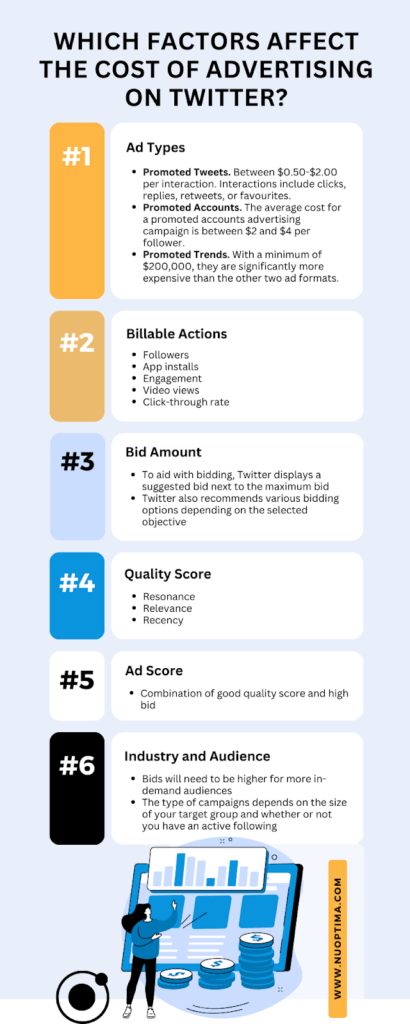 To have your Tweets promoted, you must place a bid. The cost to promote a Tweet is between $0.50-$2.00 per interaction, where interaction includes clicks, replies, retweets, or favourites.
Promoted Accounts
These ads promote the entire account and aim to increase brand awareness and following.
When running your campaign, you can target a specific audience to reach people interested in your business. Non-followers then see your promotional Tweet in their timelines, the "Who to Follow" section, and search results.
Bids for sponsored accounts work similarly to how promoted Tweets do and depend on how much you're willing to spend on each of the following. The average cost for a promoted accounts advertising campaign is between $2 and $4 per follower.
Promoted Trends
Promoted Trends aim to reach a large audience on Twitter and spark discussions. Thus, Twitter recommends utilising them for new product launches and to raise awareness.
For 24 hours, promoted Trends show in non-followers' "Trends for you" section ahead of users' organic results. Like the other ad categories, promoted trends require a bid.
With a minimum of $200,000, they are significantly more expensive than the other two ad formats. Logically, you'll find the big players with higher social media marketing budgets running this type of ad.
Which Other Factors Affect the Cost Of Advertising on Twitter?
Besides ad types, the overall Cost of Twitter ads depends on the billable actions you choose, your bid amount, your quality score, and of course, your audience and the industry you serve.
Billable Actions
Each ad group and campaign target is tailored to a specific result. As an advertiser, you should choose the billable action most relevant to your objectives, as you will only be charged when a user performs one of these actions.
For instance, you may want to get more followers, encourage app installs, or achieve a higher engagement with your Tweets. Or, perhaps, you strive to get more video views or click-throughs to your website.
Let's suppose you choose to increase website traffic as your billable action. In this case, you will only be charged when a user clicks the link to your website. All other forms of engagement, such as likes, shares, or comments, will not be charged.
Bid Amount
As with every auction, the highest bidder wins. The good news is that Twitter will show your ad if you spend just one penny more than your competitor.
Once you enter your campaign start and end dates and a total or daily budget, Twitter will display a suggested bid next to the maximum bid. Twitter also recommends various bidding options depending on the objective you select.
Strike Social gives a fantastic example of which approximate budget to allocate for different types of campaigns:
Website visits campaign: $1.68 – $10.00
Followers campaigns: $2.50 – $3.50
Tweet engagements campaigns: $1.50 – $2.50
App installs or re-engagement campaigns: $1.95 – $3.25
Awareness campaigns: $6.00 – $8.00
Quality Score
For you to win the auction, concentrate on your ad's quality. This so-called quality score comprises ad resonance, relevance, and recency and determines your advertisement's attractiveness.
Ad Score
To win auctions and maximise campaign success, your ads must both have a good quality score and bid. This combination is called ad score.
Industry and Audience
Certain industries attract more engagement than others. As a result, bids will need to be higher for more in-demand audiences.
Also, depending on the size of your target group, the types of campaigns you run may need to vary. If you already have an active Twitter following, you'll know which material engages them and gets you the most conversions. Otherwise, you'll need time and budget to experiment with your strategy first.
How to Control Twitter Advertising Costs
Once your campaign is live, visit your metrics dashboard to monitor your ad spend, costs, and results in real-time. You can also update your bids and budget anytime and decide whether to set a daily budget, a total campaign budget, or an ad group budget.
Budget Options For Twitter Promotion
A small firm attempting to sell its handcrafted items may discover that sponsored tweets are sufficient to generate click-throughs and transactions.
On the other hand, larger organisations looking to expand their current audience will likely have a higher marketing budget and will need to adopt a different strategy.
To create a budget for Twitter ads, you have two options.
Total budget
With the total budget option, you can decide how much to spend throughout the campaign. Twitter will allocate your budget equally each day between the campaign's start and end date.
Daily budget
Twitter can stop showing your adverts after the budget has been used up. Twitter resets the daily budget each day at your local midnight.
Standard delivery will employ your budget consistently throughout the day.
Accelerated delivery will spend your budget as fast as possible.
Concluding Thoughts
Twitter ads can be a powerful tool to reach a wider audience and increase engagement with your brand. To master bidding on Twitter and reduce your ad costs, you should consider several factors. First, choose an ad type and bidding strategy that aligns with your advertising goals and budget.
Secondly, remember that the cost of your Twitter campaign will ultimately depend on the billable actions you select, the amount you bid, your ad's quality score, your audience, and your industry. Don't worry; Twitter provides real-time guidance and suggestions on competitive bids during campaign setup.
In this article, we gave a few average campaign costs for 2023 to help you navigate your marketing budgets. By strategically bidding on Twitter, testing different ad formats, and optimising your targeting, you can reduce your Twitter ad costs and achieve a positive ROI.
---
FAQ
How much does it cost to advertise on Twitter?
Given that Twitter prices their campaigns using an auction approach, the cost of each billable activity in your campaign will vary. However, we provided some estimates to get an idea of how much to budget for different ad types:  Promoted Tweets cost between $0.50-$2.00 per interaction, promoted accounts cost between $2 and $4 per follower, and promoted trends have a minimum of $200,000.
What is the minimum budget for Twitter?
There is no minimum advertising price on Twitter (except for promoted trends), so you may choose the option that best fits your budget.
How are Twitter ads billed?
When setting up your campaign goal, you choose which billable action you want users to perform. This could be clicking through to your website or installing your app. As an advertiser, you decide how much you want to bid for each billable action. Once a Twitter user takes a billable action, Twitter will charge you.
Are paid Twitter ads worth it?
In 2023, Twitter's CPM is the lowest out of all the major social media platforms, with an average CPM of $6.46. Additionally, Twitter offers advertising solutions for all business sizes and budgets.
How much do Twitter ads cost per follower?
The budget, bid, and targeting you select for your campaign will all have an impact on the price you spend per follower. Based on historical trends, a bid between $2.50 and $3.50 is advised. However, Twitter will give you real-time bid advice during campaign setup.