Key Points
When considering an item to sell on eBay, take into account how much it costs to buy, what can you sell it for, how much competition and demand there is, how heavy the product is, and whether it has a high ratio of returns and dissatisfaction rates.
Other top tips for selling successfully on eBay include utilising eBay's Market Research and Advanced search tools, listing seasonal items at opportune times, including clear photos and detailed product descriptions, and considering the inclusion of handwritten notes when sending out your orders.
Current popular categories on eBay include Mobile Phones, Video Games, Home and Garden, and Health and Beauty.
Selling products on eBay and turning a profit can be a real challenge. It is not always easy to determine what will sell well and what will linger unsold on your eBay account. This article has been written to offer you advice about what to consider when evaluating a product, how to maximise your chances of selling an item, and give a few examples of products currently selling well on eBay.
eBay: A Brief Introduction
eBay is an online shopping website and is a huge household name, owing to the fact that you can buy and sell virtually anything, and millions of transactions are processed on eBay each day! Indeed, it is also home to many rare items and consequently is a hub for collectors looking for items they would not find locally. Initially, eBay was known as an online auction site, where once an item had been put up for sale, users would bid the amount of money they were willing to pay for an item until the allotted time ran out. Over recent years this format has shifted with the introduction of eBay's Buy It Now option, where sellers can put up an item for a fixed price. The decreasing popularity of the auction option is thought to be down to the impatience of buyers who no longer want to wait days for an auction to conclude. With Buy It Now, users can get an item immediately when they pay the fixed price.
How to Evaluate a Product to Sell on eBay
To help you decide what items are suitable to sell on eBay is, here are five questions you should ask when evaluating the viability of a product.
How much does the item cost to buy?
Before you have even purchased the item you are thinking of selling on eBay, you must consider its cost. There is little point in buying an item you want to sell if you are unlikely to get more money from someone else than what you paid for it. Ideally, you want to find an item that will be very cheap to buy but will resell for a nice profit. Of course, this is far easier said than done. An excellent place to start is often establishments such as charity shops. Nevertheless, it is essential to determine that you can make money from a product before you spend money on it. You can get an idea of a fair price by seeing what other sellers have decided to charge for the product on eBay. If every other user is charging an item for around £20, it is unlikely you will make much more money from that exact item. When evaluating the cost of an item, don't forget to also take into account any fees you will incur from selling as this will affect your profit.
Takeaway: Only buy items for eBay if you are confident that you can resell them successfully at a higher price.
How much competition is there?
Another important consideration is the competition you will face by selling a product. You need to evaluate whether there is any point in selling a product if hundreds of other users are selling the same item, especially if yours isn't unique. While this high competition may indicate a high demand for a product, it will be hard for you to stand out from the crowd and consequently make money if you are just selling the same as everyone else. While it is healthy to have some competition, it is prudent to focus on an item that enjoys lower competition levels as it can help you pull in more of the consumer's attention and clinch yourself sales.
Takeaway: Avoid products that have very high levels of competition. Conversely, be aware of products with non-existent competition. This may indicate a lack of demand.
How much demand is there?
This is perhaps the most fundamental question you need to ask. If there is no demand, you will have no consumer audience interested in your item. It is vital to clarify whether a product sells and how well. Linking to our previous point, the perfect item to sell on eBay notoriously enjoys low competition but high demand. This can be a tricky balance to get right, but you must ensure there is a market for an item that you are looking to sell.
Takeaway: Choose products that have a healthy demand.
Is the item heavy?
Make sure that when you evaluate a product, you find out how heavy it is. This is significant because its weight will determine shipping costs. The heavier an item, the higher the shipping cost, and therefore the less profit you are likely to make. This is vital because you want to ensure that you are not at a disadvantage because you did not consider all costs involved. High shipping costs can be feasible if you sell the item itself for a much higher amount than what it costs to ship, but generally, heavy items can be a hindrance.
Takeaway: Steer clear of heavy items unless they sell for a very healthy sum.
Does the product have a good reputation?
This point cannot be underestimated because it can affect how a user may view your seller account. For example, if you choose an item that is often connected to scams, you may want to veer clear. Consumers will be hesitant to purchase products if they are not convinced of their legitimacy, and unfortunately, you may lose out as a result of this negative affiliation. It is also essential to be aware of a product's satisfaction and return rates. Do you really want to sell a product that has a high risk of returns and dissatisfaction? It could turn out to be a big headache and dent your reputation simply because you sell the product.
Takeaway: Opt for a product that has low dissatisfaction and return rates.
Top Tips for Increasing Your Sales on eBay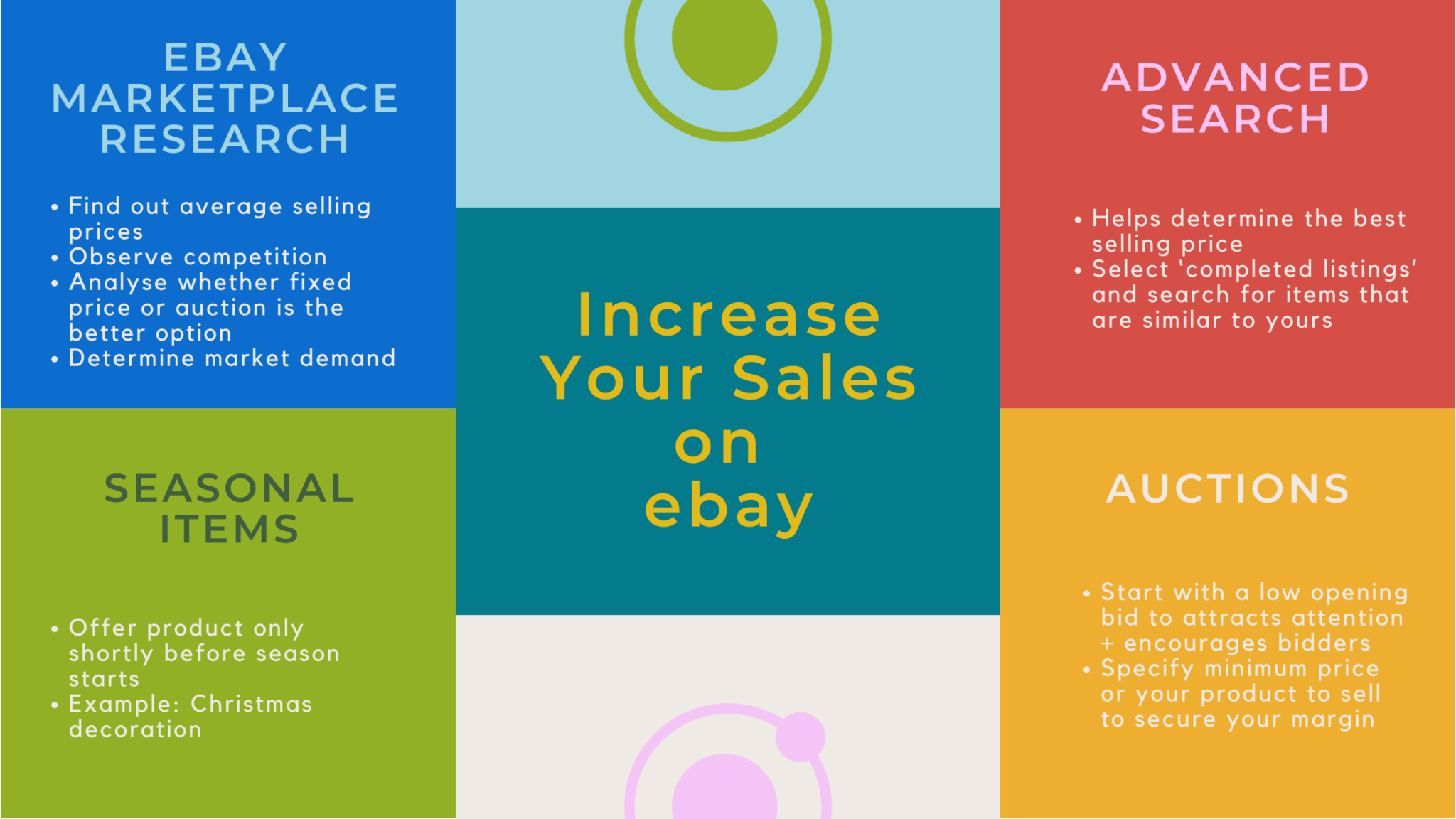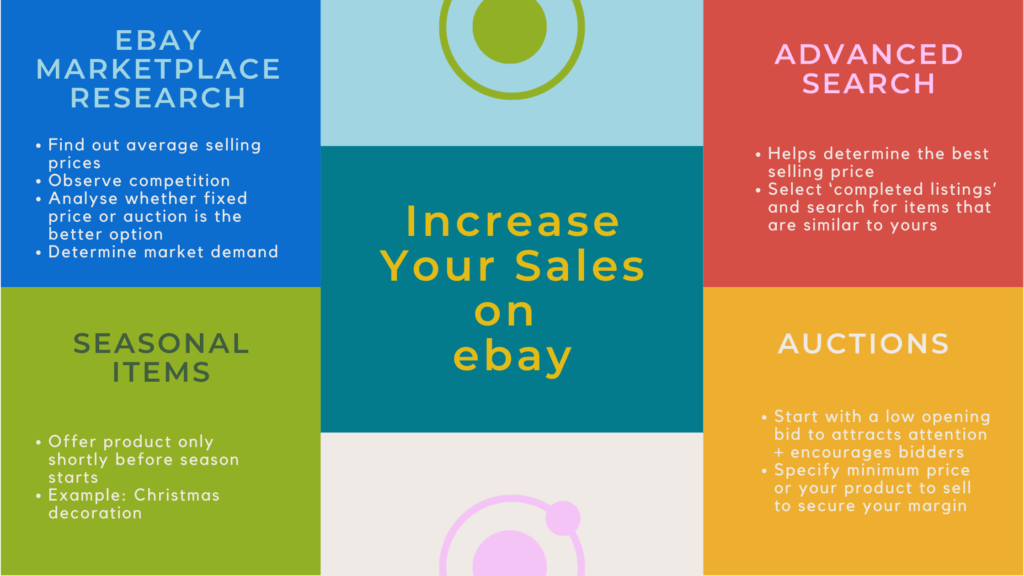 Now that we have reviewed what questions you should ask yourself when considering a product to sell on eBay, let's look at a few more tidbits of advice on how to get your products noticed by the consumer.
Utilise eBay's Marketplace Research tool. This is an invaluable tool that can give you an idea of the average selling prices of a product, monitor your competition, determine whether fixed-price or auction-style is most effective for your listings, and gauge the market demand for an item. These are all valuable insights to help you determine what is worth selling.
If you have a seasonal item, wait until it is likely in high demand. For example, Christmas decorations are more likely to sell towards the end of the year, so putting it up in Springtime will probably prove to be a hard sell. Keep these items aside until a more opportune time.
Another useful eBay tool is the 'Advanced search' option. With this, you can see what similar items have been selling for recently by clicking the 'completed listings' box so that you can price your item attractively for a prospective buyer.
If you use the auction option, start your bids low to get the attention of buyers. You will draw attention and encourage a competitive bidding war by doing so. Of course, this is not a good idea for niche products as you may not get many bids if it is in low demand (although you can always add a minimum price to ensure a product won't be sold unless the bids reach this base amount).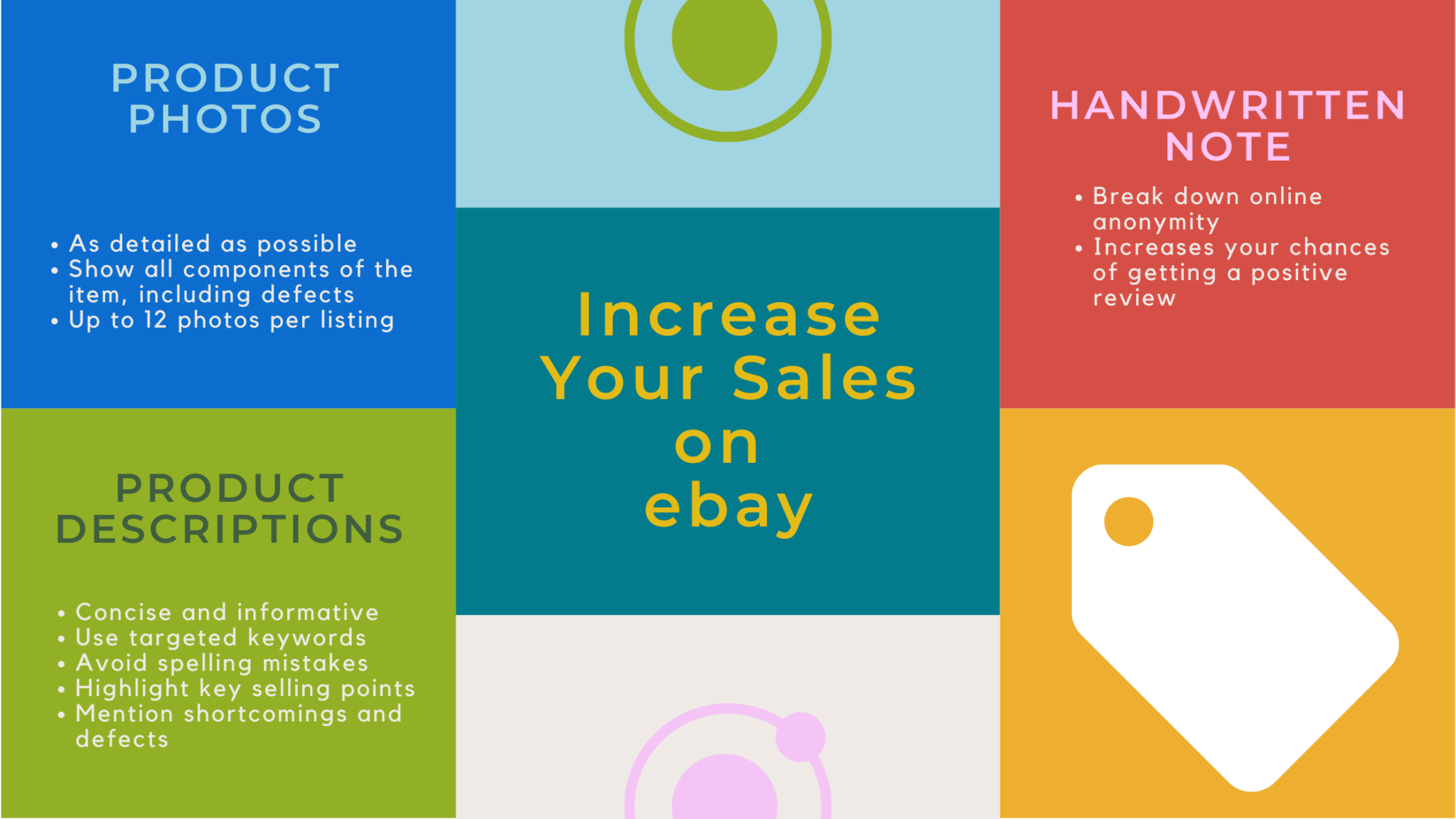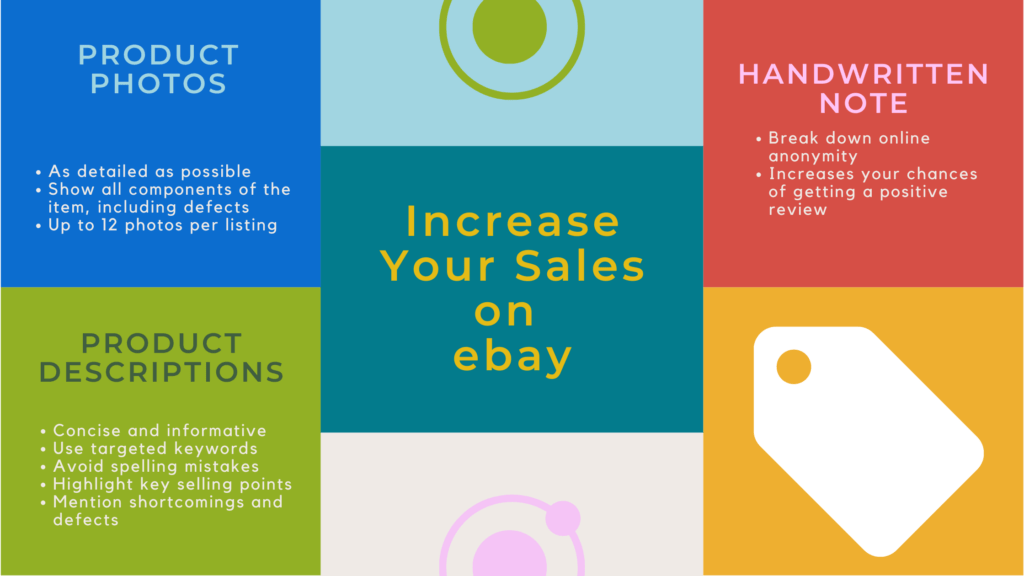 Take clear, detailed photos of the items you are selling. This adds credibility to you as a buyer as it provides the customer with an accurate representation of what you are offering. Include all components of an item in the photos. Remember, you can upload up to 12 photos for free per listing.
Write concise and informative descriptions of your products using multiple keywords. Ensure you avoid spelling mistakes, highlight key selling points as well as any defects honestly, list your terms and conditions, and invite potential customers to contact you with any questions.
Finally, once you have sold an item, sending a handwritten note with the product can help to give the buyer an insight into you as a person and break down online anonymity. This may help persuade the buyer to leave you a positive review and buy from you again.
Top Categories on eBay and Top Selling Items
Now that we have offered general top tips and advice about determining if a product is viable to sell on eBay, we turn to what categories and their items have already proven to sell well on eBay in recent times.
Mobile Phones (and Accessories)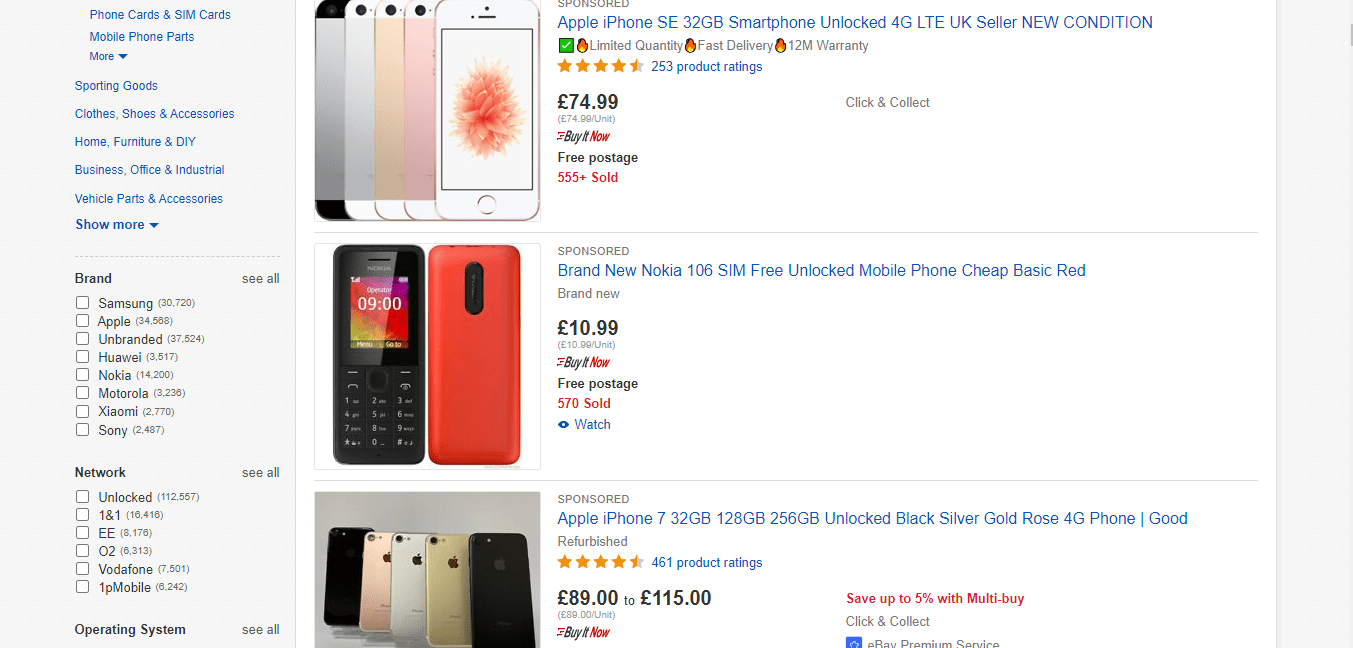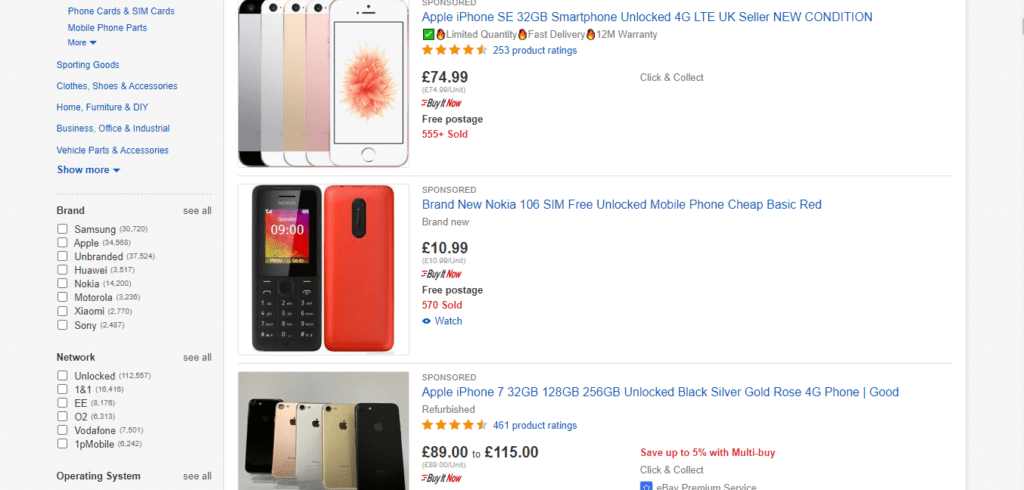 One of the most popular categories on eBay at the moment is Mobile Phones, and it is clear to see why. The global smartphone market is predicted to grow from $507.5 billion in 2021 to almost double by 2031. Virtually everyone in modern society owns a personal phone, and so it is unsurprising that mobile phones, second-hand phones, and related accessories are so popular among buyers. As we can see from the above screenshot, there are almost 35,000 products that come under the Apple brand alone, closely followed by Samsung. Many people buy accessories to go with their phones, such as protective cases, phone holders and headsets, and consequently, these particular products have sold highly as well.
Tip: If you choose to focus on this category, ensure you use unedited photos of your items showing all the details of the product's condition, including any scratches. Be honest about the condition from the start, or buyers may ask for a refund and leave a negative review.
Video Games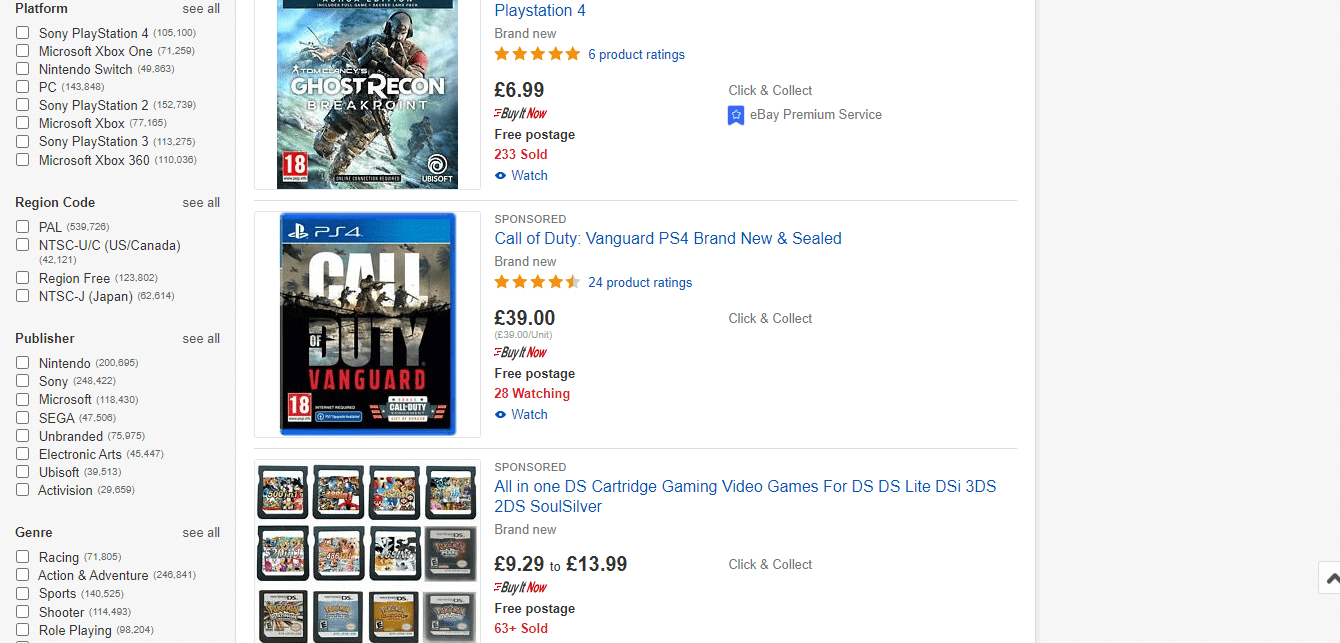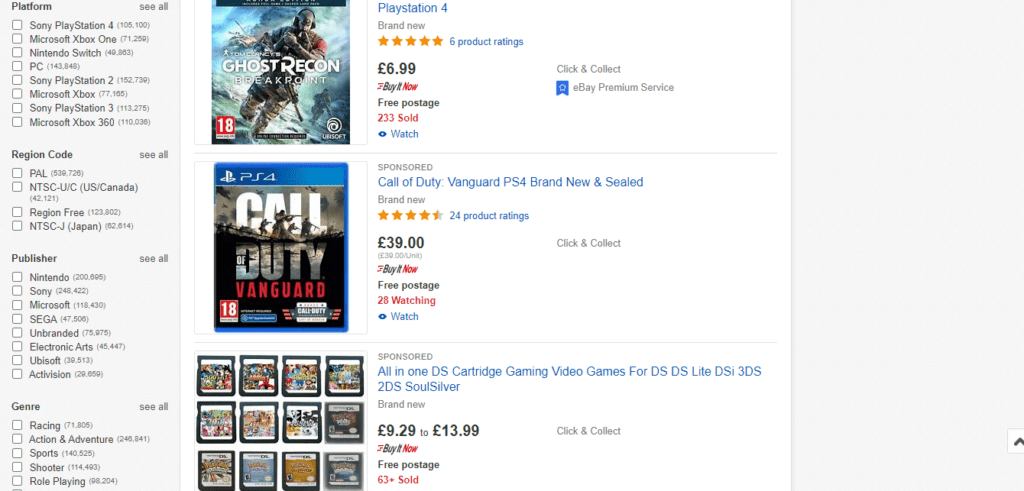 The second category currently enjoying big success on eBay is Video Games. This is thought to have been spurred on by the COVID pandemic, forcing the public into lockdowns and isolations, so video games became an appealing option to keep boredom at bay. And, it isn't just the latest games getting all the attention. Vintage and used games also spark much interest (and are currently trending), which is explained by eBay being the biggest community for seekers of vintage items among all marketplaces. From the image above, we can see hundreds of thousands of results to peruse (over 100,000 for Sony Playstation 4 alone!), demonstrating just how popular video games are on eBay. Video game accessories and merchandise have also proven popular such as controllers.
Tip: This may be the perfect option for you if you have retro games sitting at home collecting dust. If you choose this category, explore what other users have priced their games at, and perhaps include a postcard from the era of the product when sending it out as a nice added touch.
Home and Garden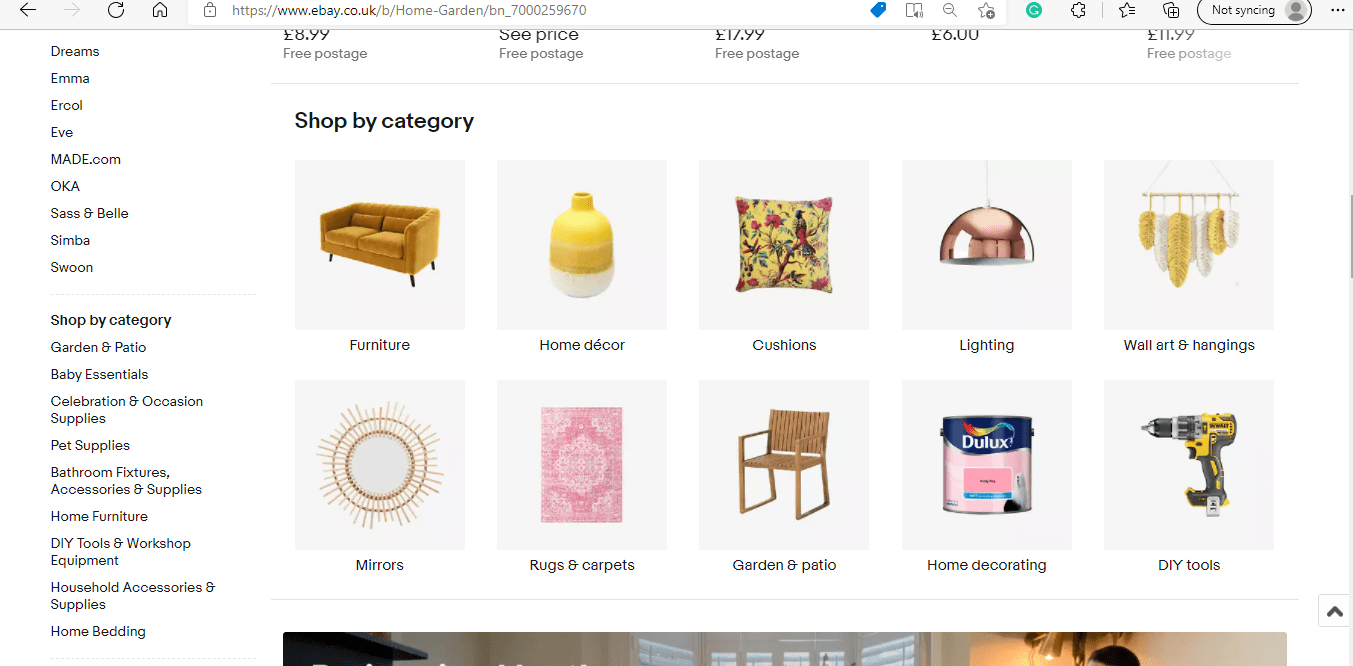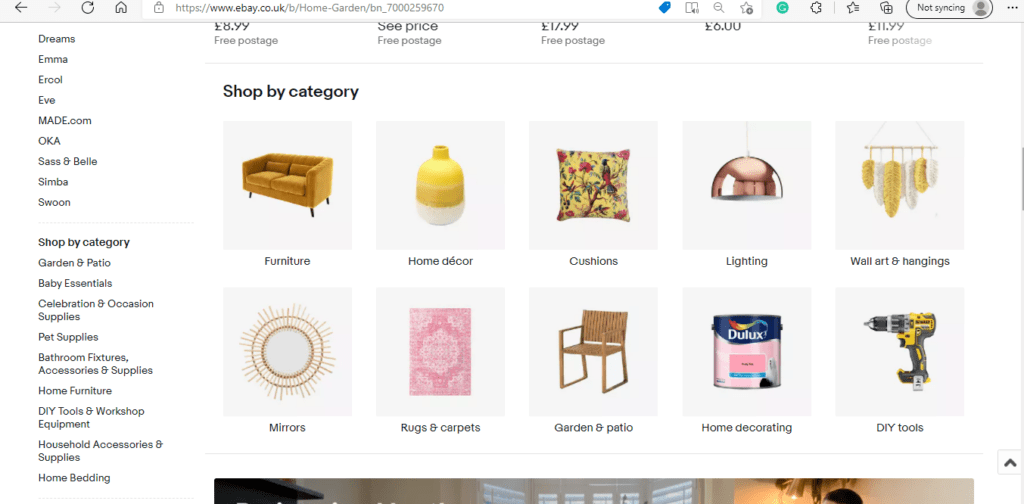 eBay also draws much attention from its Home and Garden category. Part of the reason for its popularity is the option to buy otherwise expensive products second-hand, saving the cost of purchasing brand new furniture and equipment. Of course, there are still items from well-recognised brands, and some of the most popular products within this category include (first and second-hand) tools and workshop equipment, water filters and kitchen products. From the photo above, we can see the wide range of subcategories available. This can be a great area to explore as everyone needs products for their home, and many items under this category are deemed essential, so will enjoy year-round demand.
Tip: If you decide to sell garden items, consider the season. They will prove more popular during the summer. Furthermore, when selling vintage home products or antiques, be sure to include their condition, the year it was created and potentially a backstory to further interest a potential buyer.
Health and Beauty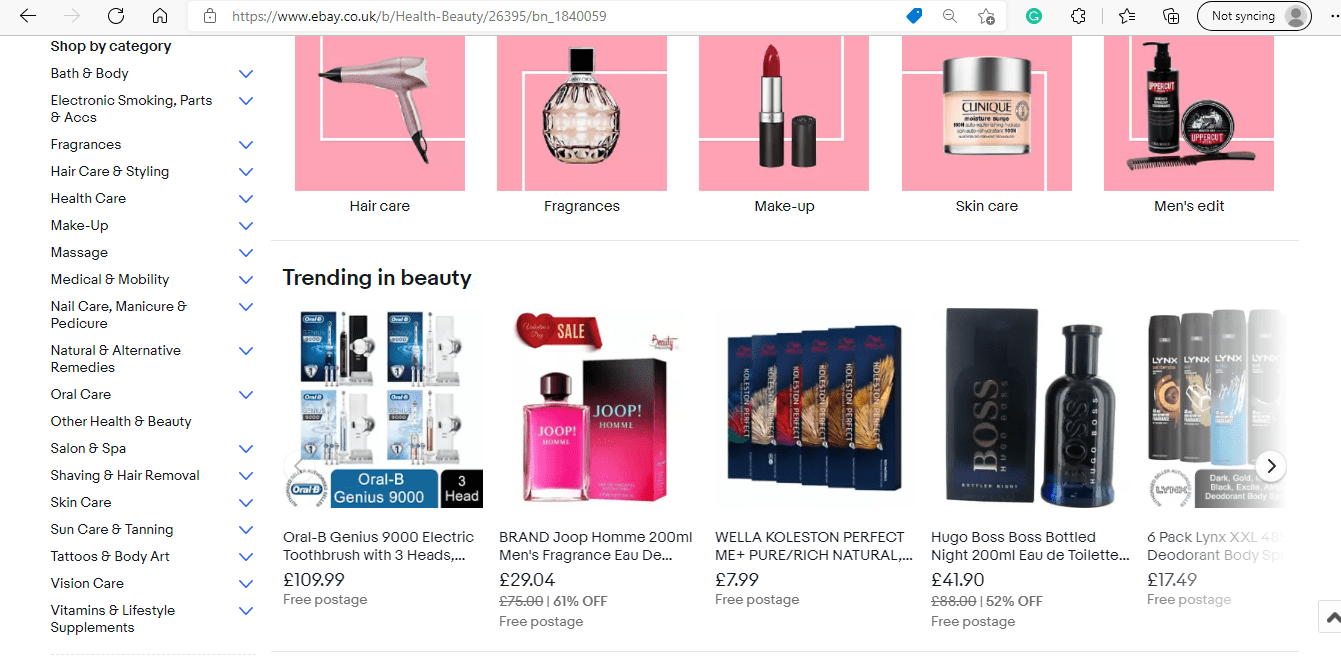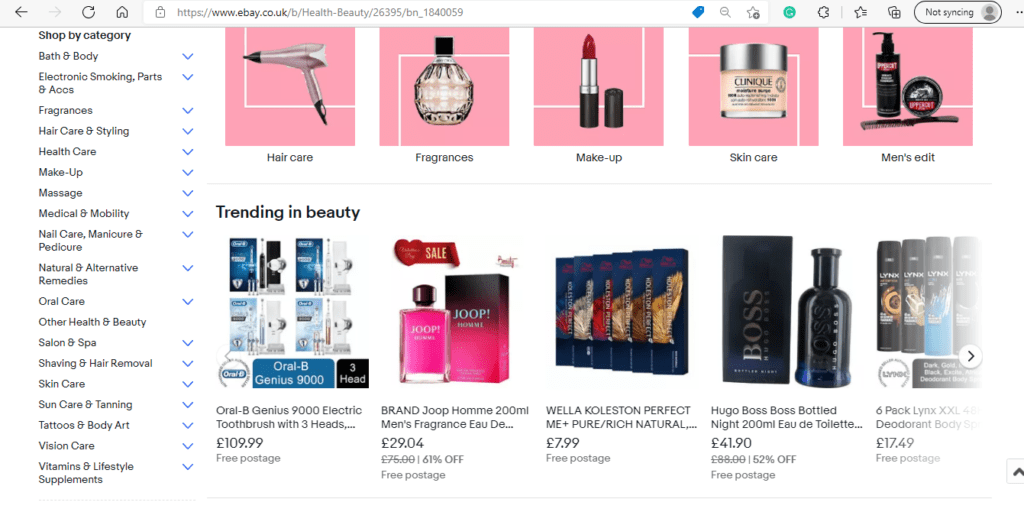 Health and Beauty products are in high demand on eBay. This is thought to be down to an increasingly image-centred society and an increase in the importance of wellness. The most significant trend in beauty is skincare at the moment as people rush to fight ageing and improve their general appearance. eBay offers an array of both well-known and indie brands. The image above shows how many subcategories fall under Health and Beauty, demonstrating why it is so popular. Some of the most popular items that sell on eBay include fragrances, make-up, skincare products, hair care products and bathroom items such as toothbrushes.
Tip: If you opt to delve into Health and Beauty, ensure you include an expiration date if relevant, or you run the risk of returns from unhappy customers. You should also clarify all ingredients included and any possible side effects to avoid customer disappointment due to issues such as allergies.
Final Thoughts
When deciding what to sell on eBay, there are several factors you should consider to determine whether it will be a profitable venture. This includes working out how much a product costs to buy, what you can feasibly sell it for, how much demand and competition it enjoys, the weight of the product, and whether it has a high proportion of returns and dissatisfied customers. You should also think about utilising eBay's research tools and follow some of our other top tips to ensure you maximise your chances of a positive eBay selling experience. It is sensible to take into account the current categories on eBay that are selling well, including Mobile Phones, Home and Garden, Video Games, and Health and Beauty.
While eBay is a great place to sell some types of products, Amazon has a much larger customer base and offers more opportunities for you to make a profit. If you would like further advice about how to decide what to sell on Amazon or would like a general consultation about your existing or prospective Amazon business, request a free discovery call today with one of our NUOPTIMA experts.
Talk to an Amazon expert
We work with 100+ businesses. Book a slot now to talk to one of our experts.
---
FAQ
Why should I sell on eBay?
One of the biggest advantages to selling on eBay is that you are provided with a market of over 180 million shoppers globally with a ready-made and diverse market. This enables you to spend less time and money on marketing, attracting customers, and research and more time on selling products and making money.
What are some of the top selling categories on eBay?
Currently, some of the top categories include Home and Garden, Video Games, Health and Beauty, and Mobile Phones.
How do I know what to sell on eBay to make a profit?
It can be hard to determine the best avenue to go down and is not always straightforward. It is highly recommended that you conduct sufficient research around the products and categories you are interested in selling. It is fruitful to consider what categories are popular at the moment (bear in mind a trending product may not be popular forever), to utilise eBay's Market Research and Advanced search tools, and to follow our tips for well-rounded advice.