Key Points
WordPress is a popular CMS platform that simplifies the process of creating a website and managing its vital aspects, such as content, structure and accessibility. One of the best things about WordPress is that it is SEO-friendly, meaning that it is set up in a way that makes it easier for search engines to crawl and index it for search results.
SEO plugins are extensions that provide special tasks and functions designed to optimise a website better. WordPress has several pre-built SEO plugins, but there are significant additions from third-party software companies that can absolutely increase your opportunities for SEO success.
SEO is an intricate and long-winded process that can overwhelm average and well-experienced business owners alike. But with the right SEO strategies and instruments, optimising your WordPress website to foster an organic traffic boost should not be too difficult to achieve.
What Is WordPress?
WordPress is an open-source and out-of-the-box content management system (CMS). This means that users with no formal coding background can build and manage their own websites for free. The platform is home to numerous plugins and themes that make web designing substantially easy and accessible for end-users.
What was once used as a tool for blogging is now a leader in hosting giant business websites and e-commerce stores. In fact, an article published on Techjury suggests that WordPress accounts for 62% of websites powered by CMS. That is equivalent to 455 million websites operating under WordPress, making it the most popular CMS platform among developers.
What Is An SEO Plugin?
Plugins are extension modules added to a CMS, browser or application to carry out specific tasks that the program cannot perform on its own. For instance, a WordPress SEO plugin allows web admins to optimise important aspects of a website, including content, sitemaps and overall performance, to make it more visible to search engine crawlers. If you own a WordPress site, you can select from a wide range of SEO plugins available for download and installation in its plugin directory. From broken link checking to media optimisation, there is a plugin made to support every branch of SEO.
Why Are WordPress SEO Plugins Important?
WordPress is, by all means, the go-to platform of many developers and web admins because it's free, easy to use and SEO-friendly. It is equipped with various features, themes and extensions that every user needs to rank as highly as possible. Be that as it may, there's always room for improvement when it comes to search engine optimisation. That's where SEO plugins come into play. These essential plugins provide comprehensive optimisation and analysis options to ensure the quality performance of a WordPress website. So if you're determined to see optimal results from your marketing efforts, investing in the right SEO plugins to optimise your web presence more effectively is no longer just a nice-to-have option but a must-have.
The Best WP SEO Plugins According To NUOPTIMA
There are thousands of paid and free SEO plugins for WordPress at our fingertips. With that in mind, choosing SEO plugins that work best for your website is indispensable. Important factors like functionality, compatibility and ability to upgrade must be taken into account beforehand. We also recommend performing quality tests and seeking professional advice to help you make a great decision.
To be clear, there is no such thing as "the best" SEO plugin for WordPress. This is highly subjective, and the choice varies from one user to the next. An ideal SEO plugin is what meets your needs and delivers outstanding results. Therefore, our list below includes SEO plugins that are handpicked by our savvy consultants at NUOPTIMA. These are the ones that go above and beyond when it comes to optimising WordPress websites for search engines.
Yoast SEO
Let's start with the most popular SEO plugin for WordPress. Yoast SEO has over five million active installations on WordPress at the time of this article. Its free version is an ideal starting point for beginners, while the premium version can help larger businesses take their websites to greater heights.
Free Version Features
Yoast SEO offers a few functions for free that other plugins do not. These include:
Advanced XML sitemaps to let search engine bots crawl your content and site structure.
Automated technical SEO elements, such as meta titles, tags and canonical URLs.
Complete control over breadcrumbs so users and search engines can quickly navigate your site.
Readability check to ensure content quality and show how it looks from the eyes of users and search engines.
Keyword analysis to help determine how well optimised your keywords are for search rankings.
Premium Version Features
Redirect creators and managers to prevent user interruption during URL changes or errors like "404: page not found".
Social appearance and templates to demonstrate how a piece of content will be shown on social networks like Facebook, Twitter and Instagram.
Automated internal linking blocks to let you add a certain block for a table of contents, subpages and links to enhance the look and structure of your content.
Suggestions of different synonyms, verb forms, and related keywords or phrases to make your content look more natural.
Cornerstone content checks to direct search engine crawlers to the most significant pages on your site.
Local SEO integration to help optimise your site for local audiences.
24/7 access to one-on-one email support to assist you with your SEO needs, inquiries or troubleshooting.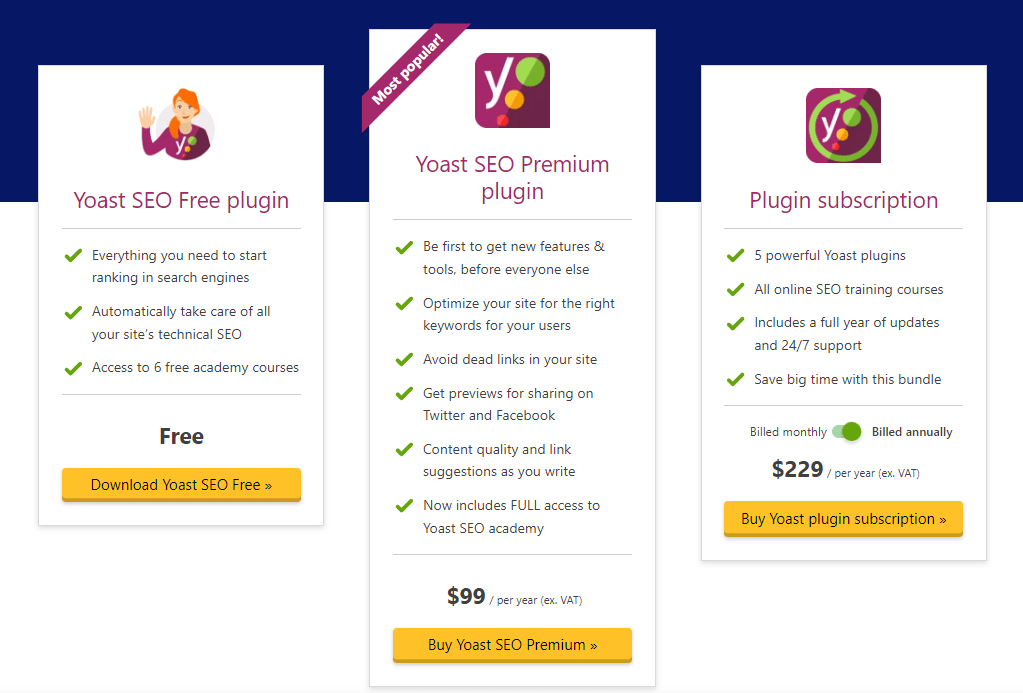 Semrush SEO Writing Assistant
Semrush WP plugin gives you the best guidance when it comes to writing an effective content piece. We have compiled some screenshots below to show you how this writing assistant describes the readability, originality, tone of voice and SEO-friendliness of a particular text and provides actionable suggestions for improvement. Users can also see their scores for each category to quickly determine the effectiveness of their articles and whether they make progress after a few revisions.
Semrush WP Plugin Features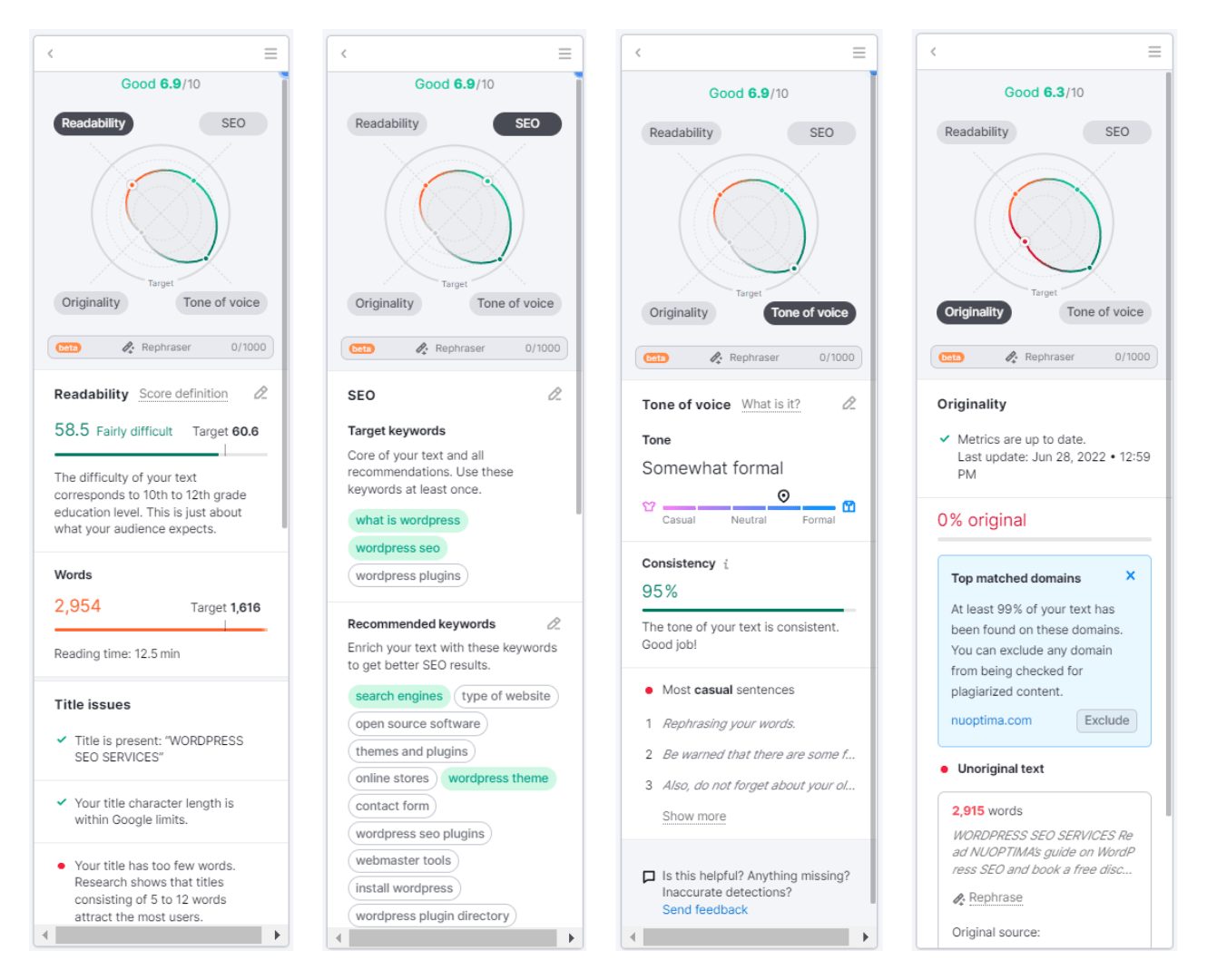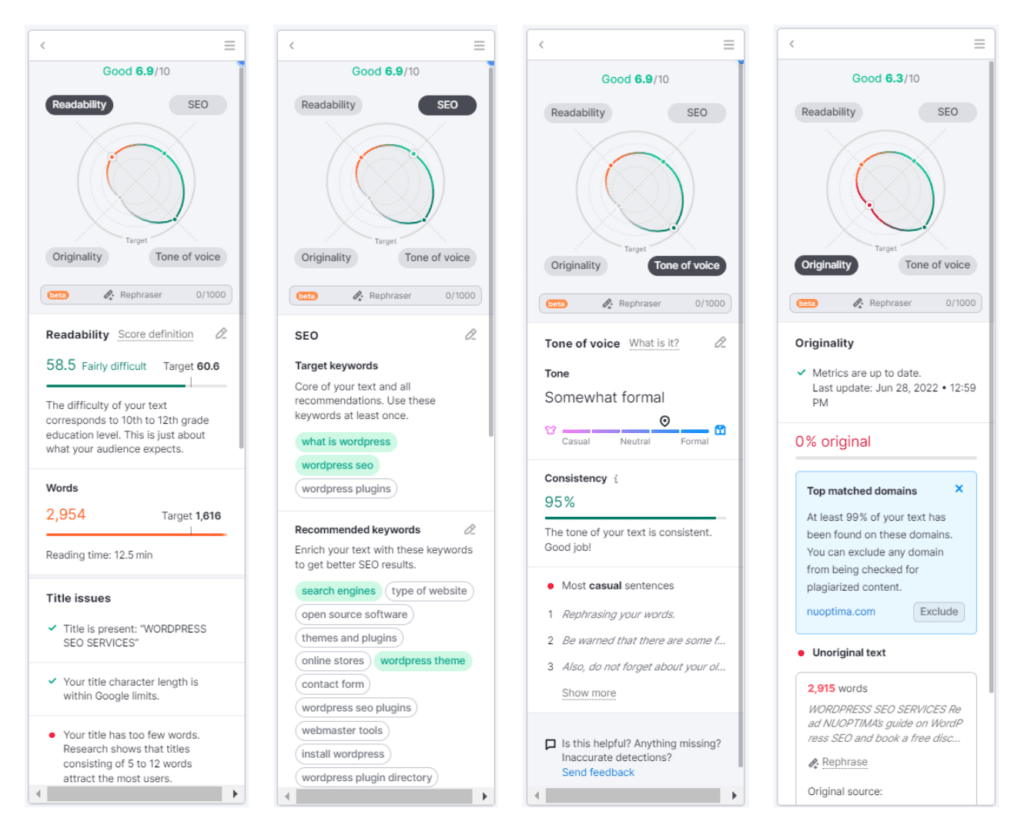 Semrush offers a 7-day free trial. Paid versions start from 99.95 USD per month, which seems to be more expensive than Yoast SEO. But if you do invest in its premium versions, you will get unlimited access to the following features within the subscription period:
Keyword Recommendations
Readability Assessment
Plagiarism Check
Rephraser; this feature provides paraphrasing suggestions to improve text quality and help overcome writer's block.
All In One SEO Tool
The one-stop shop that brings WordPress SEO tools into a single plugin that is super lightweight and sustainable. All in One SEO (AIOSEO) is the original SEO plugin for WordPress that was released in 2007. Compared to the previous plugins, AIOSEO is slightly easier to use. No wonder it has been awarded several times as the most beginner-friendly WP SEO plugin by many industry leaders.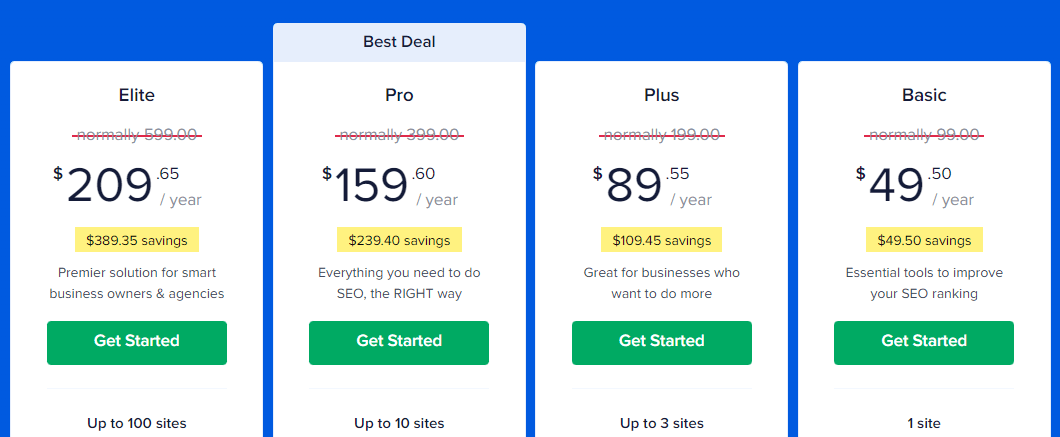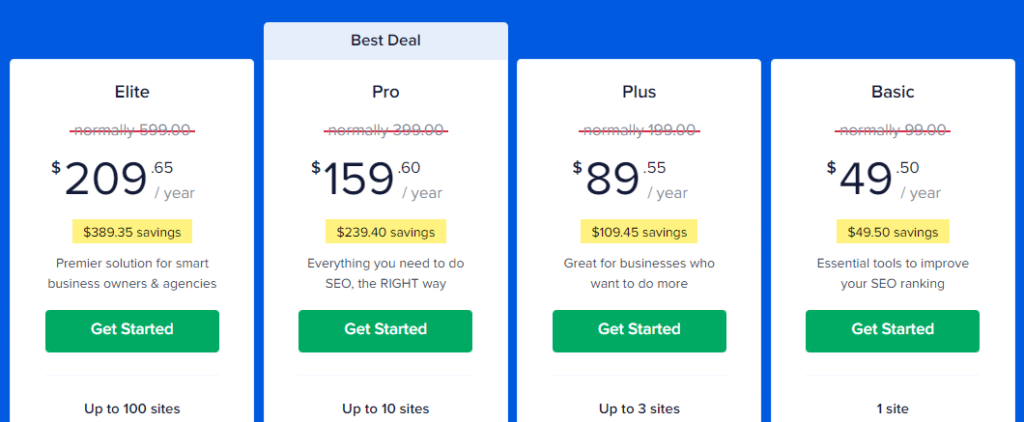 It offers a free trial version that is already packed with amazing SEO features. But obviously, the option to avail of AIOSEO's Pro and Elite versions will let you enjoy additional features and manage up to 100 sites on one platform.
AIOSEO Premium Version Features
Seamless Webmaster SEO Tools and Social Media Integrations (WooCommerce, Elementor, Facebook, Twitter, Pinterest, etc.)
Schema Rich Snippets; visual aids that often grab visitors' attention, including star ratings, images, and other forms of media
Redirection Manager and 404 Monitoring
On-page SEO Optimisation
Local SEO Optimisation
News SEO Optimisation
Rich Site Summary (RSS) SEO Optimisation
Video SEO Optimisation
Accelerated Mobile Pages (AMP) SEO Optimisation
Unlimited SEO Keywords
XML Sitemaps
Robots.txt Editor
SEO Audit Checklist
Custom Metadata Settings
Smart Breadcrumbs
Broken Link Checker
SEO is not just about finding the perfect keywords for your content. It also makes sense to fix any broken links on your website to improve your visibility. Broken links are dead links that lead to a 404 page, meaning it's no longer available. If Google finds out that your website contains broken links, it will less likely recommend your page for ranking.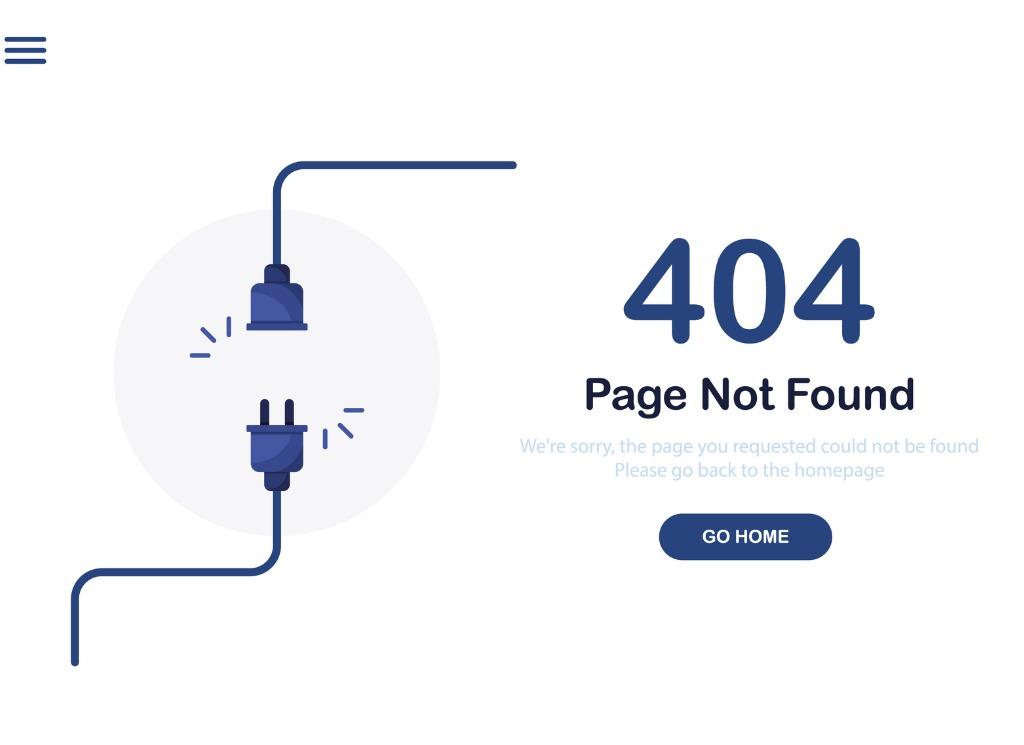 Broken Link Checker is a fantastic SEO plugin that helps monitor your website's internal and external links to enhance user experience. It will probably take hours, if not days, of manually going through all your pages to spot every broken link you might have, but with this plugin, you'll get results in just a few minutes, depending on the size of your website.
However, the consistent scanning functionality of this plugin can slow down your website. This can be a double-edged sword for SEO. That's why we recommend enabling this plugin only when you need to fix some broken links and then disabling it again when not in use.
Ahrefs SEO
Almost everything we've listed out here is a good starting point for novices. So to be fair, this one is an excellent option for advanced WordPress users, who want to take their online marketing game to a different level. Ahrefs SEO is a WordPress plugin designed by Ahrefs, an SEO powerhouse that covers every aspect of your SEO requirements. FYI, Ahrefs SEO can be a complementary plugin to any other SEO plugins you might be using. The whole point of adding this plugin to your site is to help monitor your performance and get deeper insights into your competition, something that other plugins don't offer.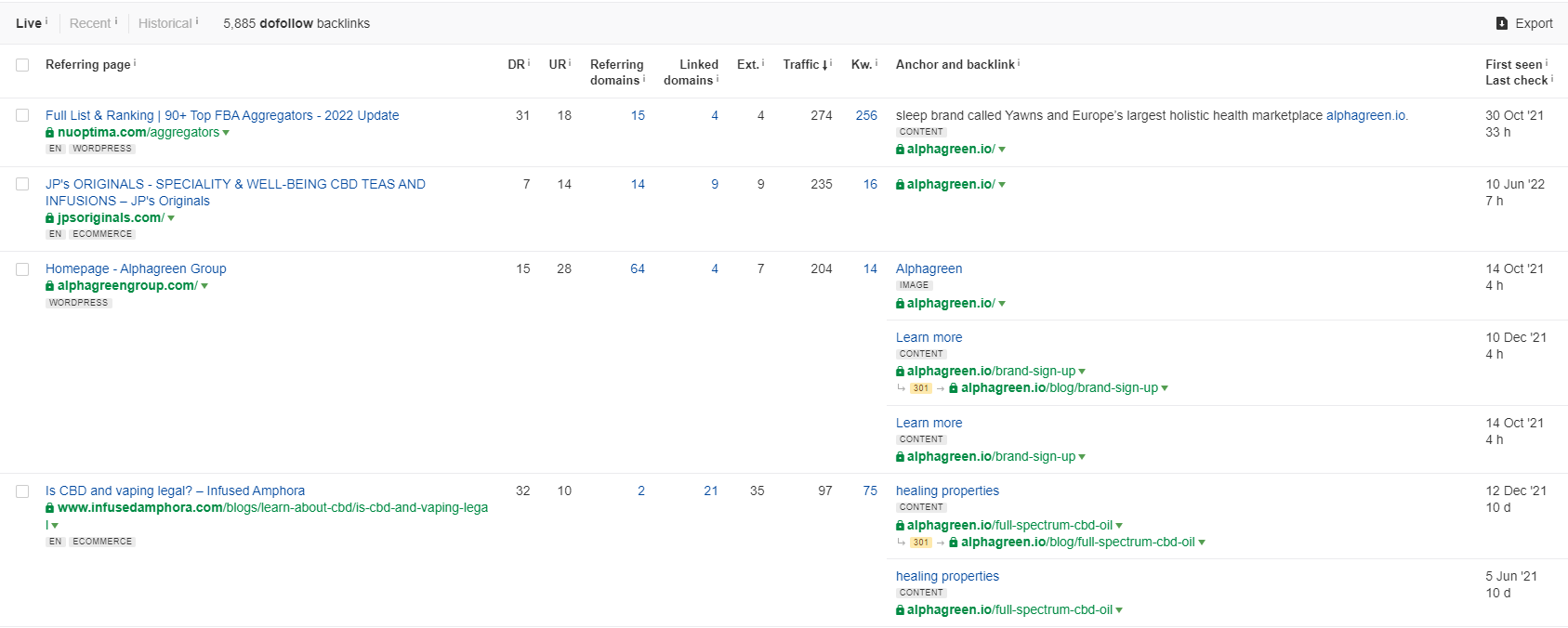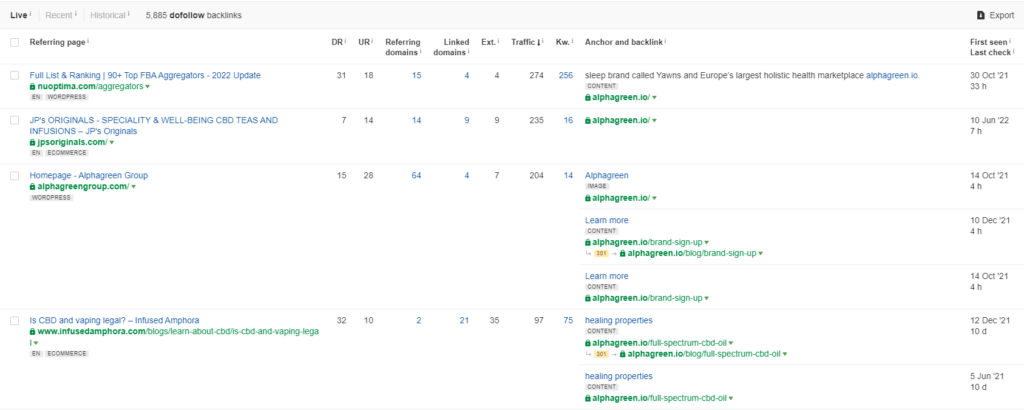 Ahrefs SEO Unique Features
Backlink databases to provide a complete picture of your competitors' referring domains, domain ratings and more.
Google Analytics and Google Search Console Integrations
Site Audit; Ahrefs combine data from their backlink databases and accounts on Google Analytics and Search Console account to give you a comprehensive assessment of your site performance and provide actionable recommendations for improvement.
Final Thoughts
You are one step closer to fulfilling your most ambitious SEO dreams when you have the right tools on your side. But that doesn't mean you need to install everything from Yoast SEO to Ahrefs SEO and all else in between. The truth is, you don't need a lot of SEO plugins to improve your site and achieve higher search rankings. Some SEO plugins may come with the same set of features and functionalities, so your best practice is to choose one that matches your needs and financial capacity and exceeds your expectations. It's also worth noting that these plugins are just tools designed to make SEO a bit easier, but they should not replace the fundamental groundwork and action required to pull off an effective SEO strategy. That's why we strongly suggest hiring a knowledgeable and competitive team of experts to help with your SEO. Our doors at NUOPTIMA are always open should you have any questions about SEO or ideas that you want to implement but are not sure where to start.
---
FAQ
Does WordPress Need SEO Plugin?
WordPress comes with built-in on-page SEO tools and sitemap features that help improve your website for search engines. While these are helpful for users, adding SEO plugins to your WordPress website can be valuable in taking your SEO efforts to another level and identifying areas of your strategies that need some finetuning.
What Is The Best Free SEO Plugin For WordPress?
Many SEO plugins for WordPress offer limited free trials. The ones we've listed above are great places to start. If in doubt, try as many plugins as you want to identify the most fitting tool for your website and budget. For instance, if you're looking to improve your content writing, Semrush SEO Writing Assistant would be your best bet.
Do Plugins Help SEO?
Yes. SEO plugins are created by different developers and companies with one common goal, to help web admins easily optimise their websites and reach their bottom line.