Key Points
When undergoing a seller account suspension, follow these four steps: resolve any current issues on your account, discover why your account has a suspension, create your plan of action (POA), and send off your appeal.
Writing tips for your appeal include being concise yet detailed, utilising bullet points over long paragraphs, taking ample time to construct your appeal, and remaining professional and polite in your writing.
You have 17 days to submit your appeal following notification of suspension, and while Amazon aims to respond within 48 hours, it can take around 60 days to get a decision for some sellers.
You might assume that Amazon account suspensions are uncommon. Unfortunately, you would be wrong. Suspensions are reasonably regular by Amazon, and they are not just reserved for blatant rule breakers. If your seller account is not performing well, for example, you can also have your account suspended. In this article, we give you essential tips about how to go about appealing an Amazon account suspension to get your business back up and running as soon as possible.
Appeal an Account Suspension: A Four-Step Process
To get your seller account reinstated, the main thing you will need to achieve is to create a plan of action (POA) in your appeal letter. This is sent by email to the Amazon seller performance team. Do bear in mind that there is not any guarantee that Amazon will reinstate your account once you have sent your appeal. Your account will remain suspended if you have not provided a feasible solution and a clear understanding of the errors that led to the suspension. For this reason, it is paramount that you take great care when considering your appeal. Furthermore, Amazon solely bases its decision to reinstate on your appeal, so its importance cannot be understated. However, there is no limit to how many times you can appeal a suspension, although it is best to get it perfect the first time. You need to follow four main steps during the appeal process:
Step One: Resolve Outstanding Issues
So, you have just had your account suspended. You might imagine that the best course of action is to contact Amazon immediately, but this is not necessarily the best option. It is not a good idea to send off an appeal when you are still in the initial stages of upset and anger. Before you reach out to Amazon, we highly recommend that you reflect on your account and confront any outstanding issues instead. By this, we mean looking at any outstanding support tickets and responding to them all. It is also important that you consider the status of your seller account and make any possible changes to improve it.
To see the 'health' of your account, it is a fantastic idea to use Amazon's Account Health Rating (AHR), which is displayed on the Account Health page for sellers (you can find this by clicking the 'Performance' tab). It assists you with monitoring your account health relating to adherence to Amazon's various policies, which can help you address policy violations efficiently. It also considers your impact on the customer experience and provides valuable metrics. You can use this feature to improve your account health which will put you in better stead when you appeal your suspension. Note that it can take up to two days for your rating to update once you have addressed any violations.
Please be aware that this first step is critical. If your account has been suspended, you are at an elevated risk of the removal of your selling privileges permanently, so ensure that before you contact Amazon, resolve any potential issues that may make Amazon doubt your ability as a seller on its website. It is also prudent to frequently evaluate the performance of your account to decrease the chances of a suspension happening in the first place and to increase the chances of a highly rated seller account.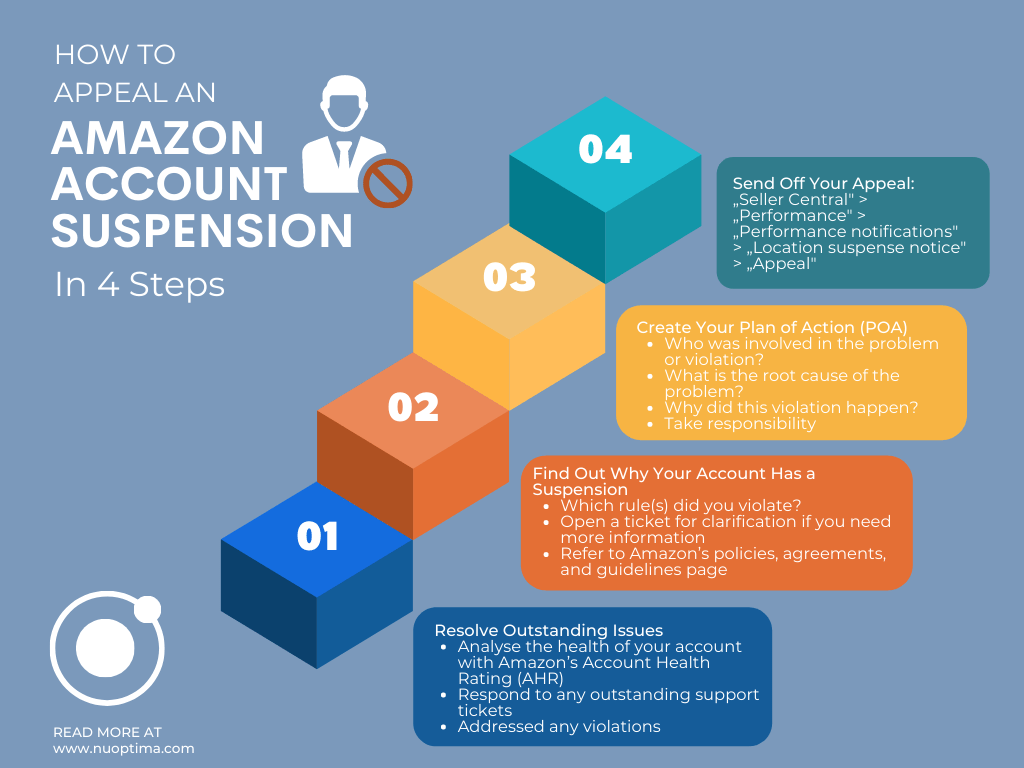 Step Two: Find Out Why Your Account Has a Suspension
The next course of action is to determine why Amazon has decided to suspend your account. You should read the suspension notice meticulously to discover which rule (or rules) you have violated and refer to Amazon's policies, agreements, and guidelines page as well as your account health. Please note that if you need more information about your suspension, you can open a ticket for clarification (as long as you can still access Support). You must have enough knowledge to write an appeal because if Amazon finds your email lacking in details and information, they will delay your appeal anyway.
Ultimately, when you send your appeal, Amazon wants to be convinced that you have understood the reason for your account suspension and that you will take the needed steps to prevent this issue from recurring. Therefore it is key that you fully comprehend Amazon's decision so you can send a strong appeal.
Step Three: Create Your Plan of Action (POA)
Once you are confident that you have fully understood your violation of Amazon's policies, it is time to get to work creating a POA. It is important to have an excellent concise structure to your appeal. You should explain the issue in question and then detail your responsibility for it and why it is a problem. You should include the following:
Explain who was involved in the problem or violation.
Explain the root cause of the problem. This indicates to Amazon that you comprehend what the problem is and that you acknowledge it.
Outline why this violation happened. This shows an understanding on your part as to what went wrong.
Take responsibility for your role in the problem and express why you know that it is a problem in the first place. This part is crucial in expressing to Amazon that you have learnt from your prior mistakes and will help convince the company that you are unlikely to repeat this error.
Essentially, Amazon is looking for assurances that you have identified the issue, dealt with it, and also how you intend to stop this violation from happening again in the future. For example, if you have a suspension over a product with several bad reviews, you could explain that you have removed the product in question from your listings. In the future, your POA could be to make faster decisions about getting a product with negative feedback removed from Amazon's marketplace.
Step Four: Send Off Your Appeal and Await a Response
Once you have finished your POA and have read through it several times until you are happy, you can send it off. Go to 'Seller Central', click 'Performance', then open 'Performance notifications' before pressing 'Location suspense notice' and then 'Appeal'. Once you have sent off your POA, it is just a matter of waiting on your part. You will be contacted via email about your account status once Amazon has made a decision.
Writing Tips for Your Suspension Appeal
To help you further, we have compiled some useful writing tips to ensure you include the correct information and present yourself in a positive light to Amazon to decrease the chances of your suspension being declined.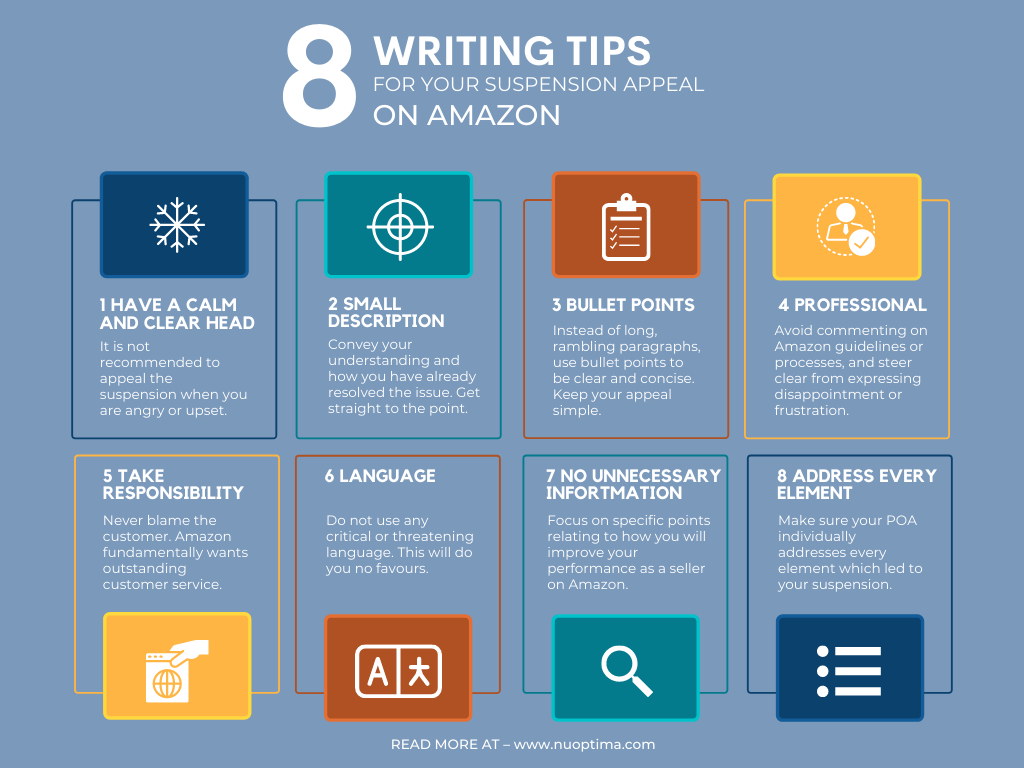 Avoid clicking on the Appeal button immediately after receiving a suspension message. It is not recommended to proceed when you are angry or upset. It is important to have a calm and clear head when appealing so that you can lay out a case that will convince Amazon to reinstate your account. Do not make rash decisions.
Write a short introduction of your case and write a small, detailed description to convey your understanding and how you have already resolved the issue. It is a good idea to get straight to the point.
Do not use long, rambling paragraphs. Use bullet points to express your points clearer and more concisely. Keep your appeal simple.
Ensure you stay professional and avoid commenting on Amazon guidelines or processes. Also, steer clear from expressing your disappointment or frustration. This will not accomplish anything except perhaps damage your chances of reinstatement.
Never blame the customer. Amazon fundamentally wants outstanding customer service, and complaining about your consumers will not demonstrate this discipline.
Do not use any critical or threatening language. This will do you no favours.
Avoid including unnecessary information. Focus on specific points relating to how you will improve.
Finally, make sure your POA individually addresses every element which led to your suspension.
A Note on Timings
There are a few timings and deadlines that you should consider:
Once you have received your notice of suspension, you have 17 days to submit your appeal.
Amazon estimates that they aim to respond within 48 hours of appeal submission. Unfortunately, it is rarely this fast.
Some sellers have waited 60 days or more for a decision regarding their suspension. Therefore, ensure that you are patient with the process; it can take time.
Final Thoughts
Going through the appeal process of an account suspension can be worrying and stressful. It is essential that you take the time to compile your plan of action and that when writing it, you express understanding and initiative in resolving any issues. Ensure that you follow our four-step process and our nifty writing tips to help increase your chances of account reinstatement to get back to your business. If you would like help constructing your appeal or other assistance regarding your Amazon account, please book a free discovery call with one of our experts today.
Talk to an Amazon expert
We work with 100+ businesses. Book a slot now to talk to one of our experts.
---
FAQ
What is an Amazon account suspension?
An account suspension is when you do not have selling privileges on Amazon any longer. This happens when a seller has violated Amazon's terms, conditions, or policies while selling products. If this happens, shoppers can no longer see your Amazon product listings.
How long do I have to appeal an account suspension?
You have 17 days after you receive notification of your suspension to write and send off your appeal.
When should I expect to hear back from Amazon about their decision?
While Amazon aims to respond to appeals within 48 hours of receiving them, some sellers have had to wait 60 days or more. Be patient during this part of the process.
How do I open a new Amazon seller account following suspension?
It is not recommended that you attempt to open a new Amazon seller account following suspension. You should always go through the appeal process. However, if you cannot get your account reinstated and are looking for alternative options, check out our tips on how to get back to selling on Amazon, such as setting up a new legal entity or buying an preexisting seller account.