Key points
FBA or fulfillment by Amazon is a plan offered by Amazon under which sellers can delegate order processing and fulfillment over to Amazon for a fee.
FBA has several important upsides and downsides that sellers need to consider before joining the program. However, the conditions are favorable enough for most people doing business on Amazon, as over 90% of sellers currently use FBA to fulfill orders.
On the upside, FBA allows sellers to take advantage of Amazon's fast shipping, simplifies business operations, eliminates the need for a warehouse, increases the sellers' rankings on Amazon, increases the chances of winning Buy Boxes, makes it easier to ship products to customers worldwide, and more.
On the downside, participation in the FBA program can lead to an increase in the number of returns, cause additional expenses for the seller due to high FBA fees, make it harder to keep enough inventory in stock, take away some of the control over the business from the seller, and more.
According to recent data, the Amazon marketplace is home to over 2.5 million businesses, a figure that is rapidly growing. Many sellers prefer Amazon because of the numerous features it provides, one of which is fulfillment by Amazon (FBA). If you are an Amazon seller, you have probably considered joining the FBA program or at least have heard about it. As of 2021, the vast majority of sellers (92%) use the Amazon FBA program, while others choose to fulfill orders by themselves. In this article, we will go over the benefits and drawbacks of Amazon FBA to help you decide whether or not to participate in this program.
What is FBA?
FBA or fulfillment by Amazon is a method of selling in which sellers send their products to Amazon fulfillment centers, where they are stored, packed, and shipped to customers when orders are placed. Amazon also accepts returns and provides customer service. The Amazon FBA program is a convenient way to save money on storage while focusing on selling rather than logistics management.
Pros of Joining FBA on Amazon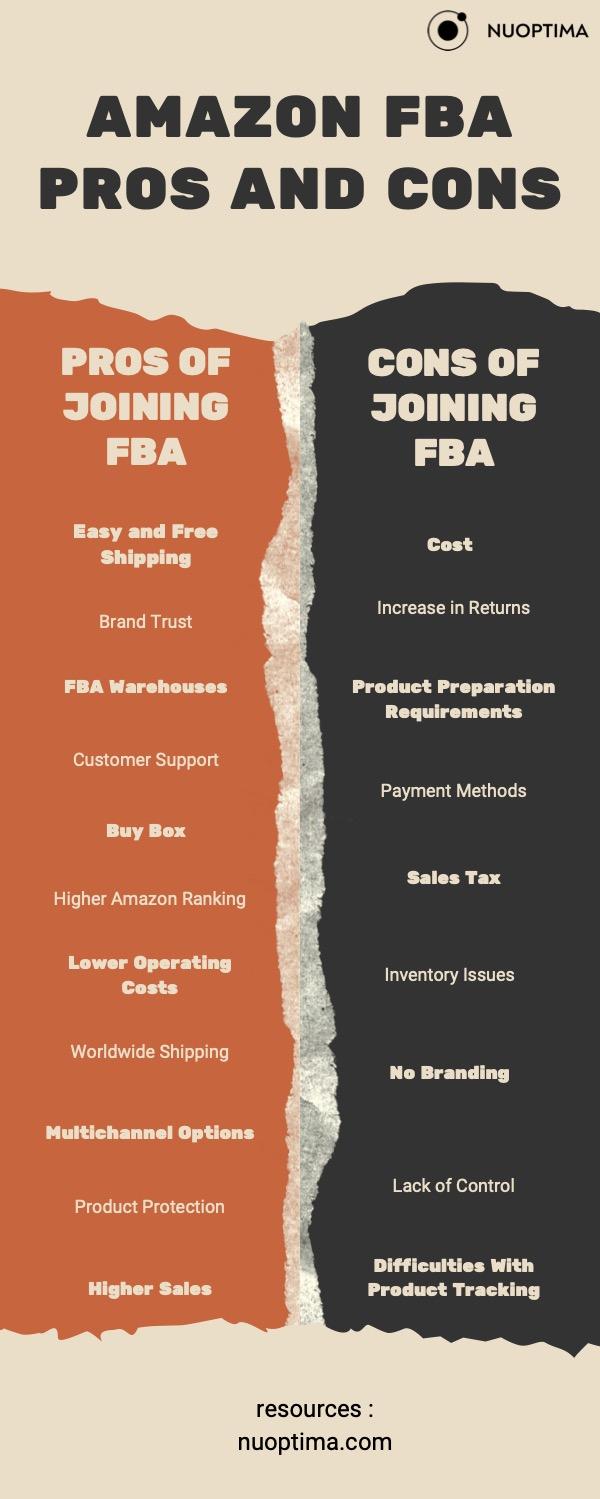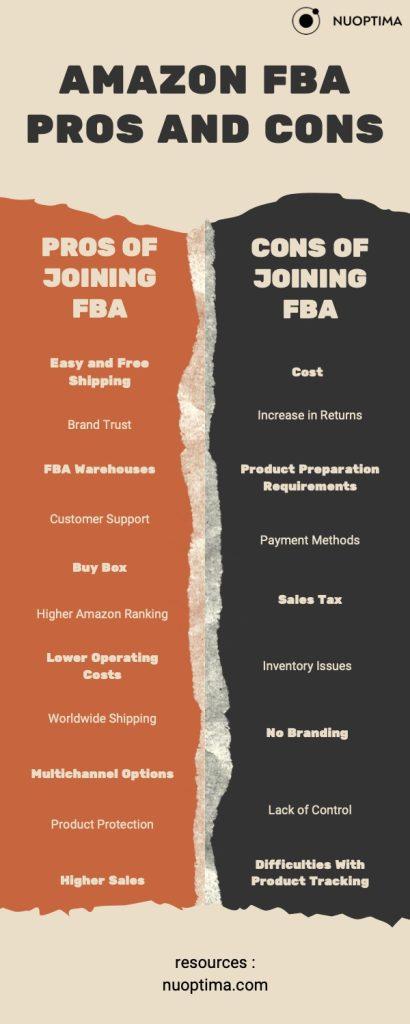 Easy and Free Shipping
As stated previously, under the FBA program, the seller is not responsible for storing, packing, or shipping the products. All of these procedures are handled by Amazon. It not only makes the sellers' lives easier, but it also provides some benefits to customers. For example, if your buyers are Amazon Prime members, they will receive free shipping. This feature will help you stand out from the crowd and increase your chances of becoming the preferred seller for the products you sell.
Brand Trust
As you may already know, Amazon has more than 300 million customers worldwide. These large numbers instill confidence in new users of the marketplace, assuring them that they will receive the best product and service possible. Amazon's return policy also presents a significant advantage because customers know that they can get their money back if the product does not meet their expectations exactly. Furthermore, having the FBA badge on your listing page encourages customers to make a purchase.
FBA Warehouses
If you don't have a dedicated space for properly storing all of the inventory, it can be hard and expensive to find a warehouse. FBA relieves you of this burden because Amazon stores your inventory in its own warehouses. This allows you to focus on other aspects of your business instead of worrying about ensuring the proper storage conditions for your products.
Customer Support
To provide good customer service, you will most likely need to hire someone who will answer questions, handle complaints and returns, speak the languages of the countries you are selling in, and generally support customer relationships. Fortunately, with Amazon FBA, you won't have to worry about any of that. Amazon already has a well-established customer service and logistics operation that can handle any questions or problems that customers may have.
Buy Box
The Buy Box is a white box located on the right side of each Amazon product page where customers can add items to their shopping carts. Sellers who manage to win the Buy Box and be displayed as the default option in it, predictably, make the most sales. This, however, is not an easy task. Amazon generally shows only popular sellers with a perfect reputation and competitive pricing in the Buy Box. Sellers must also provide excellent customer service and fast shipping to win Buy Boxes. That is why participating in the FBA program is an excellent way to meet all of the requirements while also increasing your chances of winning the Buy Box.
Higher Amazon Ranking
With the FBA program, your product is more likely to outperform identical products from other sellers on the Amazon search results page. This is due to the fact that sellers who do not use FBA classify their products by total price (product price plus shipping fee), whereas FBA sellers only classify products solely by price.
Lower Operating Costs
Having your own warehouse, supplying packing products, and hiring staff to manage logistics will all cost you a pretty penny. However, FBA will save you both time and money because you won't have to pay for order processing and fulfillment.
Worldwide Shipping
As an Amazon FBA participant, you have access to the entire world because FBA warehouses are located in different countries. So you can be anywhere in the world and still do business globally, and Amazon will handle all of your orders 24 hours a day, seven days a week. Isn't that a good business strategy?
Multichannel Options
You are not limited to selling your products only on Amazon when using FBA. You can still sell through any channel that supports Amazon FBA. However, this does come with a separate set of item restrictions and a pretty high additional fee.
Product Protection
Everything can happen, and your products may be lost or damaged when they are shipped to customers. However, Amazon FBA will cover all damages and take care of the situation, so you won't have to deal with it on your own.
Higher Sales
You can expect an increase in sales when you join the FBA program because it gives you a chance to rank higher in search results and win Buy Boxes more frequently. In addition, by incorporating Amazon into your existing eCommerce strategy, you will expose your products to new customers, which brings additional benefits.
Cons of Joining FBA
Cost
Although it may seem obvious, we must state that using Amazon FBA is not free, and not everyone can afford it. If you sell low-cost items, storing and shipping them under FBA may not be advantageous. There are multiple fees Amazon FBA usually have to pay:
FBA Fulfillment Fee: A fee calculated per unit based on product weight, dimensions, and category.
Inventory Storage Fees: A charge for products stored in warehouses that is calculated based on the number of cubic feet the inventory occupies.
Long-Term Storage Fee: If your product is stored in FBA warehouses for an extended period of time without being sold, you will be charged additional fees.
Removal Order Fees: Amazon will remove all of the items you want to be removed from their warehouses for an additional per-item fee.
Unexpected Services Fees: You will be charged an additional fee if you do not ship your items to the fulfillment centers according to the established rules.
Returns Processing Fees: If the customer receives a free order return, you must pay for it.
Before signing up for an FBA membership, you should calculate all of your sales volumes and analyze your buying frequency to ensure that you can make a profit in the FBA program. Amazon also has a dedicated FBA calculator to help you decide if FBA is right for you.
Increase in Returns
Amazon FBA offers a simple return process, which greatly benefits customers. However, this causes some customers to make a large number of "test" purchases that usually result in a return.
Product Preparation Requirements
Amazon has strict rules and restrictions that specify how products must be packed and delivered to FBA warehouses. To avoid additional fees and difficult situations, you must follow all the rules and properly label your products.
Sales Tax
Different states have different taxes. If your company is registered in one state, but your items are stored in another, determining which tax rate to use can be difficult. To avoid these issues, look for apps that allow you to calculate all taxes in different states.
Payment Methods
There is no way to put off paying what you owe to Amazon. Unfortunately, it means you won't be able to pay off your existing debt with the proceeds from a subsequent sale, so you need to have enough capital to pay Amazon fees in advance or be able to use a credit card to do this.
Inventory Issues
In July 2020, many sellers encountered new challenges with Amazon FBA, as Amazon imposed restrictions on how sellers should send items to warehouses based on their IPI (Inventory Performance Index). IPI is a metric used to track the performance of your inventory over time. It may be difficult for new sellers to quickly accumulate a qualifying IPI score, which can put them at a disadvantage and cause Amazon warehouses to run out of their inventory.
No Branding
Amazon always puts its branding on the packaging, and there is no way to replace it with yours. If you are a private label seller, this can negatively impact your brand's recognizability.
Lack of Control
As previously stated, Amazon bears all of the shipping responsibilities under the FBA program. As a result, you will not participate in order fulfillment, packing, and delivery. It can be a significant advantage for some, but it can also be a significant drawback for those who want complete control over the process.
Difficulties With Product Tracking
You won't know how frequently your products are sold because Amazon doesn't provide statistics that show how many items are still in their warehouses. As a result, it can be difficult to calculate it, keep track of what inventory you need to order or produce, or know when to stop sourcing new items because the previous ones haven't sold.
Final Thoughts
Before enrolling in the FBA program, we recommend that you thoroughly examine all aspects of your business. If being responsible for product fulfillment is a significant burden on your shoulders, Amazon FBA is ideal for you. However, because FBA is designed for high-volume businesses, it is a good idea to calculate all costs forecast profits to see if this business model will be worthwhile. If you sell low-cost products with a low turnover rate, you should think twice before joining FBA. Overall, it's a good idea to seek professional advice to ensure that you make the best decision for your business. Many Amazon sellers now choose to hire consultants that can answer all of their Amazon-related questions, help develop an effective business strategy, and assist them in growing their business. To learn more about Nuoptima's services, sign up for a free discovery call with our Amazon experts or leave your email address, and we will contact you as soon as possible.
Talk to an Amazon expert
We work with 100+ businesses. Book a slot now to talk to one of our experts.
---
FAQ
What is wrong with Amazon FBA?
Some sellers report experiencing issues with Amazon FBA. For example, sometimes, it takes longer to log inventory into the Amazon FBA system, causing delays in customer shipments. In addition, many sellers faced new challenges with Amazon FBA in July 2020 when Amazon imposed restrictions on how sellers could ship items based on their IPI (Inventory Performance Index).
Can you start an Amazon FBA with no money?
It is almost free to begin selling on Amazon, but you will have to pay relatively high fees upfront if you want to participate in the Amazon FBA program. Amazon FBA fees include inventory storage fees, long-term storage fees, removal order fees, returns processing fees, and more.
Is Amazon FBA worth it in 2021?
Yes. However, before enrolling in Amazon FBA, you must weigh all of the benefits and drawbacks and conduct a detailed cost analysis for your brand.