Key points
Amazon has two order fulfillment options: FBA, or fulfilled by Amazon, and FBM, or fulfilled by merchant.
Under the FBA program, Amazon stores products in its warehouses, processes orders, ships goods, handles returns, and provides customer support. In return, sellers pay a fee for using this program.
In the FBM program, sellers are responsible for handling all of these tasks.
Both programs have numerous pros and cons, so it's important to consider all aspects of your business when deciding which program to utilize.
Sellers can use both FBA and FBM programs when fulfilling their orders, so you don't need to pick just one option.
Amazon is not only the most popular global platform for customers, but it is also the largest marketplace for retailers. According to recent data, over 2.5 million businesses are based on Amazon, and this number is rapidly increasing. Sellers employ various strategies to maximize their Amazon profits, and this includes product fulfillment and delivery methods.
When you sell on Amazon, you can choose between two fulfillment options: let Amazon handle the process for you (Fulfillment by Amazon) or handle order processing, shipping, etc., yourself (Fulfillment by Merchant). As of 2021, a vast majority of sellers (92%) utilize the Amazon FBA program, while Amazon FBM is used only by one-third of sellers. Some sellers prefer to rely on both methods, while others use only one. In this article, we will talk about the benefits of both programs and explain their downsides.
Pros and cons of Amazon FBA
Fulfillment by Amazon is a selling method in which sellers send their products to Amazon fulfillment centers, where they are stored, packed, and shipped to customers. Amazon also covers order returns and provides customer service. Buyers can select from a variety of delivery options, including Amazon's 1 and 2-day Prime shipping. It goes without saying that you have to pay an additional fee on products sold under the FBA program. The size of the fee will vary depending on the products you wish to ship. The fulfillment fee covers processing, packing, and shipping. You will also need to pay a monthly inventory storage fee that covers the cost of storing your products in Amazon's fulfillment centers. However, keep in mind that Amazon is constantly changing its fees, so you must monitor these changes and adjust your prices accordingly to avoid losing money on the products you sell.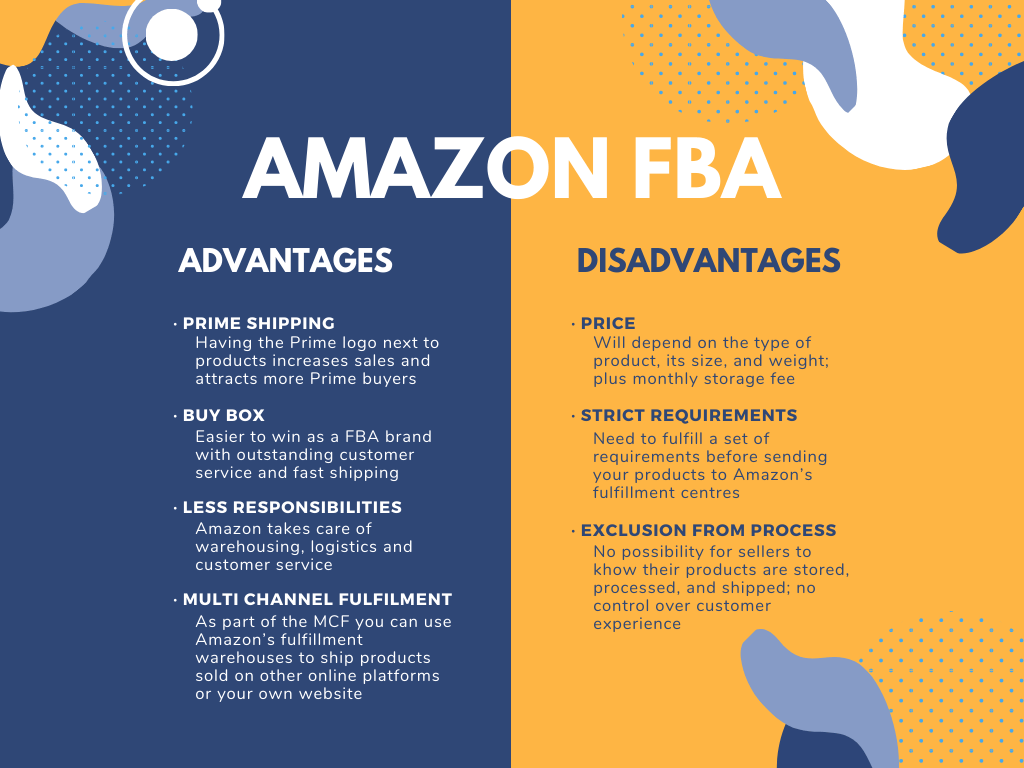 Pros of Amazon FBA
Prime shipping
Prime shipping becomes automatically available for your products when you join the FBA program. Customers that have a Prime subscription can receive your products within 1-4 days at no extra cost. In addition, having the Prime logo next to your products will automatically increase your sales and attract more Prime buyers, as these customers strongly prefer sellers that have Prime shipping over those that use standard transportation.
It's worth mentioning that over 110 million households in the United States have a Prime membership. The number of Prime customers worldwide is even greater. Plus, these customers generally make more purchases than people without a subscription.
Buy box
If you're an experienced Amazon customer, you have probably noticed the white box located on the right side of each Amazon product page. When you purchase a product that's available from many sellers, Amazon will display one of those sellers in the Buy Box.
Naturally, sellers who make it to the Buy Box get the most sales. However, this is not easy to achieve. Amazon displays only proven brands with a perfect reputation and competitive prices in the Buy Box. To win the Buy Box, sellers also need to provide outstanding customer service and fast shipping. Furthermore, fulfillment is one of the most critical factors that Amazon considers when determining the Buy Box winner. The faster and more convenient shipping services you provide, the more likely you are to get the sale.
Participating in the FBA program is an excellent way to meet all of the requirements, and it will significantly increase your chances of winning the Buy Box.
Fewer responsibilities
You don't have to worry about finding warehouses, managing customer service, keeping track of inventory, or shipping on time with the FBA program. This list Amazon operations sellers need to worry about is endless, and all of these things take time to monitor and complete. There is undoubtedly a significant burden on your shoulders, and you will most likely require a large team to manage all of the issues that may arise during the fulfillment process.
With the FBA program, you can let Amazon take care of a large portion of the day-to-day operations. As a result, you will have more time to focus on your business strategy, product development, and sales. Many sellers agree that signing up for FBA was the best business decision they've ever made and state that the FBA program made their lives much easier.
MCF Access
Multi-channel fulfillment or MCF is another feature available to FBA sellers. This tool is designed for multi-channel merchants who run a business on multiple online marketplaces in addition to Amazon. MCF allows you to use Amazon's fulfillment warehouses to ship products sold on other online platforms or your own website. As a result, all of your customers can get excellent service with fast and reliable shipping. This feature is more expensive than regular FBA, so be prepared to pay additional fees.
Cons of FBA
Price
There's no doubt that Amazon is very efficient at managing its fulfillment operations, but you will have to pay a high fee for these results. The exact price will vary depending on the type of product you sell, its size, and weight. Plus, you will need to pay a monthly storage fee. If you are a successful merchant with lots of logistics experience, you will most likely find it easier and cheaper to handle the shipping work yourself.
Strict requirements
You need to fulfill a set of requirements before sending your products to Amazon's fulfillment centers. If you don't follow the rules, Amazon may reject your products due to rule violations. The cost of returning these products and resolving all issues will fall directly on your shoulders. To pass all of the inspections and preparation, you must be familiar with the Amazon system and be ready to pay any additional fees you may incur.
Exclusion from the process
Because Amazon does not allow merchants to inspect their warehouses, there is no way for sellers to monitor how their products are stored, processed, and shipped. As a result, you should be prepared to be excluded from this aspect of the business and entrust all the responsibility to Amazon employees. If you don't want to relinquish control over customer experience, FBA won't be a good option for you.
Pros and cons of FBM
If you choose Merchant fulfillment, you will be responsible for storing, processing, and shipping your products, and providing customer support. It means that you will be completely responsible for the success of your Amazon business. You will also have to select this program if you prefer to complete the entire process through a third party (which is not Amazon).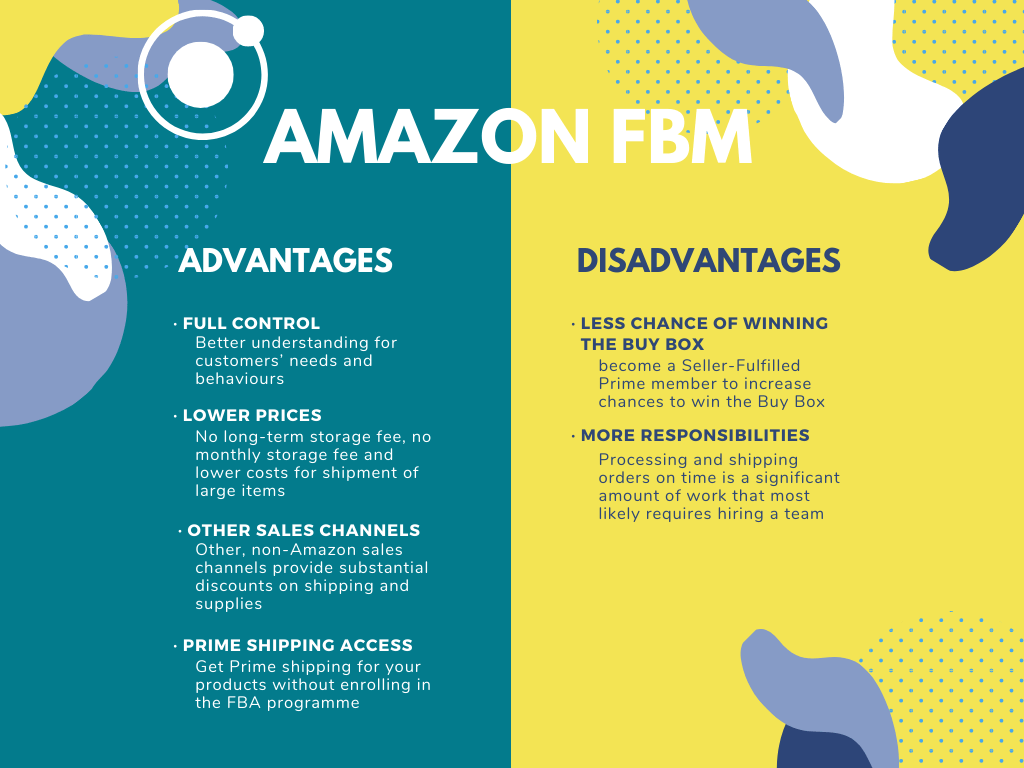 Pros of FBM
Have everything under control
If you are the type of seller who enjoys having complete control over all aspects of their business, FBM is for you. You can check your stock and schedule its replenishment whenever you want without having to wait for Amazon's reports, which take some time to arrive. In addition, since you will store your own products, ship them, and handle all customer service and returns, you will have a much better understanding of your customers' needs and behavior. This is a huge benefit if you're looking to develop the best business strategy for your brand.
Lower prices
If logistics is your strong suit, FBM has the potential to boost your profit margins significantly. For example, if you sell large-size items, your FBA fees will be very high, and they can quickly eat up your entire profit margin. Plus, don't forget about additional expenses. For instance, FBA sellers have to pay a 'long-term storage fee' for stock that remains unsold for more than six months. This is in addition to monthly storage fees. So, if you have slow turnover rates or good shipping arrangements, FBM may be a better option for you.
Lower costs outside Amazon
Numerous non-Amazon sales channels provide substantial discounts on shipping and supplies. With the right assistance and calculations, you can reduce your shipping duration and make its cost more competitive with ground pricing. As a result of these discounts, your profits can increase.
Prime shipping access
You can get Prime shipping for your products without enrolling in the FBA program. However, to be able to display the Amazon Prime badge when shipping products from your own warehouse, you must create a Professional Selling account and join a waiting list to enter the program. But even then, there is no guarantee of success.
Cons of FBM
Less chance of winning the buy box
If you are not a member of the FBA program, you will have little chance of winning Buy Boxes. Furthermore, if there's a lot of Buy Box competition for your product, using FBA is the only way to win. However, if you are a Seller-Fulfilled Prime member, you have more chances. SFP is far superior to FBM and will undoubtedly improve your chances in this competition.
More responsibilities
As previously stated, Amazon sellers have a significant amount of work. You will most likely need to hire a team to help you process and ship orders on time. In addition, many of the features available to FBA sellers can't be used by FBM members, making the entire process more complicated for the latter. For example, FBA products outperform FBM in terms of search engine optimization.
FBA vs. FBM – Which strategy is suitable for you?
Before deciding on a selling program, you need to analyze your business and understand which details you need to focus on when making your decision. Small and large businesses can profit from both FBA and FBM fulfillment methods. But there are a few aspects that will help you determine which strategy is better personally for you.
First of all, think about your business strategy. There are a few standard options:
You sell your own products manufactured under your private label.
You buy discounted goods and then sell them on Amazon.
You sell wholesale products.
Dropshipping. You source products from a third party that ships them directly to the customer once they are sold.
You sell your handmade products.
After determining your sales strategy, you need to think about other factors that can influence your choice of fulfillment program:
The size and weight of your products. The FBA program is more beneficial to sellers who dealer smaller-sized products. Amazon's fees don't leave enough profit margins for sellers who work with oversized and heavy items.
Seller feedback. Shipping evaluation is included in the seller rating. As a result, FBA sellers do not need to be concerned about seller comments because all fulfillment aspects are beyond their control. Even if FBA sellers receive negative feedback, they can request for it to be removed. FBM sellers are more likely to get negative reviews related to processing and shipping, and there will be no way to delete them.
Turnover Rates. The speed with which your products are sold is also critical because if your inventory remains in Amazon's fulfillment centers for more than 6 months, you will be charged a 'long-term storage fee.' So, if your turnover rates are slow, consider shipping the products yourself.
Logistics. Picking, packing, and shipping products can take a long time. If you are a new seller, it is better to start working under FBA so that you can devote your time to other important aspects of growing and running a business. At the same time, there is no reason to join the FBA program if you are simply expanding your brand and already have your own warehouse and worked out shipping procedures.
Final thoughts
We recommend you analyze all the aspects of your business before choosing a program. Consider the size and weight of the products you intend to sell, as well as any logistical costs. Don't ignore the inventory turnover rate and seller feedback.
All things considered, it's a good idea to get professional assistance to ensure that you make the best decision for your business. Today, many Amazon sellers choose to hire an agency that can answer all their Amazon-related questions, create an effective business strategy, and help them grow their business. Sign up for a free discovery call with one of NUOPTIMA's Amazon experts right now, or leave your e-mail address so we can contact you and tell you more about our services.
Talk to an Amazon expert
We work with 100+ businesses. Book a slot now to talk to one of our experts.
---
FAQ
Is FBA better than FBM?
Each of these options has its pros and cons. FBA is best suited for sellers who don't have their own warehouses or shipping procedures in place and companies that sell large amounts of products with significant margins.
Can you sell both FBA and FBM?
Yes, and over 30% of Amazon sellers use both FBA and FBM programs.
Is FBA still profitable?
Yes, you can still make a lot of money as an FBA seller, as most new sellers start making a profit on the platform within 12 months of joining.
Should I use FBA or ship myself?
This depends on the nature of your business, the size of your products, etc. It's often cheaper to ship products using FBA, but if you already have a warehouse that ships products sold on other platforms, or if the items you sell are large and heavy, it will probably be cheaper to ship them yourself.