Key Points
There are over 30 product categories on Amazon, and some of the most popular for sellers are Home and Kitchen, Sports and Outdoors, Toys and Games, Beauty and Personal Care, and Health, Household, and Baby Care.
If you wish to sell in a popular product category, consider advertising costs, seller competition, and competition from Amazon.
Discover less competitive categories by assessing consumer interest, using Google Trends, and intelligence platforms.
Perhaps the biggest challenge for an Amazon seller is determining which product category to focus on. When you run an online seller business, the first and most significant question you need to ask yourself is: What do I sell? This article gives an overview of the product categories on Amazon with the intention of helping you decide which one is right for you and your business.
What are the Product Categories on Amazon?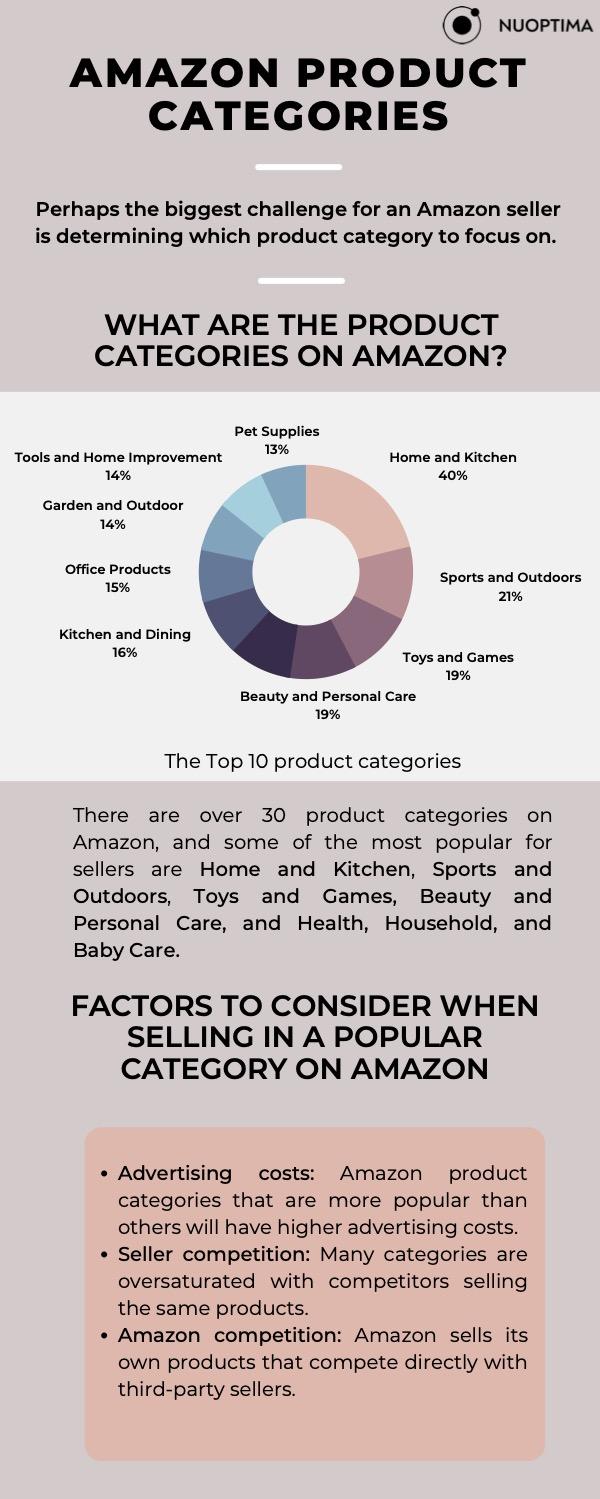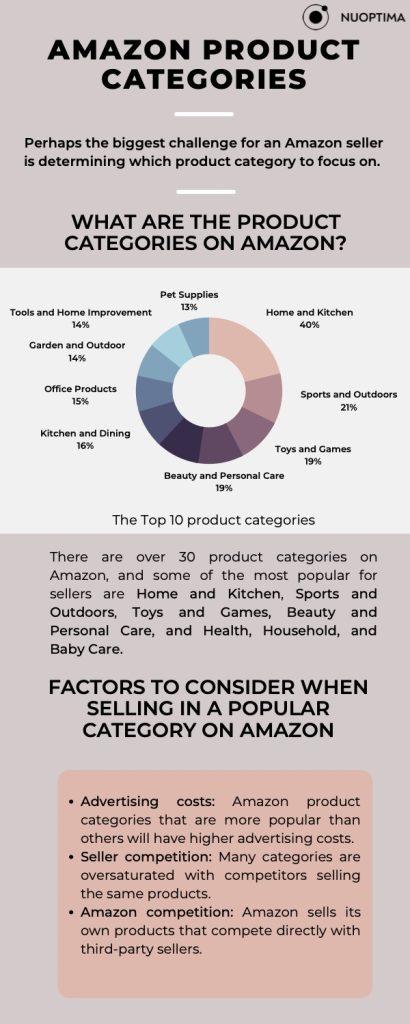 Amazon sells millions of products, and if you include the third-party sellers on the Amazon marketplace, this increases to the hundreds of millions. To help make browsing less overwhelming for the consumer, Amazon has divided its products into numerous categories (as well as various subcategories). Below we can see a list of the different product categories present on Amazon alphabetically:
Amazon Devices and Accessories
Amazon Launchpad
Apps and Games
Audible Books and Originals
Automotive
Baby Products
Beauty
Books
Business, Industry and Science
CDs and Vinyl
Clothing
Computers and Accessories
Digital Music
DIY and Tools
DVD and Blu-ray
Electronics and Photo
Garden and Outdoors
Gift Cards
Grocery
Handmade Products
Health and Personal Care
Home and Kitchen
Jewellery
Kindle Store
Large Appliances
Lighting
Luggage
Musical Instruments and DJ
PC and Video Games
Pet Supplies
Prime Video
Shoes and Bags
Software
Sports and Outdoors
Stationery and Office Supplies
Toys and Games
Watches
Bear in mind that this list includes specific categories where most third-party sellers cannot or do not sell, such as Gift Cards and Amazon Devices.
Which are the Most Popular Amazon Product Categories?
It is highly beneficial to apprise yourself of the most popular product categories on Amazon. After all, you want to know what consumers are buying so you can tap into the market. It is essential to understand your consumer and pick out a product category that can help catapult you to success. If you choose the wrong category, there is a much higher chance of business failure. Below, we have compiled a list of the top 10 product categories of Amazon sellers according to recent statistics:
Home and Kitchen – 40% (of sellers are in this category)
Sports and Outdoors – 21%
Toys and Games – 19%
Beauty and Personal Care – 19%
Health, Household, and Baby Care – 18%
Kitchen and Dining – 16%
Office Products – 15%
Garden and Outdoor – 14%
Tools and Home Improvement – 14%
Pet Supplies – 13%
Why is Home and Kitchen Category so Popular on Amazon?
As we can see from the list above, Home and Kitchen is by far the most popular among sellers. And it isn't too hard to imagine why. Everyone uses home and kitchen products on a day-to-day basis. But, that is not the only reason behind its success.
Requirements: Certain Amazon categories have restrictions. For example, food products are required to include expiration dates, and sellers advertising supplements must follow the relevant compliance and federal regulations. However, there are fewer potential requirement hurdles with Home and Kitchen, making it much easier for a seller.
Universal: Home and Kitchen products are items virtually everyone has and needs (who doesn't have pillows or cutlery in their home?). For this reason, it enjoys more popularity than other categories which have a less universal interest.
Restrictions: This category proves easier to sell than some others that involve specific restrictions. Kitchen and Home is not a restricted category.
Manufacturing: It is relatively easy to locate a supplier to manufacture products in this category than in many others.
Many sellers see this category as a relatively straightforward option for these reasons.
Factors to Consider When Selling in a Popular Category on Amazon
Before you settle on a popular product category to focus on, some considerations must be made. While it may seem like the obvious option to opt for a popular category to sell in, there are also some disadvantages to this:
Advertising costs: Amazon product categories that are more popular than others will have higher advertising costs. This is a direct result of more competition fighting for the same keywords and consumers. Consequently, there is a good chance you will have to pay an increased cost per click (CPC). If due caution is not taken, your business may end up struggling to avoid financial loss. For this reason, it is crucial that you attempt to differentiate your product from other competitors in top categories if you want a good chance of standing out from the pack and clinching sales.
Seller competition: Another hurdle to overcome in popular categories is competition from other sellers. Many categories are oversaturated with competitors selling the same products. If countless sellers have low prices, numerous reviews, and similar products, it will be no small feat for a new seller on the market to stand out from everyone else who is already established. The best way for many sellers to stand out in a popular market is to find a specific subcategory that is not fit to bursting with competition.
Amazon competition: It cannot be forgotten that Amazon wants to be successful too. And often, Amazon sells its own products that compete directly with third-party sellers. This becomes more problematic when the Amazon marketplace features its own products (that are private label) in front of yours despite its ranking, as we can see from the image below: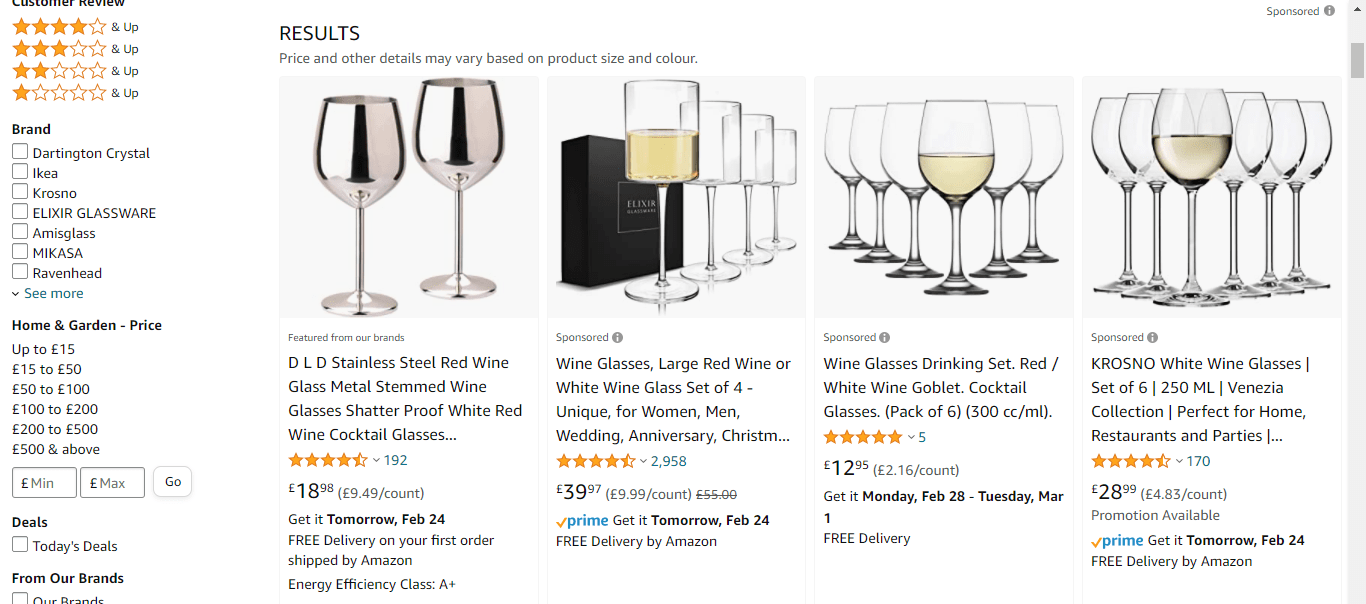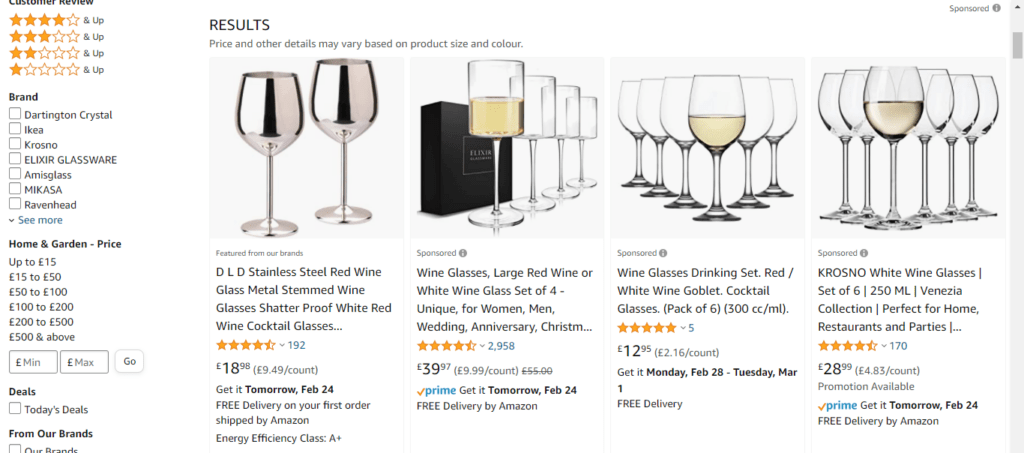 The wine glasses on the left say 'Featured from our brands', so Amazon's product is displayed before all organic results and sponsored items. Furthermore, 'AmazonBasics' products generally have better prices. This can make it even harder to stand out to potential customers as you are not only competing with other sellers but with Amazon itself.
What Differentiates Amazon Product Categories?
Certain considerations need to be made to help determine the best product category for you. Let's consider some of the most significant:
Business Model
There are various business models that can be adopted, and some are more popular in particular product categories than others.
Handmade: If you are looking to make your products to sell from scratch, this can be done on the Amazon marketplace. This is especially popular in the Handmade Products category, as you might imagine.
Retail arbitrage: This is the method of locating discounted or low-cost goods in physical retail stores. These products are then sold online by sellers. The theory is to buy low and sell high, helping sellers make a profit. Retail arbitrage is known to be very popular in the Apps and Games category, whereas it is particularly unpopular in Industrial and Scientific.
Online arbitrage: This is when you locate low-cost or discounted items on a website or online marketplace, which are then resold on Amazon for a profit. Once again, Apps and Games enjoy much success with online arbitrage, whereas Sports and Outdoors is not so popular.
Private Label: This is when a seller creates their own product or label to sell on Amazon. Consequently, it is widespread across virtually all product categories. Still, it enjoys particular popularity in the Handmade and Home and Kitchen categories but is reasonably unpopular in Books and PC and Video Games.
Dropshipping: This is a business model where the seller does not possess their product inventory. Instead, the seller transfers the order straight to the supplier or manufacturer once a customer order comes through. Dropshipping is especially popular in Electronics and Photo and Computers and Accessories. It is not so popular in Grocery.
Wholesaling: Wholesaling is when discounted or low-cost goods are purchased in bulk to sell as individual units. It is particularly successful in Grocery and Musical Instruments and DJ, but struggles in Books and CDs and Vinyl.
Profitability
The most vital determining factor in the success of a seller is profitability. The most common profit margin from selling on Amazon is 16 to 20%. Sellers that tend to exceed this profit margin are often in Computers and Accessories, PC and Video Games, Books, and Handmade Products. Less popular categories can sometimes be more profitable than very popular ones.
The best idea when considering profitability is to find merchandise that is high in demand and low in competition. Of course, this is the Holy Grail that all sellers look for, so it is not easy. Therefore, it is prudent not to only assess the potential profit when considering an item. It is also worth noting that every category has subcategories that are profitable.
Selling Experience
Some categories will require more experience from sellers than others. Prime examples of these are Musical Instruments and DJ, and Automotive. Categories that do not need a high selling experience include Electronics and Photo.
Fulfilment Method
You may decide to use Amazon FBA (where Amazon itself completes order fulfilment by storing your inventory before picking, packing and shipping it for you). This can be used in almost all categories. But, if you decide to fulfil orders alone (Fulfilled By Merchant – FBM), there are specific categories that go hand in hand with this. This includes Handmade Products and Apps and Games.
Average Monthly Sales
It is also essential to study the average monthly sales of categories. Bear in mind that some products are much more expensive than others, such as the price of a video game compared to a musical instrument. It is not just about the raw monthly sales that matter but also the cost of the product. If you sell one trombone for £300, for example, you would need to sell possibly six video games to reach the same amount.
Ways to Find Less Competitive Categories
Ideally, you want to find a product with low competition but high demand. And if everything you have browsed seems to be high in competition, then it is time to do some additional research to try and locate a product that many consumers want but that not many sellers offer. Here we list several ways to identify outstanding products with a low supply but a high demand.
Assess Consumer Interest
It is critical when you are selling a product that you are aware of consumer trends so that you can use them to your advantage. When the global pandemic hit in the recent past, cleaning products were in high demand as people sought to keep their homes clean and free of potential infection. It is important that sellers are aware of what consumers want and will look for. For example, because the pandemic left many people forced to stay in their homes, activities such as puzzles and board games became very popular. There was also an increased demand for exercise equipment as people could not get down to the gym. You should consider the shopping behaviours of the average consumer and use this as inspiration. Now that the pandemic seems to be finally coming to a close, it would be sensible to think about what sort of products might begin to increase in popularity, such as suitcases for consumers desperate to get on that long-awaited holiday. You want to try to uncover something not already oversaturated with hundreds of other sellers.
Monitoring consumer trends can be harder said than done, and it is not always easy to predict. But it is vital that you keep apprised of consumer demands in the retail industry to give yourself an advantage when looking for a great product to sell.
Google Trends
Google Trends is a fantastic tool that helps you keep track of what is popular right now and discover what topics and keywords are trending in various regions. This data has been compiled by Google (the world's leading search engine), so it is very reliable. This is significant because a trending product will ultimately be high in demand. Google Trends presents you with a graph once you have searched for a product, and it displays its trending pattern from the last year. You can analyse the patterns from different countries as well. You will be shown a product score, and the higher it is, the more in demand it is. It would be best if you aimed to study Google Trends once a week to try and find selling opportunities for your business.
Use an Intelligence Platform
There are many product analysis platforms available for you to use online. These platforms allow you to examine certain products to see if they could be worth selling. It can help to maximise your chance of finding an exceptional product. Not only does it give you information on high demand products and their estimated monthly sales, but it also allows you to track your competition. This is vital as it can help you discover how busy the market is for a particular product so you can quickly assess whether a product is viable as a selling opportunity. It can be a great way to find a high demand but low competition product.
Use Amazon PPC to Bring the Sales
Now that you've sorted your categories, you need to make some sales. PPC ads work as magnets – attracting targeted traffic to your product listings. But a successful campaign with awesome ROI takes skill, experience, and technical know-how. To save money in the long run, partner with an Amazon PPC ad agency. They will optimise your campaign, choose the right keywords and keep your ads within budget. PPC Amazon experts also have a better chance of beating your competition and getting more customers to buy your products.
Final Thoughts
Every category has the potential to be profitable. It is easy to choose a popular category to focus on, but that doesn't necessarily make you a successful seller. The biggest challenge is to find a product that you want to sell that enjoys a high demand but low competition. This, of course, is easier said than done, so you should be thorough in conducting research so that you can find the perfect product for your business. Ensure you use product analysing platforms and look at consumer trends to help you make an informed and confident decision. Remember, the most important factors in deciding a product category should be the demand for the product and the conclusions from your research. At NUOPTIMA, we know running an Amazon seller business is not easy, but we are here to help. If you would like a consultation regarding your Amazon business, set up a free discovery call today.
Talk to an Amazon expert
We work with 100+ businesses. Book a slot now to talk to one of our experts.
---
FAQ
How many product categories does Amazon have?
Amazon has almost 40 different product categories on their marketplace.
What are the top Amazon seller categories?
The top five are Home and Kitchen, Sports and Outdoors, Toys and Games, Beauty and Personal Care, and Health, Household, and Baby Care.
How do I find a high demand product on Amazon?
To find a product that is in high demand, it is an excellent idea to analyse both Google Trends and the Amazon Best Sellers list. For more detailed advice, check out our article on finding high demand products.