Key points
As an Amazon seller, you have several shipping options you can use to deliver your products to customers.
The options you can utilize will depend on the seller program you're using to conduct business on the marketplace, as different programs give sellers access to different shipping methods.
The most popular Amazon seller shipping options include Premium shipping, Amazon Subscribe And Save, and different Prime shipping types.
Nowadays, it isn't easy to figure out all the ins and outs of selling on Amazon on your own. Just when it seems like you have a good grasp on all the available options and features, the platform rolls out something new and confusing. Dealing with such a powerful and instantly growing influx of information can be very time-consuming. However, it's crucial for sellers to understand all the facets of doing business on Amazon, as this determines how successful their business will be. For instance, the right shipping option can attract customers to your listings and can cause a significant increase in your sales. This article will guide you through all shipping options Amazon sellers can choose from and explain all their benefits and downsides.
Seller Shipping Options on Amazon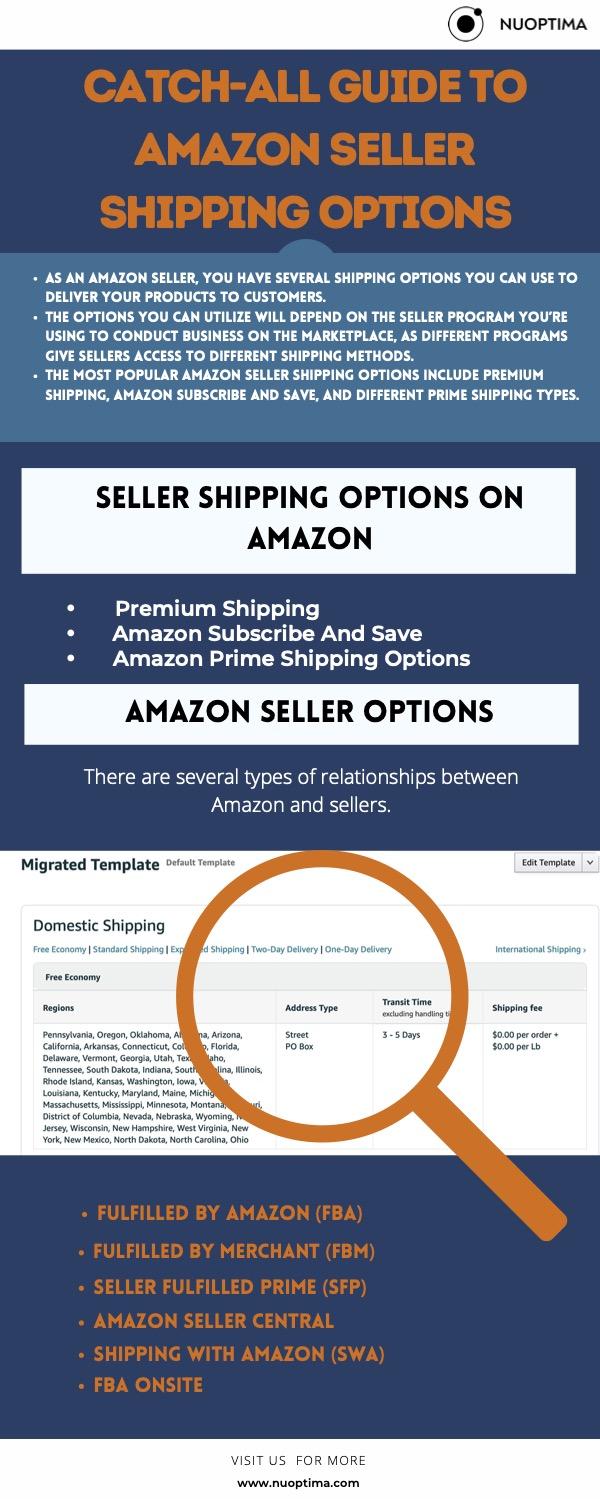 In this section, you will discover all shipping options available to Amazon customers.
Premium Shipping
The majority of shipping options we will be discussing here are available only to Prime members.
Sadly, not all Amazon customers and sellers use Prime. However, sellers with a good reputation can nonetheless ensure rapid shipping for their buyers. Premium shipping options include:
Same-day shipping
One-day shipping
Two-day shipping
All the Amazon sellers who have been selling on the platform for more than 90 days have access to premium shipping. There are no restrictions concerning shipping prices, though your main goal is to deliver orders on time. Otherwise, you will lose the right to offer premium shipping to your customers.
Amazon Subscribe And Save
Subscribe and Save is another option that is worth considering. Some items such as toiletries or wellness products tend to be ordered on a regular basis. Instead of making a new order each time, a buyer can schedule repeat shipments and take advantage of a subscription discount which ranges from 5% to 15% for any monthly delivery, provided it consists of at least five products, as well as from free shipping.
This shipping method has numerous advantages for Amazon sellers. First of all, it allows you to gain loyal and regular customers who are likely to recommend you to their friends or relatives, which will help to grow your customer base further. Even though you will have to sell your items at a slightly lower price, it is still an excellent bargain for your business since the number of orders you get will be higher. Plus, scheduled repeating purchases will quickly help you build up a source of revenue.
However, if you choose to participate in this program, you should keep your products stocked at least 85%.
Amazon Prime Shipping Options
According to recent data, over 60% of all Amazon buyers have Prime, which enables them to use a wide range of fast shipping options.
If you as a seller are interested in utilizing Prime shipping options, you should be ready to transfer the whole order fulfillment process to Amazon and pay extra charges. Below we will talk about some shipping options available to Prime customers.
Free Two-Day Shipping
Free two-day shipping is the most widely used free shipping option among Amazon customers. There are no restrictions on the types of products that can be shipped using this method. Since Prime members are more inclined to choose products that will be delivered quickly and for free, offering free two-day shipping will attract more buyers and increase your sales.
Business Prime Shipping
Individual buyers are not the only ones who can benefit from Prime memberships. Businesses that have Amazon Business accounts also receive free, two-day shipping. The terms of use for Business Prime Shipping are not much different from those for member accounts.
Amazon Prime Pantry
This option is intended specifically for non-perishable grocery products. If you sell food, wellness products, or other household goods, you should definitely consider this shipping option.
Prime Pantry orders currently have a fixed shipping fee of $5.99 for each order, given that all the products eligible for this program are located in the same warehouse. This allows Amazon to pack and ship incoming orders immediately.
The only advantage the Prime Pantry misses out on is 2-day shipping. Under Prima Pantry, all products are delivered within 1-4 days of purchase, which is why the program isn't suitable for some grocery items, including meat and dairy. For those products, we would recommend considering one of the next two options listed below.
Amazon Prime Now
Amazon Prime Now is the fastest shipping option that Amazon offers, although, at the moment, it is only available in certain areas. Prime customers can get free 2-hour shipping on a selection of items, including grocery products, dairy, electronics, and clothes.
Generally, this type of shipping (just like the other Prime options) is only available on products that Amazon stores and delivers themselves. Hence, they can be sure they can deliver the order on time.
The only way to join this program is to be selected by Amazon. But choosing the right Amazon seller option may result in Amazon choosing to sell your products under the Amazon Now program.
Amazon Fresh
Amazon Fresh is dedicated entirely to grocery shipping, and just as Amazon Now, it is currently available only in certain cities. Buyers who are interested in using this feature will have to pay an additional monthly subscription fee of $14.99.
For sellers, the terms of participation in this program are quite different from most other Prime options. Since groceries won't be stored in one warehouse, sellers who want to become a part of the Amazon Fresh program will be asked to fill an application to join Amazon Local Market. That way, the seller's products will also become available on Amazon Fresh.
Amazon Seller Options
There are several types of relationships between Amazon and sellers. Many people think that Fulfillment by Merchant (FBM) and Fulfillment by Amazon (FBA) are the only options worth considering, which is a mistake. Below, we will discuss all Amazon Seller Options and explain how they influence the delivery process.
Fulfilled By Merchant (FBM)
This type of cooperation leaves the seller in charge of the selling process and ensures complete freedom in scalability, fulfillment methods, and inventory level control. As an FBM seller, you will list your products on Amazon, but you will also be responsible for storing your inventory. In addition, you will have to carry out all the delivery processes on your own, solve all issues with customers, and handle returns.
Sellers that can benefit from Amazon FBM
FBM is a good fit for businesses that view Amazon as an additional marketing channel — one more place where buyers can become familiar with their products. It's also a good option for sellers that have a smaller number of products and lower revenue since FBM enables you to save money on Amazon's shipping fees. Choosing FBM also makes sense if you can deliver your products cheaper than Amazon by using your own delivery partners and network or a third-party logistics network.
Benefits
On the upside, you won't need to go through the 300-order trial period required for SFP, which will allow you to become a fully-fledged Amazon seller faster. Another advantage is that you won't have to comply with other Amazon's requirements or worry about unexpected costs and potentially diminished margins due to the changes in Amazon's order fulfillment policy and fee structure. And lastly, even if Amazon's policy changes affect you, you won't have to spend too much time taking care of all the paperwork.
Downsides
On the other hand, this program doesn't allow you to benefit from all the Prime shipping advantages that Amazon has to offer. And your inability to provide Prime shipping options to your customers can lead to the loss of potential customers. After all, there are approximately 103 million Prime users who are used to taking fast shipping for granted and will choose another brand over yours because of the better delivery terms.
But the most significant downside of FBM is the battle for the Buy Box. The first thing shoppers see when viewing a product on the Amazon Marketplace and deciding to make a purchase is the Buy Box with "Add to Cart" and a "Buy Now" buttons in it. These buttons are connected to a specific item whose seller has won the "Buy Box." If the products you sell on Amazon are similar or identical to those listed by other sellers, your inventory will compete for the Buy Box with items sold by others. Naturally, your products will not always win the Buy Box, which means that customers will have to go through a list of multiple sellers just to find your product listing and purchase your product. Of course, customers are unlikely to do this, as most people just go with the Buy Box winner. Amazon FBA sellers are usually more likely to win Buy Boxes. When you don't win the Buy Box, it will be extremely hard to draw at least some attention to your Amazon products.
However, if the products you are offering are unique and one-of-a-kind and there are no other sellers selling the same items, then choosing FBM may be a valid option.
Fulfilled By Amazon (FBA)
FBA is the most popular seller option that includes all the perks of Prime shipping. All you have to do is deliver inventory to Amazon, and the company will store products in their warehouse, pack and deliver the orders, take care of returns, and answer customer inquiries. Once you create a product listing and ship your products to an Amazon warehouse, the company will handle the rest.
Although you will have to pay additional fees for Amazon's services, this type of cooperation is the easiest way for your products to become eligible for Prime shipping.
Most Amazon sellers choose between FBA and FBM, forgetting about other worthwhile options such as SFP.
Seller Fulfilled Prime (SFP)
SFP is a suitable option for those sellers who have their own warehouses for storing products and have been working with Amazon for some time. This program is an excellent opportunity for business owners that don't want to pay Amazon fees for product storage but are interested in Prime designation.
To join the SFP program, sellers are required to demonstrate an ability to consistently deliver orders on time and continue to fulfill this requirement to stay approved on the program. Moreover, sellers who want to participate in the SFP have to go through a 300-order trial period. And don't forget that having access to a warehouse isn't the only condition you have to meet to become a part of SFP. You also need to have enough qualified staff to handle a large influx of orders that need to be shipped on the same day.
SFP is often a much more affordable and profitable option, as it allows you to use your own fulfillment center or a third-party logistics company instead of paying hefty FBA fulfillment fees and benefit from having a Prime badge on your products at the same time. In addition, it allows you to handle inventory in your own warehouse instead of having to manage inventory size in Amazon warehouses remotely.
Despite offering many advantages, SFP may not be the best fit for each and every business. The greatest downside of SFP is the strict requirements that sellers have to fulfill to be eligible for the program. One of them is free two-day shipping, which is currently shifting to one-day shipping. This puts sellers in a position where they have to provide customers with free shipping and pay for those shipping rates, which can consume a significant part of profit margins. Many sellers who took part in the SFP program in the past claim that the cost of providing 2-day shipping on their own doesn't offset the money spent on storing the inventory themselves.
Another inconvenience of SFP is that sellers have to print packing slips through Amazon. To accomplish this task, a seller has to log into their Amazon for shippers account to create and print shipping labels, which can be very time-consuming if their system can't merge directly with Amazon's API. Sellers can have IT specialists create applications that can be integrated with the Merchant Fulfillment API to solve this issue. Even if you don't have access to development services or your own IT team, don't worry, there are still other ways to utilize this integration.
At last, sellers have to ensure free returns. Although free returns improve the customer experience, they can become an issue if their costs are not taken into account in advance when pricing the products.
If your distribution center doesn't allow you to comply with these requirements, SFP might not be the right choice for you, and it is better to consider other options, such as FBA Onsite.
FBA Onsite
FBA Onsite combines some features of FBA and SFP. For now, only a few sellers have access to this program, although it might become available for everyone in the future.
FBA Onsite lets sellers apply for Prime shipping and store inventory in their own warehouse, just like SFP does. But at the same time, FBA Onsite sellers can take advantage of Amazon's software and shipping network. Thus, Amazon takes over a portion of the order fulfillment process.
Essentially, under this program, Amazon will view your warehouse like an Amazon warehouse, saving the company money on product storage. At the same time, you will be able to save money on delivery costs and eliminate many fees you would otherwise need to pay for order fulfillment.
Amazon Seller Central
Brands that sell items they manufacture themselves can utilize Amazon's invitation-only Seller Central program. By joining this program, you become a supplier to Amazon. You provide your products to the platform wholesale in bulk, and Amazon takes over the rest, including listing the items and fulfilling orders. All you have to worry about is delivering inventory to their warehouses.
Since Amazon will purchase your products with the goal of reselling them, they will use the most attractive shipping options for your items. But there is also one significant disadvantage, as you will have to sell your inventory at a reduced price. And as a result, Amazon later can turn into your main competitor if you also sell your products elsewhere. Still, the number of sales they fulfill this way makes the potential risks worth it for some brands.
Shipping With Amazon (SWA)
Shipping with Amazon is one of the newest options launched by Amazon. Unfortunately, it is still not accessible for the majority of Amazon businesses, but the company intends to make it available to the sellers in select locations in the nearest future.
SWA allows sellers to maintain the inventory on their own. Once an order is placed, Amazon takes over the shipping process. It works similarly to UPS or FedEx. An Amazon representative will arrive at your office or warehouse, collect the order, and ship it to the customer. It's an excellent opportunity for those who aren't eager to pay all the fulfillment fees but want to benefit from having a Prime badge on their products. It also helps to eliminate the most challenging part of complying with Amazon's exacting shipping standards. In addition, this option doesn't require the seller to have access to a warehouse, like SFP or FBA Onsite do.
Final Thoughts
Dealing with all different Amazon seller shipping options can be an overwhelming and confusing task, and it is certainly not easy to determine which option will work the best for your business. In reality, no option is a perfect fit. They all have their benefits and disadvantages. However, this decision will determine a significant part of your relationships with customers.
Building a business on Amazon isn't always a quick and easy path. This is why it's a good idea to consider getting help and hiring an agency to help manage and grow your business. Amazon growth consultants can assist you in developing an individual Amazon strategy for your company, solving Amazon-related business issues, and making your brand recognizable and successful. Sign up for a free discovery call with Nuoptima right now, or leave your email, and we will send you more information on all the different ways we can help sellers increase their profits.
Talk to an Amazon expert
We work with 100+ businesses. Book a slot now to talk to one of our experts.
---
FAQ
What is FBM on Amazon?
Amazon Fulfilled by Merchant is a program that leaves the seller in charge of the selling process and ensures complete freedom in scalability, fulfillment methods, and inventory level control.
Who pays for shipping under FBM?
Fulfillment By Merchant makes the seller entirely responsible for the product handling and shipping process, which means they deliver orders on their own instead of paying a fee to Amazon.
What is the Buy Box?
The Buy Box is the box located on each Amazon product detail page. Buy Boxes are used for items that are sold by multiple sellers. The box lists one seller who has the best price, shipping conditions, rating, etc.