Key points
An Amazon virtual assistant is a person who helps Amazon sellers to take care of some business-related tasks.
Some of the tasks an Amazon assistant can be responsible for include listing optimization, keyword research, competitor research, customer service, social media management, product research, and more.
In addition to assistants who generally perform simple and routine tasks, business owners can also hire Amazon consultants who leverage their knowledge and experience with the marketplace to help businesses grow and become more profitable.
There are plenty of online platforms where you can find a remote Amazon assistant for your business. This includes Amazon Service Provider Network, FreeUp, Freelancer, Fiverr, and Upwork.
Being an Amazon FBA seller, especially a new one, isn't always an easy task. It's a full-time job that doesn't leave you much room for holidays or sick days. It often means staying up late at night and missing family gatherings. Moreover, it requires you to wear several hats at once: you have to handle shipping, find inventory, create product listings, manage logistics, and so much more. But what can be done about it? How can you reduce the number of responsibilities and free up your time? If you are still searching for a solution that will free up your time without compromising your business, then you are in the right place.
The best thing you can do is to hire an Amazon FBA virtual assistant to help you. But who is this person, and what exactly are they supposed to do? You can find all the answers in this article.
Who is a virtual assistant?
A Virtual Assistant (VA), also known as an Amazon FBA freelancer or consultant, is a person who is hired specifically to help you grow your business based on their Amazon expertise and experience. This person will usually execute mundane and repetitive tasks that take up the time you could be spending on growing your business instead. Alternatively, an Amazon online assistant can take over the tasks you can't do due to a lack of experience or knowledge. This can include copywriting, translating your product listing text to another language, etc. They can be employed full-time, part-time, or work as a temp.
Is getting a virtual assistant worth it?
We are convinced that any business owner can benefit from at least one VA on their team. Just imagine how wonderful it would be to have a few extra hours in a week.
Though hiring Amazon assistants is not a very common practice, 19% of people who conduct business on Amazon are convinced that hiring employees or freelancers to help them run the business will aid them in becoming successful FBA sellers.
While it doesn't take much effort to look up basic information about doing business on Amazon, you still need to spend a lot of time to learn everything there is to know about selling on the platform. If you want to avoid making unnecessary mistakes and save your time, it's a good idea to hire an expert who already has the required experience instead of spending months figuring out Amazon sales on your own. That way, even if you're generally new to the idea of selling on Amazon, you will gain enough confidence and skills to conduct your business successfully.
If you want to achieve the best results and make your business profitable fast, consider hiring an Amazon agency. Schedule a free discovery call with one of Nuoptima's experts today.
What kind of help can i get from an Amazon consultant?
The answer to this question is fairly simple: anything your heart desires. There are many tasks that a VA can handle, starting with administration and management and ending with content creation or product sourcing. Let's go over a few areas where an Amazon virtual assistant can help you out in more detail.
Customer service
Being an Amazon seller means you have to answer numerous questions, deal with customer issues, and respond to feedback. As a result, you have to be online and ready to work 24/7. Delegating these tasks to a virtual assistant can easily save you a few extra hours every day.
Listing optimization
For most customers, the only thing they will ever see about your brand or products are your product listings. Good listings can encourage customers to purchase your products, while poor quality listings can hurt your business. Plus, listings that are not optimized have fewer chances of showing up at the top of search results, which means they could cause you to lose a lot of sales. There are a lot of problems that can emerge from low-quality Amazon product listings, but running an Amazon business sometimes keeps you too occupied to handle and fix the issue.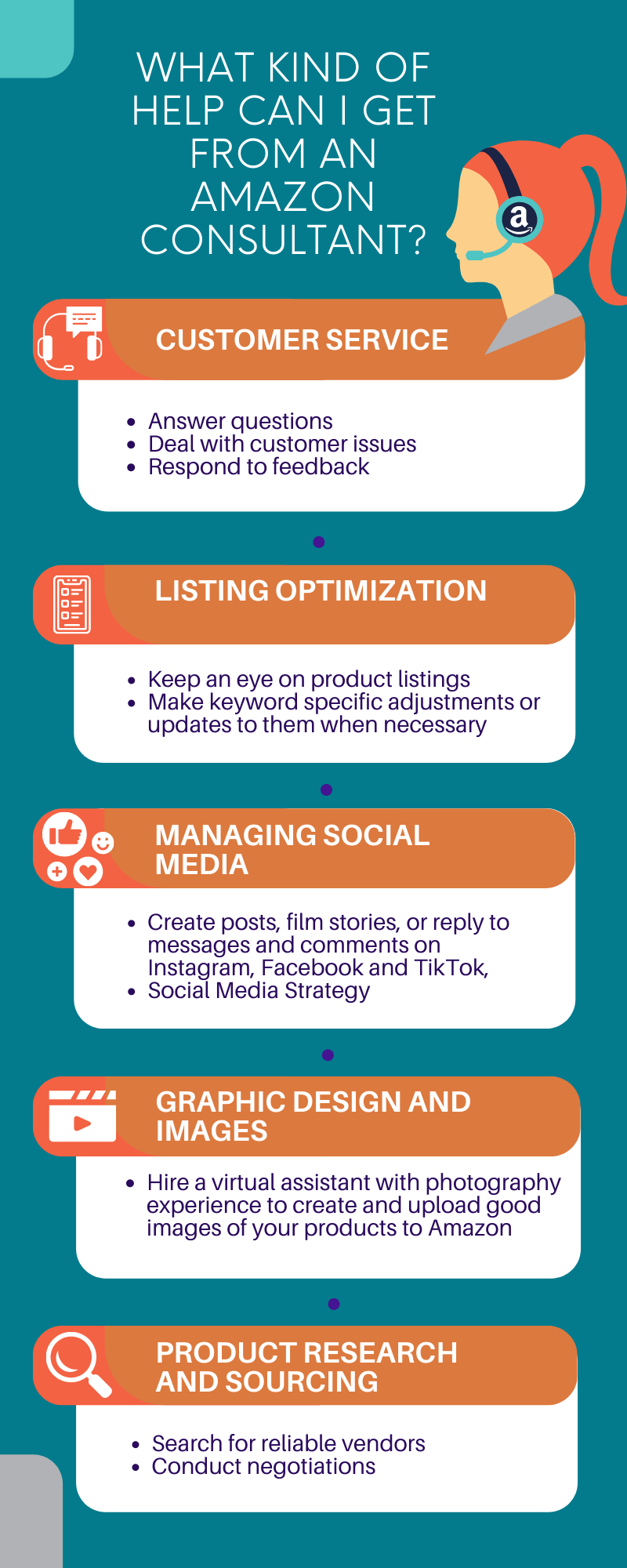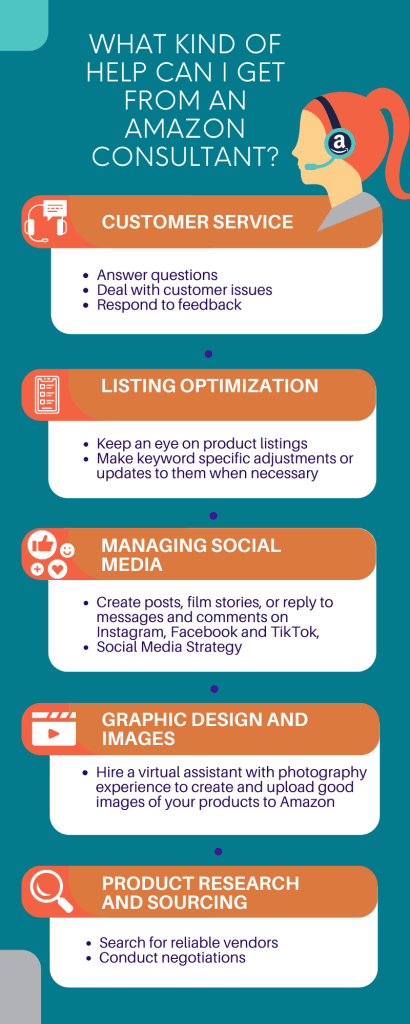 A virtual assistant for Amazon can keep an eye on your product listings and make adjustments or updates to them when necessary. It's a good idea to recruit a VA who has experience conducting keyword research and optimizing listings, as they can help increase your revenue and bring in new customers.
Managing social media
Having a virtual assistant with broad experience with social media can also save you lots of time and effort. Today, maintaining an effective and engaging social media presence is the key to increasing your sales and drawing more attention to your brand. For example, an Amazon FBA expert can create posts, film stories, or reply to messages and comments on Instagram, Facebook, TikTok, and other platforms. In addition, an assistant who has SSM experience can analyze your social media and determine which techniques to use to promote your brand on social media.
Graphic design and images
The images that showcase your products are another vital component of your Amazon listings. It's a well-known phenomenon that the more photographs of a product a listing has, the better it will sell, which means you can't simply snap a picture of your product with your phone and hope for the best. This means that if you don't have a separate budget for product photoshoots, you should hire a virtual assistant with photography experience to create and upload good images of your products to Amazon.
Product research and sourcing
Product sourcing is another task that can be assigned to an FBA virtual assistant. Your virtual assistant can search for reliable vendors and conduct negotiations to obtain the best possible prices for your online store.
FBA virtual assistant vs. FBA consultant
Now that you know what kinds of tasks an Amazon assistant can perform, let's talk about Amazon FBA virtual assistants and FBA consultants. Are there any differences between the two roles? And who should you hire: a virtual assistant or a consultant?
A virtual assistant is a self-employed executor who is usually employed remotely to take care of administrative issues. This person can be responsible for finding vendors to supply products at reasonable prices, organizing shipping, communicating with customers, and performing other routine business operations. On the other hand, an FBA consultant usually takes on larger, more complex projects such as creating a PPC advertising strategy, improving product listings, and developing a business strategy.
Interestingly, a lot of successful Amazon sellers eventually become consultants. Amazon consulting can become a great additional source of income for experienced FBA sellers who have managed to build a successful business on Amazon and have some spare time to work as freelance consultants.
When considering which professional to hire, think carefully about your strengths and weaknesses and decide which part of your business could use some improvement.
How to hire a virtual assistant?
Usually, a virtual assistant will be involved in essential parts of your business and have access to sensitive information. Therefore, it's advisable to conduct interviews to make sure that you choose someone you can trust. You can also create a questionnaire to get more information about the applicants and verify their basic knowledge and skills.
Where to find virtual assistants for Amazon FBA?
Fortunately, there are plenty of platforms where you can find a virtual freelancer for your Amazon business on a budget. Some of these websites include the Amazon Service Provider Network, FreeUp, Freelancer, Fiverr, and Upwork.
But remember that hiring a freelancer remotely over the internet always comes with a certain level of danger because an inexperienced individual can harm your company's reputation. If you are not willing to take such a risk, you can always hire an agency that will help you find a qualified assistant or develop and implement a growth strategy for your business. If you are interested in Amazon consulting and promotion services and would like to work with experienced professionals, sign up for a free discovery call with one of Nuoptima's consultants today and learn how we can benefit your business.
Training an Amazon assistant
When it comes to employee training, you have three options:
Train the employee yourself.
Pay for a private training course.
Find someone who already has all the necessary skills.
The first option is the most time-consuming, but it is worth it at the end of the day. No matter how qualified and professional an assistant is, you will still need to provide additional training, explain everything their responsibilities entail, describe the details about your Amazon business and the methods the person will need to use in their work. It is up to you to decide how to conduct this training, and the process may vary depending on the tasks you're planning to give the assistant.
If the assistant is expected to handle customer service, it may be a good idea to record training audio or video for them. If you offer brochures and information packets to your clients, make sure you send copies to your new employee as well. It can also be useful to create an FAQ document or checklist that the employee could access at any time.
Recording screen share training sessions is another excellent way to teach your new assistant to carry out certain tasks. Make sure to mention all the steps in your training guide. Including all details will reduce the possibility of misunderstandings and errors.
Applications like Camtasia for Windows and ScreenFlow for Mac make it easy to make screen recordings for training and other purposes. In addition, you can use Google Drive, Dropbox, or another similar service to share screenshots, links, videos, and attachments.
The key to conducting successful employee training is to determine what exactly you want your assistant to do. Make a list of the employee's responsibilities, write out how they will achieve their goals, and think about the tools and knowledge they need to accomplish their tasks. This will help you avoid misunderstandings and streamline your assistant's work.
Final thoughts — Is getting a virtual assistant worth it?
An Amazon Virtual Assistant can undoubtedly save you lots of time and even change your business for the best. Engaging a virtual consultant will allow you to focus on promoting and developing your brand without constantly worrying about mundane tasks. All you have to do is determine what tasks you want your VA to take over. This will make the recruiting process a lot easier and prevent you from choosing the wrong person.
Talk to an Amazon expert
We work with 100+ businesses. Book a slot now to talk to one of our experts.
---
FAQ
What is Amazon's virtual assistant?
A virtual assistant is a person who carries out administrative tasks for sellers on Amazon.
How do I find an Amazon virtual assistant?
There are a lot of platforms where you can find a freelancer to help you with your Amazon business. For example, you can try searching on the Amazon Service Provider Network, FreeUp, Freelancer, Fiverr, Upwork. You can also hire an Amazon agency that will provide you with consulting services.
How much do you pay a virtual assistant?
In general, virtual assistants charge between $1 and $100 per hour, depending on their level of experience. Some consultants' services cost even more. However, the middle ground pricing for executive assistant services is usually between $15 and $30 per hour and $40 to $75 per hour for higher-level marketing or financial advice