Key points
Amazon warehouse workers don't have to wear a uniform. Instead, the company provides a set of dress code guidelines for the employees. These guidelines help keep the employees safe and prevent inventory and packages from getting damaged.
Overall, Amazon warehouse employees can wear whatever feels comfortable for them. Still, they should avoid wearing clothing that's too loose or revealing or garments that have hanging details that can get caught in the machinery.
Employees can't wear clothes or have visible tattoos that their co-workers may find offensive.
As an Amazon employee, you will not be allowed to wear long, hanging jewellery or loop earrings when working in an Amazon warehouse. Plus, it's mandatory for warehouse staff to wear safety equipment provided by the company.
Amazon is one of the biggest and the most widely used retail platforms in the world that delivers all kinds of products. The reason for the company's success lies in the effective and harmonious work of Amazon warehouses – a starting point for all the packages before they are sent to their recipients. To ensure the safety of the warehouse staff, Amazon employees have to follow Amazon's Warehouse Dress Code Policy.
Job descriptions will rarely tell you all the small dress code details that you will have to follow as a responsible worker to be safe and excel at your duties. If you are planning on applying for a job at one of Amazon's warehouses or recently accepted a job at Amazon and now wonder whether things like piercings, tattoos, or casual will be acceptable at your new workplace, you can read this article to learn all the details of Amazon's warehouse dress code.
Does Amazon Warehouse Uniform Exist?
No, Amazon warehouses don't have a uniform that the workers have to wear. However, because the staff's duties often include hard tasks such as loading, unloading, and carrying objects, Amazon encourages its warehouse employees to wear whatever feels comfortable for them. The clothes should be comfortable enough for employees to work long shifts. For this reason, Amazon provides its employees with some guidelines and recommendations concerning the dress code that they should follow to ensure their comfort.
Here are some reasons why Amazon insists that the company's employees follow this dress code:
While each Amazon warehouse is only a packaging and storage workplace and the employees there don't represent the company to any third party, they are still a part of the company. Therefore, dress code guidelines are issued to help maintain a united work environment while giving the employees some freedom in their appearance.
Dress code guidelines also help ensure that the employees don't injure themselves on the job or damage the packages. The work at the warehouse includes packing, sorting, and carrying the parcels to different places. Employees also use large and heavy machinery such as forklifts and pallet jacks. Therefore, wearing high heels, baggy or loose clothes can impede the employees' ability to complete their tasks.
Amazon sells and delivers both budget and luxury products, and since the employees have complete access to all of them, the company has to monitor and prevent theft and damage. Dress code guidelines help the company to avoid any mishaps with the packages.
Amazon Warehouse Dress Code Policy
While the term "dress code" usually applies only to clothing, Amazon also uses it to refer to the person's overall appearance, including clothes, jewellery, accessories, and belongings staff may bring into the workplace with them.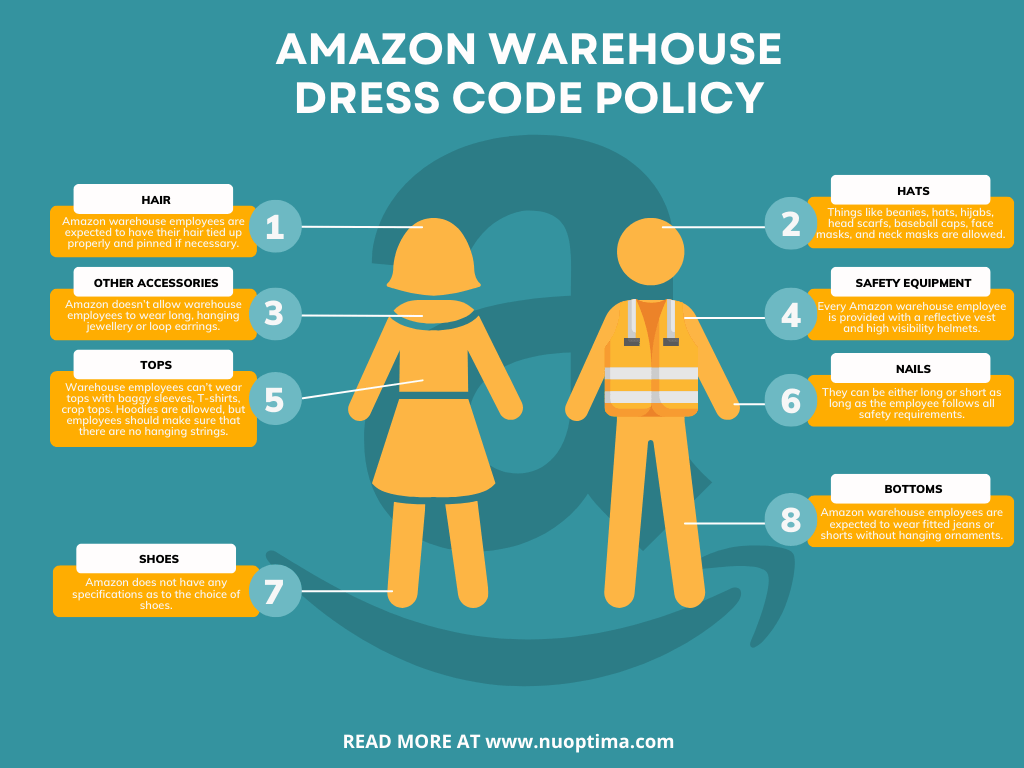 Here are some general Amazon warehouse dress code guidelines employees have to follow:
Employees are expected to wear clothes that are comfortable for them. It's important to remember that the temperatures inside the warehouse may vary, and the employees should dress accordingly.
Dress code guidelines ensure that the employees wear clothes and accessories that can't easily get trapped in the machinery or other equipment during the work process. Hair and nails should be kept in a way that doesn't prevent employees from completing their duties.
Amazon is an inclusive employer and thus has strict policies against discrimination based on race, religion, gender, or disability. Thus, warehouse employees are not allowed to wear clothes with pictures, signs, or slogans that some people may find offensive.
To be more specific, here are some pieces of clothing that warehouse workers are not allowed to wear:
Tops
Warehouse employees can't wear tops with baggy sleeves, T-shirts, booty shorts, crop tops, skirts, or anything too revealing. Hoodies are allowed, but employees should make sure that there are no hanging strings.
Bottoms
Amazon warehouse employees are expected to wear fitted jeans since jeans or pants that are baggy or flared at the bottom may interfere with the employee's work. In addition, workers should ensure that there are no hanging ornaments such as tassels on their clothes. Finally, because the temperature inside the working space may vary, employees can wear shorts as long as they are not too revealing.
Shoes
Amazon warehouse workers can wear different types of shoes, but they should consider the amount of walking they are expected to do during the working day. Thus, it's best to choose comfortable shoes with thick soles.
Hair and Nails
Amazon warehouse employees are expected to have their hair tied up properly and pinned if necessary. Staff should also tie up long beards. This is a matter of employee safety, and it's essential to ensure that there's no risk of the hair getting caught in machinery or packages while the employee is working. As for nails, there are no particular guidelines, and they can be either long or short as long as the employee follows all safety requirements.
Hats
Amazon permits warehouse employees to wear hats of any kind as long as they don't display any obscene, political, or racist images. Things like beanies, hats, hijabs, head scarfs, baseball caps, face masks, and neck masks are also allowed.
Other Accessories
As part of its anti-theft policy, Amazon doesn't allow warehouse employees to wear long, hanging jewellery or loop earrings. It's also forbidden to bring accessories and phones inside the warehouse. However, employees can use their phones during the breaks. These rules are only set to keep track of Amazon's stock since the company sells all kinds of products, including jewellery and accessories.
Employees can wear gloves as long as they don't interfere with the working process.
Safety Equipment
Every Amazon warehouse employee is provided with a reflective vest and high visibility helmets to ensure the safety of the working staff. All warehouse workers must wear the provided equipment. Tech Vests are another addition to the warehouse safety equipment developed due to robots being introduced to warehouses. These vests alert robots if there are human co-workers nearby to avoid accidents and collisions.
Amazon does not allow warehouse workers to wear headphones, earphones, or earbuds during work. But the employees can use earplugs to prevent permanent hearing loss, which may be caused by loud alarms, engines, and machinery.
Amazon Tattoo and Piercing Policy
Tattoos
Amazon workers are allowed to have visible tattoos as long as they don't send offensive or controversial messages that might upset other people, including their co-workers. If the tattoo or piercing is offensive or contains profanity, your supervisor will ask you to cover it up.
Piercings
Amazon workers can have all types of ear, body, and facial piercings. Since they don't interact with customers directly, there's no strict policy concerning their appearance.
However, a supervisor could object to jewellery that displays political symbols of any kind. Plus, the dress code allows the warehouse staff to wear jewellery as long as it can't potentially get caught in the machinery.
However, it's better to leave your jewellery at home so that it doesn't trigger metal detectors or interfere with your fast-paced workday at Amazon.
Amazon Dress Code Policy: Is It the Same Everywhere?
Amazon has virtually the same dress code guidelines and safety requirements for all the warehouses. There might be some changes in the dress code depending on the region, regional policies, and even weather conditions. But overall, the guidelines don't change significantly. However, it's still important for the employees and applicants to study the dress code guidelines specific to their region.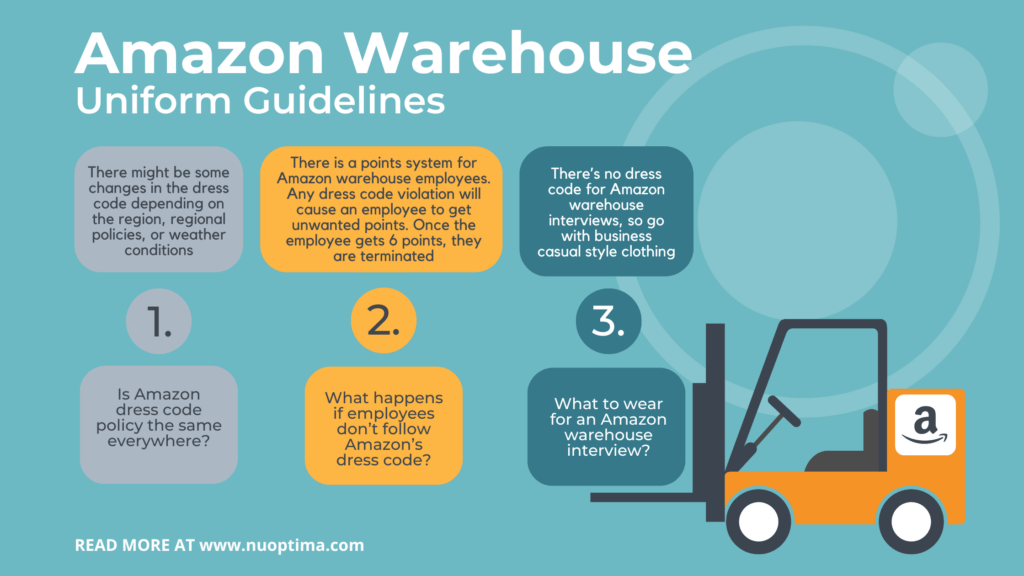 What Happens If Employees Don't Follow Amazon's Dress Code?
So, given all the guidelines Amazon employees have to follow, do they get penalized for dress code violations? There is a points system for Amazon warehouse employees, meaning each employee gets a certain number of points for every rule violation. Any dress code violation will cause an employee to get unwanted points. Once the employee gets 6 points, they are terminated, which is why workers should always stick to the guidelines since they are not very restrictive and limiting.
What to Wear for an Amazon Warehouse Interview
If you are preparing for an interview at an Amazon warehouse and you want to look presentable, you can go with business casual style clothing. There's no dress code for Amazon warehouse interviews, so a T-shirt with jeans will be suitable enough. The rules above only apply if you start working at an Amazon warehouse, but not you don't need to follow them for the interview itself.
Summary
Summing up everything said above, Amazon warehouses don't have any uniforms. Instead, employees have to follow a set of dress code guidelines for casual wear. These guidelines are provided to ensure the employees' safety and comfort and eliminate the risk of the inventory and packages being damaged. A lot of the work done at Amazon warehouses includes physical activity and requires workers to use different types of potentially dangerous equipment. Thus, employees are expected to wear clothes that can't get caught in machinery or hinder their duties.
Amazon warehouse employees are prohibited from wearing loose, hanging, and offensive clothing or carrying accessories or jewellery inside the workspace (this also applies to mobile phones). Clothing deemed to be too revealing and unsafe is not permitted either. In addition, Amazon warehouse workers are expected to have their hair tied up to avoid it getting caught anywhere. Lastly, all employees are provided with safety equipment which they have to wear. These dress code guidelines apply to all Amazon warehouses, but there may be slight differences depending on the region. When employees disregard these guidelines, they get penalty points.
Talk to an Amazon expert
We work with 100+ businesses. Book a slot now to talk to one of our experts.
---
FAQ
What's Amazon's dress code?
Amazon warehouse employees are not allowed to wear loose T-shirts, tops with baggy sleeves, revealing clothes, including booty shorts, crop tops, and skirts. Their clothes also should not have any offensive signs or slogans.
What should I wear to the Amazon warehouse orientation?
When going to the Amazon warehouse orientation, you should tie your hair up, wear close-toed shoes, and ensure that there are no drawstrings on your jacket or hoody. Avoid long necklaces and hoop earrings too.
Are leggings allowed at Amazon warehouses?
Yes, warehouse employees can wear leggings, sweatpants, yoga pants, joggers and even pyjamas. But they are expected not to wear short shorts or baggy pants.
Can you wear hoodies at Amazon?
Yes, Amazon warehouse employees can wear hoodies as long as there aren't any hanging strings.
Can you wear headphones at Amazon?
No, headphones, earbuds, speakers are not allowed in Amazon warehouses. Phones can be used only during lunch and breaks.
What shoes can you wear at Amazon?
Amazon employees are expected to wear closed-toed shoes that cover the foot completely. Steel-toe shoes, crocs, moccasins, and flip-flops are not allowed in the warehouse.