Key points
Top selling categories on eBay include technology devices, home and garden equipment and decor, clothing & accessories, beauty & health, jewellery & watches, toys, vintage items, musical instruments and crafts.
The best-selling items on eBay during the covid pandemic included hand sanitisers, face masks, dumbbells and other sports equipment, webcams, clippers and trimmers, puzzles, books, crafts, and home decorations.
eBay is the best marketplace to sell vintage and antique items. The platform has a large and diverse audience that seeks unique products at a low price.
eBay is one of the dominating global e-commerce companies. Before starting your business on this platform, it's important to do some research to find out your target audience as well as what products are trending on it to understand what's selling on eBay best. It's crucially important to choose the right product category, especially at the beginning of your selling experience.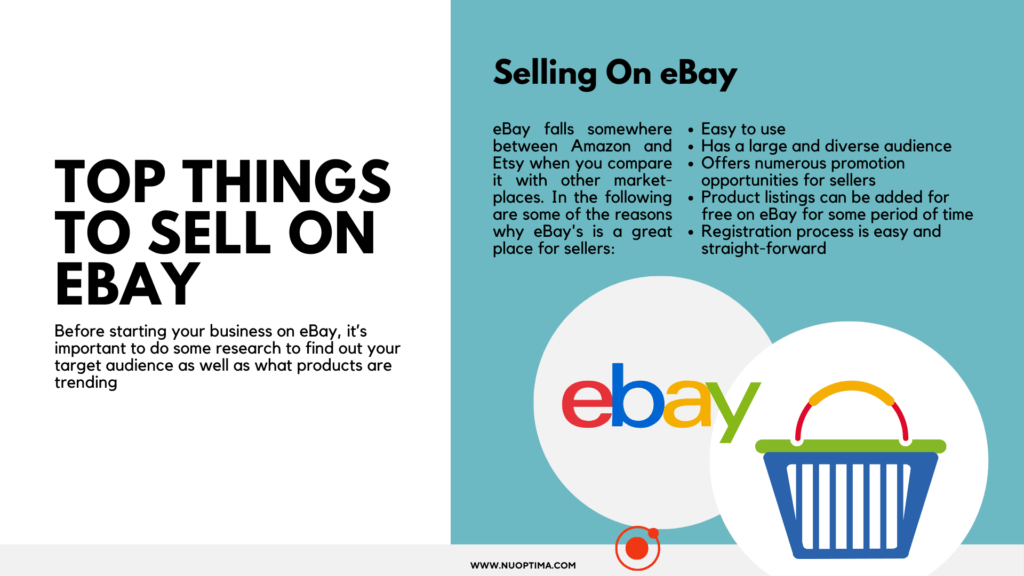 You may experiment as you grow and expand your business, but it's good to know for sure which products are likely to bring you profit. Keep on reading if you want to start selling on eBay and need to know what the best-selling products on this platform are.
Selling On eBay
eBay falls somewhere between Amazon and Etsy when you compare it with other marketplaces. eBay is easy to use, and at the same time, it has a large and diverse audience, as well as numerous promotion opportunities for sellers. While you have to pay for product listings on Etsy, they can be added for free on eBay for some period of time. However, Amazon is better for professional sellers since it takes more effort to run a business there. At the same time, the registration process on eBay is much easier than it is on Amazon.
Top Selling Items On eBay
Here is a list of eBay best sellers. If you're interested in starting a side hustle or a fully-fledged business selling products on the platform, we suggest trying these:
Mobile Phones & Accessories
Used phones and accessories are in high demand among eBay users, which makes "Mobile phones and accessories" one of the top-selling product categories. The most popular brands are Apple and Samsung. As for accessories, buyers often look for silicone cases, headsets, in-car holders, phone covers & skins.
The important thing is to add non-edited pictures on the device and be honest about whether it has scratches or other damage. If you edit the pictures and the buyers receive the item in a different condition than what is pictured in the image, they may demand a refund.
Video Games
With the lockdown and isolation during the COVID-19 pandemic, this category became even more popular. Of all other marketplaces, eBay has the largest group of customers who shop vintage for video games. The most popular consoles include Sony, Nintendo, and Microsoft Xbox.
Video game merchandise and console accessories such as controllers and attachments are in demand too. Also, vintage video games from the 80s or 90s came back and are a big trend now.
Computers & Tablets
Along with mobile phones and video games, computers and tablets are a popular search category on eBay. This is a perfect place for customers to find used technology for a lower price. Computer equipment like printers and scanners also fall under this category.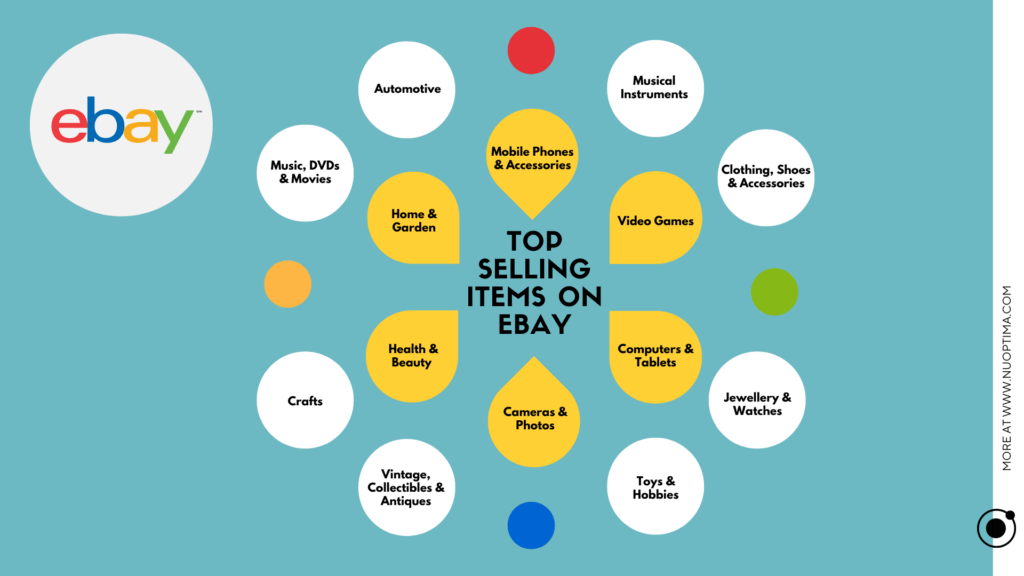 Some of the most popular items in this category include desktop computers, laptops & netbooks, ultra Mobile PCs, networking equipment, drives, burners, memory sticks, printers, scanners, monitors, networking equipment, software, speakers, headphones, and automated home technologies. The hottest items are headphones and smart speakers.
When selling in this category, it's important to monitor the competitors' prices since customers aim to find the lowest prices. Just like with mobile phones, be transparent about damage or scratches.
Cameras & Photos
Cameras and photos are one of the top-selling categories on all marketplaces, not just on eBay. The most favoured brands are Canon, Nikon, and Sony. Besides digital cameras, customers look for drone cameras, camcorders, and photo accessories.
Having a good detailed cosmetic and mechanic description is very important. Besides scratches and flaws, make sure to highlight all the advantages of your products as well.
Health & Beauty
Just like on Amazon, health and beauty products are very popular on eBay. Buyers are in the market for skincare products, make-up, haircare (especially hair loss treatments), fragrances (scents for men are especially popular, and the most popular brands are Calvin Klein, Versace, and Creed), soaps, and different items for bathroom decor.
If you want to sell products in this category, it's obligatory to include the expiration date in the description. You should also be transparent about the ingredients that the product contains as well as the possible side effects and use instructions.
Fitness products and yoga equipment are also becoming some of the top-selling items on eBay.
Home & Garden
People also go on eBay to find gardening items and tools. This marketplace is excellent for finding different vintage items from less recognisable brands. For tools and workshop equipment, the most popular brands include DeWalt and Milwaukee. Water filters, kitchen, dining and bar products are in high demand as well.
Garden items are more popular in the summer, though. Also, if you sell vintage items, include the year of manufacture and the current condition in the description. Adding the story behind the item can help attract customer attention as well.
Keep in mind that the home decor market is becoming more and more popular with the rapid boom of the real estate industry, so now is a good time to get into this space.
Musical Instruments
Musical instruments are relatively popular on eBay. Customers either look for used instruments or vintage ones. The most demanded items are pro audio equipment like guitars & basses, microphones (the most popular brands are Shure, Pyle, etc.), cables and interconnects.
Be creative with presenting items in this category and include as many details as you can to avoid returns.
Clothing, Shoes & Accessories
Clothing and fashion items are popular everywhere, including on eBay. There are a lot of different brands available on eBay, but a lot of customers visit the website to find unique, handmade, vintage, or used clothes. Unique and eccentric prints are always in high demand.
The most popular items in this category include hair accessories for women, male hats and T-shirts, and bags (especially in the luxury segment). However, because fashion is fast-changing, sellers should be able to keep up with trends in the fashion industry.
Jewellery & Watches
Jewellery is one of the easiest things to sell on eBay since it's less likely to be damaged during shipment and the shipment itself costs less. eBay buyers tend to look for used jewellery such as watches, handmade jewellery and accessories, engagement and other rings, necklaces, earrings and pendant jewellery, as well as beads & jewellery making (the most popular brand is Swarovski).
However, selling jewellery on eBay isn't the same as, for example, on Instagram. It's better to provide realistic photos from different angles and display all the possible scratches. Vintage and unique jewellery items will also be a great fit for this platform.
Toys & Hobbies
Children's products are always very good sellers, and Toys and Hobbies is another popular category on eBay. You can sell anything, starting with Disney toys and ending with expensive collectable items. The most popular products in this category include TV & movie character toys (the most popular are Disney, Mattel, & Hot Wheels), diecast and toy vehicles, action figures, building toys, and McDonald's Happy Meal Endgame toys.
Vintage, Collectibles & Antiques
eBay is one of the main places where people come to find all sorts of vintage items, hoping to get good deals by bidding on them during auctions. The most desirable items include vintage accessories, vintage bags, vintage jewellery, clothing from the 1960s and 70s, and vintage gifts. When choosing where to sell vintage products, eBay is the first choice for most people.
Crafts
Recently, customers have been showing increased attention to different crafts, and the most popular craft categories on eBay include beads, jewellery-making supplies, loose beads, and stones.
Music, DVDs, & Movies
Music, TV, and film still create a big market for CDs and DVDs despite the fact that many people have now switched to streaming services. These items are cheap to ship since they are all small and light. However, this category is slowly shrinking, so it's not very suitable for those who want to build a stable long-term business.
In 2022, the hot-selling items include vinyl records, CDs, DVDs and Blu-rays.
Automotive
Because the sales in the automotive industry increased during the pandemic, the demand for this niche spiked as well. The top-selling items in this category include car jump starters, windshield sunshades, car vacuums, and windshield wipers.
Top Selling Items on eBay During COVID-19
The pandemic has popularised a lot of new products besides those mentioned above. Most of the items fall under the beauty category. The demand for sanitary and hygiene products increased rapidly as the virus spread. Because of lockdowns, home entertainment items became more popular too. Customers also ordered food online more frequently than ever before.
Hot-selling items during the coronavirus pandemic included masks and disinfectants, cardio equipment, home and garden decor, laptop docking stations and power adapters, VR headsets, wireless routers and mobile hotspots, webcams, jigsaw puzzles, and supplies for arts and crafts items.
These products will be in high demand for the next couple of years. Because people are now used to staying at home a lot more than before the pandemic, they tend to renovate their interiors and gardens, which explains the high interest in home equipment and decor. For the same reason, home entertainment items and books are very popular as well.
2021 and 2022 Selling Trends
The pandemic really shifted the product trends in 2021, and many of those continue to be popular this year. Here is the list of the most frequently sold products that are still in high demand now:
Hair wigs
Nail extensions
Car LED lights
Magnetic eyelashes
Car phone holders
Pet carriers
Pet food
Shapewear
Car covers
Mesh shoes
Keep in mind that trends don't last forever, and these products likely won't bring you a strong and lasting stream of revenue, but it's a good way to make some extra profit.
Talk to an Amazon expert
We work with 100+ businesses. Book a slot now to talk to one of our experts.
---
FAQ
What are the most profitable items to sell on eBay?
The hottest-selling items fall under one of these categories: consumer electronics, clothing, shoes & accessories, health & beauty, computers and tablets, home and garden, crafts, automotive, and sporting goods.
What items sell fast on eBay?
In 2022, the top-selling items on eBay are books, clothing, shoes, accessories, collectables, dolls and bears, crafts, and consumer electronics.
What products are in high demand?
The most trending niches of 2021 include shapewear, travel accessories, health and beauty products, smart watches, health care, skin care, hobbies, crafts, lamps, and shades.
What products are in high demand right now?
The most profitable e-commerce products of all time include vintage items, beauty products, cosmetics, jewellery, TV and smartphone accessories and video games.