Key Points:
YouTube is a low-cost marketing tool ideal for utilising video content and improving lead generation. High-resolution video content can help businesses build trust with their audience and strengthen SEO efforts.
Businesses can create how-to videos, discuss hot topics in the industry, share behind the scenes footage and showcase products or services. With video content, you can also share your brand story and core values.
An SEO strategy can benefit from video content on YouTube, particularly by embedding the content onto your website. Book a discovery call with NUOPTIMA to discuss how your business can enhance your SEO strategy, attract clients through search engines, and integrate YouTube marketing to increase search rankings.
Why is Video Content Good for Lead Generation?
YouTube is the origin of video content, and over the years, it sparked the likes of Instagram and TikTok's video-first algorithms. Yet, YouTube remains the home of video and still proves to be a low-cost marketing tool for attracting customers, thanks to its vast audience. There are several reasons to start a YouTube channel for your business; put simply, it builds trust, positions you as an industry expert, strengthens your SEO efforts, and is relatively low cost. Let's take a closer look into these, why utilising video via YouTube is a smart investment and how it can generate leads for your business.
Positions You as An Industry Expert
People go to YouTube for numerous purposes, from listening to music, watching comedy videos, catching up on their favourite influencers and learning how to do a task. Video provides a very unique way to communicate with your audience, and thus, you can give free value through this platform. With video content, you can attract clients from YouTube by showing off your knowledge, experience and understanding of the industry. With how-to videos, explanations and industry insights, you begin to establish yourself as an expert. In the following sections, we'll cover exactly how to use video for this purpose and what type of content you should be sharing.
Strengthens SEO Efforts
Most businesses know that SEO is crucial to generating consistent organic traffic to your website, attracting customers through search engines and increasing revenue. YouTube videos provide a fantastic way to boost your website rankings, especially as Google owns YouTube. For instance, when you search on Google for how-to videos, it may display the top-performing YouTube videos at the top of the search results. The higher your video ranks in Google, the more views you get, and the more people convert to website viewers. In some cases, it will display a high-performing video that links back to a webpage. Embedding videos onto pages and blog posts is an effective way to boost SEO. Here at NUOPTIMA, we know there are multiple ways to boost the performance of your website through SEO. The most effective strategies consider multiple marketing tools, including video content, to improve rankings.
Builds Trust
Trust is a fundamental component of business. Potential customers need to have faith in your product or service and your company. Building trust is a long-term goal, but video is an excellent tool to do so. Like blog posts, it is great for SEO and displaying your expertise; however, video also allows you to connect with your audience on a deeper level because they can usually see a person or hear a voice while watching. Consuming content in video format brings the experience to life as it's easier for viewers to interpret and decide if they trust you. Once again, if your audience doesn't trust you, they won't hesitate to find someone else to solve their issue.
Low Cost
Setting up a YouTube channel and posting videos is free; however, you may need to invest in video equipment and editing software to create a successful platform. Compared to other forms of marketing, it is relatively low cost and, providing you put in consistent effort to grow your channel, you stand a good chance of increasing your ROI.
How to Use Youtube to Attract Customers?
YouTube offers various ways to attract customers through creating varied educational and promotional video content. Below we outline the best ways to attract clients through YouTube.
Promote Yourself as an Online Personality to Connect with Your Audience
Many businesses, small or large, get someone to appear in their videos and, thus, become the face of the YouTube brand. Not only is it more entertaining, but it is personal and easier to connect with your viewers. You may decide to promote yourself as an online personality, use that to build a brand for your business and show another side to it.
Present a Call to Action
So you have an established presence on Youtube, consistent views and follows, but how do you turn those viewers into paying customers? Simply by telling them about your product. Some people will be naturally curious and discover your offer themselves. Still, chances are you need to be clear about what your service is and highlight how it solves a specific issue.
A call to action (CTA) is how you engage your audience; get them to share your content on social media or with friends and colleagues. A CTA can also point viewers to a free download on your website or check out an exciting new offer. For example, suppose your video explains the basics of SEO. In that case, you may add a call to action to check out your free SEO auditing service on your website or mention your SEO research tool to help your viewers implement the things you discussed in your video!
Tell Your Brand Story
Every company has a story to share, and nowadays, the right branding is key to standing out from your competitors. Telling your brand story is one way to utilise video content to increase brand awareness and customer loyalty. In this way, you can use your brand story to educate your audience on company values and culture. Today, people are keen to understand who they are buying from rather than solely focusing on the product or service. For instance, within these brand videos, you may discuss your company's environmental ambitions to reduce your carbon footprint or how you're giving back to communities that need it.
In the below example from our sister company Alphagreen, a health and wellness marketplace, you can see one way to share a brand story. This video uses premium graphics and animation, alongside the CEO talking about Alphagreen's founding story. This video presents a great piece of personal content that focuses on the problems the company wishes to address and how they strive to do that. This is an excellent illustration of a company being transparent and using high-quality content.
Share Your Expertise, Insights and How-to Videos
One of the best ways to grow your YouTube channel and start attracting clients to your website is by demonstrating that you're an expert in the industry. Provide valuable content that answers FAQs, share your commentary on new products, discuss industry insights and basic how-tos that naturally allow you to upsell your product or service. This is fundamental to building trust and clearly showing your experience, knowledge, and talent. In this way, you position yourself as an expert in the industry and become your viewer's "go-to" whenever they have a problem in that niche.
Introduce New Products and Services
Trust is essential for curating an audience that always wants more from you. When they have a problem you can solve, they look to you for a solution because they know you are reliable. Thus, presenting new products and services in video format showcases what more you can offer beyond free videos. Address the problem you strive to solve and direct viewers to your online store with a CTA.
Teach Your Audience How to Use Your Product or Service
Not only is this another great content idea, but it shows you care about your customers. Taking the time to curate a series of videos demonstrating how to use your product or service highlights that you want to make sure they use the product right and get the most from your service. Once again, this builds trust and positions you as more than just a seller.
Share Video Footage of Business Presentations, Events, and the Company Culture
Dedicated audiences want to see as much from you as possible – especially if you have an exciting company culture or a team member as the face of the brand. Behind-the-scenes content is an excellent way to connect with your audience and establish rapport, trust and friendship. Transparency is a great quality to have in your company, especially nowadays when consumers are much more vigilant about where they shop. They want to ensure companies align with their ethics and values. You may share footage of business presents, events, team introductions, and exclusive insights from team members.
Below is another example from Alphagreen; they share updates, commentary, industry insights, and footage from a business event in this video. This is also a great example of a high-quality thumbnail that will attract more viewers – we will discuss these best practices in the following sections.
Share Customer Testimonials
At the end of the day, you're trying to sell to people, and you want them to know your product or service works. You may choose to highlight key feedback such as great after-sales support, someone's results since using your service, the product experience and more. Get creative with how you share customer testimonials in video format!
Best Practises for Attracting Clients Through YouTube Video Content
Here are some quick-fire tips to help you set up a successful YouTube channel and make sure you're producing video content that converts into views, follows and sales.
1. Catchy thumbnail and title
There are more than 800 million videos on YouTube; thus, it's vital to stand out with a catchy title and creative thumbnail. Try using attractive, high-quality graphics or adding keywords from the title onto the thumbnail to make it appealing to viewers.
2. Post consistently
Consistency will help you grow your channel and make YouTube a powerful lead generator. Rather than posting sporadically, schedule videos to post regularly. If you need to, create and edit videos in advance; however, ensure you're setting a realistic time frame to film and edit the content. If you're a team of one, adapt your strategy to your resources. Be realistic about how much time you can allocate to this task – perhaps start slow with 2 videos a month and then increase it when you have the capacity.
3. Always include a CTA at the end
As mentioned in the above section, this is crucial to converting a YouTube audience into website viewers and, hopefully, customers. CTA's can go in your video description or in the video itself.
4. Promote on other platforms
Use your other platforms to promote your videos, including social media, email marketing, etc. The potential of a YouTube video doesn't stop once you have posted. Instead, you can share videos across emails, social media, and even your website to complement your SEO strategy and provide another format for readers to digest your content.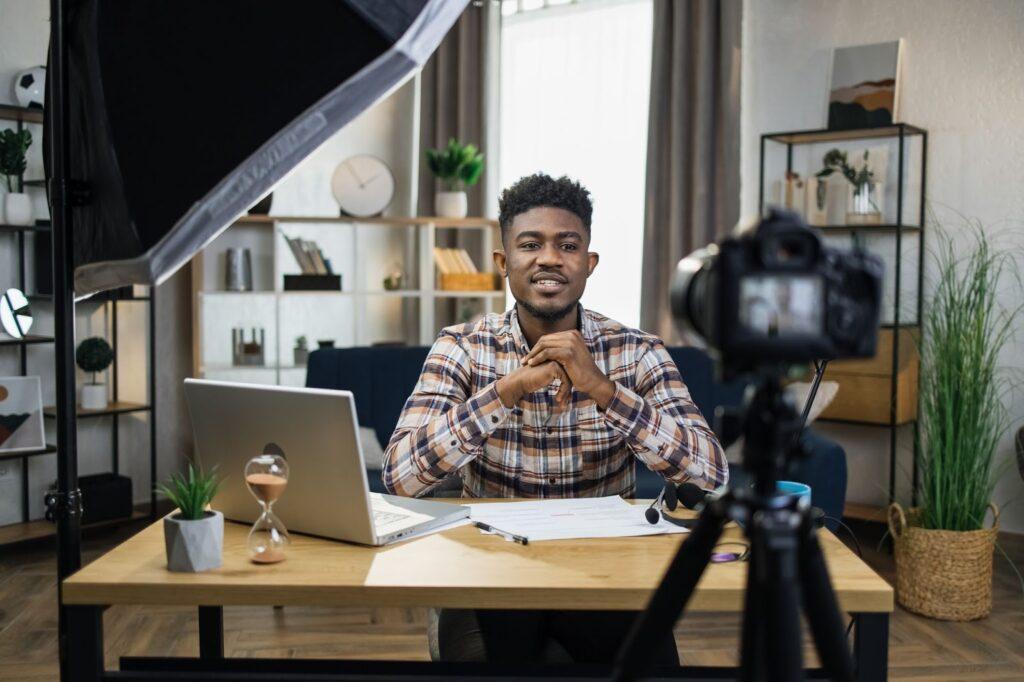 Final Thoughts
Online marketing favours video content, which isn't showing signs of stopping. If you're serious about attracting clients and on the lookout for more strategies, understanding how to attract customers from YouTube is essential. With various educational content, brand videos, and product highlights, your YouTube videos can increase search rankings through strengthened SEO, improve customer loyalty and brand awareness, and ultimately attract customers to your website.
YouTube videos present a unique way to boost SEO efforts; however, it is only one stream of optimisation. To learn how to attract customers from search engines, book a free call with NUOPTIMA and discover how our SEO experts can assist your business growth.

---
FAQ
Is video content good for lead generation?
Yes. Many businesses use YouTube to post educational content, new products/services, and industry insights, building trust and positioning you as an expert. YouTube gives you access to an enormous audience, which you can direct to your website with a call to action.
How to use YouTube to attract clients?
Position yourself as the go-to expert in your industry by producing high-quality video, including how-tos, product or service spotlight, customer testimonials and behind the scenes footage. Always include a CTA to direct viewers back to your website.
How can Youtube support SEO?
Producing content on YouTube can get your brand videos on the first page of Google. YouTube videos provide you with high-quality backlinks, additional traffic sources, and you can even embed YouTube videos onto your website to improve ranking.