Key points
Amazon is an international retail giant that has separate marketplaces in 13 counties and ships its products to customers in over 100 countries around the world.
As an Amazon seller, you can create separate seller accounts in different countries to conduct business there.
The process of selling your products on Amazon is generally the same whether you work on one or all 13 marketplaces. However, you will need to pay a separate fee for each country you work in.
To make your international business venture successful, you will need to assess whether your products are relevant in other countries and adapt them to the new markets.
Amazon offers several tools that make it easier for sellers to take their businesses global. This includes Building International Listings (BIL), Translate Your Products, and European Fulfillment Network (EFN).
Amazon is a well-known global online marketplace that is constantly expanding its horizons. Amazon now operates in 13 countries (the United States, the United Kingdom, Australia, China, Germany, India, and many others) and ships orders to over 100 countries worldwide. As a result, an increasing number of Amazon sellers are considering expanding their businesses internationally. However, selling products internationally entails many additional responsibilities and difficulties. As a result, some business owners abandon the idea and continue selling in their home market. Still, others recognize the full potential of expanding their business globally and take the risk. This is not an easy process, and you will need to exert every effort to overcome any obstacles that may arise along the way. So if you're ready to face the challenges, keep reading this article to find out how you can take your Amazon business to international markets.
Amazon global selling
As an Amazon seller, you have access to the Amazon Global Selling Program (AGS), which allows sellers to list their inventory and sell it globally. As mentioned above, Amazon has 13 global operational websites. Usually, sellers have to create separate seller accounts for each country where they wish to operate their businesses. You can check the official Amazon website for a complete list of all countries that have their own official marketplaces, as this information is updated regularly. Fortunately, there are only minor differences between selling products exclusively in your homeland and selling them globally. To sell your products on Amazon in other countries, you'll need to:
Decide where your products might be relevant and register accounts on those marketplaces
List your inventory
Engage new clients, set up ads, and wait for orders
Ship and deliver the products
Pay Amazon's fees for each sale
This process shouldn't be new for you, as each step is identical on all marketplaces, whether you're used to selling products in Great Britain or India. So now, let's delve into all the details. Below, you will find out about the advantages of selling internationally and discover what you should be aware of before expanding your business.
Before you start selling internationally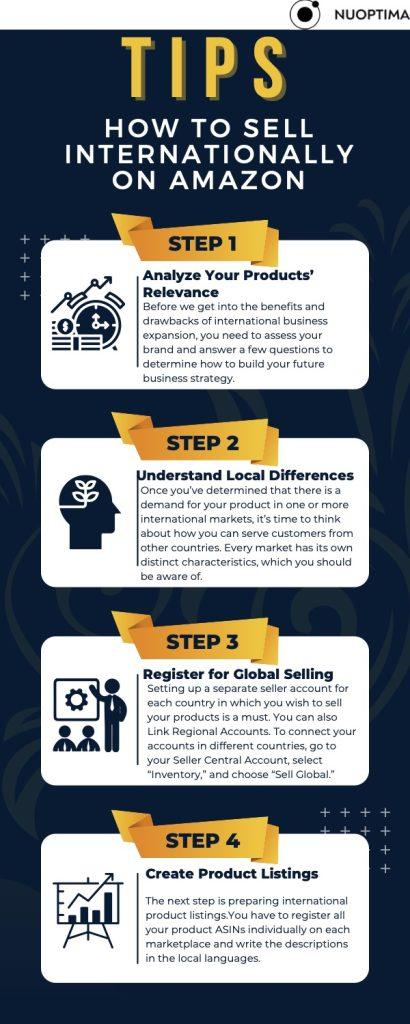 Before we get into the benefits and drawbacks of international business expansion, you need to assess your brand and answer a few questions to determine how to build your future business strategy.
Analyze your products' relevance
Taking your business global is not a simple decision because you must be certain that it will be profitable. So how can you tell if your brand will be relevant in other countries? You can start by examining your past sales statistics and paying close attention to the details. Here are a few possible scenarios:
When you run your ads, you notice a lot of traffic coming from all over the world, and you receive a lot of questions about whether your brand can ship internationally. Your product appears to be relevant in other markets, which means that going global will likely be worthwhile.
Your product is unique in the market, and it outperforms the competition. You can conquer other markets because of your brand's high quality and numerous unique advantages.
You are certain that you can ship your items internationally, and transportation will be simple.
Remember that these are just a few possible scenarios. There are many more factors you should pay attention to determine whether selling your products internationally will be worth the time and money in your specific situation.
Understand local differences
Once you've determined that there is a demand for your product in one or more international markets, it's time to think about how you can serve customers from other countries. Every market has its own distinct characteristics, which you should be aware of.
First of all, consider how language differences can impact marketing operations and customer communication methods. Because understanding customer needs and desires is critical, you will probably need to hire a professional who is fluent in the language of the country where you're planning to sell. This person can help translate your listings and adapt them to the country's culture, answer questions, reply to customer feedback, and more.
Of course, this is not a requirement, as Amazon technically takes care of the language differences between different countries. The platform provides translation tools that enable sellers to conduct business in foreign markets even if they do not speak the language. One of these tools is the Seller Central Language Switcher, which allows sellers to conduct business in English. However, if you want to provide customer help in another language but don't have the budget to hire someone fluent in the other language, doing business under FBA will be the best option.
Secondly, you will need to create different listings, repackage your products, and create different advertisements for each country. Fortunately, Amazon offers marketplace-specific promotional tools that allow you to run ads globally. There's also the "Build International Listings" feature, which connects your native marketplace to others. If you make a change to a listing in your home market, it will be processed automatically across product profiles in all marketplaces.
And lastly, you will most likely have to provide additional documentation to ensure that your business is legal and that you can meet all financial requirements. There will be permits to obtain and taxes to pay, so be prepared. You should also be ready for national differences in a variety of areas, including website language, marketing features, customer buying habits, and product demand.
How to register for global selling with Amazon?
As stated above, you must set up a separate seller account for each country in which you wish to sell your products. Furthermore, you are responsible for paying Amazon's monthly fees for each account: for example, the monthly fee in Germany, France, and Italy is EUR 39.00, in the United Kingdom, the fee is £25, and the price in Australia is AUS$49.95.
However, you only need to create one Unified Account for Europe and North America, and you will have access to all other marketplaces in this region at no additional cost. In addition, you will have to pay referral fees for each sale you make. These prices will vary depending on the market and product category.
Registration process
This procedure is nearly identical to registering a seller account in your local market. You will need a valid credit card that is accepted worldwide, as well as your phone number, email address, and bank account information. You may be asked to provide additional documentation.
Link regional accounts
To connect your accounts in different countries, go to your Seller Central Account, select "Inventory," and choose "Sell Global." You will see a list of the regions you can link to your account. Next, choose the target marketplace and register as a seller there. If you already have an account, you will need to connect it to your Seller Central account.
Create product listings
The next step is preparing international product listings. It may seem like an easy part of the whole job since you just need to "copy and paste" all the information, but this process is more complicated than that. Sure, you probably have all the products' IDs, titles, descriptions, keywords, and images, but this is only the beginning. You will likely need to spend a lot of time making product listings on different marketplaces since Amazon does not allow you to do this in bulk. You have to register all your product ASINs individually on each marketplace and write the descriptions in the local languages.
You can still manage your Seller Central account in your native language (you can change it at the top of the menu), but product listings should be written entirely in the local language. You will also need to conduct customer service in the local language. Be wary of online translation tools because they may provide you with incorrect translations. If you are not fluent in the local language, it is a good idea to hire a third-party translation service or do business under the FBA program, in which case Amazon will handle all customer service matters.
Work on SEO
If you're not new to e-commerce, you're probably aware of the significance of search optimization. When selling products globally, you should work separately on each marketplace to improve your listings' organic search rankings and engage more customers.
Often, language knowledge alone is not enough, as you also need to have sales copy experience to create product descriptions that attract customers. After you've identified all relevant keywords and optimized your product descriptions, you'll be ready to conquer all international markets with flawless product listings!
Take advantage of Amazon seller tools
Amazon has a lot of efficient tools to offer, and they will probably make your life a lot easier. Here are some of them:
Building international listings (BIL)
This is a feature that helps you manage offers across different marketplaces. Based on your settings, it connects the home SKU to the target SKU and automatically updates prices in the target marketplace. However, you can only use this tool if you have a Professional Seller Account and a European Unified Account/North Unified Account. BIL will also assist you with the following:
Price synchronization across all marketplaces. Pricing will be automatically updated to account for currency conversion fluctuations.
Automatic product listing updates across all marketplaces when you make changes to listings in your home marketplace.
The ability to connect product offers across marketplaces and within a region (Unified Accounts).
Translate your products (BETA)
We previously mentioned that sellers have to create product listings for each marketplace manually, but Amazon is now actively trying to make the sellers' lives easier by offering a new tool called "Translate Your Products." This tool duplicates and translates the listings you create in your home marketplace, providing you with a fully translated product description. The translation process takes up to two weeks, after which the system uploads the listing. If you use BIL to connect offers from different marketplaces, the translation generated by the Translate Your Product tool will be automatically synced with the pricing settings you've created in your BIL setups.
European fulfillment network (EFN)
If you intend to enter the European market, you will be encouraged to use the European Fulfillment Network (EFN). Amazon now permits FBA sellers with European Marketplace Accounts to store their inventory in a single European warehouse. Amazon will use that single fulfillment center to pick, pack, and ship your products across Europe. EFN allows you to sell products in every European country.
Advantages of selling internationally with Amazon
Many business owners agree that Amazon is the most convenient platform for taking a business globally. Amazon's extensive selection of programs, markets, and huge customer base make it possible to build a trusted worldwide brand and keep your company competitive. Here are some advantages of selling internationally on Amazon:
Payment options
Amazon accepts a wide range of currencies and pays its sellers in their native country's currency. Some payment options are available in select marketplaces, but you can still choose a payment method that works best for you. Another helpful tool is ACCS (Amazon Currency Converter for Sellers). It will assist you in receiving currency payouts, which will be deposited into your bank account every two weeks.
Accurate system
Sellers can be confident that every business process that occurs on Amazon is transparent. You can rely on the marketplace to send you money on time, resolve problems quickly, and maintain operational stability.
Huge customer base
By selling on Amazon, you gain access to one of the world's largest online customer bases, which has over 150 million customers. This presents sellers with a fantastic opportunity to gain access to millions of potential customers in over a dozen countries all over the world. This would be much more difficult to do if you tried to expand your business to other countries on your own.
Thus, you should consider the possibility of making your business international today. Remember, most businesses achieve some of the highest sales figures of the year during the fourth quarter due to holidays such as Black Friday, Cyber Monday, and Christmas. Global expansion with Amazon is a fantastic opportunity to grow your business.
Final thoughts
While Amazon strives to make sellers' lives easier by providing a wide range of tools and programs for international retail, a few factors can make it difficult for sellers to expand their businesses globally.
It's worth noting that we've only covered the highlights of selling internationally in this article; there's a lot more to discover and learn. Since owning an international business is very complicated, we advise Amazon sellers to work with experienced consulting agencies that can help their Amazon business grow. Sign up for a free discovery call with an Amazon specialist at Nuoptima, or leave your email address so we can contact you and tell you more about our services.
Talk to an Amazon expert
We work with 100+ businesses. Book a slot now to talk to one of our experts.
---
FAQ
Is it possible to sell on Amazon if my country isn't listed?
Amazon allows the citizens of 102 countries to sell on Amazon. You cannot become an Amazon seller if your country is not on that list. We recommend checking Amazon's official website regularly because this information could change at any time.
Is Amazon available in every country?
Amazon has separate national marketplaces in 13 countries and ships products to over 100 countries. On the other hand, Amazon does not accept orders from customers located in North Korea, Sudan, Syria, Iran, Cuba, and the Crimea Region of Ukraine. Amazon also shut down its domestic operations in China.
Is Amazon Prime available in other countries?
Yes, sellers can ship their products to over a hundred different countries using Prime shipping. You'll need to change your default shipping address to find items that can be shipped to other countries.