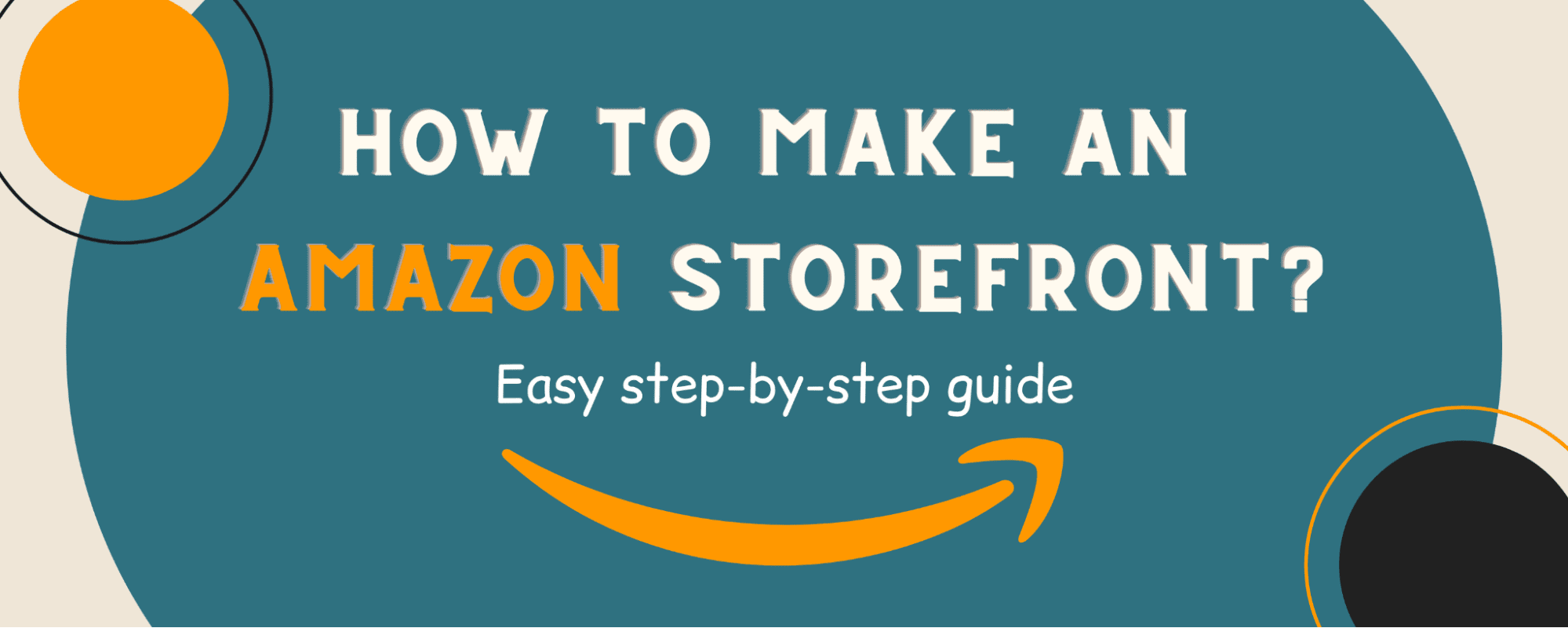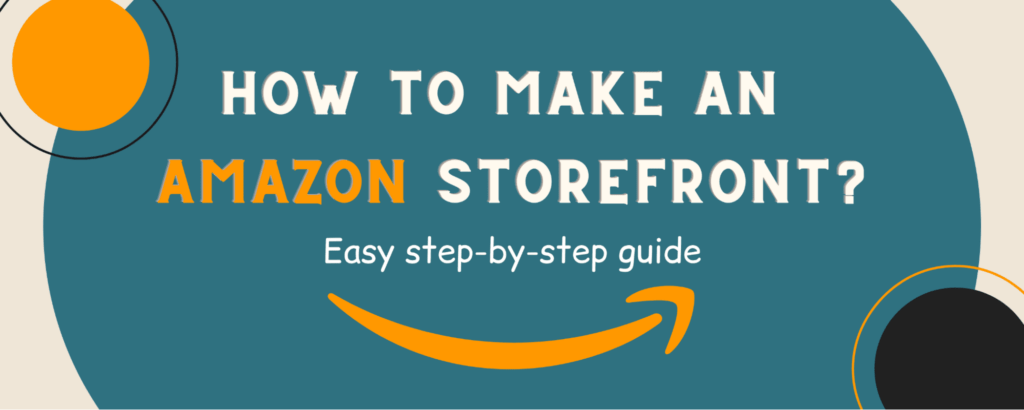 Key points
Amazon storefronts are a powerful marketing feature available to brand-registered sellers on Amazon.
Many brands have increased their sales by 30% or more simply by creating a storefront.
To make a storefront on Amazon, you need to join the Brand Registry program, fill out the information about your store, choose a storefront template, add images, videos, and text to design your storefront, add products to the page, create other pages to improve navigation, and submit the storefront for review and publishing.
Amazon storefronts are not new, but many brands are still hesitating to use them. This is a huge mistake because many Amazon store owners saw a 30% increase in sales after creating a storefront. In this article, we will guide you through the process of creating a storefront on Amazon to make sure that you don't miss out on this opportunity to grow your business.
What is an Amazon storefront?
Amazon storefronts are a free tool available to brand-registered sellers. A storefront is essentially a miniature website that the store owner can create and style to showcase their brand identity and product selection. A storefront is very easy to make, and it offers numerous benefits to brands.
How to create an Amazon storefront?
Making an Amazon storefront is an easy and creative process. Below, we will guide you through the process of setting up an Amazon storefront:
Apply for the Amazon Brand Registry Program
While the Amazon storefront feature was available only to Amazon vendors in the past, today, all companies enrolled in the Brand Registry program can create a storefront. This program exists to protect brands that sell unique products from copycats. Once you are accepted to the program, you will get access to tools that will allow you to find unauthorized copies of your products on the platform and report them.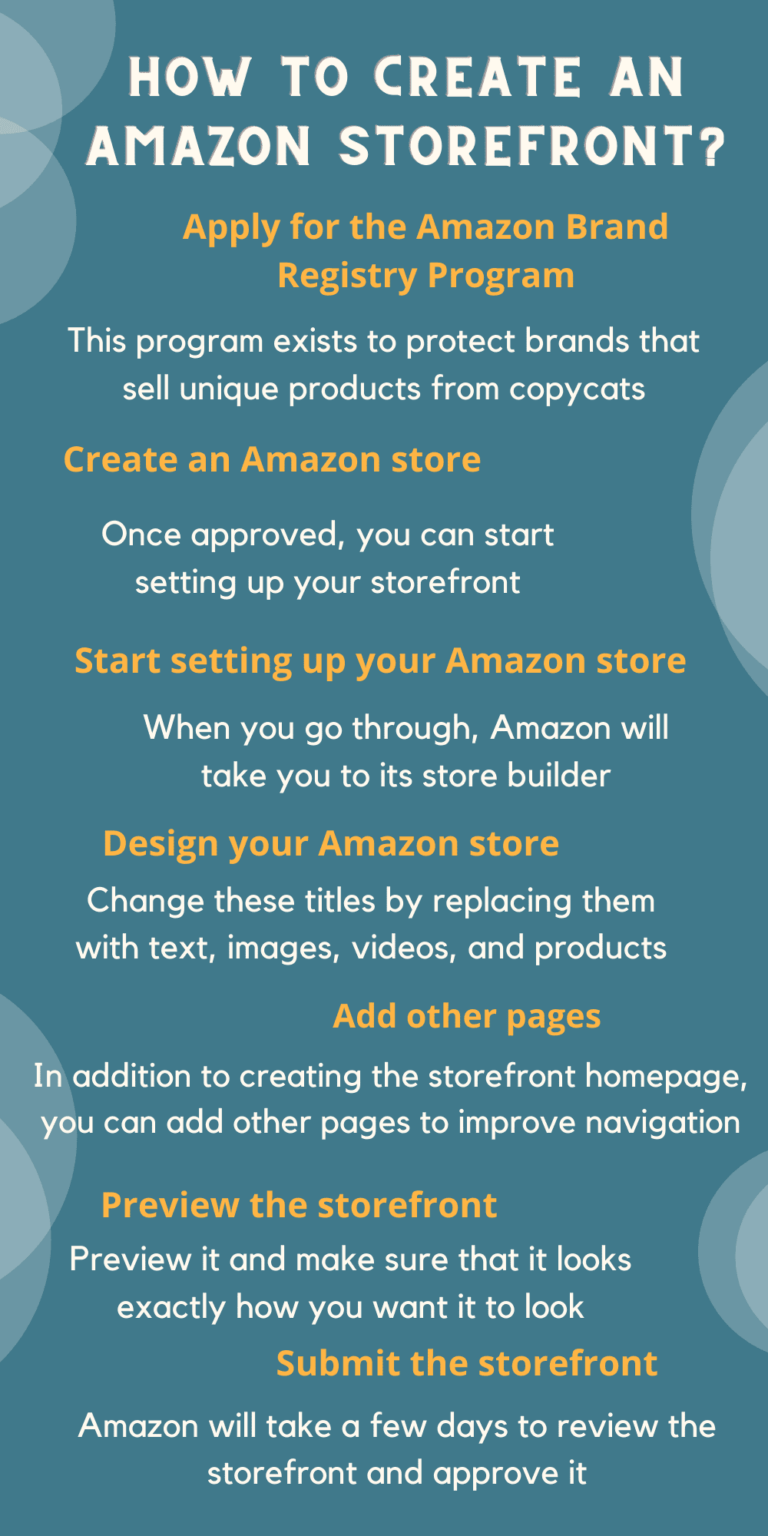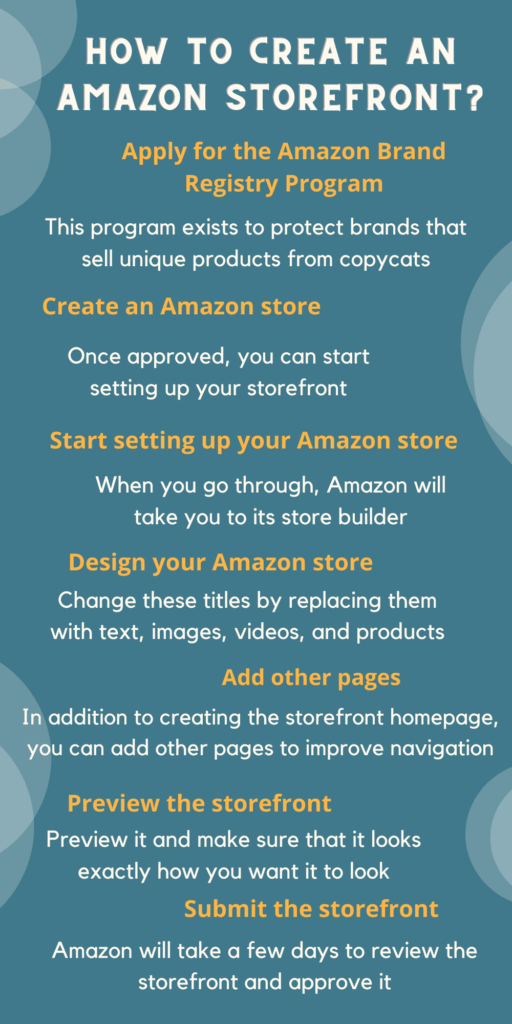 Unfortunately, registering your brand with Amazon is not easy, as you need to have a properly registered, active trademark issued by the World Intellectual Property Organization (WIPO) or one of these countries:
Japan
Germany
European Union
Singapore
Brazil
India
France
Italy
United States
Australia
United Arab Emirates
Canada
United Kingdom
Mexico
Spain
If you meet all the criteria for the program, you can register for it by going to your Amazon Vendor Central or Amazon Seller Central account and providing your brand name that owns the trademark and the trademark number to Amazon. Then, you will need to give Amazon information about the countries where you manufacture and sell your products and a list of applicable product categories. Once you submit the application, Amazon will review it. This process can take as little as one day or as long as a month or even more.
Create an Amazon store
Once your company has been approved for the Amazon Brand Registry Program, you can start setting up your storefront.
Start by logging into your Amazon seller or vendor account.
Find the "Storefront" button in the main navigation menu at the top of the page.
Press "Create Storefront" on the page that appears
Select your brand's name from the menu
Press "Create Store"
Start setting up your Amazon store
Once you go through all the steps listed above, Amazon will take you to its store builder. Here, you will need to enter your brand display name. This would generally be the name your customers recognize and use when searching for your company or talking about it. Keep in mind that you don't need to state the full legal name of your business here.
You will also need to upload a brand logo image that's at least 400 x 400 pixels. You can later adjust your settings to hide the logo, although we recommend you leave it displayed on the page to help your customers recognize your brand.
The next step is to choose a template for your storefront. Amazon gives you a number of layout options, including product highlight, marquee, and product grid. This makes creating a storefront very easy, as you will simply need to drag and drop elements into the right places, so you don't need any web development knowledge. Alternatively, you can choose a blank design if you want to hire a designer to create everything from scratch.
You will also need to add a meta description for your store's homepage. Once you're done, click the "Save button".
Design your Amazon store
Finally, we've reached the fun part of creating an Amazon storefront! On this page, you will see the template you've pre-selected. The template will be comprised of several titles. You can change these titles by replacing them with text, images, videos, and products. You can also drag and drop these elements on the page until you find a look that you love. Let's take a closer look at each type of content you can use here:
Text
You can use text on your storefront page to tell customers about your brand and products, add calls to action, insert links, and add "Shop Now" buttons.
Images
You can use images to the storefront page alone or add text over the images to further highlight product features. The minimum image size is 1500 x 1500 pixels.
Videos
Videos can look very appealing, and they can help build up trust with your customers. Amazon has a few rules for storefront images:
Videos must be less than 100 MB in size
Videos must be at least 1280 x 640 pixels in dimensions
They should be in one of the following file formats: mpg, avi, MPEG, m4p, mov, m4a/v.
Videos should not have any links or references to websites other than Amazon.
Products
You can add products from your Amazon inventory to the storefront. To add a product, search for it using the ASIN number or keywords. Keep in mind that before you can add products to your storefront, you need to upload them to your Amazon Seller Account. You can add products one by one or upload them in bulk.
For each product you add, Amazon will display its primary image, price, and, if applicable, the Amazon Prime badge. Other than this, you can customize how the products are displayed on the page depending on the look and style you're going for. For instance, you might want to show a few best-selling products together, or you may wish to display full-width landscape product titles on the page. You can also replace products displayed on the page at any time by clicking "Replace product".
When you're designing your Amazon storefront, you should treat it like your website, taking the time to make the store easy to navigate and filling it with helpful information about your brand and products.
Add other pages to the Amazon storefront
In addition to creating the storefront homepage, you can also add other pages to your storefront to improve navigation. This is not necessary if you have just a few product titles, but if your store carries a large selection of products, doing this can help your customers locate the products they need faster. To add a new page for your Amazon storefront, follow these steps:
Open the main menu of the Amazon store builder and click the "Add page" button
Add a navigation title to the page
Fill out the page's meta description
Pick a template for the page, just like you did for the main page
Once you have several pages, you can organize them in a menu displayed at the top of the pages, just like you'd do on your website.
Preview the storefront
Before you take your storefront live, preview it and make sure that it looks exactly how you want it to look. To do this, click the yellow Preview button in the navigation menu at the top of the page. You should also use the preview to ensure that all the elements on the page work properly ( the videos play, the links aren't broken, etc.).
It's also a good idea to show your store to a few other people to get their feedback.
Submit the storefront
Once you're done setting up your storefront, you need to press the "Submit for publishing" button in the navigation bar. Once you do this, Amazon will take a few days to review the storefront and approve it. Keep an eye out for notifications in your Amazon account in case there are some issues you need to fix before your store can be approved.
Once the store is approved, it will go live!
Advantages of Amazon storefronts
There are lots of benefits to Amazon storefronts:
Customized brand destination on Amazon
Storefronts help you connect with your customers and showcase your products and brand identity. Plus, they allow users to see all your products in one place instead of searching for them all over Amazon.
No ads from competitors
One of the biggest pros of storefronts is that they don't have ads from other brands. So while the customer is in your storefront, they will only see your products.
Opportunity to be creating
People love creative solutions and pretty visuals. But as great as Amazon is at selling products, the platform's design is lacking, to say the least. You can remedy this by creating your own gorgeous storefront with stylish imagery.
Use Amazon PPC Ads to Drive Traffic and Make Sales
You can use Sponsored Displays or Brand Ads on your competitors' products to lure potential customers away from their products and attract them to your store. You can also post links to your Amazon store on social media, your website, and other platforms. To achieve the best results, team up with an Amazon Advertising agency. An Amazon ad expert will be able to lower ACOS, increase ROAS and get the most ROI possible with your allocated budget.
Enhanced analytics
As an Amazon store owner, you get access to a lot more statistical information about traffic sources, page views, and other user behavior in your store. You can use this data to optimize your Amazon strategy and increase sales.
Talk to an Amazon expert
We work with 100+ businesses. Book a slot now to talk to one of our experts.
---
FAQ
Can anyone have an Amazon storefront?
No, only companies enrolled in the Amazon Brand Registry programs can create storefronts.
How many followers do you need for an Amazon storefront?
You don't need followers to create an Amazon storefront. Anyone enrolled in the Amazon Brand Registry program can make a storefront. However, you need to have an officially registered and active trademark to become eligible for the program.
How do I get to my Amazon store front?
You can set up a storefront if you are enrolled in the Amazon Brand Registry program. Simply log into your seller or vendor account on Amazon, find the "Storefront" button, click it, fill out the information about your brand, and follow other steps outlined in this article to set up your Amazon store.